The following feature appears in the April 2016 issue of NYLON.
"My very first line of the film is 'Choke on a cock,'" Bella Thorne says shortly after we sit down at a small Italian café in Studio City, California. She's talking about her movie Shovel Buddies, which recently premiered at South by Southwest. If I had any doubt about the 18-year-old's evolution from Disney Channel star to something a bit more, um, grown-up, this obliterates it. Though she does still seem to be easing into her edgier projects. "I tried removing one of the curse words and the directors were like, 'Cut! Bella, we need that fuck back in there.' And I was like, 'But there are two prior fucks in the same sentence so I'm just curious if we need the last one.' And they were like, 'We do,'" she continues, laughing. For the self-proclaimed potty mouth, this isn't a huge stretch, but for people who only know the stunning redhead from her three seasons as CeCe on Disney's scripted dance show Shake It Up (co-starring Zendaya, whom she affectionately calls "Z"), it might be somewhat of a surprise. It seems like a change the outspoken teenager has long been ready for, though. "People have always told me I'm too mature for my age," she says, enthusiastically shaking red pepper flakes onto a bowl of penne pasta smothered in butter and garlic. Perhaps that's a result of growing up in the industry. Or maybe it's why she's so good at what she does. 
Click through the gallery to read the rest of the feature.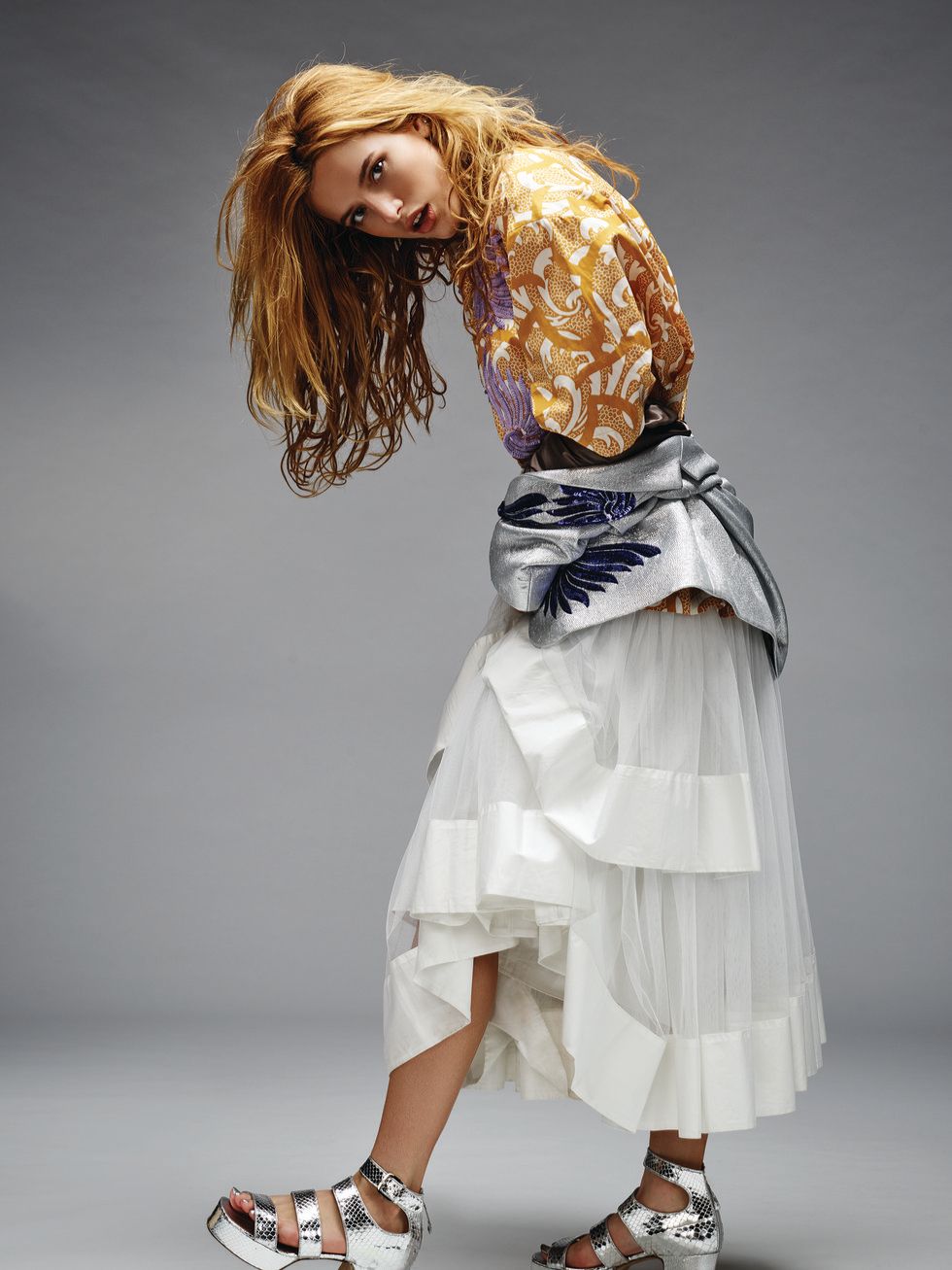 Photographed by Dani Brubaker. Jacket and shirt by Dries van Noten, skirt by Adam Selman, Thorne's own jewelry worn throughout.
Thorne was only six months old when she accidentally landed her first job, on her older brother Remy's modeling shoot: "I legit crawled toward the camera," says Thorne. And she's been working ever since, first as a model (she was the face of Guess Kids in the 2000s), then as an actress—HBO's Big Love, MTV's Scream series, and the Adam Sandler–Drew Barrymore flick Blended are all on her lengthy résumé. The multi-hyphenate has even put out a pop EP, and written a young-adult book series, including Autumn Falls, Autumn's Kiss, and a third book, which is in the works (a particularly satisfying accomplishment since she was diagnosed with dyslexia as a kid).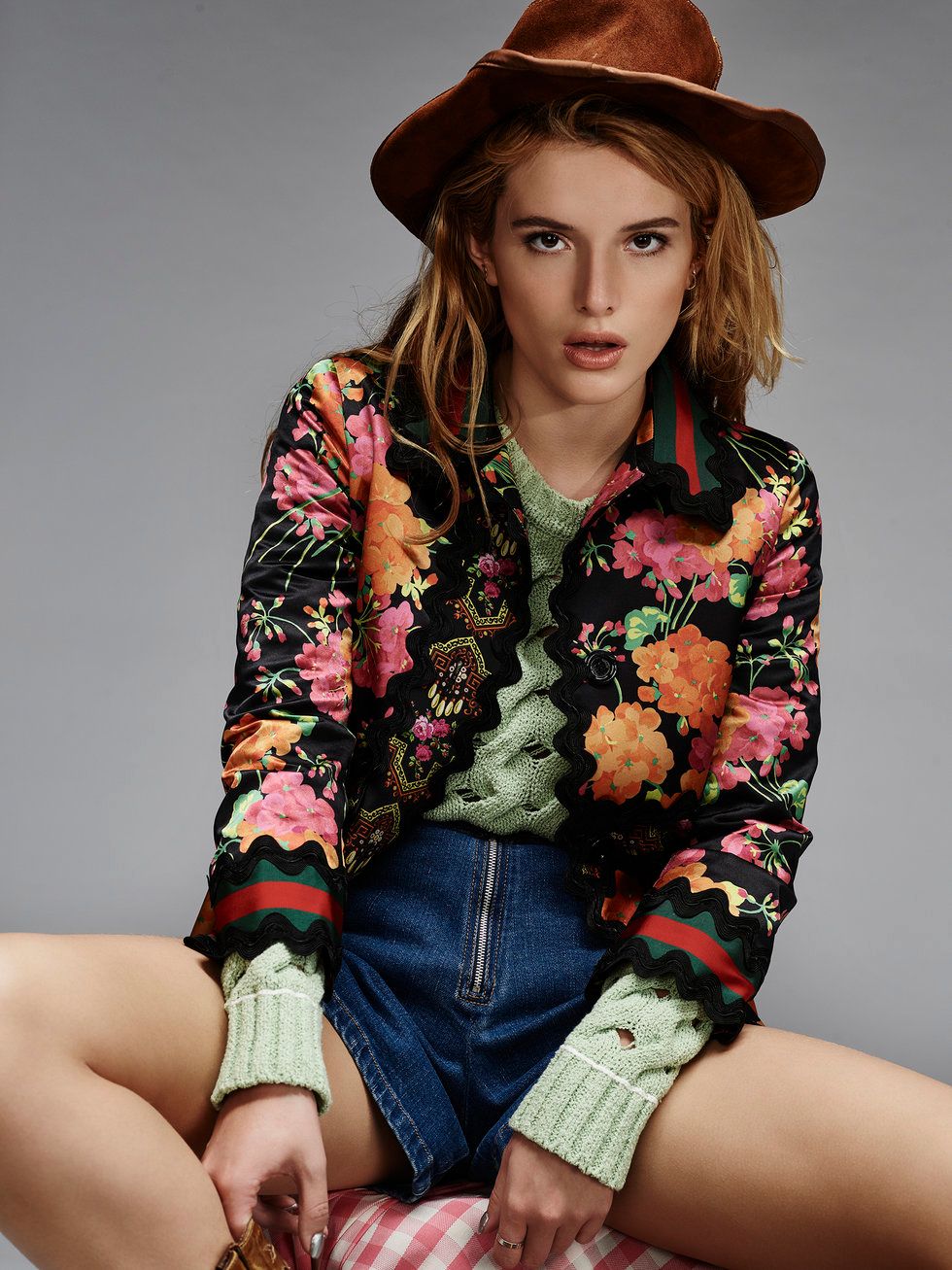 Photographed by Dani Brubaker. Coat by Gucci, sweater by Topshop Unique, stylist's own hat.
But as mature as Thorne seems, she's still a teenager. Her phone dings throughout our chat (in her defense, she rarely looks at it), and though she shows up for our interview looking like a style icon in leather athleisure pants, striped slip-on sneakers, a gray cropped T-shirt, and a Dsquared2 leather jacket, she's also hugging a pillow (it was a long, early ride to her NYLON photo shoot that just wrapped, she explains). In October, she celebrated her 18th birthday at Six Flags. But her normal teenage experiences are tinged by the sheen of superstardom: After she failed her first driver's permit test, the DMV employee who graded it asked for a selfie.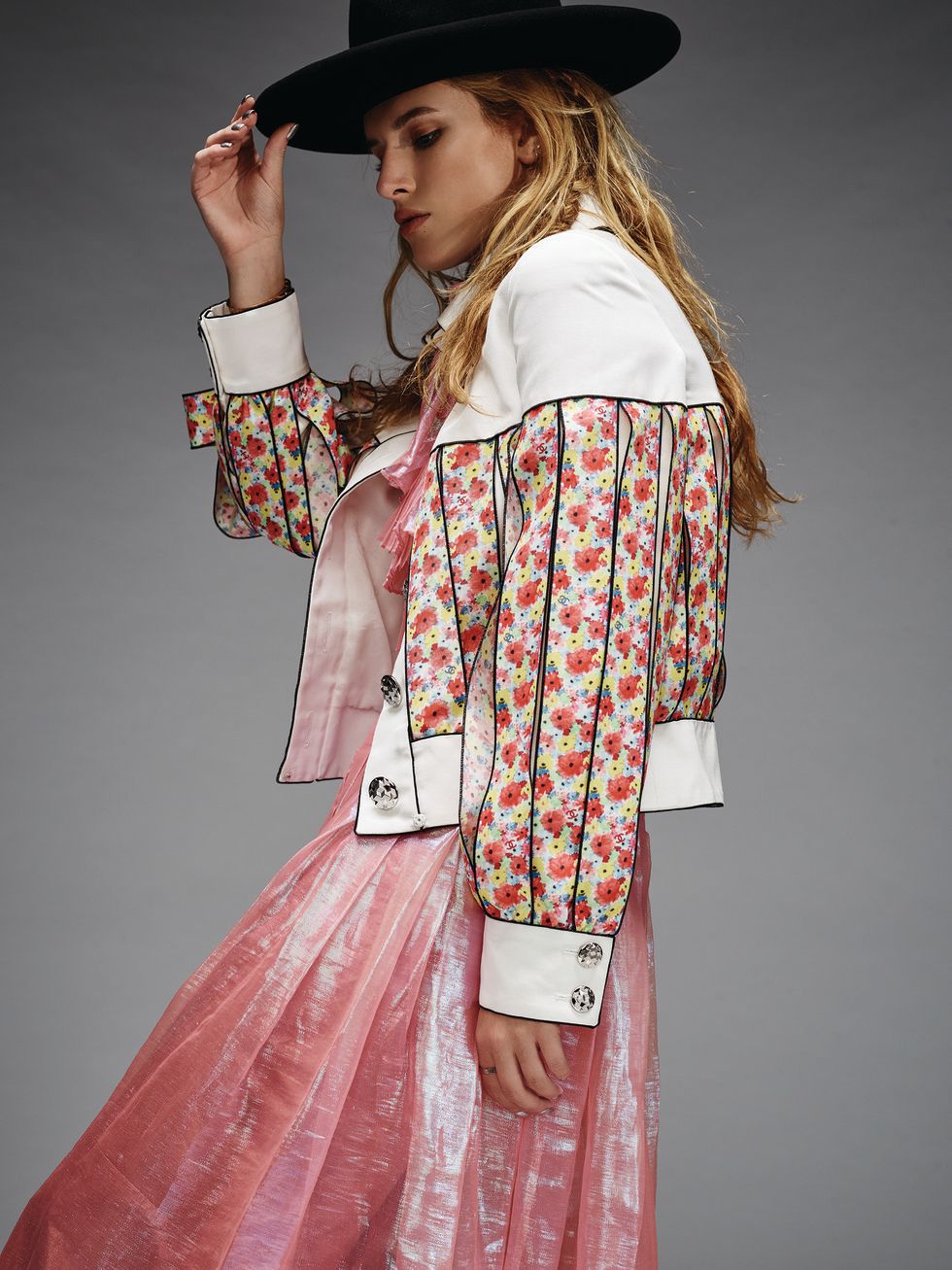 Photographed by Dani Brubaker. Jacket and dress by Chanel, hat by Worth & Worth by Orlando Palacios.
A major cat fanatic (and mom to fur babies Louis and Lola), Thorne has a small cat tattoo behind her left ear, and more piercings than it seems like her ears would have space for—further evidence of her transition away from on-screen wholesomeness. "Finally, when I got off the [Disney] Channel, I stopped listening to people telling me that I needed to be this and that," she says. "I literally would talk with a higher voice in interviews because that was the whole innocent Disney appeal." But she soon decided that "my fans are going to love me and stick with me whether I'm wearing a crop top and a short skirt or not."
Her newest film may test this theory. In Amityville: The Awakening—the latest installment of the classic horror franchise out this month—she plays Belle, a teen whose family moves into a strange house where unexplained things keep happening and she suffers blood-curdling nightmares. It's much darker than the fare that Thorne's best known for, but, she insists, it's more up her alley-—an alley she's barreling down with full force. "This," she says definitively, "is my year of badassness."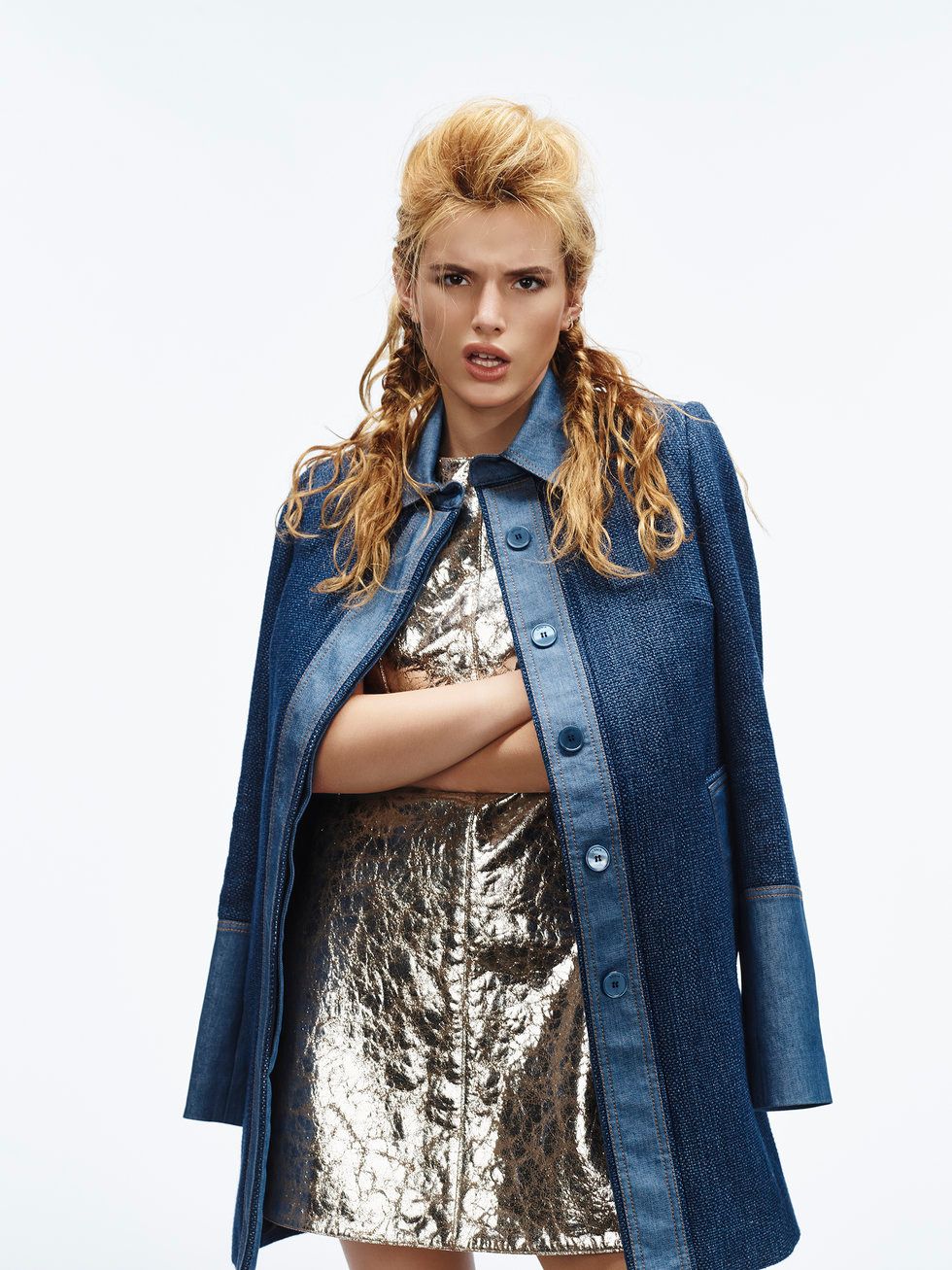 Photographed by Dani Brubaker. Coat by Sonia by Sonia Rykiel, dress by McQ.
Rebel, Rebel: A debauchery-fueled game of "Have You Ever" with Bella Thorne
Have you ever used a fake ID?
Yeah, of course, but can I just tell you what I used it for? To get into a comedy club! Why do you have to be 21? I'm old enough to get the jokes.
Have you ever cheated on a test?
Like a school test? No, I pretty much just failed them. But I would've really liked to have cheated on my driver's permit test. 
Have you ever lied to your mom about where you were going?
Yeah, once. I said I was going to lunch with my sister, but really I was going on a date with a boy she didn't like. 
Have you ever stolen someone else's boyfriend?
No, I'm really against doing that, but I've had a girl do it to me, like, twice!
Have you ever stolen anything?
I stole a lip gloss once; I got in real trouble for that. I'm really not good at hiding shit. 
Hair: Bertrand W. at Opus Beauty using Kérastase Luxury Hair Care. Makeup: Jen Fiamengo at Walter Schupfer Management using NARS. Manicurist: Stephanie Stone at Nailing Hollywood using The Nailing Hollywood Collection.