Milan presented to the world its sensationally inimitable breed of masterly designs this fashion week, in the form of the Fall/Winter 2016 collections. The runways possessed what felt like the essential nature of Italy—mindfully energized from the past, and invigorated from the present. The designs displayed creativity and innovation, pairing contemporary stylings with revived, elemental classics. Among many promising statements in fashion this past week, nine dynamic trends captured the attention of the runway rows. Check out our favorites after the jump.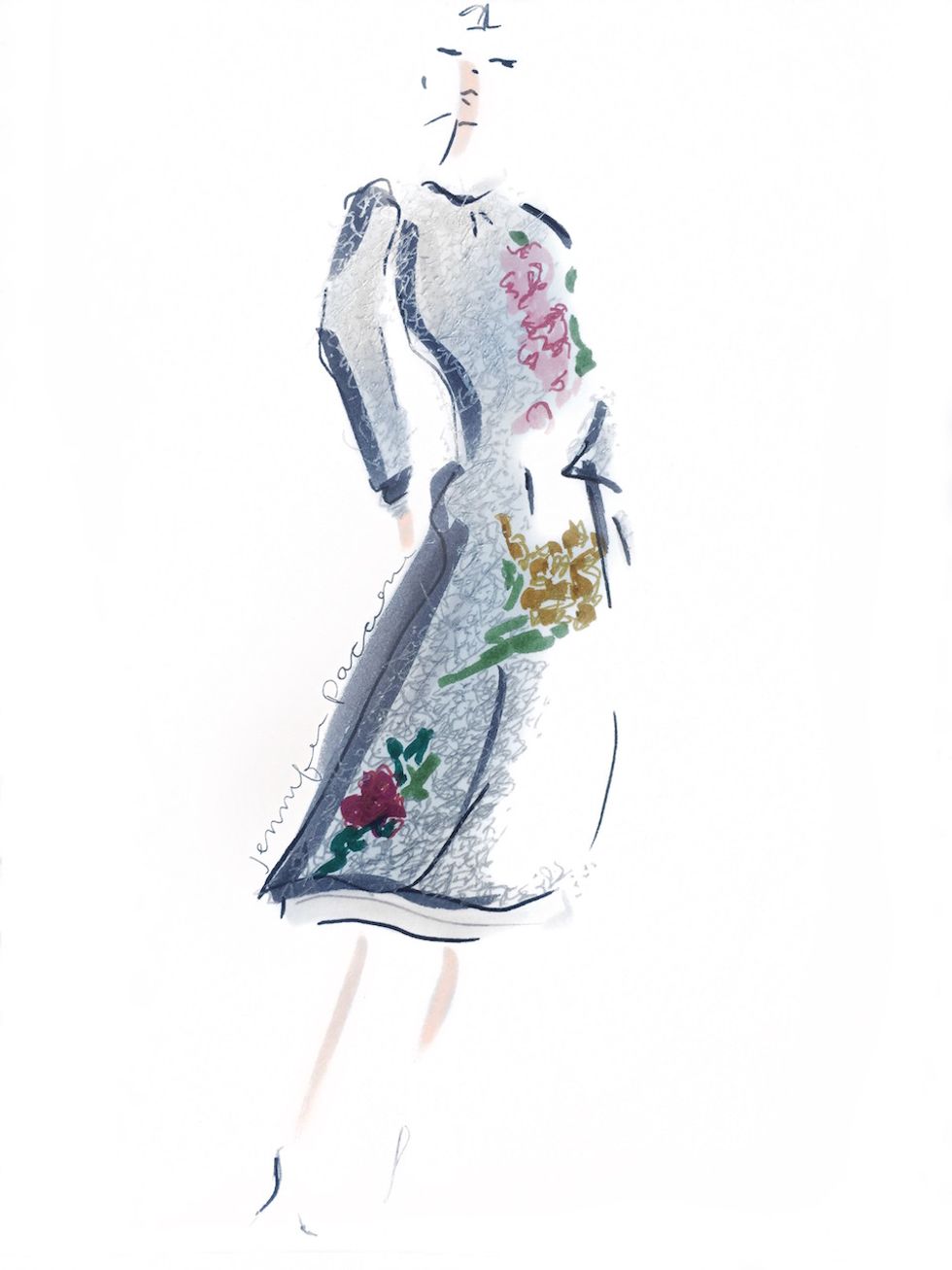 Illustration by Jennifer Paccione
1. Sequins
One of the most distinct trends from the Fall/Winter 2016 collections of Milan Fashion Week was sequins. Sequins that knew nothing of subtlety, heavily adorned garments, and flashy silhouettes all demanded attention on the runways. Dolce & Gabbana's detailed feminine collection alluded to whimsical and fairytale inspiration roots, with fanciful shift dresses and flowy skirts. Gucci walked ornate floor-length dresses dripping in sequins down their runway, alongside a fashion-forward striped pantsuit entirely designed in sequins. Designers along the likes of Max Mara, Moschino, Brunello Cucinelli, and Jil Sander too affirmed the growing presence of shine.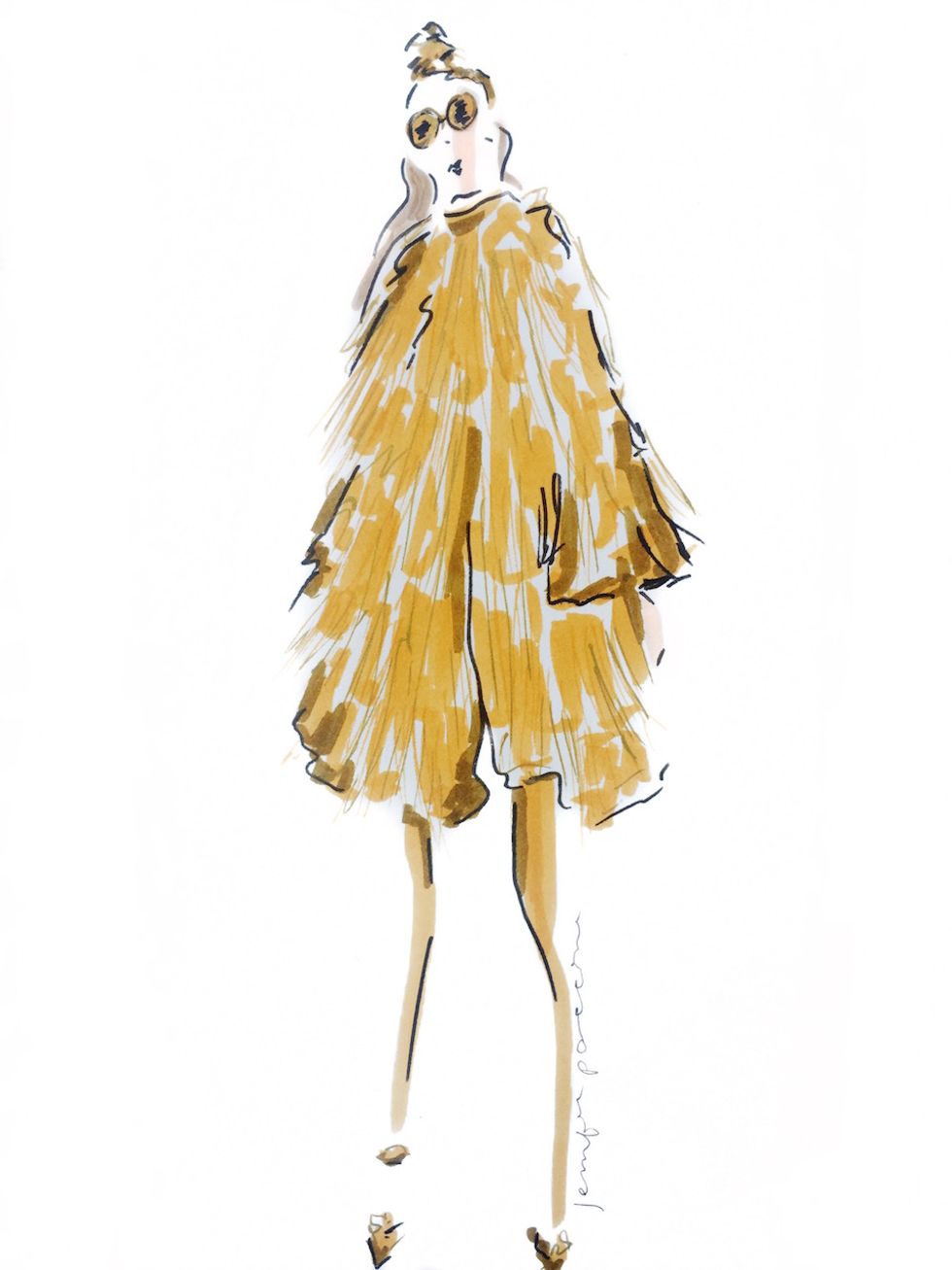 Illustration by Jennifer Paccione
2. Fur
Fur, as expected, had a dominant presence on the runways of Milan. However, what was unexpected were the saturated colors, patterns, and prints dynamically incorporated into the design aesthetics of each collection. Gucci featured fur trims on bomber jackets and showcased full fur coats in bold colors, like yellow and blush pink, paired with similarly hued tights, accessories, and shoes for the ultimate monochrome statement. Fendi continued their reign of exceptional furs, as they incorporated vibrant stripes and inlaid floral patterns. Giorgio Armani, Versace, Antonio Marras, and Fausto Puglisi introduced notable fur pieces into their collections as well.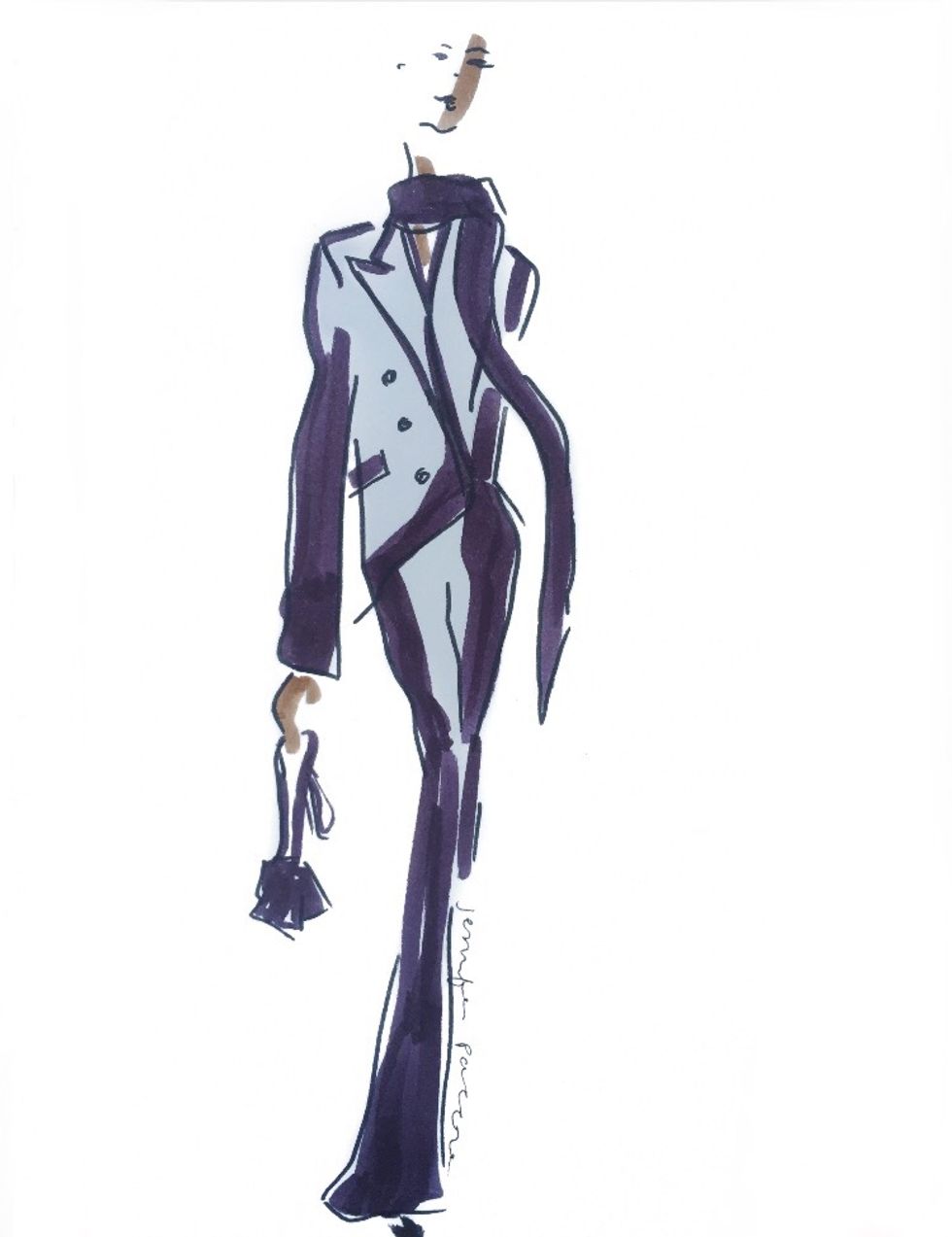 Illustration by Jennifer Paccione
3. Velvet
In various silhouettes and forms, velvet proved to have a powerful resurgence this season in Milan. In almost every designer collection, nods to lush, crushed fabric were spotted. Bottega Veneta debuted luxe, purple-stained velvet in a deconstructed pantsuit for their Fall/Winter 2016 line. Collections by Roberto Cavalli, Costume National, Armani, and Attico followed (velvet) suit.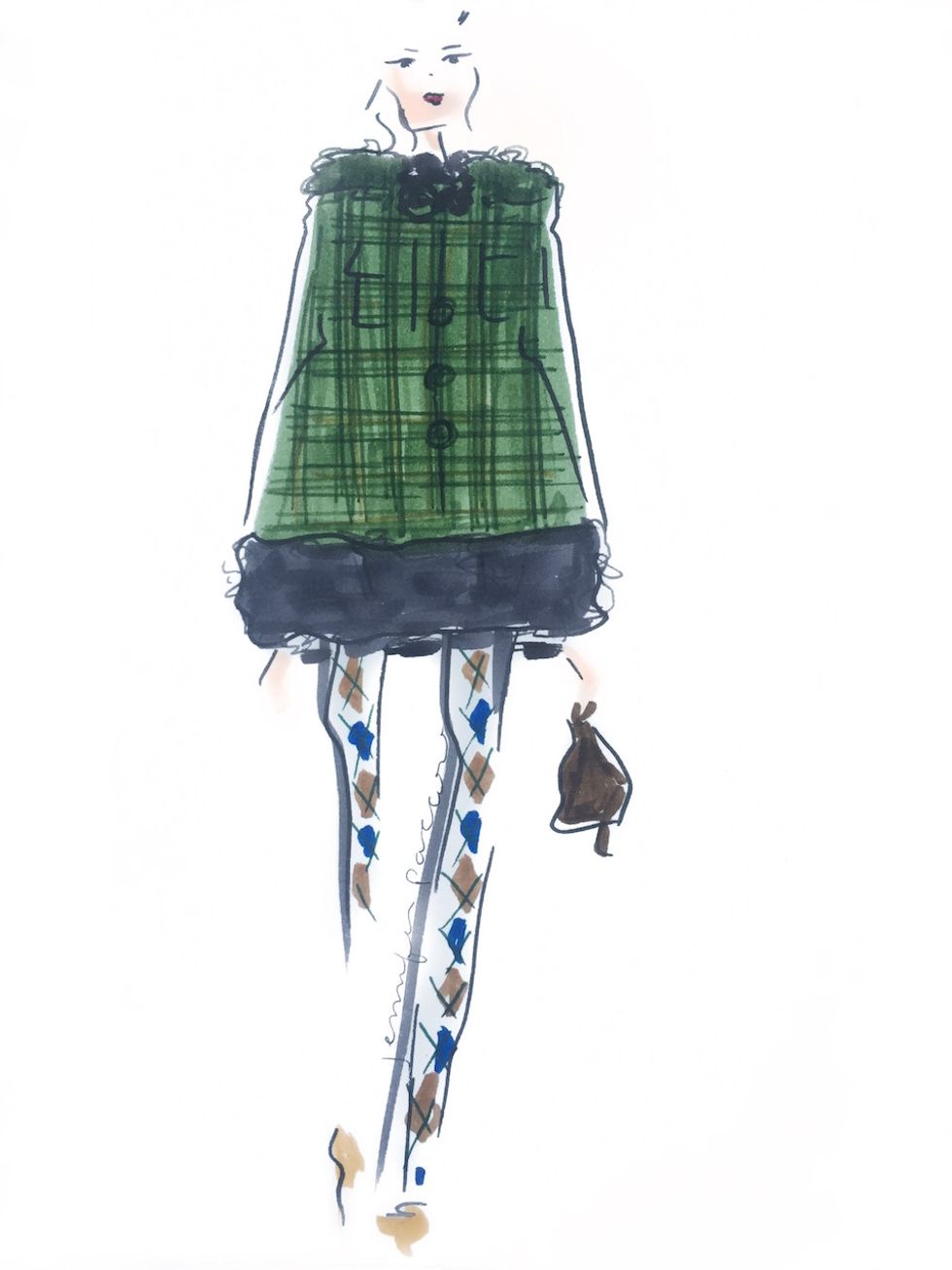 Illustration by Jennifer Paccione
4. Tights
Tights dressed the legs of models at countless design houses. Seen printed and patterned, sheer and bare, metallic and Lurex, detailed and boldly solid, they completed styles as both a statement and a whisper. Prada incorporated tights, with a subtle transparency and with an argyle-influenced print, in the majority of runway looks as a sartorial replacement for pants. Gucci, too, included brightly pigmented tights, as did Philosophy.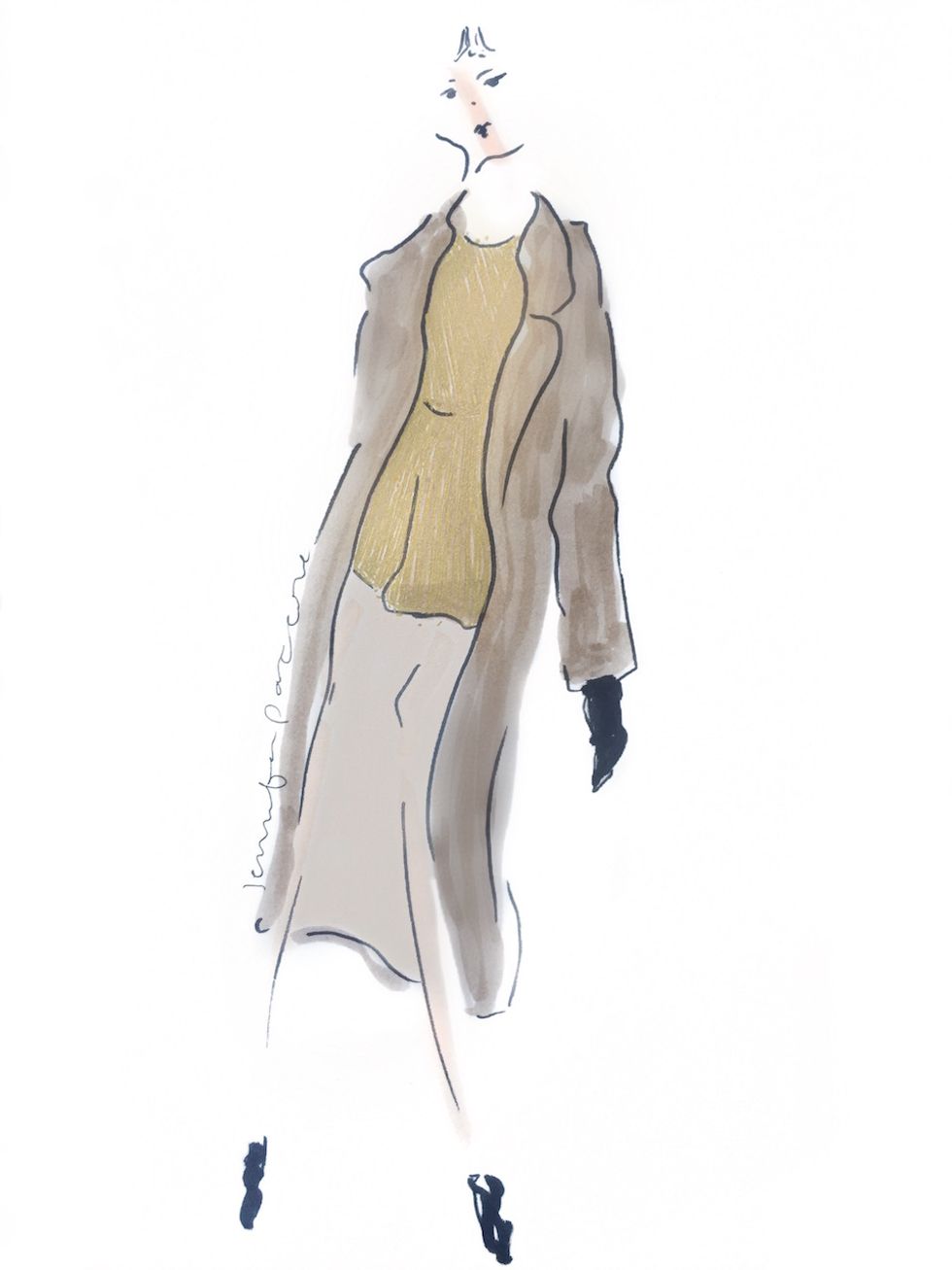 Illustration by Jennifer Paccione
5. Metallics
Metallic influences were evident this season. Allover metallics populated the runway, alongside detailed metal foiling and delicate traces of Lurex shimmer. Max Mara debuted pieces heavy in metal, as well as metallic blocking paired with milder fabrics. Jil Sander incorporated metallics dynamically and beautifully in a sight that appeared invigorating and new. Collections from Missoni, Philipp Plein, Giorgio Armani, and Brunello Cucinelli too incorporated metallic influences in innovative fashions.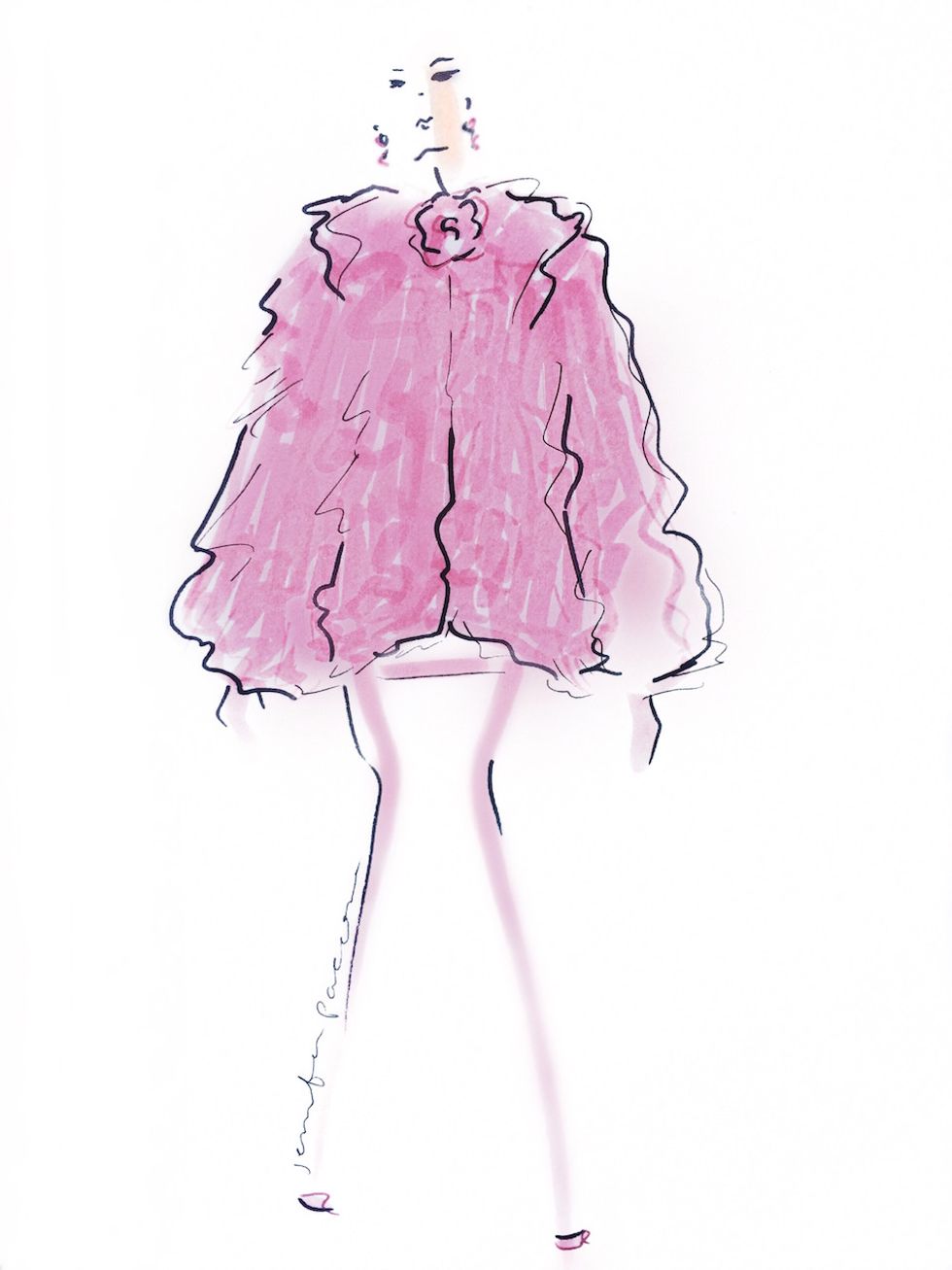 Illustration by Jennifer Paccione
6. Blush Hues
This season, there was a recurring color featured in the runway collections of most Italian designers: a dusty pink. This pale shade was incorporated in accent pieces, as well as a primary color in attention-demanding styles. Gucci paid tribute to blush with a monochrome look featuring a pink fur coat dressed with tights, gloves, a handbag, and shoes all dyed in the identical shade. Gucci gave a nod to the color in a silk dress, adorned with a delicately placed serpentine motif. Jil Sander highlighted what it meant to pretty in pink with accenting metallic fabrics. Dolce & Gabbana dressed their troop of models in sequined mini dresses that created a wave of pink as they closed the show. Versace and Max Mara also did their part to include and incorporate this noteworthy shade in their looks.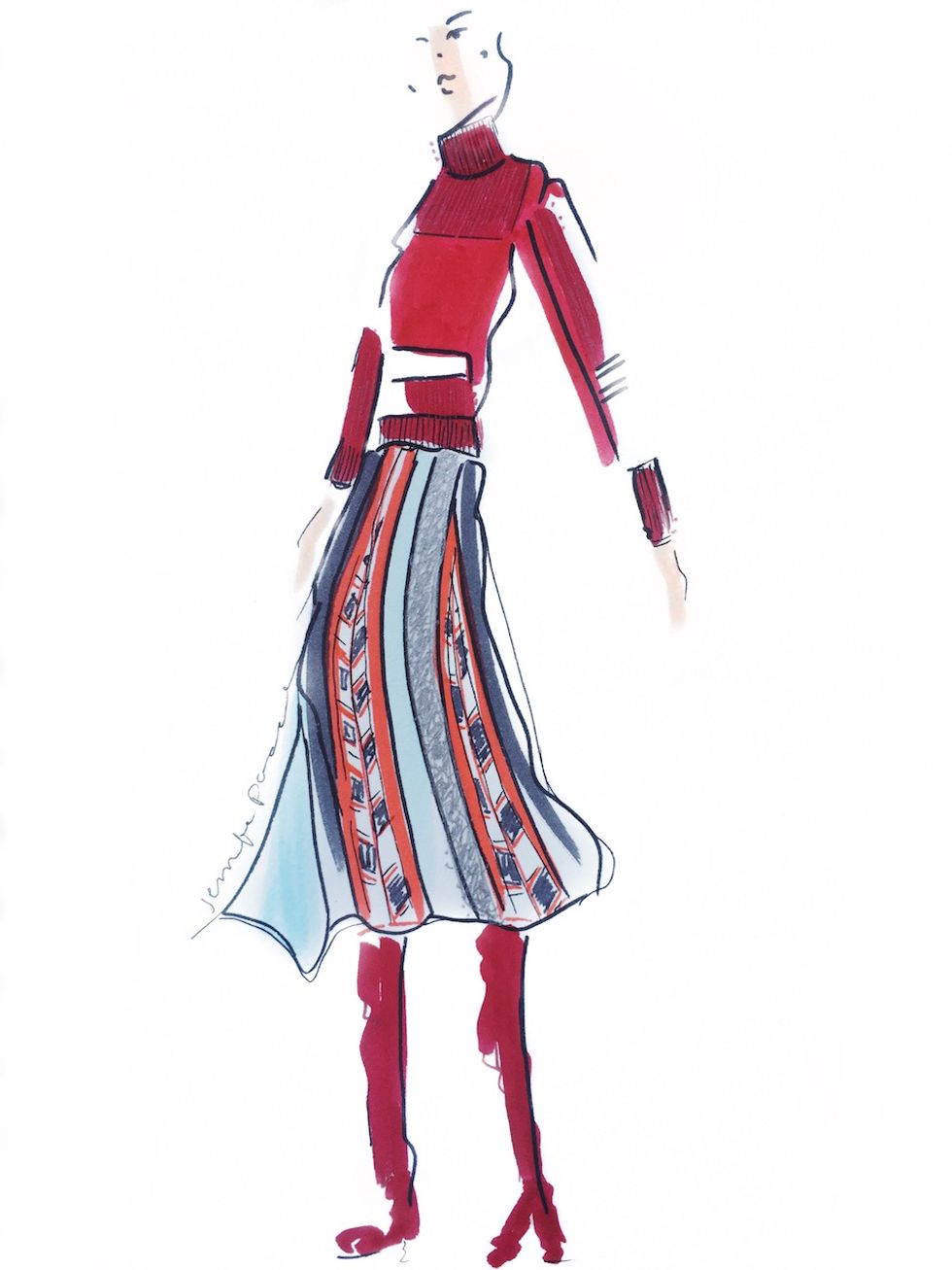 Illustration by Jennifer Paccione
7. Stripes
Stripes resurfaced in next season's collections in an unconventional way, with newness seen in elements of deconstruction and direction. Variegated stripes decorated the looks and appeared innovative when paired with alternatively striped garments. Broken stripes, zigzags, and waves reinvented the classic lines, and stripes bearing diverse prints, with each individual stripe mismatched in a different pattern, provided a graphic alternative. Emilio Pucci excelled in presenting abstract stripes throughout the collection, while Fendi incorporated stripes in the form of zigzag patterned fur, and wave-like patterned blouses and dresses. Stripes were further represented in designs of Gucci, Max Mara, Salvatore Ferragamo, Missoni, and Etro.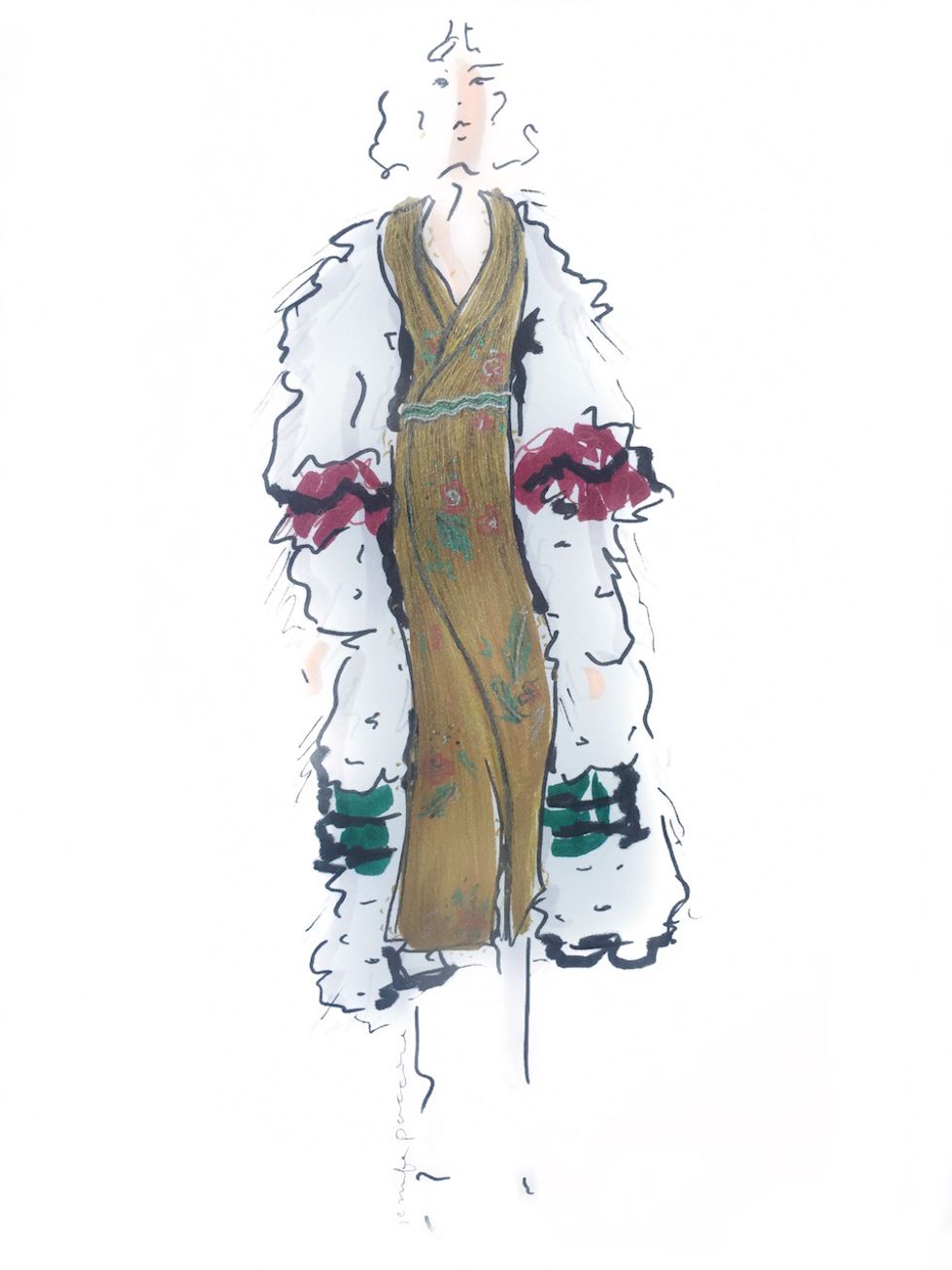 Illustration by Jennifer Paccione
8. Oriental Tropics
An excitingly appealing, not to mention unexpected, pattern graced the runways of Milan for seemingly the first time. A new tropical print merged with oriental influences introduced itself for Fall/Winter 2016. In Fendi's collection, the print was featured on a metallic, bronzed dress and, again, printed on lush fur. Prada showcased their love for the exotic in several of their garments that were foiled in sophisticated gold with just a touch of tropical subtlety. Gucci and Fausto Puglisi too paved their path into the jungle by including variations of the oriental tropics in their collections for next season as well.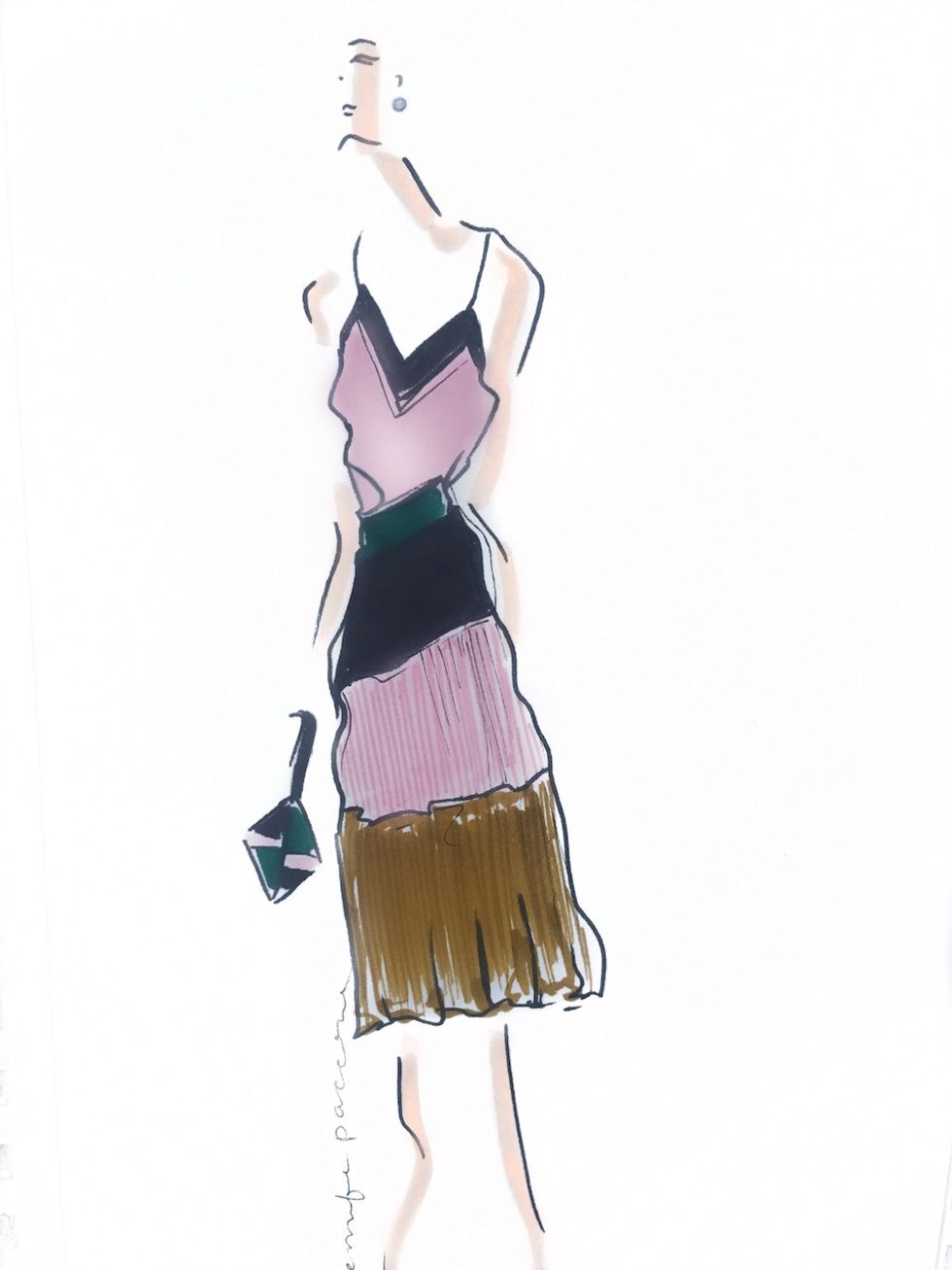 Illustration by Jennifer Paccione
9. Slip Dresses
A reappearing silhouette during Milan Fashion Week was the effortlessly sexy slip dress. Showcased in various styles and forms, the slip dress graced the runways in crushed velvet, patterned in stripes, fabricated in full-on metallics, inset with pleats, and layered over second-skin like turtlenecks. Salvatore Ferragamo showcased a color-blocked, striped slip dress with a pigmented pop of emerald and cascading pleats. Versace walked varying slip dresses down the runway, followed by designers like Missoni, Jil Sander, Au Jour Le Jour, and Gucci.