First, off, it's not up for debate that the Coldplay video "Hymn For The Weekend" featuring Beyoncé does absolutely borrow tropes and traditional imagery from Indian culture. Though it is set in Mumbai, there's more at play than location here. In particular, Beyoncé's appearance in the video—which you can watch here—either straddles or crosses that fine line between "appreciation" and "appropriation."
The reaction to the video has been immediate and mixed. Just take our very own Facebook comments section where some of you have voiced your displeasure with elements of what was released this morning. We, too, have our own questions and doubts (though our love for Queen Bey remains intact). In the end, though, it's only for individual Indians and members of the global desi diaspora to decide for themselves whether "Hymn For The Weekend" is an appropriate celebration of Mumbai, India at large, and the vibrant culture it birthed, or whether it's an inappropriate example of cultural colonialism. 
That said, we thought it would be interesting and maybe even valuable to reach out to some friends of ours who are not only of desi descent, but either musicians themselves or members of the BeyHive, for perspectives on what has become a controversial bit of pop-culture ephemera. Read on, listen, and then share your position in the comments below or on Facebook. We'll be reading.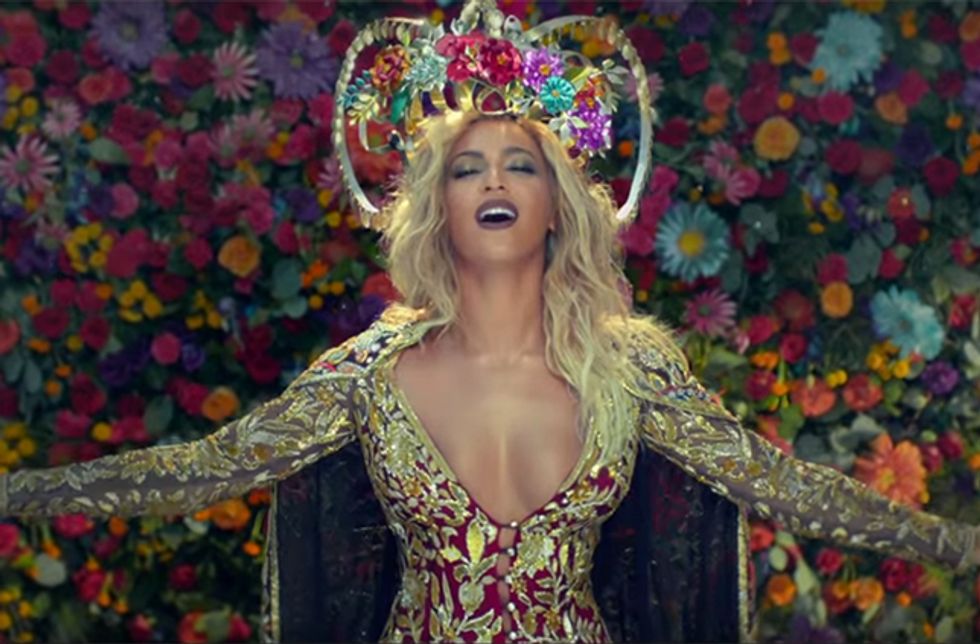 Image via Atlantic Records.
Jahan Yousaf (aka Krewella), Recording Artist
"I think the video is beautifully directed, it is aesthetically pleasing, and being half-Pakistani, I am proud to see people of South Asian descent in the media being portrayed in such an endearing way. I think we are witnessing the emergence of a cultural revolution that is raising public dialogue not only about the demand for diversity in the media, but the way in which we are telling stories about minorities or non-Westerners and how we are portraying them.
"Hollywood, music videos, art, and fashion often use the thrill of the 'Third World' (a term I avoid using as it makes other regions seem primitive and backwards) as entertainment due to the dangerous, savage, and barbaric imagery or behavior. It is very skewed. While one might simply see these representations merely as entertainment and not to be taken seriously, they can unknowingly disguise colonial Western ideology, that the 'other,' whether African American or Muslim, is subhuman and therefore human rights do not apply. 
"Judgements about one's character due to their South Asian or Middle Eastern descent, as well as hate crimes due to intolerance of one's ethnicity still exist in this country. So, while I like to enjoy and encourage consuming music that incorporates aspects of other cultures, I do think it's important we shed light on their daily lives and struggles as human beings. And, despite my normally critical attitude, I think the video 'Hymn For The Weekend' is refreshing in the way that it shows the personality of locals in Mumbai. They aren't portrayed as one-dimensional sidekicks or merely as background dancers. And while Beyoncé is perfectly airbrushed and doused in more jewels than an impoverished Indian could ever dream of, I see the people of Mumbai as the stars of the video."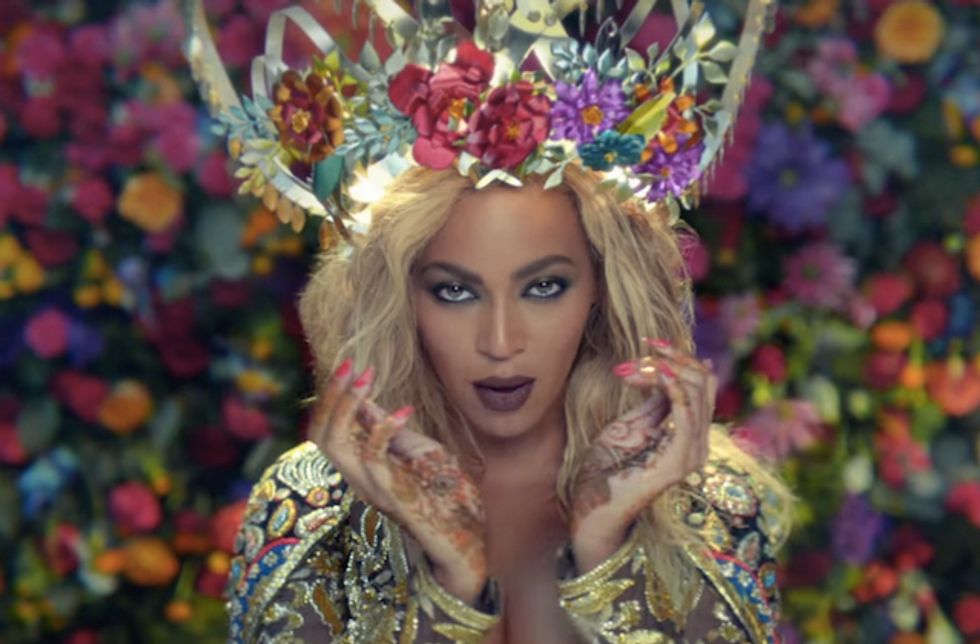 Image via Atlantic Records.
Aseem Mangaokar (aka Hotel Garuda), Recording Artist
"I think that it's easy to misunderstand intent when it comes to sensitive issues like cultural appropriation, and that people who have shared in experiences with cultures other than their own in an honest way can make them a part of their identity without harming the culture. I don't feel personally offended by anything in the video. Considering Beyoncé is an artist from a minority background, I don't think her use of Indian clothing is offensive per se. Maybe it's a little misguided, but I don't see it as really harming Indian culture at all."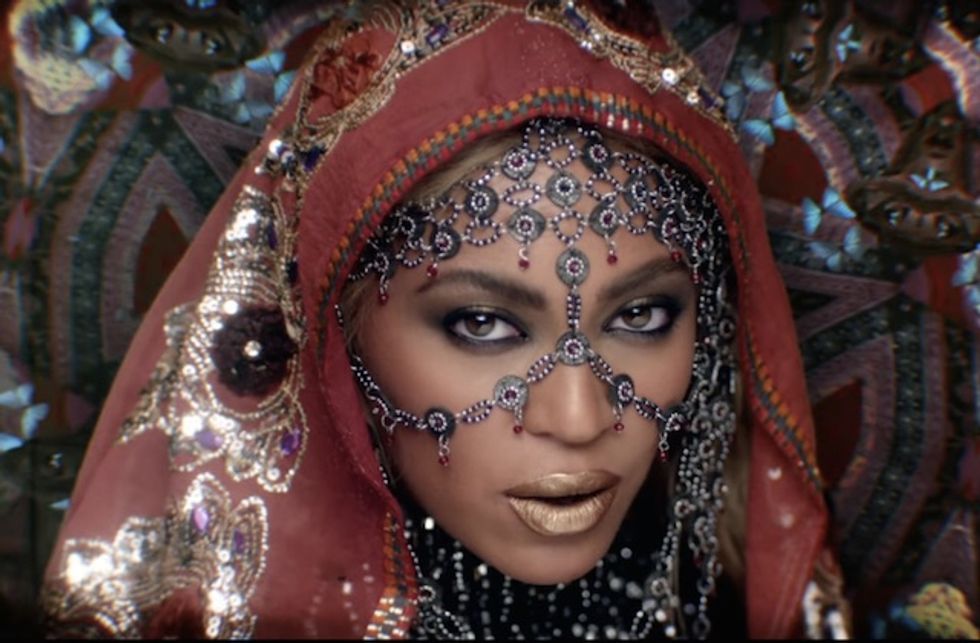 Image via Atlantic Records.
Sajeeb Saha (aka Jai Wolf), Recording Artist
"The video is visually striking and cool, and—yeah—technically it is appropriation. But I don't know. I feel like I've seen worse. I feel like Beyoncé wearing traditional indian clothing and Coldplay playing in the streets isn't so bad. I was struggling with this for Diplo's 'Lean On' video, too. Diplo has a history with India, he lived there in his 20s, and has an appreciation for it, so I sort of gave him a pass for it. He has written at least two lengthy Facebook posts about his time in India as well which I can respect.
"I guess it's just important to realize that people are more likely to call Coldplay's video 'unique,' 'innovative,' or 'different' as opposed to, say, someone like me going to India and shooting a video. If we were to do it, people would find the video to be more 'foreign.' I think seeing a white person in a foreign environment is more accessible to consumers in Western media than a foreign person in a foreign environment.
"I also think Beyoncé gets a pass 'cause she comes from a culture that is also stolen from and I feel like darker-skinned people borrowing from other darker-skinned cultures is not really a problem. If you are dark-skinned, there's something about your upbringing that will always be non-Western, and you understand ideals and traditions that are non-Western. There's more empathy. I find that I can really connect to Asian people or Black people because we live in a Western society where at times we're seen as outcasts. Because of this, I don't feel uncomfortable seeing Beyoncé in traditional clothing. Iggy Azalea did an Indian-themed video that I felt was horrendous, and way worse.
"That was blatant exploitation. Is the Coldplay video exploitation? Perhaps, but it's a tad more grey. I think if Coldplay put on traditional clothing it would be a little more questionable. At the end of the day, if you zoom out on this issue, you can't make it a rule and say, 'you can never shoot a music video in another country!' That's ridiculous. At the same time, it's good to be aware when a culture is being used as a commodity and exploited for personal gain."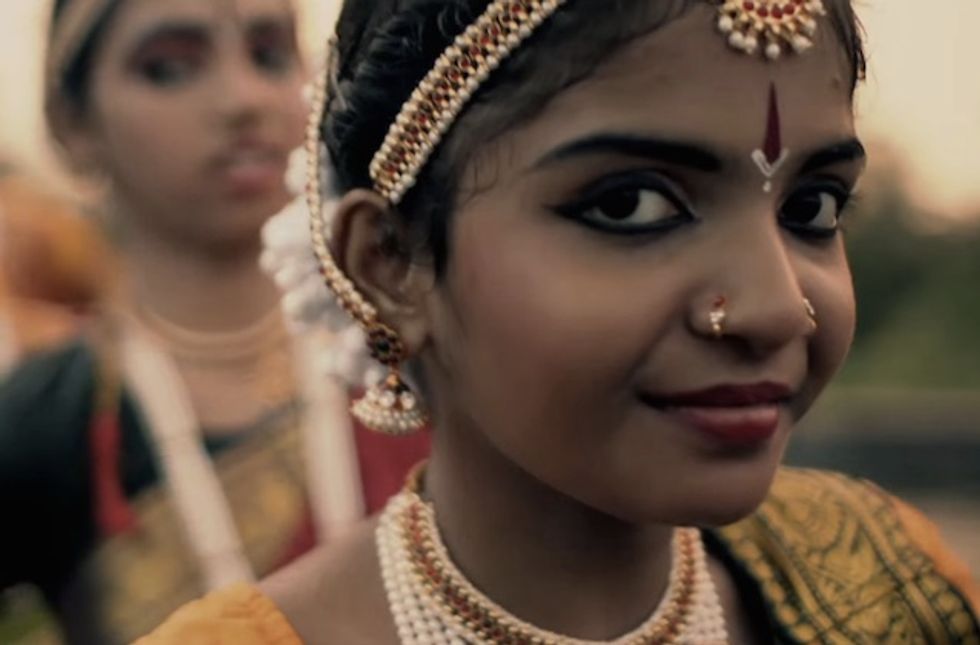 Image via Atlantic Records.
Muneer Panjwani, Self-Proclaimed Beyoncé Stan

"First off, The Bey stan in me hates it because she downgraded and sold her brand to a lesser. You barely hear her in the song, yet all the promos feature a screenshot of her. Maybe Bey-Z decided to adopt Chris Martin like they did Nicki to make him more pop-friendly for his new album. Don't come at me with, 'she's lubing us up for her new album.' No. She doesn't need to collab with anyone to make a hit, much less Chris Martin. Remember, she's a queen and she upgrades you.
"Secondly, the social justice warrior in me hates it because of the obvious Orientalist tropes in the video. The video centers a white man in a country of 'wonder,' 'color,' 'shamans,' and 'magic,' with actual Indians as accessories to feed a very other-ized understanding of Indian culture. If you don't understand this, please read Orientalism by Edward Said.
"Though, I'm not sure if it's appropriation. I see that as when the dominant culture co-opts a minority culture for profit. It can be argued that Coldplay is profiting off of it—but let's be honest, this song is a solid C+. He's not getting rich of it. Cultural appropriation is a massive grey area, and I'm not sure I have a strong argument for why this is that. I'll wait for the think pieces.
"Finally, the Indian in me loves it because it makes me miss India so much. Holi is one of my favorite festivals and this video brought back some amazing childhood memories. The best part of the video is the billboard of Bey spelling out 'Rani' in Hindi, meaning 'queen.' This may be five out of five problematics, but I'm totally okay with Bey ruling India…if she allows Deepika Padokone to rule with her."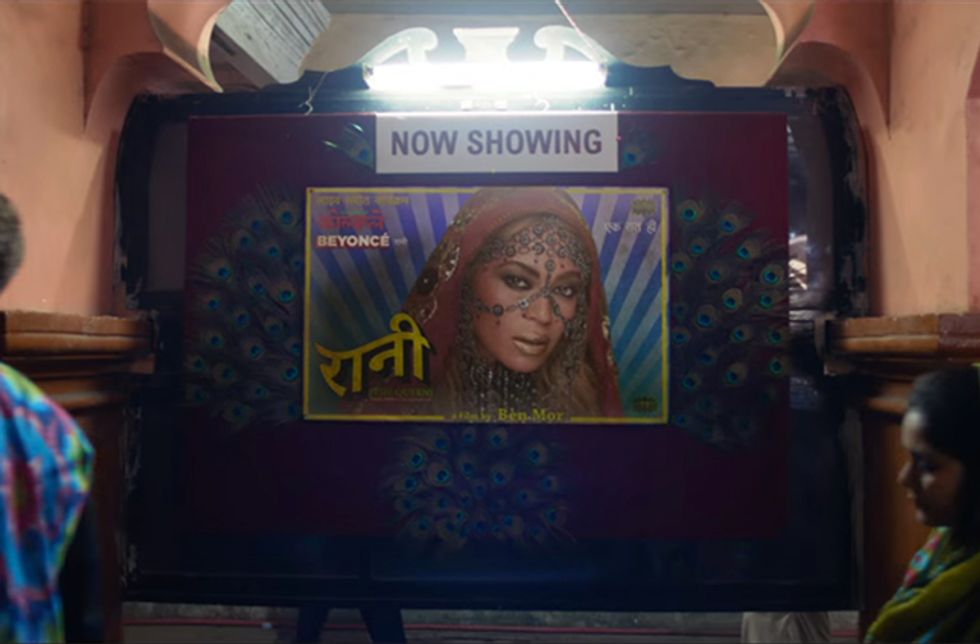 Image via Atlantic Records.
Sanjey Ole, Vocalist And Recording Artist
"I actually love the video, it embraces the culture and I don't see it as offensive in my eyes. The attention to detail in the way it's shot is beautiful; the beginning and the end scenes are captured perfectly. Also the song in terms of lyrics go well with the video. Scenes like little Krishna hanging out on the steps and the Holi festival all have been captured very well without any offense.
"Compared to the Iggy Azalea "Bounce" video where the lyrics had nothing to do with any part of Indian culture and was just used and exploited without a purpose, every scene in this video had a purpose and message behind it. Beyoncé's role in the video is a little over the top in true Beyoncé style and I feel that she wasn't portraying the true essence of Indian women. Basically she could have simplified her costume instead of making her out to be in the form of an Indian bride/Goddess. Sonam Kapoor's role and outfit was much more appropriate in the way they capture the true essence of Indian women. Chris Martin and the rest of the Coldplay members blended in with the video and story whereas I feel Beyoncé didn't unless that's what the director was trying to go for. Overall it's a seriously stunning video with amazing cinematography shot to perfection!"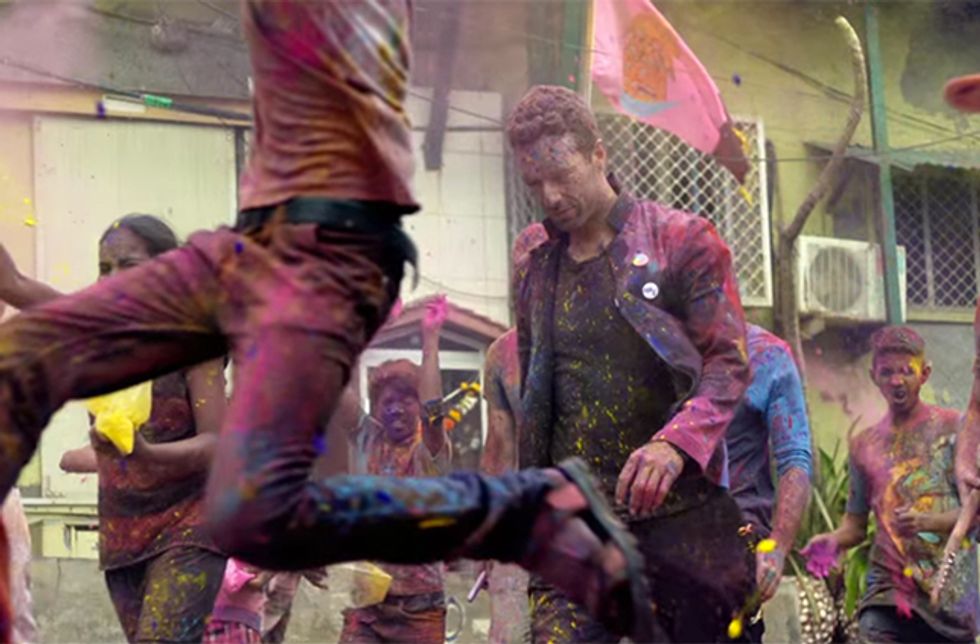 Image via Atlantic Records.
Kashif Khan (aka Rootkit), Recording Artist
"I think they portray the culture in a cool way from a lot of aspects and the video has a fun, happy vibe to it. While I do understand some may misinterpret the intention of the video and clothing style in its context, it was meant in no harm. It might be a bit overdone and misleading for some, but far from any way that will have a negative impact on how the culture is perceived."