The following feature appears in the May 2016 issue of NYLON.
On a warm day in Marina del Rey, California, Billie Lourd poses for the camera, her picture-book flowy blonde hair wrapped in a pink fishnet stocking. "I feel most comfortable when I have some weird thing on my head," she says with a laugh post-shoot. First it was braided buns as Lieutenant Connix in Star Wars: Episode VII - The Force Awakens, a nod to her mother Carrie Fisher's iconic hairstyle as Princess Leia. Then it was bejeweled earmuffs as Chanel #3 on the campy sorority-horror series Scream Queens. For her latest project, though, she's making a clean break from quirky hairdos and headgear. 
In between preparing for Scream Queens season two and shooting the forthcoming Star Wars VIII—where she "has more to say" and won't be "Where's Waldo-ing around this time"—Lourd landed the role of Rosanna in the remake of the 1987 classic Billionaire Boys Club, appearing alongside her TV co-star Emma Roberts and heartthrob Ansel Elgort. Even though a feature-length drama is new territory for the 23-year-old California native, the character isn't exactly foreign to her. "It's kind of similar to Chanel #3 in that she's in love with love and is a free-spirited flower child," she explains. "[Filming] was kind of like a party every night—we were dancing, sweating, breaking trees, and doing things you do at 4 am" 
Click through the gallery to read the rest of the feature.
Photographed by Felisha Tolentino. Top by 3.1 Phillip Lim, underwear by American Apparel, stylist's own earrings.
Fun seems to follow Lourd—even on the set of Star Wars, which is notoriously intense. "I got there and immediately started making jokes and singing Jersey Boys," she says of shooting The Force Awakens. It was then that Lourd realized acting could be her career. "I thought, 'If I'm comfortable here, this is something I should do,' because most people aren't comfortable in this high-pressure environment," she recalls.
Her ease makes sense, as Lourd grew up within the orbit of figures like Meryl Streep, her godmother, and famed '50s actress and media darling Debbie Reynolds, her grandmother. It's thanks in part to role models like these that she's developed such a down-to-earth relationship with fame. "My parents were very nervous about me being an actress because of the negative things—being in the public eye, having people nitpick you—and being able to see that has helped to ignore it better," she says, before doling out wisdom also fitting for the nonfamous in today's social-media-saturated era. "If people are saying I don't have a chin—or whatever they say—I can turn that off and realize they're just insecure and it's part of the job. You have to feel bad for them rather than be angry," she reflects. 
One other lesson she's learned is not to take anything for granted. Even though Lourd has just scratched the surface of her aspirations—which include improv and music ("If I could be Drake, I'd be the happiest woman alive," she says, offering a touchstone)—she knows this ride could be over tomorrow. "When you enjoy something," she adds, "why not do it as your career? Or, at least for now—because, who knows, I could end up [jobless] crying with the fishnets back over my head."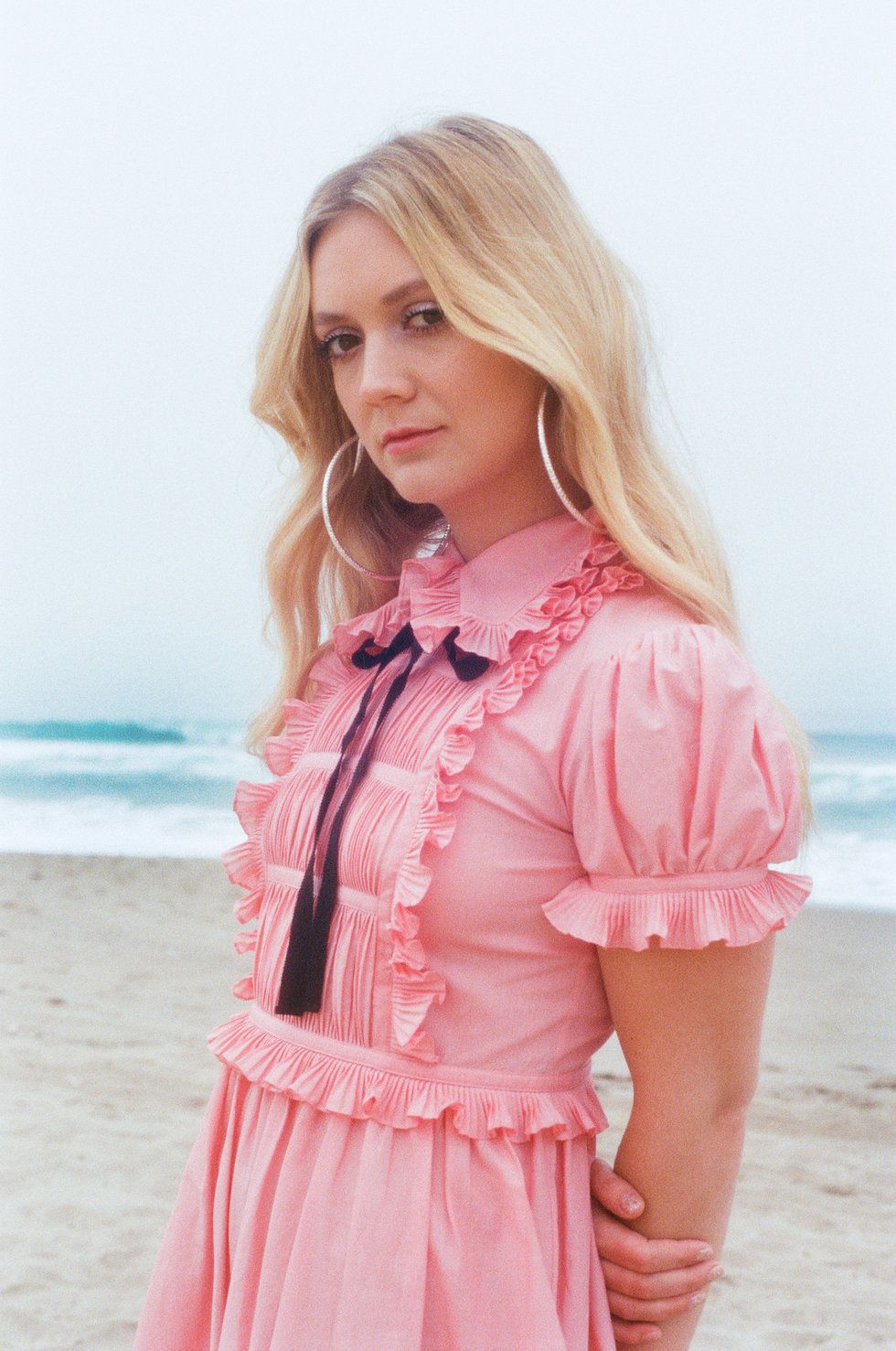 Photographed by Felisha Tolentino. Dress by Gucci, stylist's own earrings.
BILLIE LOURD'S MUSTS

Coveting
"Gucci sliders. I'm obsessed with all Gucci things, and with the Fendi bag bugs. Why are they so expensive? Why do I want them all?"
Browsing
"I love StumbleUpon—I'm like 94 years old. Shout-out to my Instagram @praisethelourd. And I love Kayak. I would have been a travel agent if that was still a job."
Listening
"Drake and Future's What a Time to Be Alive"
Reading
"I like any book that's about a mental hospital: The Bell Jar by Sylvia Plath, Cut by Patricia McCormick, and Girl, Interrupted by Susanna Kaysen—love the movie, but love the book even more."
Beautifying
"I like Bobbi Brown foundation, I'm a mascara whore, and I'm all about that Rite Aid shit and Diorshow."
Drinking
"I love a lychee martini at Katsuya. I didn't say that! That is the most white girl thing I could say. Sorry for partying." 
Visiting
"I just went to Prague for the first time and went to a restaurant where the beer comes on a train that stops in front of your table. I'm also going on a trip with my boyfriend and mom to Vietnam, which I'm really excited about."
Eating
"I'm a chicken connoisseur so my favorite fried chicken is absolutely at Willie Mae's in New Orleans. It is so crispy and delicious. But, also, I'm basic and I love Sugarfish."
Wearing
"My Fiorentini + Baker boots. They're pricey, but I wear them so much that it becomes OK, I think."
Relaxing
"I go out to dinner with friends, have a little lychee martini."
Stylist: Zara Mirkin. Hair: Bridget Brager for Sacha Juan at The Wall Group. Makeup: Kelsey Deenihan at The Wall Group using Mark. Manicurist: Sarah Chue at Exclusive Artists using Dior Vernis.