The following feature appears in the June/July 2016 issue of NYLON. Buy it now (and receive a 15 percent discount off your next order!). Or, subscribe.
"I'm obsessed with death," says rapper-singer Brooke Candy before taking a big bite of an egg-white scramble. We're eating at Los Angeles' famed Chateau Marmont, but as someone who doesn't buy into the hype of who's who in Hollywood, she's not a regular here. "But the label is paying for it, so fuck it," she whispers, and then laughs. 
She turns to show me the patch reading death that is hand-sewn to the back of her black denim jacket, a gift from a designer friend. "Death is honest. I'm not scared of it. Bring it on," says the 26-year-old. She puckers her lips, which are coated in cherry red lipstick from a line she created for M.A.C last year. The color is called Mind Control.
Click through the gallery to read the rest of the feature.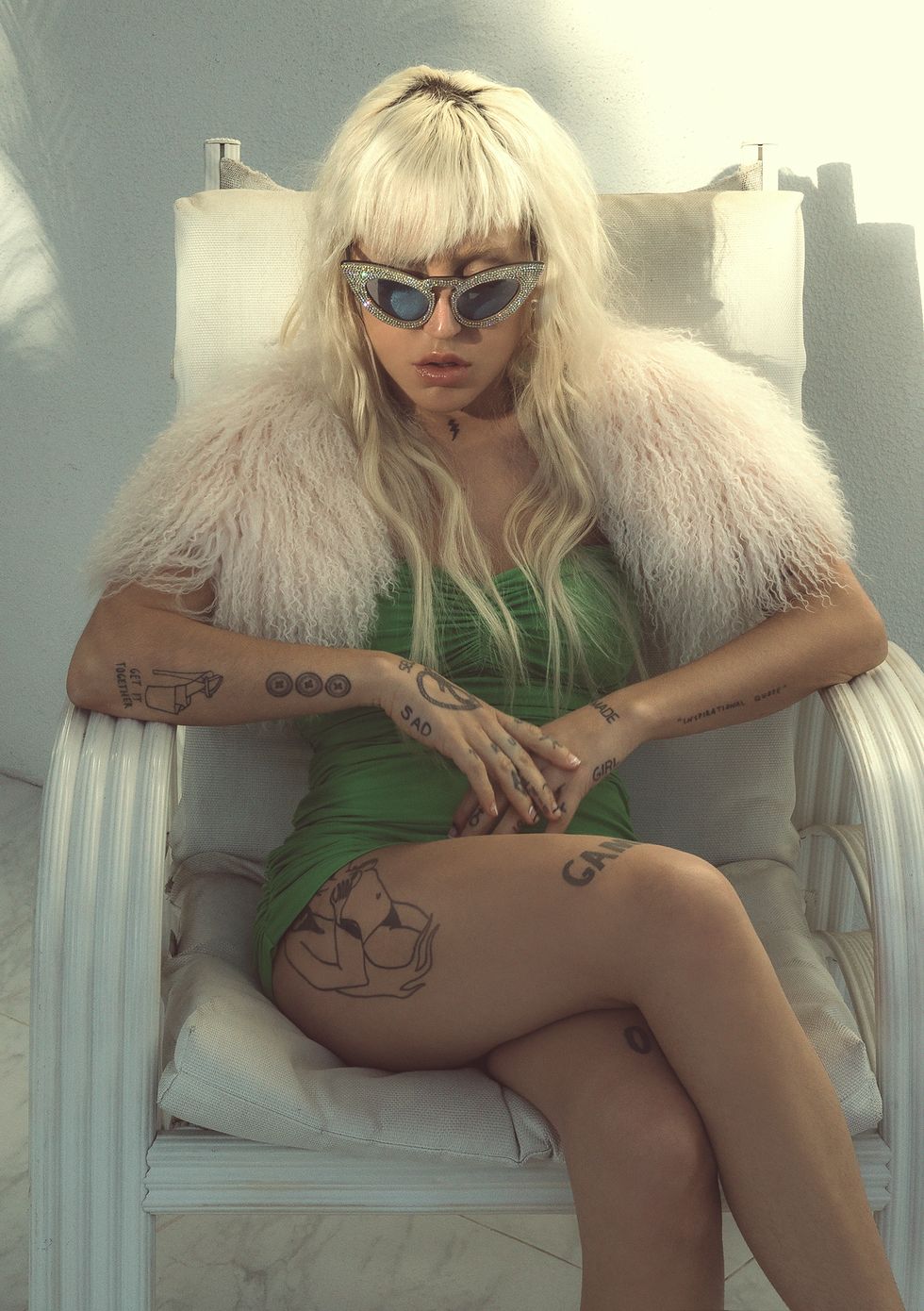 Photographed by Janell Shirtcliff. Styled by Karen Levitt. Shrug by Adrienne Landau, swimsuit by Norma Kamali, sunglasses by A-morir.
Naturally, this morbid obsession has crept into her music. "Paper or Plastic," a song off of The Daddy Issues, Candy's upcoming debut album, features lyrics such as, "Why do all the good girls have to die?/ Living in a bad girls' paradise." But her fixation is about more than finality: "Death is the beginning of something much bigger," she says. "All the energy that exists in this life is mirrored in death. There is nothing to be afraid of." Candy asks if I believe in reincarnation and exclaims "I do!" before I have a chance to answer. When I tell her I've seen ghosts, she asks whether we can find a Ouija board: "Let's talk to some ghosts! I'm dying to."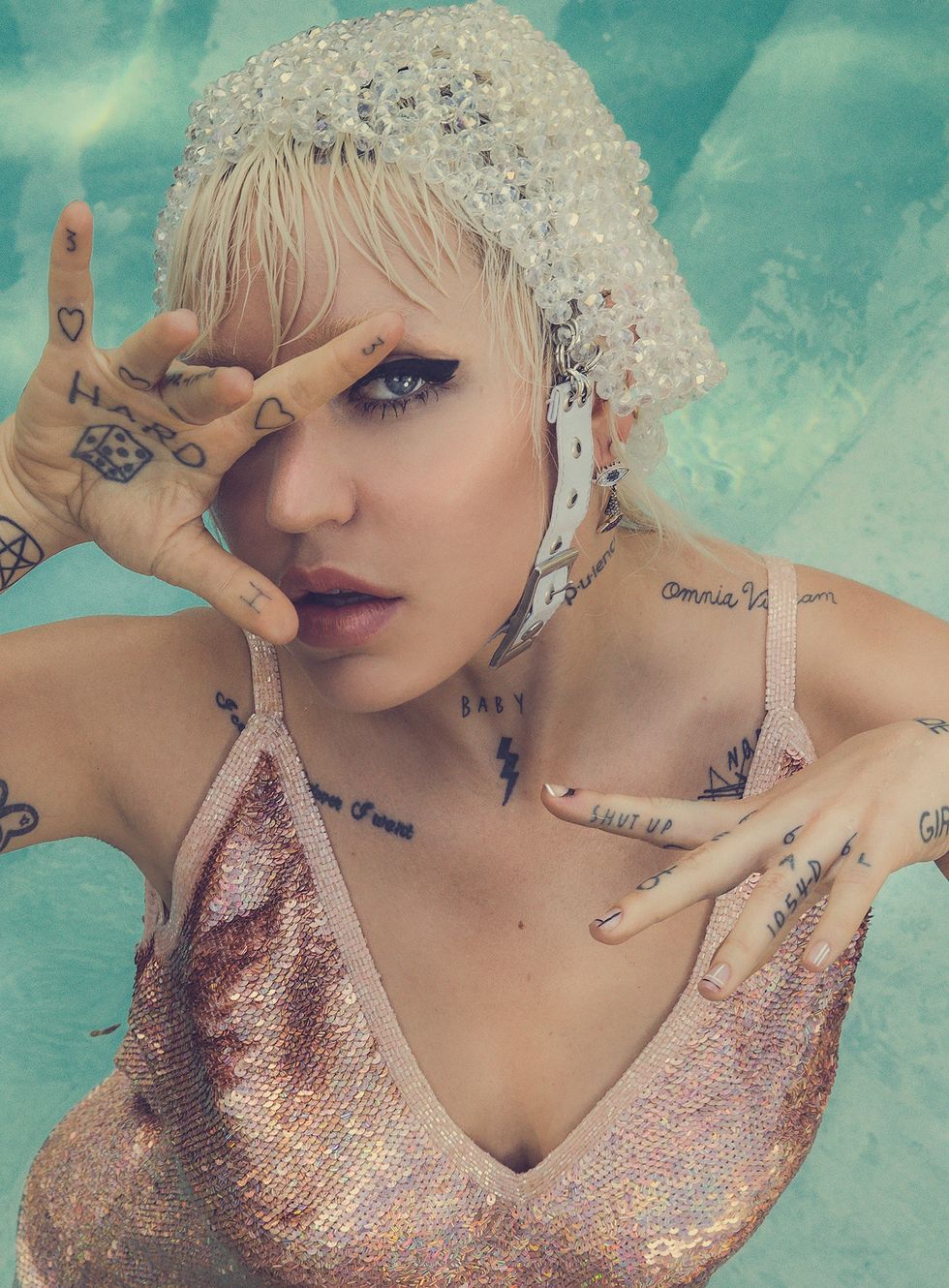 Photographed by Janell Shirtcliff. Styled by Karen Levitt. Dress by Ashish, bathing cap by Manuel Diaz, earring by Delfina Delettrez worn throughout.
Since entering the cultural consciousness in 2012 with an evocative starring role in Grimes's video for "Genesis," Candy has changed her look on the regular, from club kid in hot pink braids to diamond-studded glam alien to her current toned-down but still striking guise: dreamy punk with platinum bangs and side locks, the back of her head shaved, a very L.A. interpretation of a Chelsea cut. She has 33 tattoos, but her favorite is on her right hand. It's a noose in the shape of a heart. The word self appears in black letters above it. It reminds her to stay grounded.
In 2014, Candy signed to RCA Records and released her first EP, Opulence, also the name of a track co-written by Sia and produced by Diplo. Sia executive-produced The Daddy Issues as well. Candy also just launched her second M.A.C line, which includes eye gloss, mascara, eyeliner, bronzer, and lipsticks in shades of red, dark purple, and bright pink.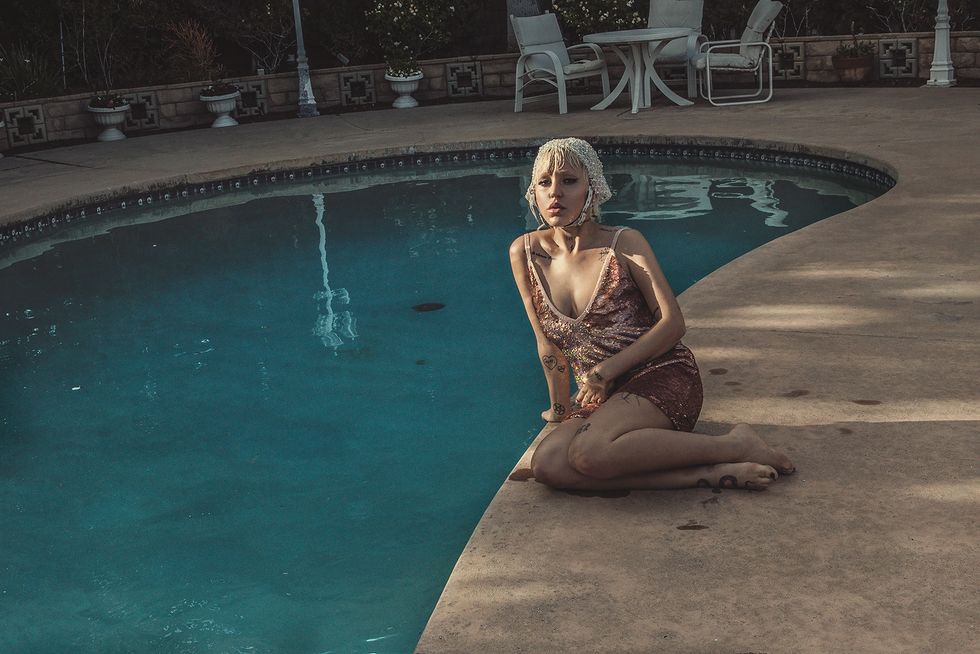 Photographed by Janell Shirtcliff. Styled by Karen Levitt. Dress by Ashish, bathing cap by Manuel Diaz.
Growing up in suburban Southern California, Candy felt stuck in a cookie-cutter world that didn't understand her or her aesthetic. In high school, her piercings and purple mullet squashed any chances of acceptance by her mainstream-leaning peers. "I was tormented for how I looked. They were the worst years of my life," she says. "There were lots of verbal threats. I used to get physically bullied. I was pushed, hit in the face. One kid used to put me in a headlock and give me noogies every day. It was really depressing."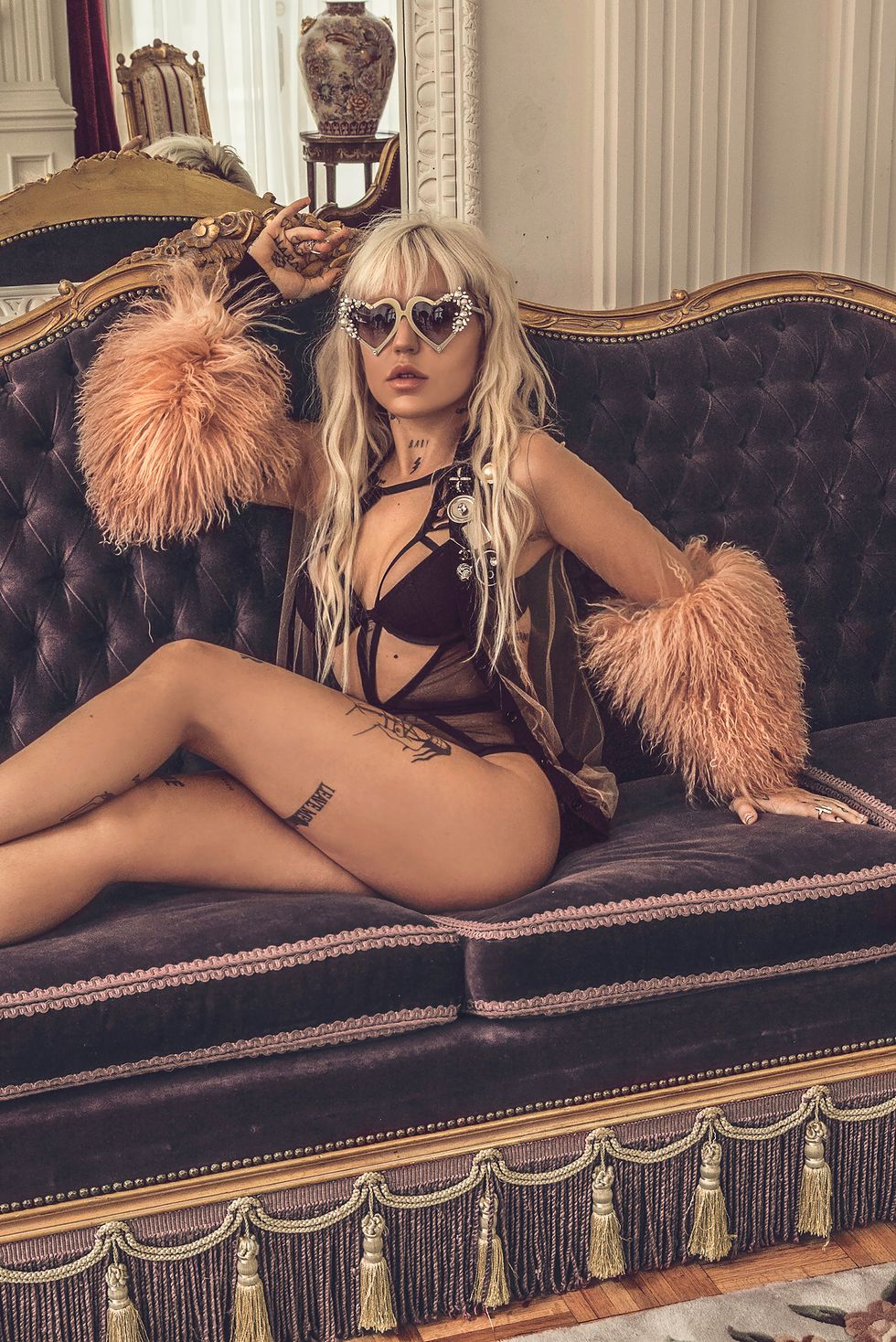 Photographed by Janell Shirtcliff. Styled by Karen Levitt. Sweater by La Perla, bodysuit by Bao Tranchi, sleeves by Adrienne Landau, sunglasses by A-morir, ring on right hand by Joanna Laura Constantine, ring on left hand by CC Skye, stylist's own pins.
Following a bad breakup at age 21, Candy moved in with her mother (her parents divorced when she was eight). She and her mom shared a one-bedroom apartment. "I came out to my mom as pansexual," she says. "Men, women, trans, anything—if I like a person, I like a person." Upon hearing this news, her mother kicked her out, Candy says. She packed up her Toyota and lived out of it for a year, parking on West Hollywood streets or in a friend's driveway in Eagle Rock. At the time, she was making music and working as an exotic dancer, the best way she knew to earn extra cash.
"I was severely depressed during that time," she says. "I used a lot of coping mechanisms that weren't healthy. I was suicidal. I had issues with alcohol and drugs. I was really in the pits of darkness. It was either get sober or die."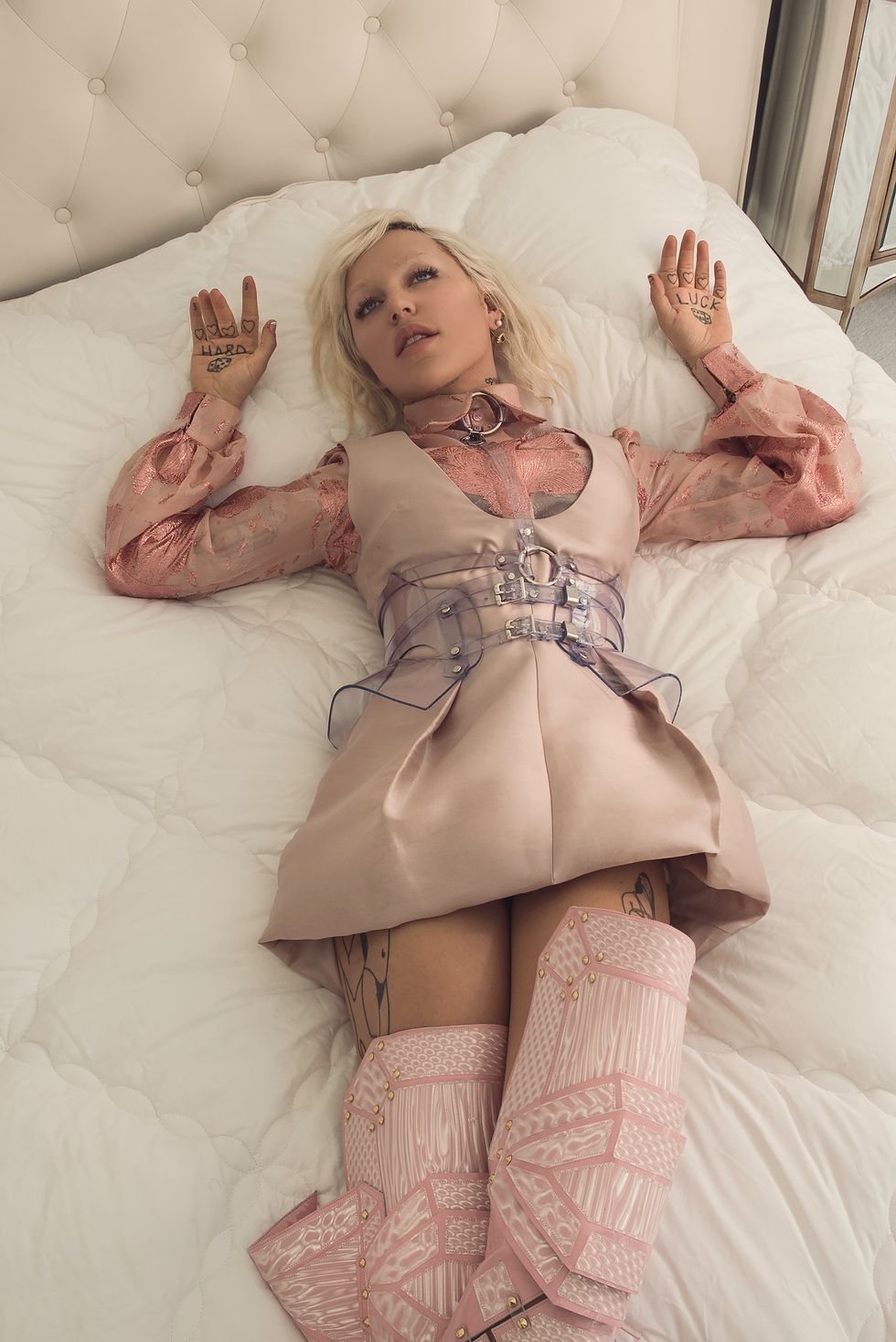 Photographed by Janell Shirtcliff. Styled by Karen Levitt. Dress and shirt by The 2nd Skin Co., boots by Kira Goodey, harness by Zana Bayne.
Candy was squatting in Echo Park when Sia contacted her via an email address she'd put up on her Instagram account. At first she thought it was just another online bully playing a trick on her, but Sia insisted on seeing her in person. "She wanted to help me," says Candy. "I guess she saw herself in me. I think she wanted to protect me, which is what good women do." Sia helped her get sober and find management. "She taught me to help others," Candy adds. "It was easy to listen to her, because she represents everything I want to accomplish. I owe her a lot."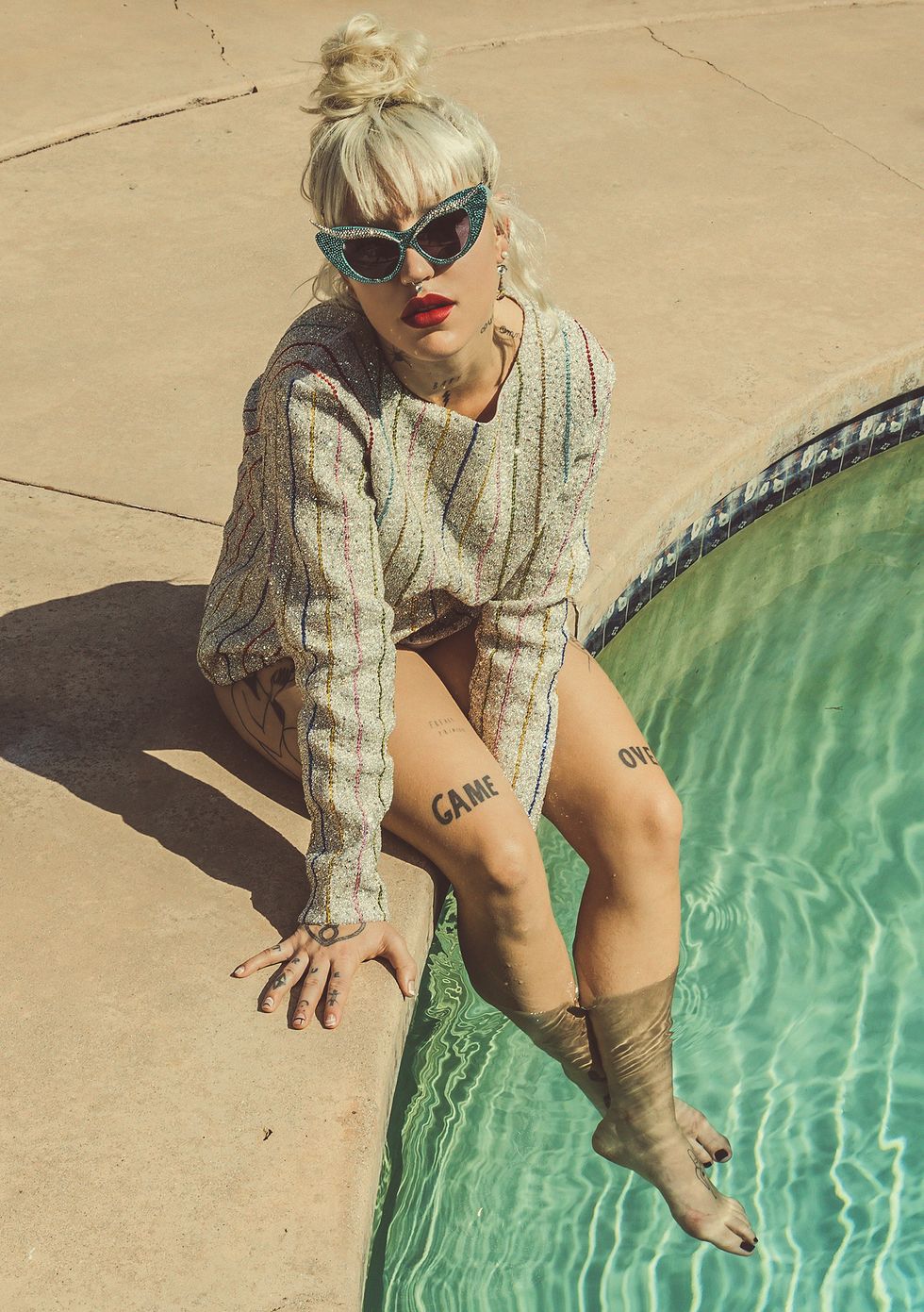 Photographed by Janell Shirtcliff. Styled by Karen Levitt. Top by Death By Bolls, sunglasses by A-morir.
Candy's top goals as of right now are to keep on a positive path and to perfect her music. "My sobriety is really important. It's allowed me to clear my mind and feel like I'm not alone," she says. Still, even today, Candy finds it difficult to feel comfortable in her skin—especially on the set of fashion shoots, where she's been scolded for eating food or having bad skin. "It's damaged my psyche a little bit," she says. "I think the most powerful thing is for women to love ourselves and project that," she says. Though it's not always easy in an industry that's infamous for its mistreatment of women.
"I support Kesha 100 percent," she says in regard to the artist's recent contract dispute involving an alleged sexual assault. "This industry is dominated by men, but women have the ability to take control of it. The truth will set you free. Kesha is so punk rock."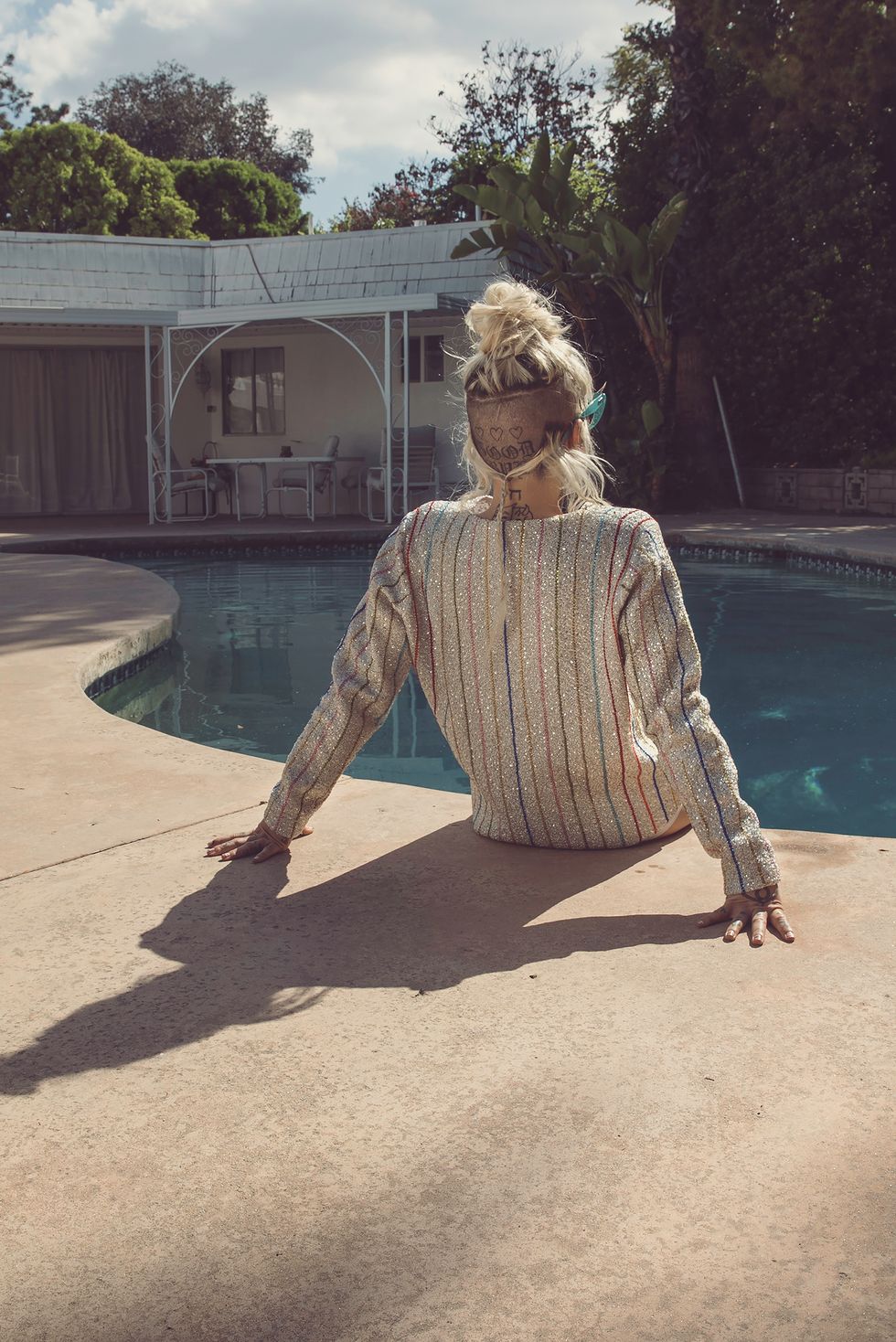 Photographed by Janell Shirtcliff. Styled by Karen Levitt. Top by Death By Bolls, sunglasses by A-morir.
No matter how difficult things get, Candy enjoys spreading positivity. "It's taken me a minute to feel like me again," she admits. "But I'm finally there." We exit the Chateau and start walking toward her apartment. When asked to reflect on her newfound fame, she responds, "Listen, I'm not saving the world. I make songs and dance around. But it's my art, and I think it's important for young girls to hear a message of transformation and overcoming struggle. That's what this new album is all about: being a good person, and self-love. We all need it." With that, she bids me adieu and enters the crosswalk, the word goodbye tattooed on her shaved scalp.
Hair: Michael Dueñas at tmg-la.com using R+co. Makeup: Anthony Nguyen at Opus Beauty using M.A.C Cosmetics. Manicurist: Sarah Chue for Exclusive Artists Management using Dior Vernis.