The following feature appears in the August 2016 issue of NYLON.
New York-based textile artist and designer Christi Johnson is always a little bit blue. That's not to say she's particularly melancholy—rather, the 31-year-old's hands are perpetually dyed a faint shade of indigo, courtesy of her denim-based work. Since moving from Los Angeles to NYC two years ago to pursue her practice full time, Johnson has been fashioning incredible geometric-patterned quilts that are well worthy of adorning walls, plus garments like jackets, dresses, and shirts, all from reclaimed denim and naturally dyed cotton and silk. We met with Johnson at her workspace in the Textile Arts Center in Gowanus, Brooklyn, to discuss her handmade, one-of-a-kind pieces and all things jean.
What draws you to denim?
I've always loved denim. My mom used to do denim patchworking with me when I was younger. I feel like it's something that's so truly American. We have such a young country that it's hard to latch on to things that feel close to your heart. I come from so many different cultures—black, white, and a little bit Native American—and I feel like denim just cuts across all nationalities and all races. It's this unifying factor. 
Click through the gallery to read the rest of the feature.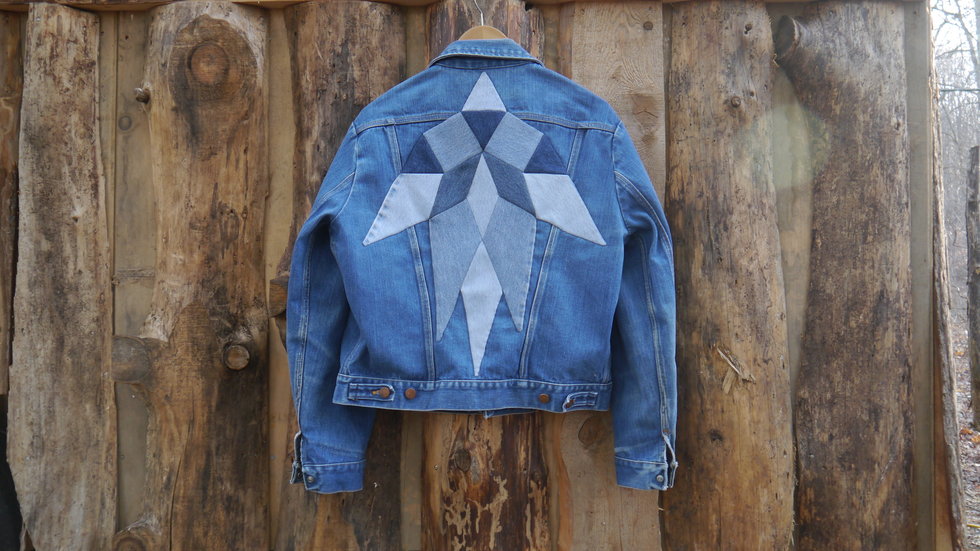 What informed your distinct aesthetic?
I was working at a company called The Pop Studio in Los Angeles—they work with a lot of different brands. The head of that company was like, "I want to do our own brand and I want to use your aesthetic." At that point I didn't even know what that was! I was doing a lot of embroidery, but I didn't really think anything of it. That creative director pushed me to make something different and to introduce something into the denim world that wasn't the average Western-style embroidered shirt. I was also doing a lot of meditation at the time and that really brought about a lot of geometric forms. 
Where do you source your materials?
From friends who are getting rid of their jeans. It all started when my friend lost a ton of weight and gave me 10 pairs of old jeans. But I'll also go to The Salvation Army and get the biggest jeans I can find.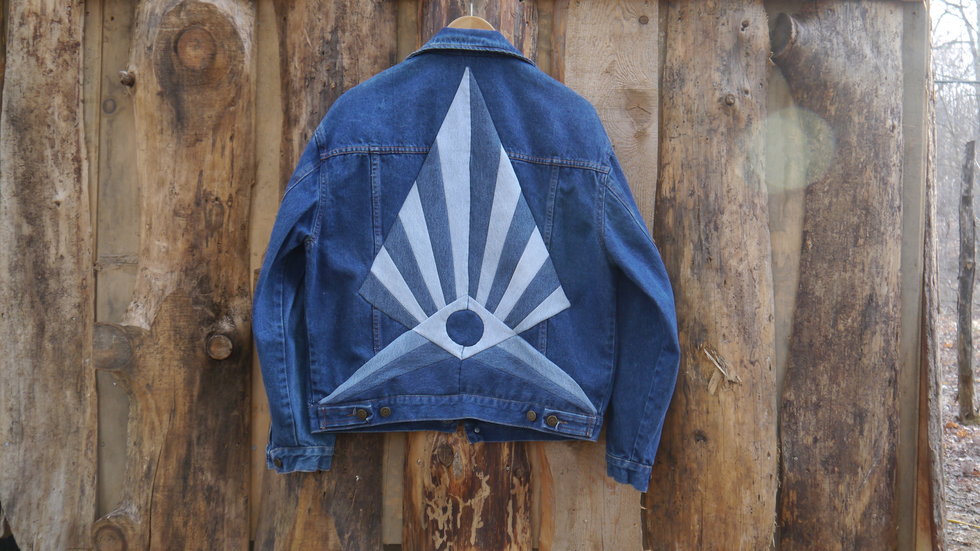 Is there a place where your art practice ends and your design practice begins, or is it more of a continuum?
They influence each other. I don't go into making clothing thinking, "OK, what season is this going to be?" I usually go into it with visceral feelings. Something like, "I really like the way that paint was dripping, how can I get that drip effect on some sort of fabric?" Or maybe I'll be patchworking something out of jeans and I'll think, "Oh, this would make a really cool dress." A lot of it is based on what materials I have left over.
Do you ever throw anything out? 
No, I save all of my scraps.