After the past few weeks of eating nothing but heavy (albeit delicious) holiday comfort foods and slugging plenty of drinks to go with them, we're just about ready for a fresh start. In fact, we're desperate for it.
With the New Year behind us, what better time to start than now? As we set our intentions for 2018, being a tad bit nicer to our bodies should be a top priority—especially after last night. And this starts with eating nutritious meals.
We asked Nikki Bostwick, wellness enthusiast and founder/editor-in-chief of The Fullest, to share five of her favorite easy and quick recipes for a full day of healthy eating. "Eating clean has the obvious benefits of leaving you feeling lighter and your complexion brighter and more clear overall, but it also expands your mind, opening space for you to make solid decisions and be able to manage your life more easily." Sounds just like what we need.
The best part about these recipes? They require little-to-no cooking skills, making it super-easy for anyone to enjoy a healthy and nutritious meal whenever they need.
Consider the below your day one meal plan.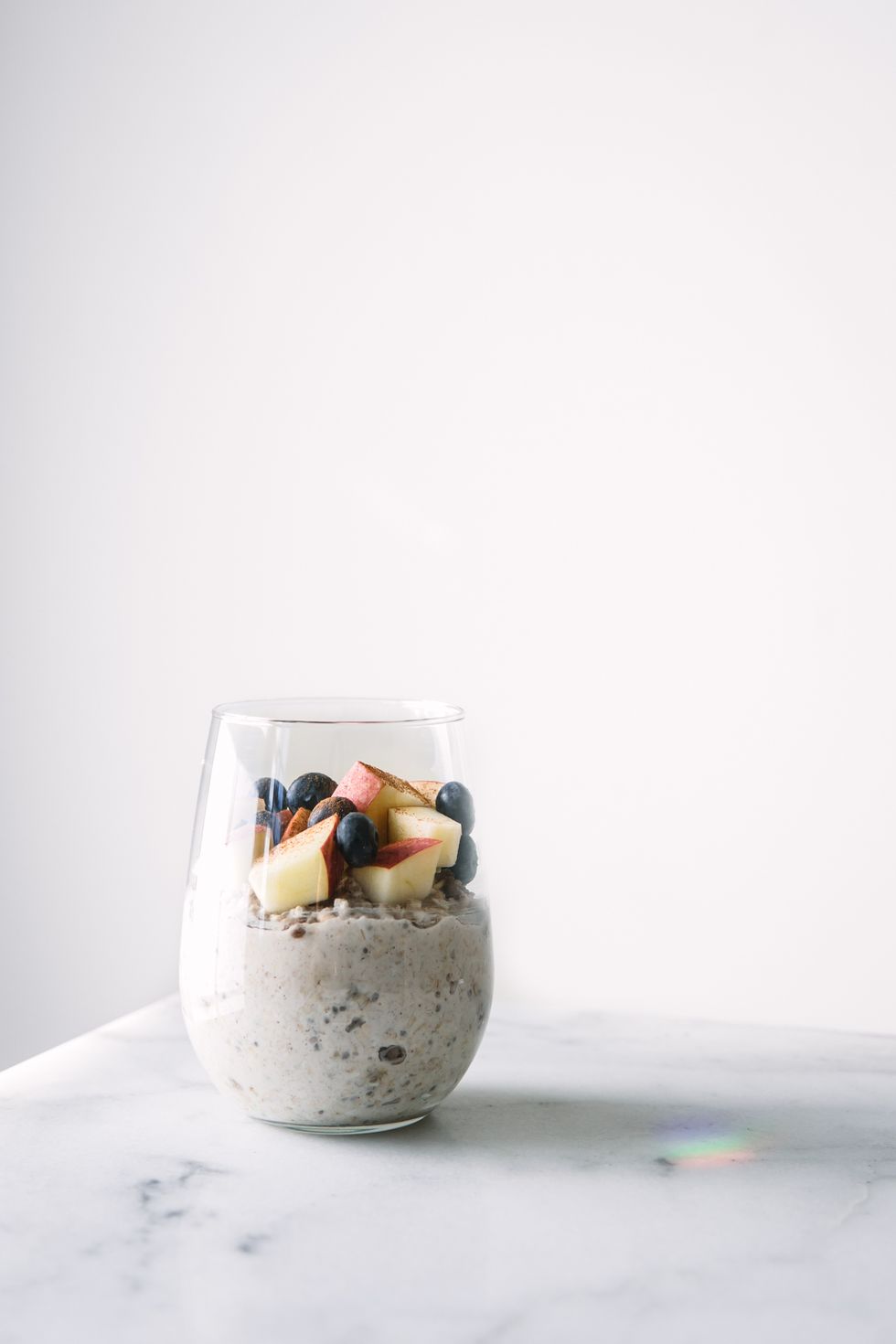 Photo by Xia Thao
Overnight breakfast oats
These bloat-free overnight breakfast oats are a godsend—not only do they save you time in the morning, since they require no extra prep after soaking, they're also packed with nutrients to get you going in the morning. "My favorite part about them is the way I feel afterward," says Bostwick. "It's not easy to find a breakfast food that satisfies your sweet tooth, is nourishing, and doesn't make you feel too full or bloated. That's because the proteins, carbohydrates, and other nutrients have been broken down through the soaking process, making them easier to digest."
Ingredients:
1 cup organic, sprouted rolled oats
2 cups milk of choice
1 tsp chia seeds
1/4 cup dried mulberries
1 tsp vanilla powder
1/2 tsp cinnamon
1 Tbsp maple syrup
a pinch of pink salt
Fresh fruit to top (optional)
Directions:
Combine all ingredients in a container and stir. Refrigerate overnight, or for at least two hours. This can be eaten cold or warmed up, and topped with your favorite fresh fruit. This will stay in your fridge for up to three days.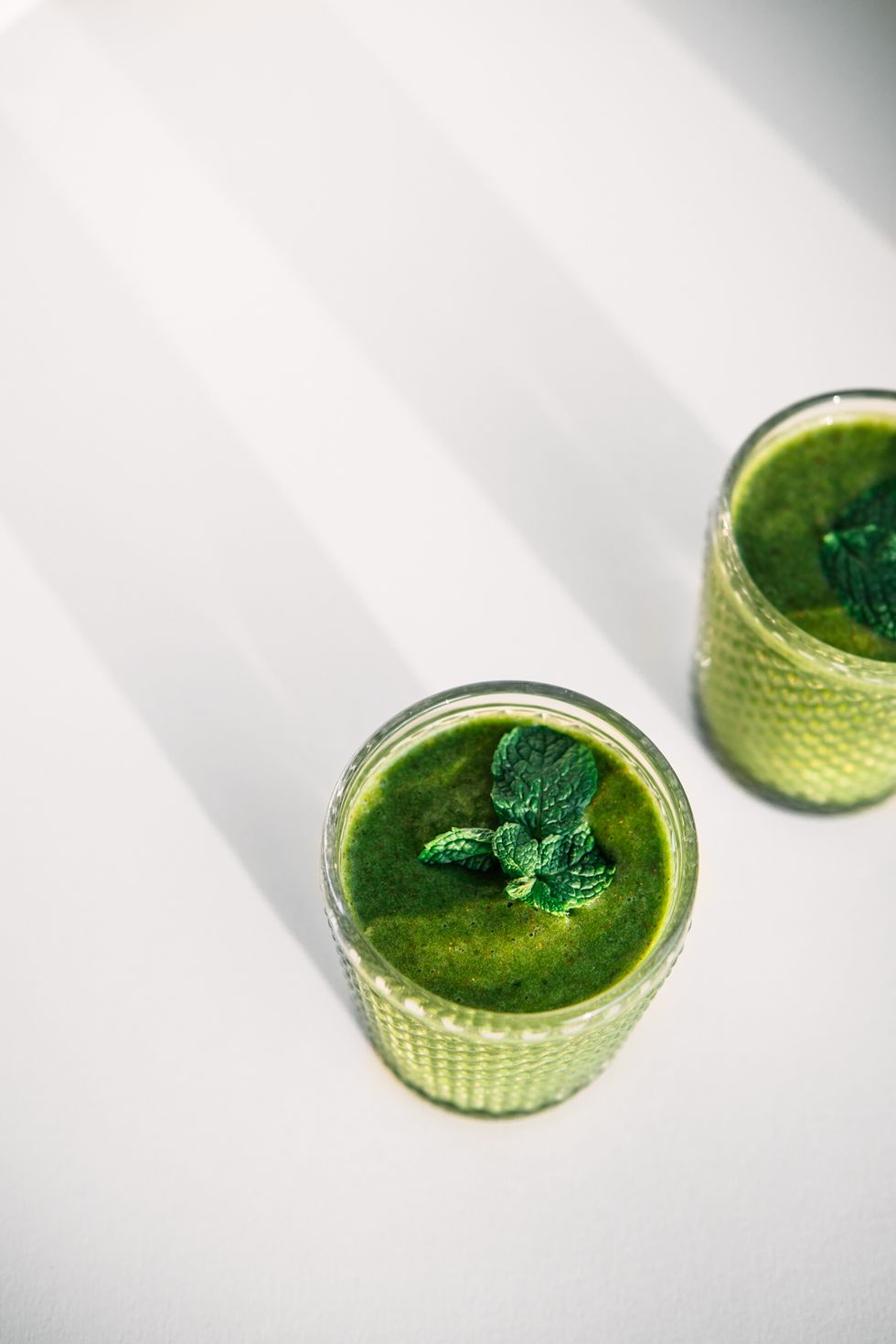 Photo by Xia Thao
Greens-packed mint chip smoothie
Smoothies make every morning better, and this nutrient-rich version is perfect for a mid-morning snack. "This mint chip smoothie not only tastes good, but its benefits are endless," says Bostwick. "Reishi helps improve liver function and detoxification and it helps to balance your hormones and mitigate allergies and asthma. Mint helps to speed and ease digestion, while cacao nibs will give you a boost of energy. This smoothie is all you need to get your day going!"
Ingredients:
1 cup almond milk (you can make your own by blending 2 tablespoons of almond butter to 1 cup of water in a Vitamix)
1 cup spinach
Handful of fresh mint
1/2 small avocado
1/2 cup frozen banana
3 Tbsp cacao nibs
2 tsp reishi
Directions:
Blend and enjoy!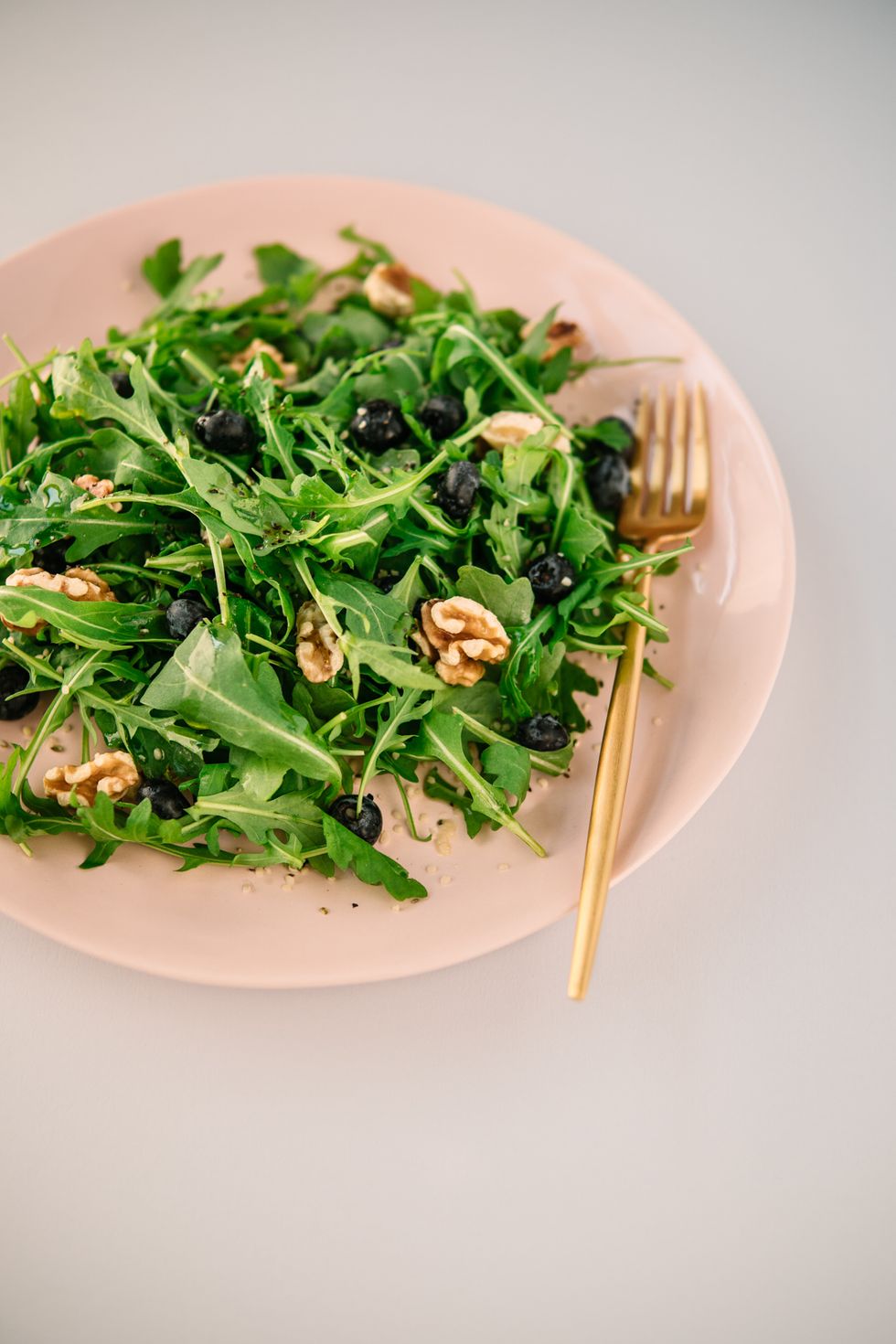 Photo by Xia Thao
The antioxidant salad
An antioxidant-rich salad is just what you need for an afternoon pick-me-up that won't leave you feeling bloated or sluggish. This recipe by Bostwick can be made even more satisfying by adding salmon. Not to mention, it reaps some major skin benefits. "Packed full of antioxidants, like blueberries, greens, and hemp seeds, and omega-3s, from walnuts and salmon, this salad will truly make your skin glow."
Ingredients
2 handfuls wild arugula
1 Tbsp hemp seeds
1 cup blueberries
1/3 cup soaked walnuts, halved (tip: soaking nuts for several hours or overnight helps aid in the digestive process, so you don't get "nut belly")
Dressing:
4 Tbsp cold pressed, extra virgin olive oil
Juice of half of a lemon
1 tsp coconut sugar
Optional:
1/4 lb wild salmon fillet
Thinly sliced lemon for salmon garnish
Salt and pepper to taste
A drizzle of olive oil
Directions:
Combine salad ingredients in a bowl. Whisk together dressing ingredients, or pour into a mason jar and shake well. Toss dressing with salad mixture.
If adding salmon, preheat oven to 350 degrees. Season the salmon with a generous pinch of sea salt and thinly sliced lemon wedges. Wrap in parchment paper and roast for 20 to 25 minutes until the fillet is fully cooked, but still moist and tender. Garnish with black pepper and a drizzle of olive oil.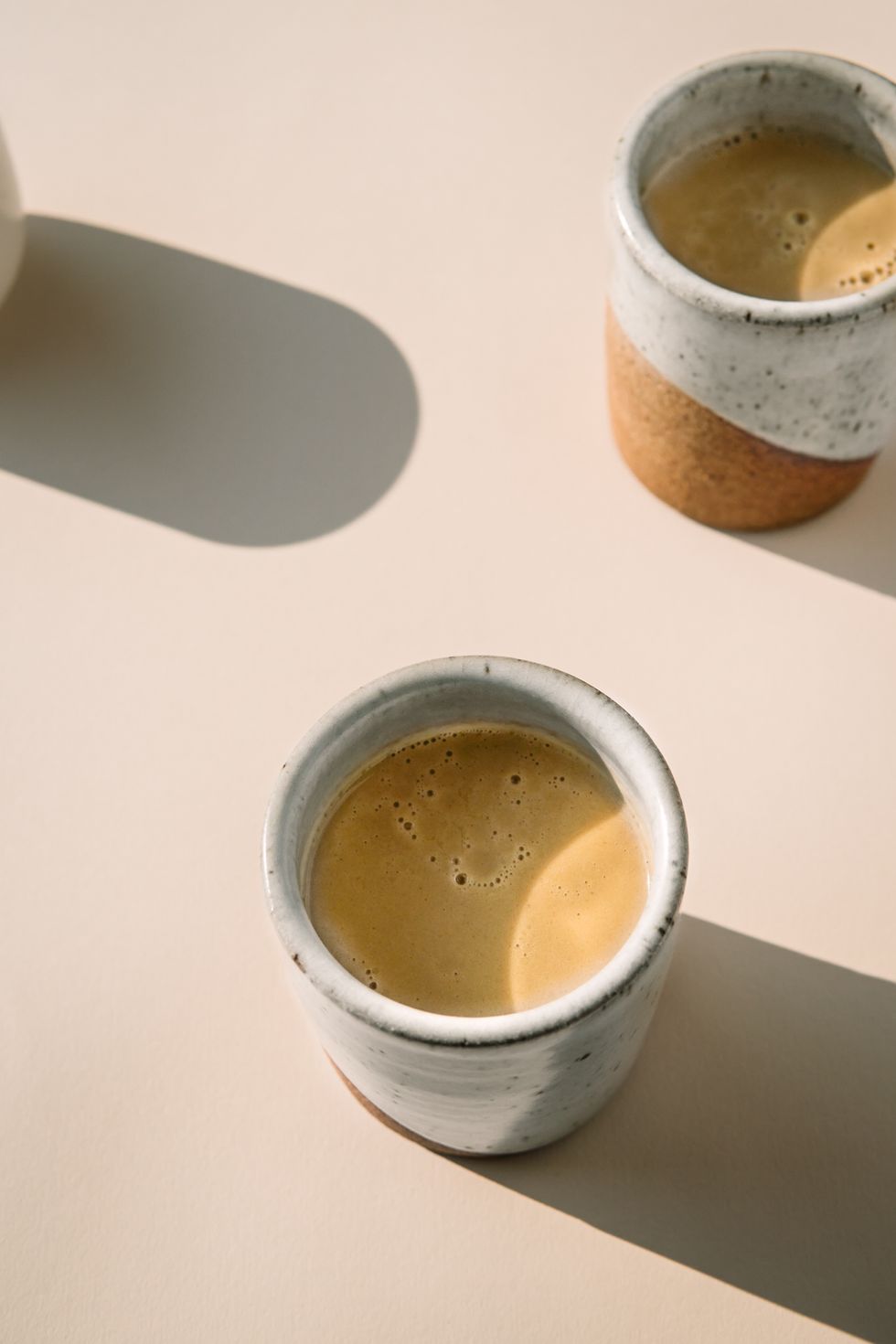 Photo by Xia Thao
Healthy skin tonic
Forget your detox tea, sip this warming vitamin- and antioxidant-rich tonic as a late afternoon treat instead. "This tonic is a creamy blend of healthy fats, Sun Potion's yin power blend for optimal hormone health, tocotrienols, which are packed with vitamin E, and a light touch of sweetness. Drink this daily to keep your mood steady and your skin supple."
Ingredients:
2 cups hot water
1 Tbsp tocotrienols
1/4 cup cacao butter
1 Tbsp honey (or sweetener of your choice)
1 tsp vanilla extract
1 tsp yin power blend of Sun Potion
Directions:
Blend and enjoy!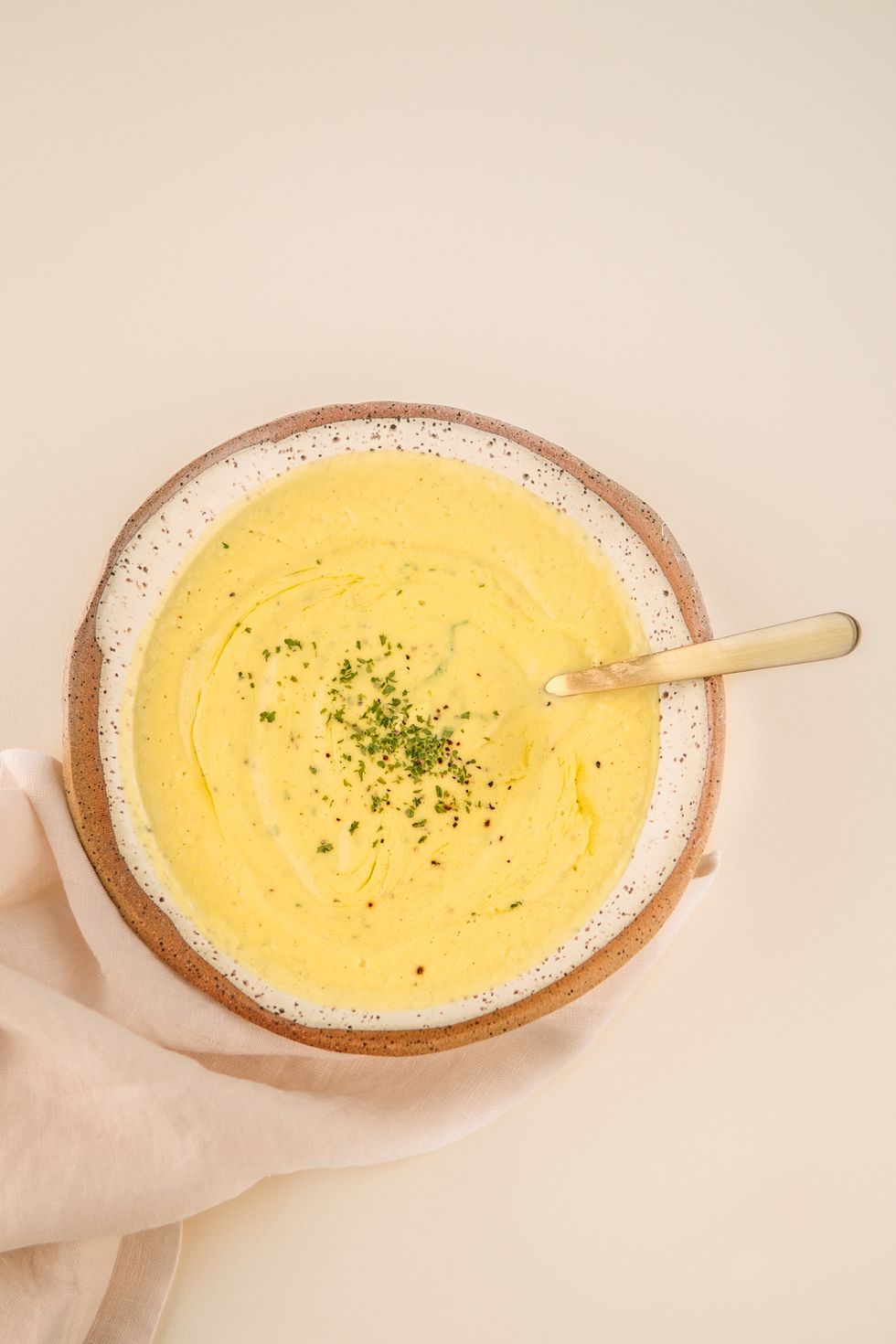 Photo by Xia Thao
Creamy cauliflower ginger soup
Who doesn't love a warm bowl of soup during the winter months? Bostwick shared her recipe for a creamy cauliflower-ginger version, though she mentions that you can swap out your vegetables as desired. "Just keep the base of this recipe in mind when you're looking to play around with other types of veggies. All you need to make a good blended soup is a steamed or roasted vegetable, a liquid, a healthy fat, and herbs and spices." The best part about blended soups? The prep is so easy.
Ingredients:
1 head cauliflower, divided into small florets
1/4 cup raw cashews, soaked
4 cups filtered water or bone broth
1/2 Tbsp freshly grated ginger
2 Tbsp chickpea miso
1 tsp turmeric powder
pink salt and black pepper to taste
Directions:
First, steam cauliflower by bringing 1/4 cup of water to a boil in a large pan, adding in 1/2 tsp salt and the cauliflower florets. Cover and steam for about five minutes.
Remove from pan and combine all ingredients in a high-speed blender, blending until smooth.