The following feature appears in the March 2016 issue of NYLON.
Esperanza Spalding is all about pushing boundaries and confounding expectations of what a jazz artist can create. The 31-year-old singer, bass player, and composer found international acclaim after grabbing a Grammy for best new artist in 2011, and has since been unleashing albums that fuse her classical jazz roots and soaring voice with genre-splicing tendencies. Her latest project, Emily's D+Evolution (out March 4), presents a fresh persona to the world, using her own middle name. "I realized the Emily character needed to come through and speak," says Spalding from her Prospect Heights, Brooklyn apartment, where she lives when she's not in her hometown of Portland, Oregon. "While writing this project, I was continually asking myself how I could express myself as Emily." The 12-track, self-produced album is true to Spalding's freewheeling spirit, blending neo-soul influences with fierce funk-guitar licks and expansive jazz rhythms, while filtering the songs through "a theatrical lens" that she says will take the experience to a whole other level when performed live. 
Taking a cue from her rebellious approach to traditional musical boundaries, we asked Spalding to curate a list of songs that boldly defy fusty genre definitions. After the jump, she waxes poetic on the tracks that she's chosen.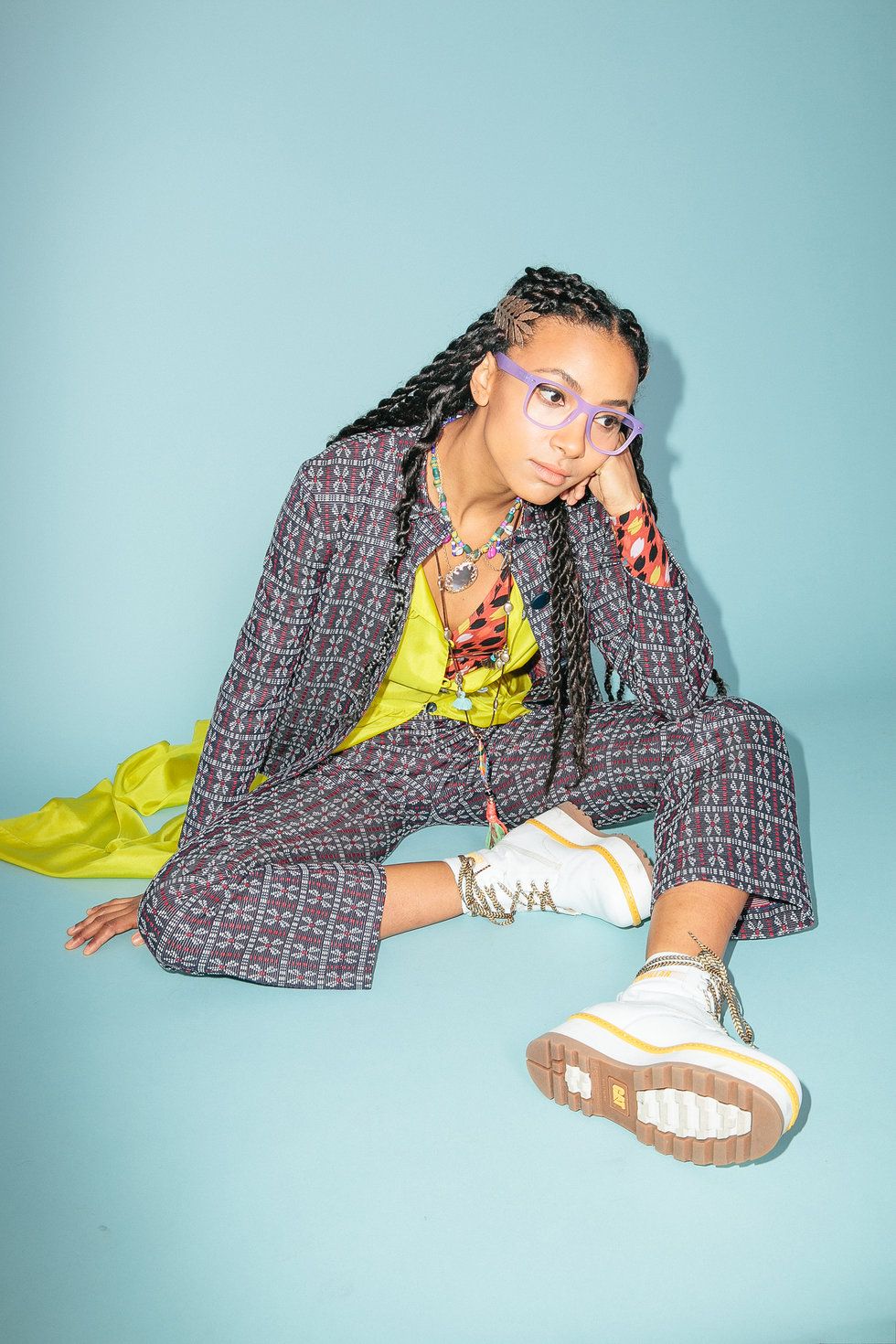 Photographed by Tawni Bannister. Hair: Andrita Renee at Crosby Carter Management. Makeup: William Murphy at Atelier Management using Diorskin Star.
"O Superman," Laurie Anderson
"I first heard this when I was about 12, when I visited my uncle in San Francisco. He showed me a [video of the] performance and I couldn't believe it was real. It was the best of everything you didn't even know you loved, by this badass woman with short hair."
"Hungarian Rock," György Ligeti
"This is played on harpsichord, and it's this sensory kaleidoscope…. At times you'll try to notice the beat—and I'm not even sure I like it—but you can't help but trance out to the vibe."
"Três Coisas," Hermeto Pascoal
"He's a Brazilian composer, and the seminal genius of our time. He came up with his own notation system that includes color, and through his art he lets us know language is music. This song is so intricate, but I couldn't pick a color to describe it."
"Water Walk," John Cage
"There's a video for this where he's on a talk show, and to hear him introduce it is inspiring. This is his study into ideals, and it's delightful. The host [warns that the audience might] laugh during the performance. He says that's OK, [if] it means there's been a reaction. This teaches us to just go for it."
"Einstein on the Beach," Philip Glass
"This is like an opera, but it's not an opera at the same time. It's a multisensory wonderwork, and it creates this abstract, surreal landscape. There's really no reference for it."
"My Pal Foot Foot," The Shaggs 
"A teacher at Berklee College put me on to this. It was an experiment by The Shaggs' father, as they had no musical references or training. He wanted to see what they would do, left to their own expression." 
"Mama Rosa," Brian Blade
"This is a quote-unquote jazz drummer who decided to do a song as a singer-songwriter. I don't know what planet he's from, but I want to inoculate myself with his blood. It's magical."
 "Sincerely, Jane," Janelle Monáe
"Janelle sounds like no one else. She has a new sound and a new way of making music. She's in that camp of artists who will take a couple of decades to get their genius appreciated. It's exploratory shit."
"Breathing Underwater," Hiatus Kaiyote
"This is like Janelle Monáe because I can hear the genres, but it's not a case of them sounding like those genres. There's no category for it. It's not a mash-up of five genres, like rock or whatever. What they've created is something more than that."
"Just the Way You Are," Urszula Dudziak
"She's a crazy Polish jazz artist, and her vocals were [among] the first to use loopers and samplers in the '70s. On this song, she goes for it. It's powerful."