A giant brass banana statue greets me as I enter the downtown NYC headquarters unofficially dubbed the "Fantasy Factory" à la Andy Warhol—a place where, at any time, a plethora of adorable dogs can be found running around at your feet. This lively space on Hudson Street is home to none other than the Jonathan Adler offices, and, fittingly, it's where I'm undertaking my first-ever home-inspired Factory Girl experience.
Of course, fashion is my usual beat. But, as you loyal readers know, I recently got married; when it came time for my husband and me to create our wedding gift registry, I found myself browsing kitchenware and apartment decor just as much as clothing, and even (gasp) shoes. And now, as I continue to decorate my new home, my obsession with interior design has only grown. (I get way more excited about a Bloomingdale's home goods flash sale than I'd like to admit.) The way I've come to see it, I change my outfit two or three times a day—and if it's fashion week, who knows how many times? I switch up my hair and my makeup as I so please. And I'm forever on the hunt for fun, new go-to meals. We modify stuff in our daily lives all the time. But for some reason the spaces we live in often remain static—and they don't have to. Our homes should be something we play with, something that we have fun with.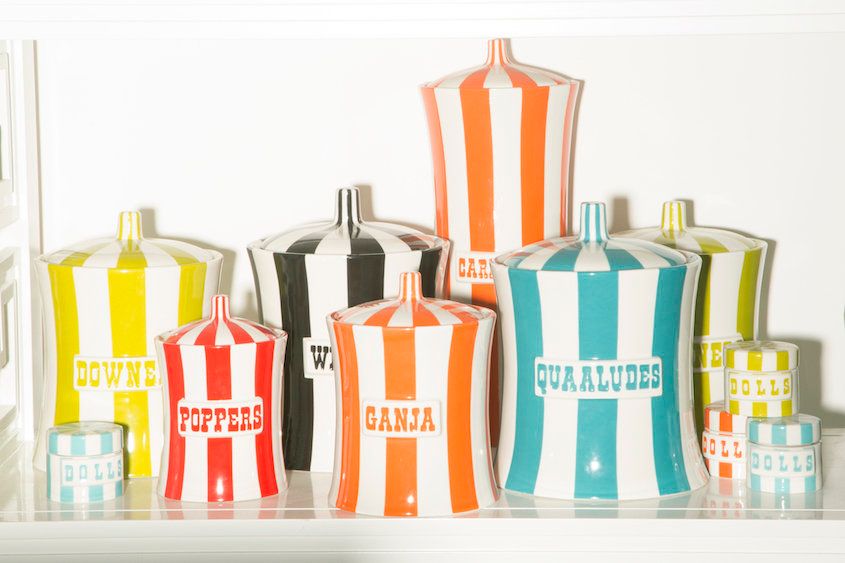 Photographed by Eric Helgas.
So, my status as a newly minted interior design enthusiast explains how I came to find myself here—in the presence of the aforementioned epic fruit statue—to get an inside view of how Adler's wonderfully eccentric, bohemian, mod creations come to life.
Upon my arrival at the offices, I'm shown the lay of the land by the man behind the brand, Adler himself, whose personality is a perfect reflection of his clever aesthetic. A potter by trade, Adler's passion for clay started at the age of 12 at summer camp. As a young man trying to make it in NYC, he got his start teaching nighttime pottery classes at Mud, Sweat & Tears in Hell's Kitchen (back during a time when the name better described the neighborhood) in exchange for free studio space. In 1994, Barneys placed its first order for his work. By 1998 the first Jonathan Adler store had opened in SoHo, and since then the concept has grown to include everything from furniture to light fixtures, but pottery still sits at the soul of the company.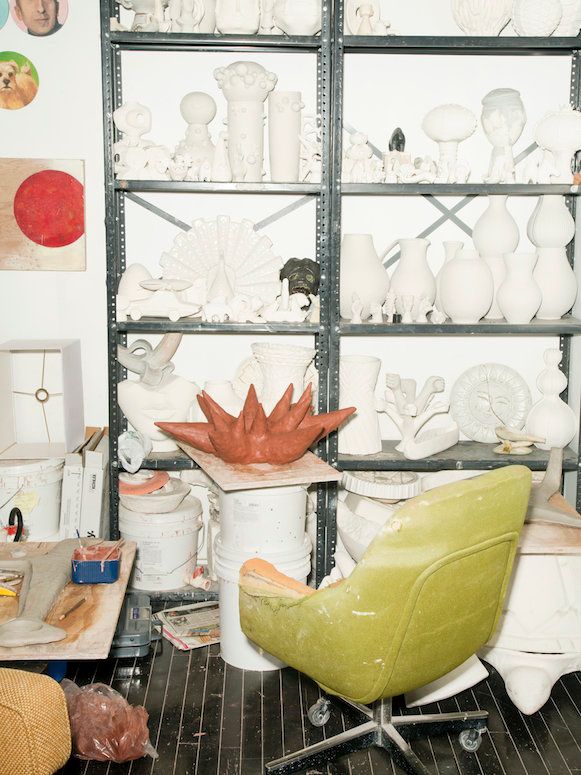 Photographed by Eric Helgas.
Adler's office is situated between a kiln and a pottery studio, where I will be working the wheel myself. In college my concentration was in the visual arts as a graphic design and photography major, so I've taken a pottery class or two. But a handful of ashtrays and a cookie jar (which still, I might add, sits on my nightstand) are the extent of my expertise. So Adler will help me out in what we jokingly call a "Ghost moment."

Inspired by the fact that I will soon be having a baby girl, Adler wants us to make pregnancy pots that celebrate an expectant mother's shape. The first step in this process is wedging, in which I knead the clay to remove any air bubbles. This is followed by centering (situating the clay perfectly on the wheel so that it doesn't wobble), lubricating (adding plenty of water), and leveraging (working with my arms anchored at my hips to optimize my strength). I'm taught a few useful mantras, including "force order from chaos" and "be in control of the clay, not the other way around." Molding the clay is just as cool of an experience as I remember.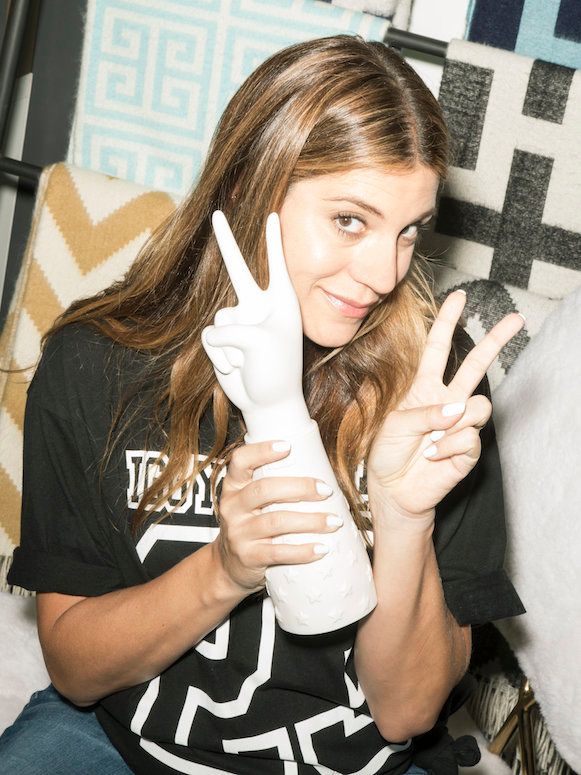 Photographed by Eric Helgas.
While I work on my little pregnancy pot, Adler creates his own version. You know how someone who's good at something difficult makes it look ridiculously easy? Well, let's just say Adler throws 25 pounds of clay onto the wheel like it's nothing and manages to do so flawlessly in white jeans without so much as a stain (simply by standing next to him I've somehow managed to cover my jeans in clay).

When we're done crafting our pots, we toss our womanly creations into the kiln to be fired. Later they'll be painted. I leave the Jonathan Adler offices so excited to incorporate the special piece into my home. It's something I know I'll pass on to my own daughter to keep in the family for generations to come. And when I do, I'll be sure to tell her the story of how I made it—curves and all—with my own two hands.