Florence, Italy has a rich cultural background filled with a beautiful art scene, palaces, monuments, paintings, and sculptures. It's also full of amazing fashion, and is home to Ponte Vecchio, one of the coolest bridges in all of central Europe. The charm of this city is as invigorating as the pasta, prosecco, and gelato. And the best news is that the gorgeous Italian city can be experienced—and enjoyed—on a budget. Bravissimo!
With the guidance of several locals, we traveled to Florence ourselves to see how to do it best. Check out our trip highlights below, but be warned: With all the gelato, pasta, history, and fashion, you're going to want to plan your own Italian adventure immediately.
read this next:
how to do paris on a budget
how to do london on a budget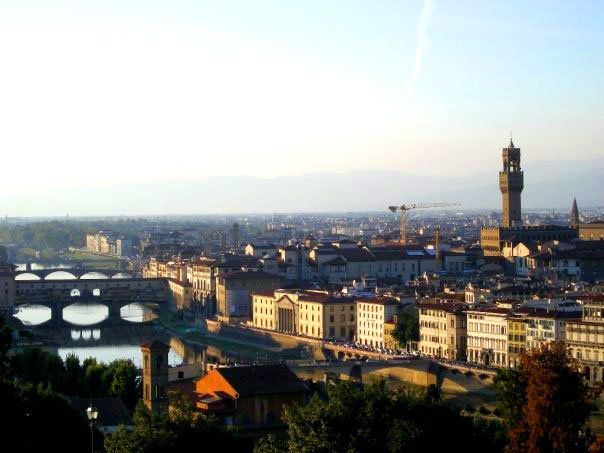 Must-See Tourist Destinations
Piazza Del Duomo: With unbelievable views and historical works of art, this famous cathedral is located in the very heart of the city. Known for its rounded dome shape, it's a central fixture of Florence. Climb to the top for an insane view of the city.
Ponte Vecchio: Medieval architecture and beautiful structures create this bridge that crosses over the Arno River. This is the place for purchasing tourist souvenirs! Even better, buy a cheap bottle of Italian prosecco and sit on the river banks to enjoy the view. In the summer months, the young locals hang out here and enjoy the sunshine, friends, and cold beverages.
Piazzale Michelangelo: This destination is worth the short hike. Here, you can see a beautiful, panoramic view of the city of Florence. 
Uffizi Gallery: This museum is home to some famous works of art from painters like Michelangelo, Leonardo Da Vinci, and Botticelli. 
Santa Maria Novella: The Basillica of Santa Maria Novella is a church based in Florence, just across from the main railway station in the city. It's a beautiful Dominican church that is definitely worth the visit for its historical value and Italian architecture.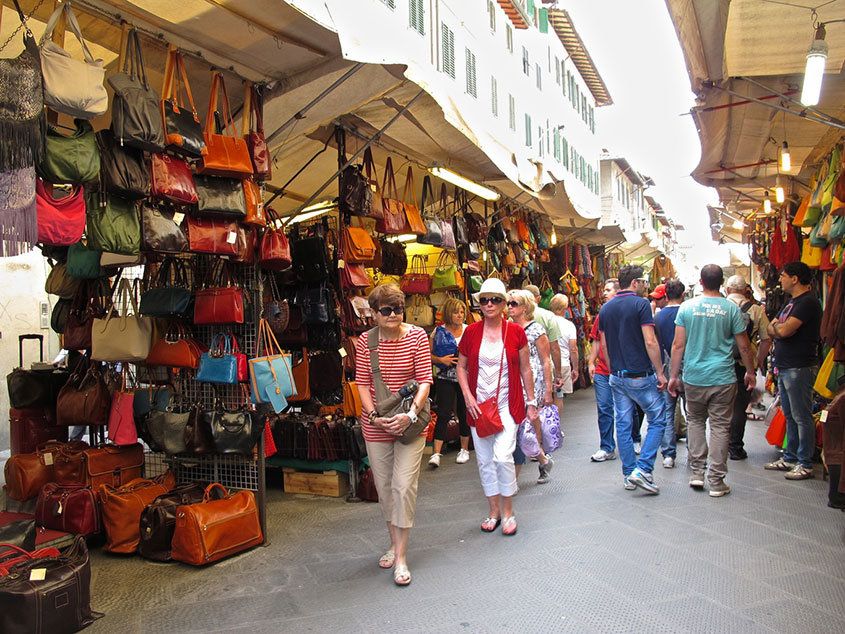 Photo via VirtualTourist.com
Markets
In comparison to other European cities like Paris and London, Florence is relatively cheap. Still, there are tons of completely free activities to be found all over the place.
San Lorenzo Market: The famous San Lorenzo Leather Market stretches over several blocks and offers a fun day of browsing shops, talking to locals, and enjoying the hidden alleyways of Florence. 
Central Market: From San Lorenzo, it's just a quick walk to the Central Market. Here, you'll find the freshest, most beautiful food in Florence. Be prepared to eat if you go, because you'll see stalls full of cheeses, breads, olive oils, wines, and more. Go around lunchtime and grab a few items for a picnic—you'll see lots of locals doing the same thing. 
San Spirito Plaza: After you fight the crowds on Ponte Vecchio, you'll find yourself across town in San Spirito. This is the best place to people-watch, have afternoon drinks, or enjoy some amazing Italian food. This is the eclectic area of the city that also is home to many local artists. The open-air flea market is a great place to take an afternoon stroll and enjoy the scenery.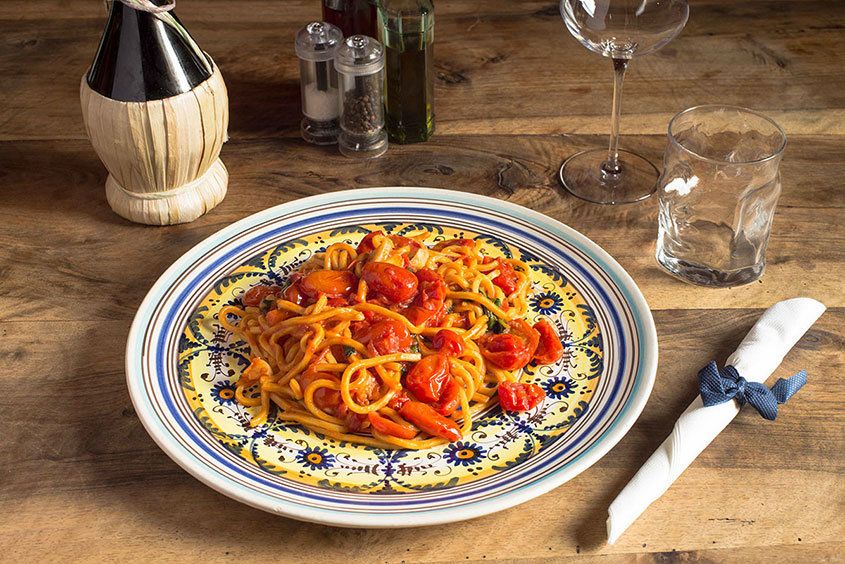 Photo via Osteriasantospirito.it
Food and Drink
An attractive Italian man once told me, "food is love." That notion certainly proves to be true when visiting Italy, because food is massive part of their cultural existence. Basically, any "osteria" or family-owned restaurant will provide a cultural (and very tasty!) experience for travelers.
First, you need to know the different types of restaurants...
Osteria: A tavern, wine bar, and basic restaurant all in one, an osteria is the least-formal of Italian dining options. 
Pizzeria: Quite obviously, this is a pizza restaurant. Italian pizzerias traditionally have a wood-fired oven to cook their famously crispy pizzas, but these also serve pastas and salads. Prices are normally very cheap with a whole (massive!) pizza costing around $10 U.S. dollars. 
Caffee: This is a coffee shop that usually serves standard sandwiches, pizzas, pastrys and various coffee drinks. Alcohol is also served in Italian cafes. Drink up! 
Enoteca: A bar and restaurant that's typically more wine-focused, enotecas serve a variety of small plates, like salads, nuts, chips, and snacks that pair with wine. 
We recommend: 
Osteria Santo Spirito: Located in an area where many locals live, this restaurant offers many classic Italian dishes. 
Pino's: This place is perfect for a quick, cheap, and tasty panini with friends. 
Gusta Pizza: This pizzeria has the best Italian-style pizzas at a great price. 
Mastrociliegia: Pizza is an art form in Italy, and this historical pizzeria still serves family recipes from decades ago. 
Mekyadeh: This is a great place to grab a classic Italian coffee and have a quick rest after hours of walking around the city. 
Oblate: This restaurant has absolutely stunning views of the Duomo. 
Apperitivo
One of Italy's best traditions, apperitivo is more than just a ritual for Italians; it's a time for friends to meet over drinks to chat, catch up, and wind down at the end of the day with beverages and salty snacks. Essentially, it's an Italian-style "happy hour." 
Normally between 7 and 9 pm, most bars and restaurants offer apperitivo. Check out different spots and indulge in a table of snacks and cheap cocktails. Our favorite area to bar hop is Piazza Santo Spirito.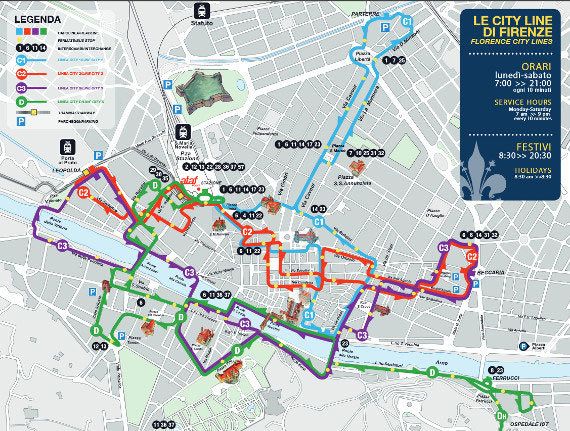 Photo via VisitFlorence.com
Transportation
Florence has several easy transportation options. The public train station is located across the street from Santa Maria Novella Piazza, and will take you all across Italy. Train prices are insanely cheap. A day trip to Rome, Milan, or Venice costs less than $20, so take advantage of that if you have time. Taxis and buses are both available throughout the city, though taxis are the most expensive option and the buses are often very crowded. The best (and cheapest) way to get around is to simply walk or rent a bicycle. Most locals bike around the city, as it's a small enough place to get around easily. Not to mention, you'll get to see beautiful views.
Florence By Bike: This is the biggest bicycle-rental shop in Florence, and you can rent a cheap bike that will easily transport you all over the city. Single-speed city bikes and touring bikes are both good choices for cycle-touring.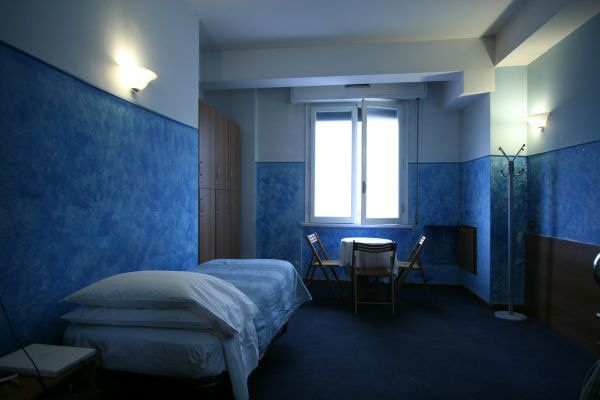 Photo via Ostellogallodoro.it
Sleeping
Florence is home to tons of great hostels that are affordable, clean, and friendly. You can get a single room in the center of the city for about $30 a night, or if you have friends, you can go for a shared suite for about $10 to $15 per night. Many affordable AIRBNB apartments are available, along with tons of bed-and-breakfast options if cash isn't too tight. Check out a few of our favorites, below: 
Hostel Gallo d'Oro: This hostel is centrally located, cheap, clean, and provides free breakfast and WiFi. Just a few minutes from Piazza San Marco and the Duomo, it's very convenient and affordable.   
Academy Hostel: Academy Hostel is a cozy hostel in the center of the city. The location is the best part about the place—it's literally steps away from the city's central Duomo. It doesn't have as big of a party scene as some of the other options, but it offers a great central location for travelers and backpackers. 
Dany House: Dany House is friendy, fun, and super accommodating. It's a great place to meet other young travelers who are usually up for hanging out and enjoying all that Italy has to offer. If you're looking for more of a party place, Dany House is a good option.
My Friends: This hostel is very cozy and clean, with breakfast included. It's considered a guesthouse, so it won't be full of wild parties and crazy travelers. If you're looking for that, it's not your place. If you want an affordable and clean place to sleep with all the essentials included, it's a great option. 
Backpackers Florence Central: Perfect for backpackers, this hostel is situated right in the middle of Florence's nightlife. It's within walking distance from the Piazza Santa Croce, one of the best square's to visit in Florence. With cafes, restaurants, and bars right outside your door, you'll have plenty of things to do!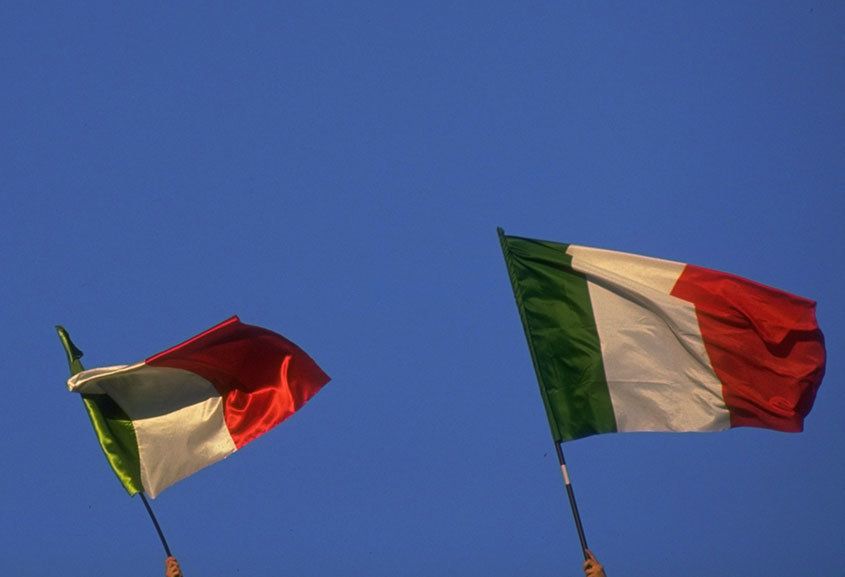 Photo by Simon Bruty/Getty Images
The Best Local Advice
Go to Kiko's—they have the best makeup ever. And it's insanely cheap. Think: Upscale Italian-made products for drugstore prices. Yes, please!
Shops often close from 2 pm to 5 pm for siesta, so try to manage your schedule around these hours.
Wear comfortable shoes. You're going to be walking on lots of cobblestones.
Italians walk, eat, drink, and do most everything quite slowly. Be ready to take things slowly.
It's totally acceptable to eat gelato multiple times per day. Have no shame.