The following feature appears in the April 2016 issue of NYLON.
In a photo studio above a boxing ring on New York City's Bleecker Street, I hear the distinctive clack of Gigi Gorgeous's heels on the checkerboard floor as she confidently strides into the room, Britney Spears's "I'm a Slave 4 U" blaring in the background. It feels like a fittingly glamorous entrance for the Internet superstar. At first, it's surreal to see someone whom I've been watching online for years, and even more surreal that a large documentary crew is rolling in behind her, filming her every move for an upcoming project, launching exclusively on YouTube Red later this year. If you're familiar with Gigi's videos, you know her story: The Canadian-born transgender YouTuber famously shared her coming-out and transitioning journey on her channel, which currently boasts over two million loyal subscribers and nearly 300 million views. In addition to her personal vlogs and online beauty tutorials, the 23-year-old has also worked with the likes of Miley Cyrus and Kylie Jenner, has acted in Shane Dawson's short film I Hate Myselfie, and has appeared on shows like Project Runway All Stars and Access Hollywood. I can't help but think that if Andy Warhol were alive today, he would be transfixed by her. Gigi's in town for New York Fashion Week, during which she's sitting front row at shows like Jeremy Scott and Libertine, but she makes time in between all of the craziness to discuss self-empowerment, her life outside of YouTube, and what she's doing to help the LGBTQ community.
Click through the gallery to read the rest of the feature.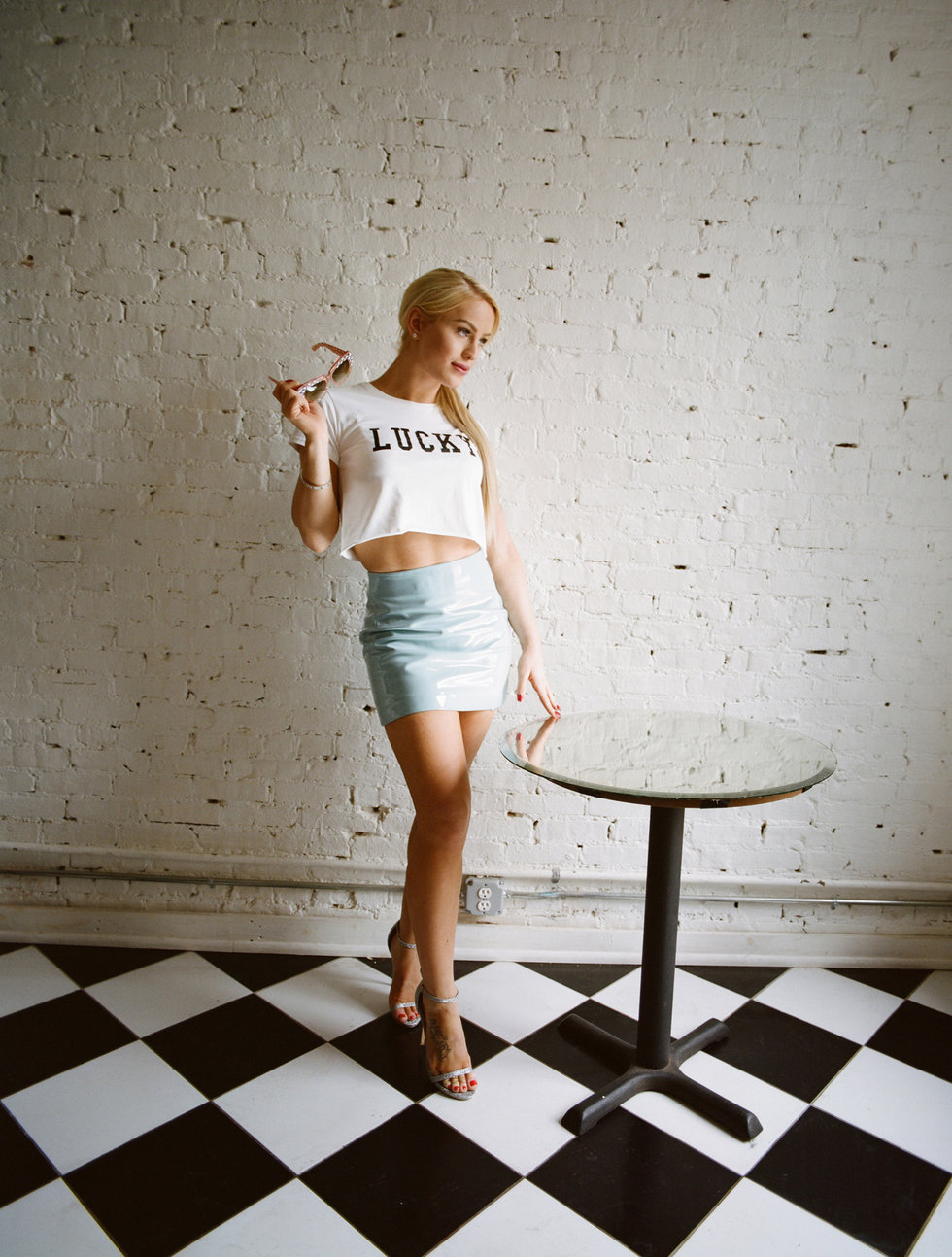 Photographed by Beth Garrabrant. Stylists: Shelby Scudder and Blake Vulgamott. Makeup: ColbySsmith for Jed Root using Charlotte Tilbury. Special thanks to The 9 Studios and Overthrow Boxing Gym, NYC.
You inspired so many people by coming out on YouTube. I feel like, especially in the last year, there have been a lot of heartfelt coming-out videos online—and you were one of the first people to do that.
I had actually never seen anyone come out as transgender before on YouTube. When I did it, I remember typing "coming out transgender video" in the search box and there was nothing. There were transgender journeys, and male-to-female pictures, but there was never a sit-down "I am transgender" video. I was even more nervous because I knew there would be so much attention on it, and I didn't know how people were going to react. But people were really, really nice. I remember crying the night that I uploaded it, because there were so many likes and no one was hating on it—it was all positive comments, which is so rare to find on the Internet.
How did you go from filming YouTube videos in your room in Toronto to becoming an Internet celebrity? 
I started doing YouTube videos in a very real, raw way. I didn't do it for the money. I didn't do it for, well, maybe I did it a little bit for the attention [laughs]—but I mostly did it because I was in a Catholic high school every day with a uniform on, and I wanted a different way to express myself. I started uploading makeup videos, then did a little reality show with my friends, and it all just snowballed from there. Stuff just happened for me—the stars aligned. I'm here now and I'm still passionate, and I still love it. I've always said that everything that's fake eventually dies, and this has never been fake for me.
Do you think you'll continue to make videos for the rest of your career? 
I think I'll always be on YouTube, but of course I want to break through to the "mainstream"—that's my big goal. I want to do everything, I really do. I think I could host, I think I could act. I definitely want to go down the product route and create my own makeup line, my own clothing line, and my own fragrance. But at the end of the day, I just want to leave my footprint for transgender people and the LGBTQ community, and really try to help people.
What are your feelings on the trans community's increased visibility in pop culture with TV shows like Transparent and Orange Is the New Black? How do you hope to contribute? 
Every single day I try to do something because I've learned that life is too short and it can be taken away from you in a split second. It's funny because I was just doing a collaboration video with Todrick Hall and I asked him to help me put together a list of questions about being transgender versus being gay and black. I think transgender people have a more positive reputation in the media now than ever, but it's still not there. I think it's amazing that everyone is noticing that there are transgender people among us in the world, and it is a normal thing, but I don't think we're there just yet. It's going to take all of us to fight and make it happen.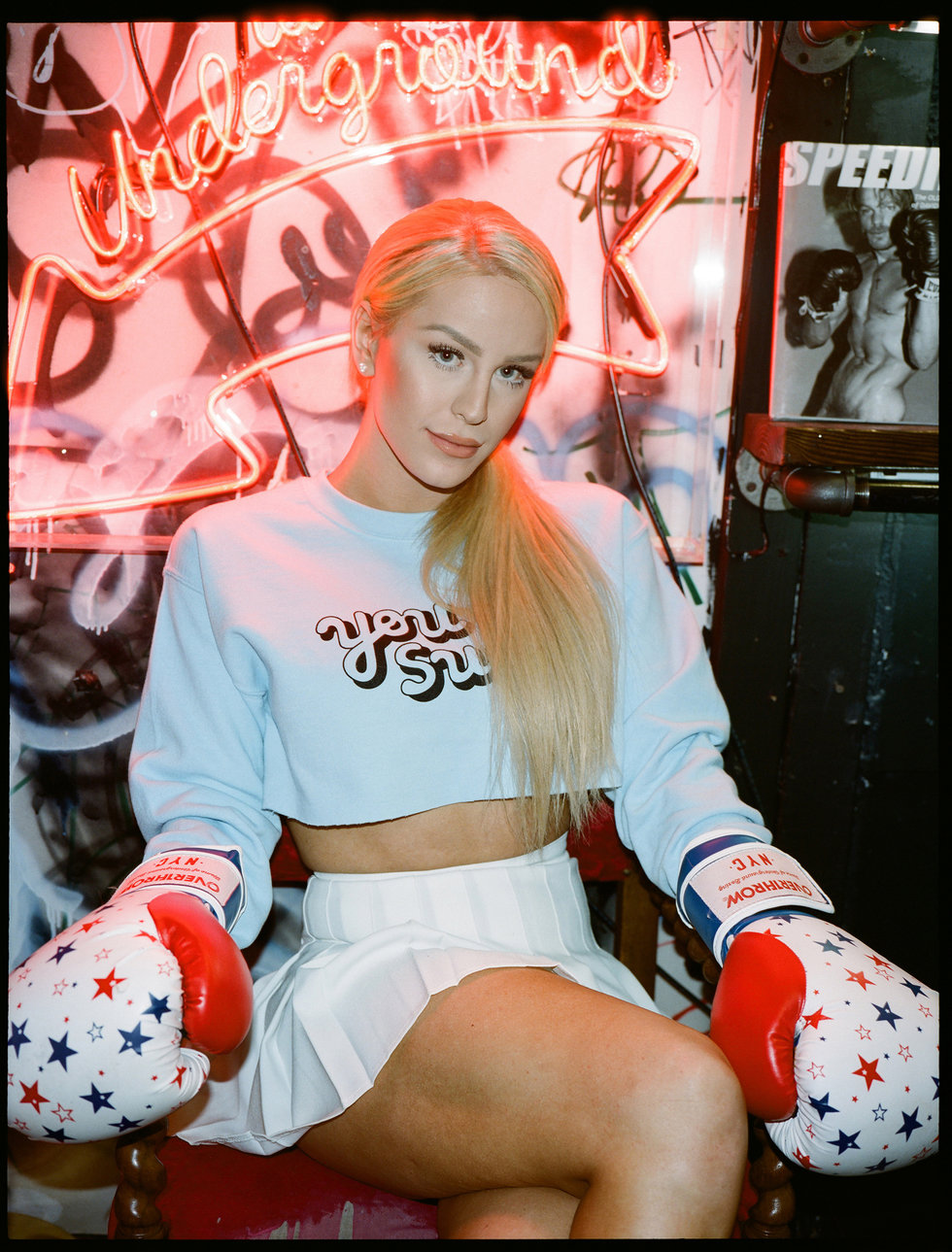 Photographed by Beth Garrabrant. Stylists: Shelby Scudder and Blake Vulgamott. Makeup: ColbySsmith for Jed Root using Charlotte Tilbury. Special thanks to The 9 Studios and Overthrow Boxing Gym, NYC.
Who do you look up to in the transgender community?
Andreja Pejic is a really good friend. She has a voice in the community, and I think that's really amazing because I know it is hard to get people to listen. Getting her picture printed in Vogue—they did a piece on her—was really groundbreaking. [Before we were friends] she said she watched my videos, and I knew of her and had watched her interviews and fangirled over her. When people say, "Oh my god, she's transgender?" they look her up. They learn about her and go, "Wow, she's a 'real' person," and then you have another person [who has learned] not to discriminate against someone they don't even know.
You have such loyal fans, who call you "mom" in admiration. Who do you call "mom"? 
Well, Gaga will always be my mama. I have a tattoo on my foot that says "left me speechless." It's a lyric from her song "Speechless," which she wrote about her father, I believe. Before my mom passed away that was her favorite video, so it became our song. So whether she sticks to music, movies, TV shows—whatever she does, Gaga is "mom." And her Super Bowl performance, by the way, was everything.
What is your biggest piece of beauty advice? 
I've been into makeup for years and experimented with every single product, and, sure, I have my favorites, but beauty really does come from within. That may sound cheesy, but it is so true. When you're able to go out of the house with no makeup on and have a conversation with somebody and not be insecure, that's what is really beautiful. That is what people are drawn to at the end of the day—personality. So you can get all the makeup in the world, you can get the newest highlighter, liquid lipstick, or whatever, but if you're not happy, people are totally going to see it. 
What would you say to people who look at your online image and think your life is perfect?
You only see what I put out there because I want you to see it. All the sad stuff, all the stuff that's maybe embarrassing or too personal that I'm not comfortable talking about, you know, I'm not putting it out for a reason. I'm not stupid. I'm not going to end up having people hurting me. Everyone has their stuff. My life is not perfect. I'm just like everybody else. I see why people say that, though, because I look at other people and I'm like, "Wow, she's so pretty" or "She's so perfect," but at the end of the day you need to know that they're just like you. We all have emotions. We all have to go to sleep at night and live with ourselves and all that stuff. Moving to Los Angeles has changed me a lot. It has helped me grow up. But it wasn't like I just moved to L.A. and now I'm fine. It was an uphill battle; it's cutthroat out there—people can be really mean.
What's on the horizon for you?
One of the big projects that I've been working on has been a secret for so long, and I'm the kind of person who hates secrets. I've been working on my documentary, which we are filming right now as we speak, obviously [laughs, gesturing to the nearby cameras]. We recently announced that we are doing it, and I'm very, very excited about it, but that's all I can tell you right now!