Slouched over a bistro table in a white T-shirt, jeans, and sneakers, with an almost-bare face and her long brown locks dusting her shoulders, Hailee Steinfeld blends in with the patrons at a Calabasas, California café, just a 15-minute drive from the Valley community where she grew up. For once, the 18-year-old starlet, best known for her Oscar-nominated performance in 2010's True Grit, isn't playing a role; instead, she's been busy finding her voice in another side of the entertainment industry, pop music.
At the tail end of summer blockbuster season, Steinfeld's attention was focused on making her pop debut with "Love Myself," a bold self-love declaration à la Beyoncé and Nicki Minaj's "Feeling Myself," which serves as another reminder of how much she's grown up since first hitting the red carpet at 13 years old. "I wanted the first single to be strong," says Steinfeld, beaming at the chance to discuss her music, which she'd been sitting with for months since signing to Republic. Her explanation of the euphoric song—which, in case you haven't closely listened to it, is about masturbation—is just as empowering as its message: "It's nothing to be ashamed of," she says, unflinchingly. "Own it. It feels like people are gaining the confidence to say 'I love myself.'"
While Steinfeld speaks modestly in conversation—she's quick to give props to her "amazing team"—the confidence you hear in her voice on record is well-earned. Music isn't a whim for the sparkling-brown-eyed teen. She began writing songs around the time she was filming the Coen brothers' beloved Western, and has been actively working toward this shift, having recently starred in a film that bridged the two worlds, Pitch Perfect 2. "It was like, 'As an actor, this is what it's like to be a recording artist,'" says Steinfeld of the experience. 
That role as freshman wannabe songwriter Emily Junk was a crash course in music education for Steinfeld. "It felt like I was in school, and my homework was a packet of all my parts and each song," she remembers. Plus, not only is a cappella singing the most unforgiving of music genres, with no backing tracks or vocal manipulation to hide behind, it's also key in understanding the anatomy of a song. "It's the best practice you can get," says Steinfeld. "In Pitch Perfect, sometimes I was the bass notes, the synth, or the lead—and I hear that in songs now on the radio. So I have new respect for everything that goes into a song, just as I did when I did my first movie and realized how many people are involved in it."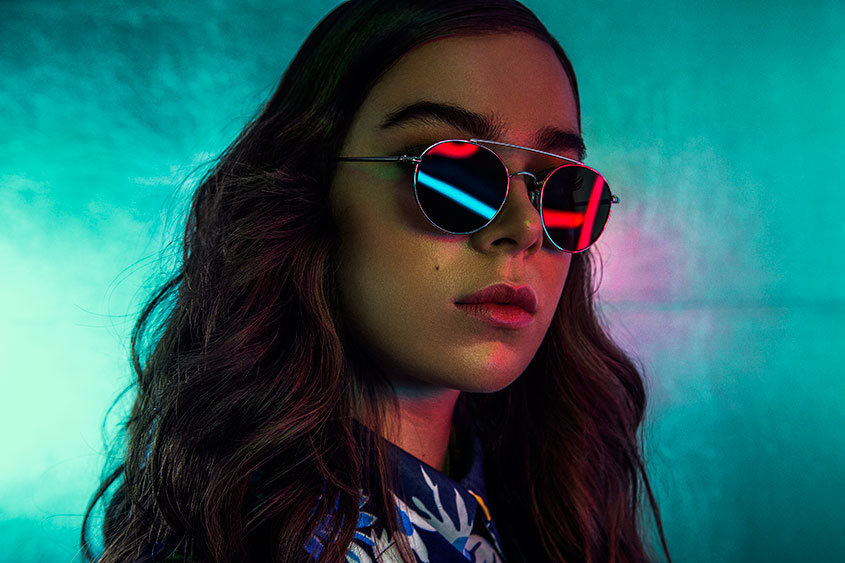 Photographed by Steven Taylor.
The sense of camaraderie in that film isn't far off from Steinfeld's own personal life—she counts Demi Lovato and Taylor Swift amongst her friends. The country-turned-pop queen even gave Steinfeld a sneak peek behind the curtain of the music world when she tapped Steinfeld to make a cameo in her "Bad Blood" video. "Taylor looked at me and was like, 'This is the coolest thing we've ever done as friends,'" she says. Like a good friend, Steinfeld hasn't felt the need to press Swift for tips—"People ask me all the time if she's given me advice, [but] she doesn't need to sit down and give advice; she's an example of what you need to know," she explains. Instead, Steinfeld takes more direction from how real Swift is, both in her music and off-camera, and she considers herself part of a rising crop of down-to-earth pop stars.
It was like-minded newcomer Alessia Cara's anti-party anthem "Here" that in part prompted one of the more vulnerable moments on Steinfeld's debut release. "I had an experience very similar to what hers sounded like and wrote about it," says Steinfeld. "I still go to high school parties with my friends and I don't feel like I belong—there's a song about that on the album." That kind of vulnerability is the main difference she sees between acting and music so far, hinting that movies serve as more of an escape from life while music is what helps you work out your own emotions. "When I'm promoting a movie, it's a two-hour thing that you can either catch in theaters or not," she explains. "Music strikes people and lives with them. It's terrifying to put yourself out there in that way."
That fear is all the more magnified, of course, when you already have a gigantic following before you've even dropped your first release. Still, Steinfeld can't say which is harder—mostly because she's yet to do them at the same time. This month will be the test as she balances an EP with promoting her new movie The Keeping Room and filming another. "I don't [yet] know what being a pop artist is outside of recording. I haven't performed live or gone on tour—really anything other than get on a mic in the studio." She's more excited than stressed about that workload, however. "I'm going to make it work—it's been done," she says, name-checking successful figures who've dabbled in both worlds, such as Justin Timberlake and Beyoncé. "I don't see anything holding me back."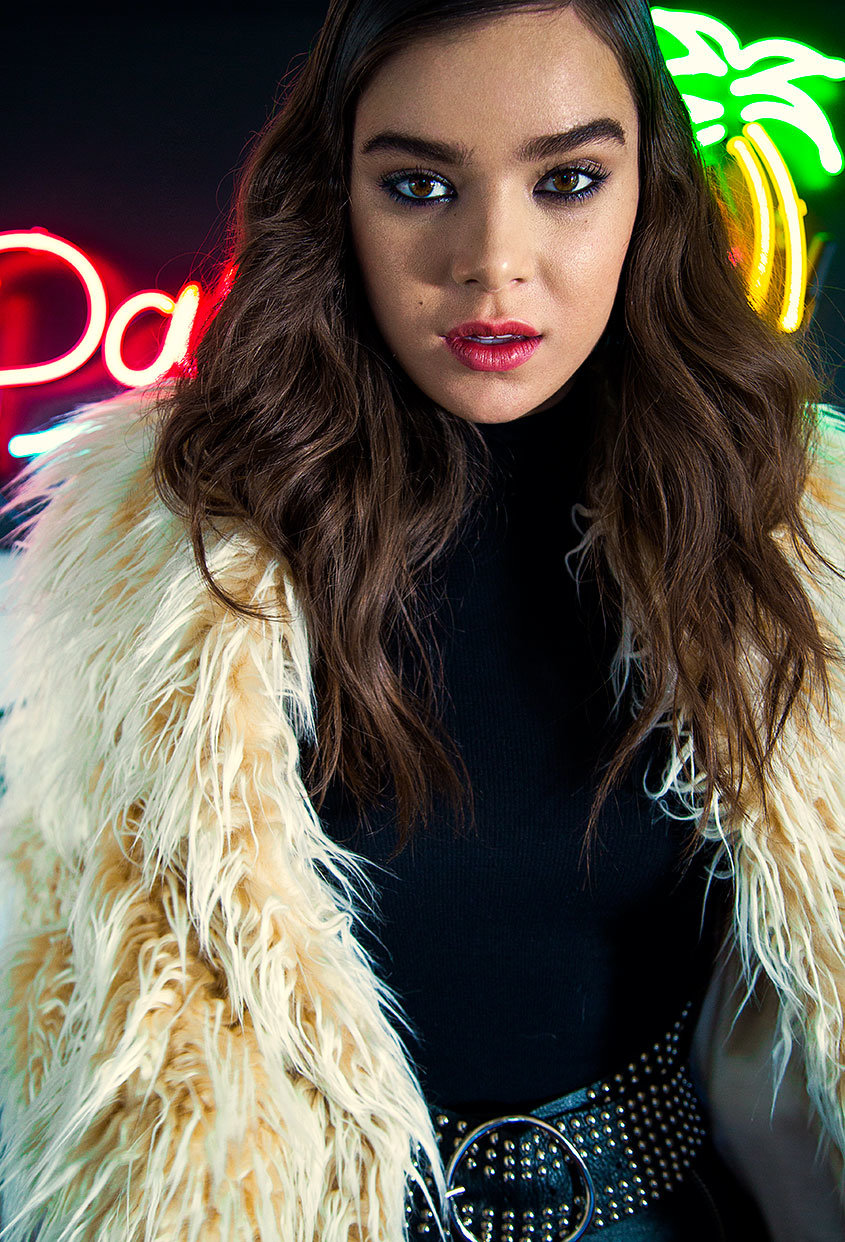 Photographed by Steven Taylor.
OBJECTIVE
To conquer the worlds of film and pop, while keeping it real
HIGHLIGHTS OF EXPERIENCE 
Nominated for awards from the Academy, BAFTA, and the Broadcast Film Critics Association for her role in True Grit
Her album's first single, "Love Myself," was streamed 841,000 times within a week of its release. 
Co-starred in the highest grossing musical-comedy of all time, Pitch Perfect 2 
Modeled in Miu Miu's fall 2011 campaign at the age of 14
INSPIRATION
"Right now I'm extremely inspired by artists like Alessia Cara, Tove Lo, Taylor Swift, and Shawn Mendes. I'm so lucky to be able to call some of them my friends." 
REFERENCES 
Lena Dunham, via Instagram: "I love this song @haileesteinfeld and I wish it had existed for teenage me. It would have eradicated so much shame and I'm just feeling this vibe so hard that it made me dance around in circles in a Tokyo hotel room. (It did not make me touch my pain away, though. I am very old and very tired.) #ScreamMyOwnName"
Tavi Gevinson showed her support by posting a photo of herself with the actor-cum-pop singer with the caption "@haileesteinfeld released 'Love Myself' today and it has become my ANTHEM."