Calling all wannabe artists! Innisfree—the first K-Beauty brand to launch an inclusive range of foundation—is releasing a new product lineup that's here to give you flawless skin with the stroke of a brush. Introducing Smart Drawing, a collection of nine color-correcting, highlighting, and blush pens.
Smart Drawing is launching with four color-correcting shades—green, purple, yellow, and orange—as well as three blushers and two strobing shades. With these, you can create a flawless complexion without much makeup at all. Each tube includes a built-in applicator brush which makes it easy to use, and easy to take on the go. While we'll go ahead and say that the color-correctors are the stars of this collection, each of the lineup's products makes glowing skin attainable.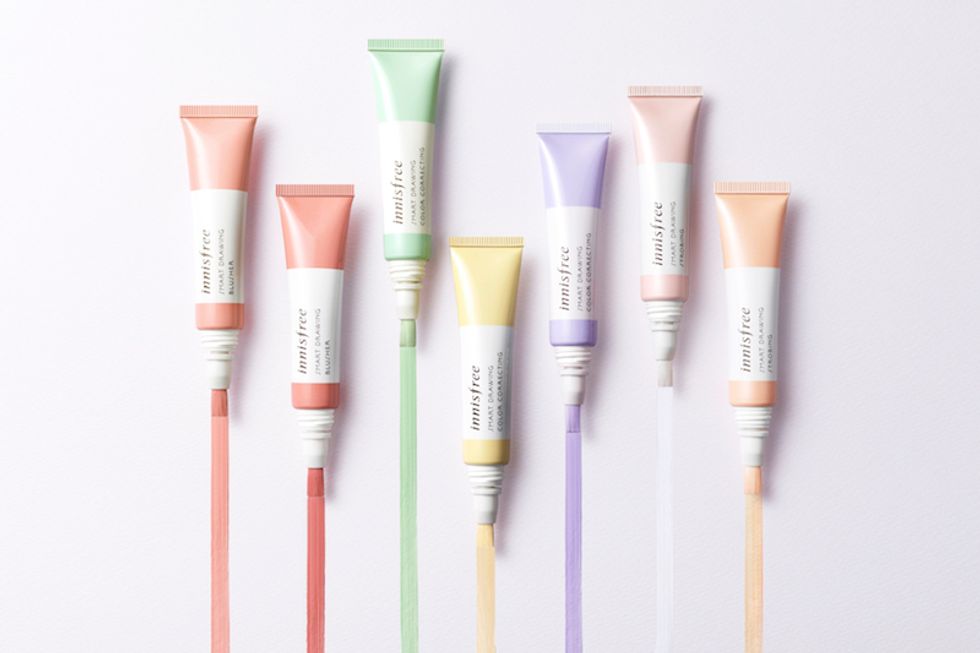 On set of the brand's upcoming fall and holiday photo shoots, we caught up with legendary makeup artist Katie Jane Hughes, who used the new products as the base of every look she created. She gave us the lowdown on the collection, which she calls a "skin hero."
If you're skeptical because you're not used to reaching for color-correctors when you begin your beauty routine, don't worry, you're not alone. Hughes didn't either—until she got her hands on these. "I personally didn't color-correct my own face because I hadn't yet found a product that I liked, but these are so easy to use—they have a tinted moisturizer-like texture, but with a little more weight to it."
Hughes breaks it down further: "I use the orange on anything that's dark or feels like it has a bit of a shadow, and I love to use the green to combat any redness. I use yellow to brighten areas of the face and the purple to correct any sallow or dull skin," she says. "And that's it!"
More so, they're super-versatile. "You can blend them together, or you can blend them with your concealer to create a color-correction concealer. You can even blend them with your foundation to create a color-correcting foundation. If your foundation is sheer—like a tinted moisturizer—and you've got a lot of red in your cheek, take a touch of green and blend it with your foundation, focusing on the area, and use the plain foundation everywhere else."
Swipe on a blusher and a strobe for an added pop of color and glow, and you have the perfect base for whatever look you're planning to create.
The Smart Drawing collection launches on August 1 at Innisfree.
Photo courtesy of Innisfree
Innisfree, Color Correcting Smart Drawing in 'Vanilla Green,' $14, available 8/1/2018 at Innisfree.