Most actors who begin their careers at the age of four find themselves, at some point, getting homeschooled. But not Kathryn Newton. "I've gone to real school my whole life," says the now-20-year-old actor. But despite a regular education, the brutal schedules and irregular hours of show business made Newton something of an absentee student. "I ran for president every year, but nobody knew who I was because I missed so much of it," she says. "They were like, 'Who's Kathryn Newton? Does she even go here?'" Today, it's likely that Newton's former classmates have a pretty good idea of who she is.
In 2017 alone, Newton has made small-screen appearances as Reese Witherspoon's daughter Abigail on HBO's bougie melodrama Big Little Lies, and as another independent spirit (and daughter) on the final season of AMC's critically acclaimed but criminally underwatched drama Halt and Catch Fire. And this month alone, she'll show up on the big screen as Frances McDormand's daughter in the furious black comedy Three Billboards Outside Ebbing, Missouri and as a classmate to the title character in Greta Gerwig's nostalgic bildungsroman Lady Bird. It's a year that many actors her age would kill for. "The past six months, I did three projects at the same time," she says. "Two were in Atlanta, so I'd work in the morning on one and in the afternoon on another. I felt like I was the luckiest actor in the world to be on two great projects in one day, like, boom-boom."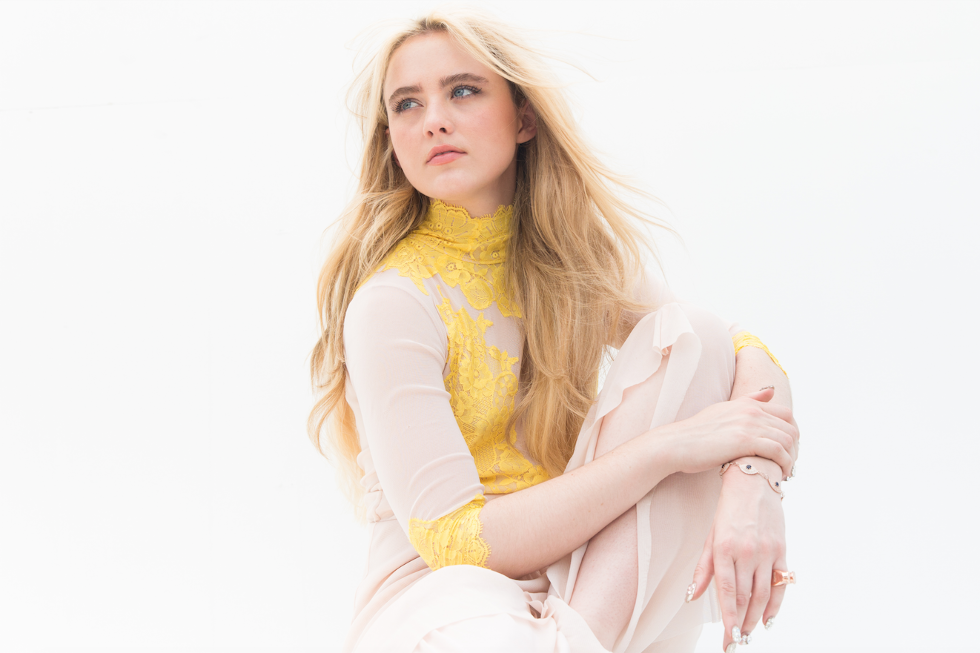 Dress by Hot-as-Hell, Bracelet by Jen Hansen jewelry, Ring by Armature.
Miami-born Newton began her career in New York City when she was four years old, after booking a role on the ageless soap opera All My Children. Around that time, she remembers waiting nightly at the side door of the Shubert Theater, where Bernadette Peters would greet fans after her starring performance in the Broadway revival of Gypsy. "I wanted to be a Broadway star. I'd go to see Gypsy every night, and I totally made best friends with her," Newton says of the legendary actress, deadpan. Eventually, Newton booked a role as the resident cute kid on the CBS sitcom Gary Unmarried, and even though she spent much of her youth working, it never felt that way to her. "I have the most amazing pictures of my outfits," she recalls. "I just dressed up like a princess every day. It was the best. They had candy everywhere, and I remember the cameras looked like giant robots you could swing on, like something in a playground. They look so much smaller now."
Newton's big break came with the lead role in Paranormal Activity 4, the fourth installment of the popular found-footage horror franchise. Her character, Alex, was a juicy "final girl" type of party, cut from the same cloth as Halloween's Laurie Strode and Scream's Sidney Prescott. Suddenly, Newton was landing guest spots on popular dramas like Supernatural and Mad Men and, for the first time in her life, getting recognized in public. "Supernatural fans are amazing," she gushes. "The people I've met from being on that show—I think those interactions have changed my life."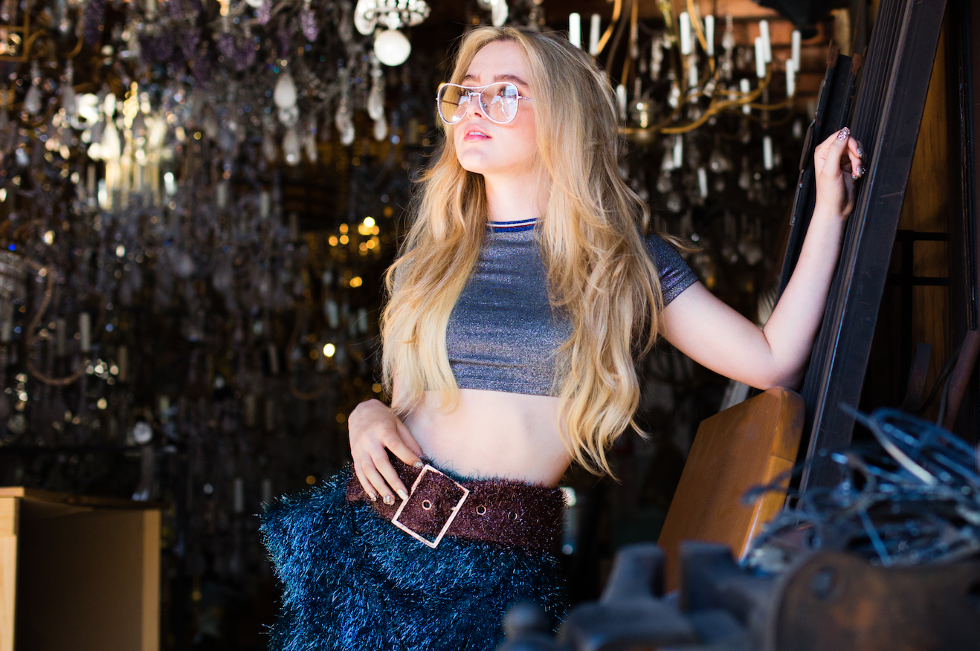 Glasses by Gucci, Top is Vintage, Skirt and Belt by Milin.
Actors who've grown up in the industry can sometimes be jaded by the long hours and lack of normalcy, but the profession has lost none of its luster for Newton. She still talks about the craft in the adoring terms of a wide-eyed rookie. "I've never looked at acting like a job," she insists. "It's never been like that. The closest I've come to a nine-to-five was [Gary Unmarried] because everyone knew when you'd be getting in and getting out. But with film, it's not like that. When you go to work, real life almost pauses, if you're lucky enough to land in something where you can let go and forget yourself. The whole time, you're creating around people who are interested in the same things you are, working together to make something great. I don't think it's right to call it work."
If Newton's rosy view of acting hints at a youthful zeal, her recent output has hinted at more of a darker streak. The defiant daughters she plays in Big Little Lies and Three Billboards, which shot concurrently on long days that Newton insists were too rewarding to be exhausting, both take throttling hold of their sexuality. In the former, her character auctioned off her virginity as a political demonstration against sexual slavery; in the latter, her character's wilder impulses get her killed, inspiring McDormand's character to seek justice. That doesn't mean she's getting typecast as a rebel. Newton jokes that the backpack-toting dork she plays in Lady Bird "is the real me," and next year, she'll play a more traditional teenager in Blockers, a studio-fronted comedy about three parents foiling their daughters' attempts to get laid on prom night. Newton sees these assorted characters as the jumping-off point to a larger conversation about the boxes we lump young women into: "There's something very special in the adolescent girl," Newton says. "We're all sisters. These characters are all on their own path to figuring out who they are. That's just how things go when you're young. I think I'm still on the road to finding out who I am, and I think that's going to be a constant search."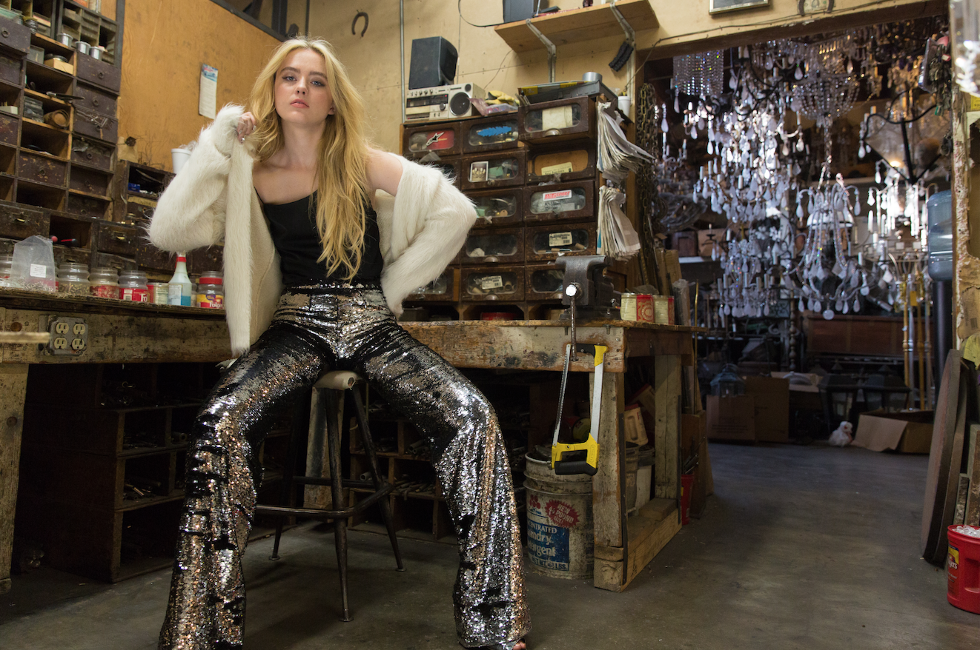 Shirt byTwo Feathers, Sweater by Frankie, Pants by Any Old Iron, Shoes by Gucci.
At an age when many of her peers are still figuring out what to do with the rest of their lives, Newton already knows. Instead, she concentrates on what kind of person she wants to be. She resists easy categorization, describing herself both as "glam" and "a nerd" in the span of a few minutes. In her performances, too, she's steely one moment and nakedly vulnerable in another. Newton, who still lives with her parents, is also a lifelong golfer, using the sport as a therapeutic counterpoint to her hectic professional life. "Golf is a very individual sport, and it's not subjective," she says. "With acting, you never know how you're doing or why you didn't get a job. Golf made me realize that when you put work into something and accomplish it on your own, it's just you. It's not about the other people you're competing against, it's just you and the club and the ball and the course. It taught me a lot about character—plus, I love the clothes."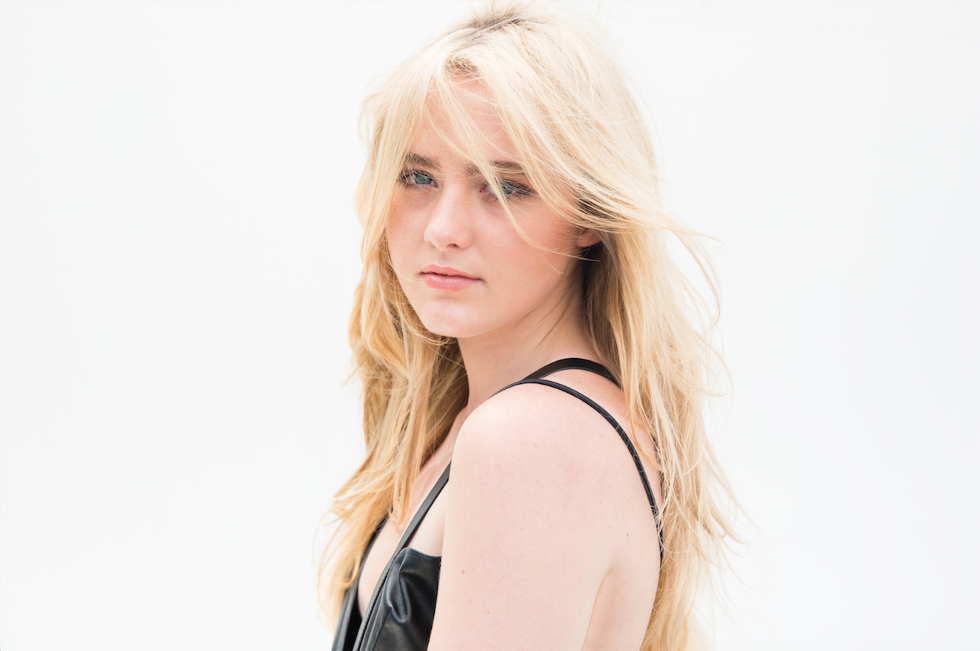 Dress by YVY.
Newton talks excitedly about having just finished a three-month stay in Ireland while filming a new adaptation of Little Women for PBS, and following our conversation, she'll head to a table read for the Supernatural spin-off, Wayward Sisters. Set to premiere on the CW following Supernatural's upcoming 13th season, the show will see Newton reprise her role of Claire Novak, this time as a lead. There, she expects to openly weep in front of her new co-workers. "I've read the script a lot of times now, and every time I do, I always cry! I get very emotional."
Newton says this without even the faintest trace of self-consciousness. For all the parts of herself she's still getting to know, Newton's intimately familiar with her sentimental side. She's never shied away from feelings in their rawest form, not from heartbreak or repeated school electoral losses. In the half hour we spend chatting, she uses the L word in reference to all of the following: storytelling, fashion, going to school, her parents, the Supernatural fanbase, Gerwig, and the '60s. "I don't think anybody can stay the same, but I would still like to be nine years old again," she affirms. "I wanna be a kid forever. When you're little, you're full of love. That's something everyone should shoot for."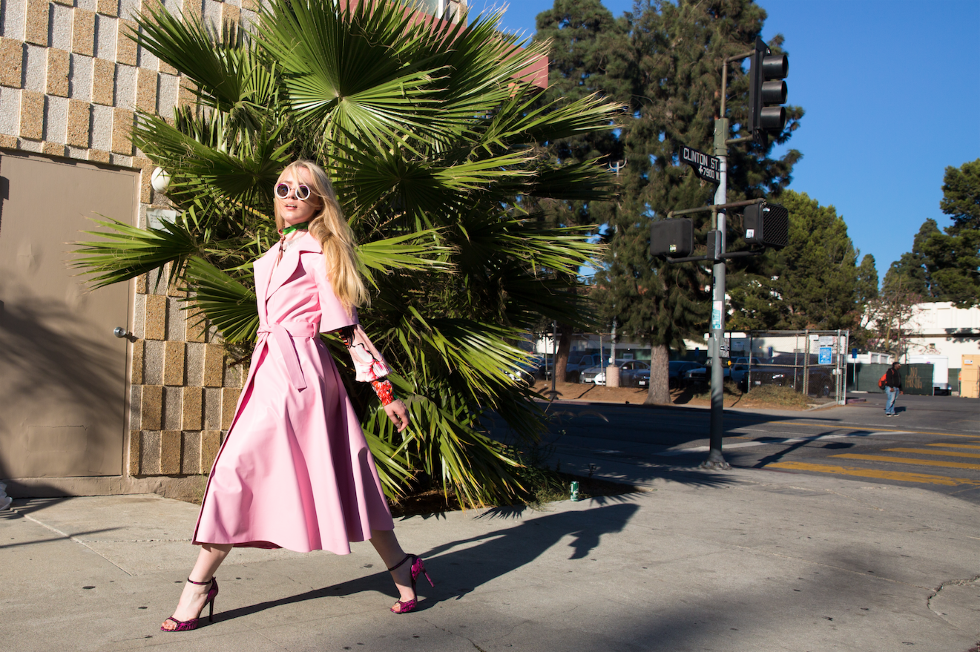 Jacket by Gina Cas, Dress by Teatum Jones, Shoes by Tom Ford, Sunglasses by Cutler and Gross.
Photographer: Myles Pettengill  
Stylist: Alvin Stillwell   
Hair: David Gardner  
Makeup:  Hinako