The following feature appears in the March 2016 issue of NYLON.
Spend the afternoon with Kehlani and little will be left unsaid. She'll quip on Justin Bieber's impressive last album: "He does that shit!" She'll laugh about growing pains: "I'm just now learning how to be a woman, how to match my bra and my panties." And she'll deliver clinching one-liners about her sexuality: "I've dated a man, a woman, and a hermaphrodite."
Her candor is especially apparent within her lyrics, crafted by the heavily tattooed, Bay Area-bred beauty herself. "I'm a very parallel-to-my-life writer," says the 20-year-old, tucking in her legs as she sits in a studio in Los Angeles, clad in ripped jeans and a black T-shirt. On mixtapes Cloud 19 and You Should Be Here, released independently in 2014 and 2015, respectively, Kehlani sings, unfeigned and frank in her husky coo, about love, self-esteem, and family over modest yet danceable beats reminiscent of '90s and early '00s R&B. 
Click through the gallery to continue the feature.
Stylist: Debbie Gonzales. Hair: Brian Fisher at The Wall Group using Oribe Hair Care. Makeup: Hinako at The Wall Group using Tom Ford.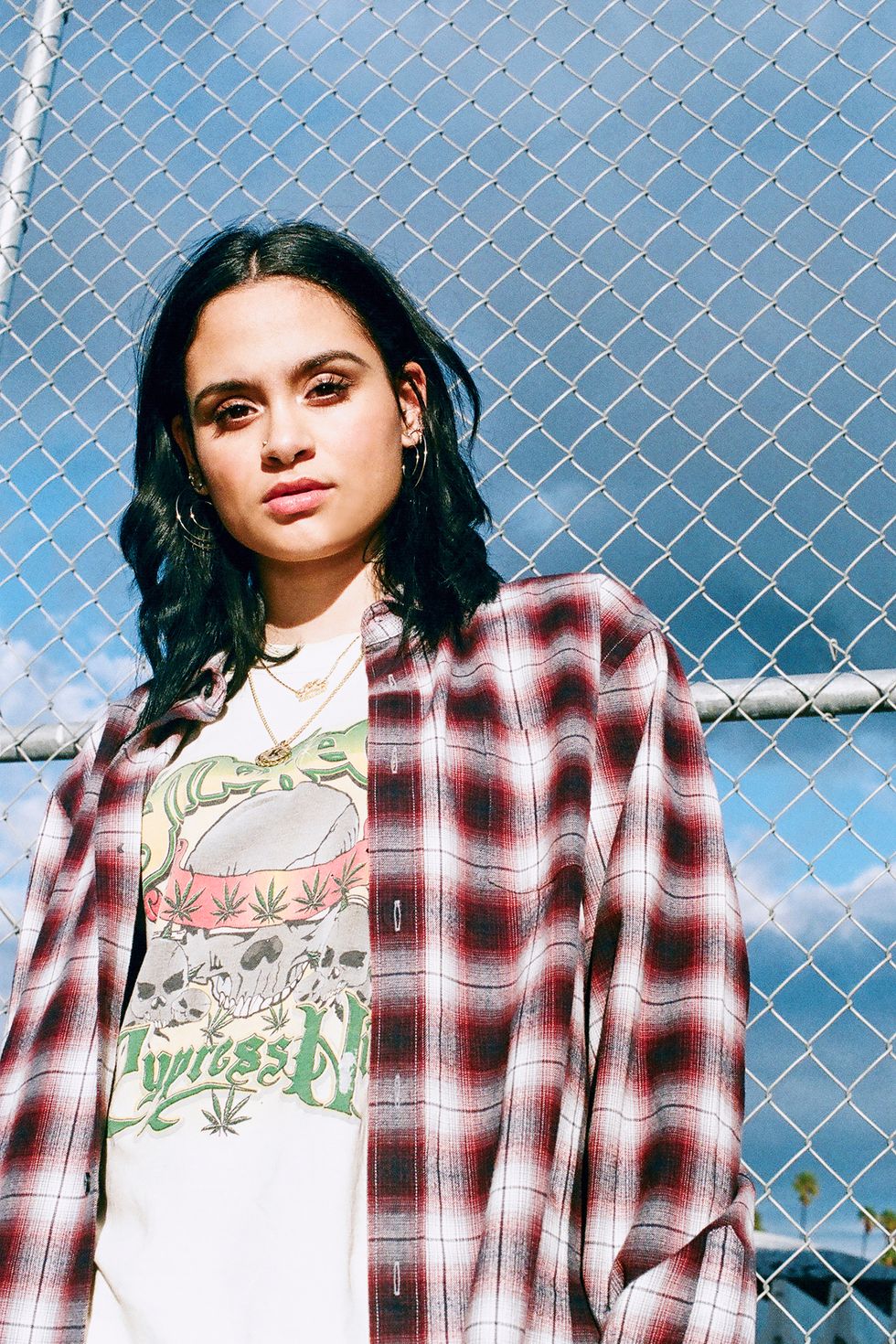 Photographed by Jacqueline Harriet. Plaid shirt by Vince, vintage T-shirt from Wasteland, ear studs from Tsunami Shop, earrings by H&M.
Due in part to her tomboyish swag and tight choreography, she's been compared to Aaliyah—arguably the poster child of that era—but her influences range from D'Angelo and Musiq Soulchild to groups like Destiny's Child, TLC, and SWV. "I feel like that's when music was at this golden time, when people were very outspoken but also had a purpose," she says. "So for my music, I set out with a mission statement that whatever came out of my mouth had some purpose, even if it was a trap song."
The 15 tracks on You Should Be Here have been streamed more than 60 million times on SoundCloud, and the mixtape earned a nomination for Best Urban Contemporary Album at the Grammys—an exceptional feat for someone who's yet to release a record on a major label. But the game is changing. "Mindie" artists (major acts with indie cred) are at the forefront of the pack, and, after signing with Atlantic Records last year, Kehlani is preparing to release a new album this spring.
"Everybody told me that I wasn't going to make it. Tomboys were so cool, then everybody got really sexualized," the singer-songwriter admits of her preferred ensemble of baggy pants, a cutoff shirt, and sneakers. Her style criteria is simple: "Can I lay [sic] in it? Can I walk in it?" Still, she's not totally satisfied with what she sees in the mirror. "I started getting tattoos because I didn't fuck with the way I looked," she says. "I still don't think I'm cute. I think I look like a little boy and that I'm just rough." But Kehlani is, in fact, stunning. Her ethnicity is a combination of "black, white, Native American, and Spanish" and she has an infectious smile, bright eyes, and enviable abs.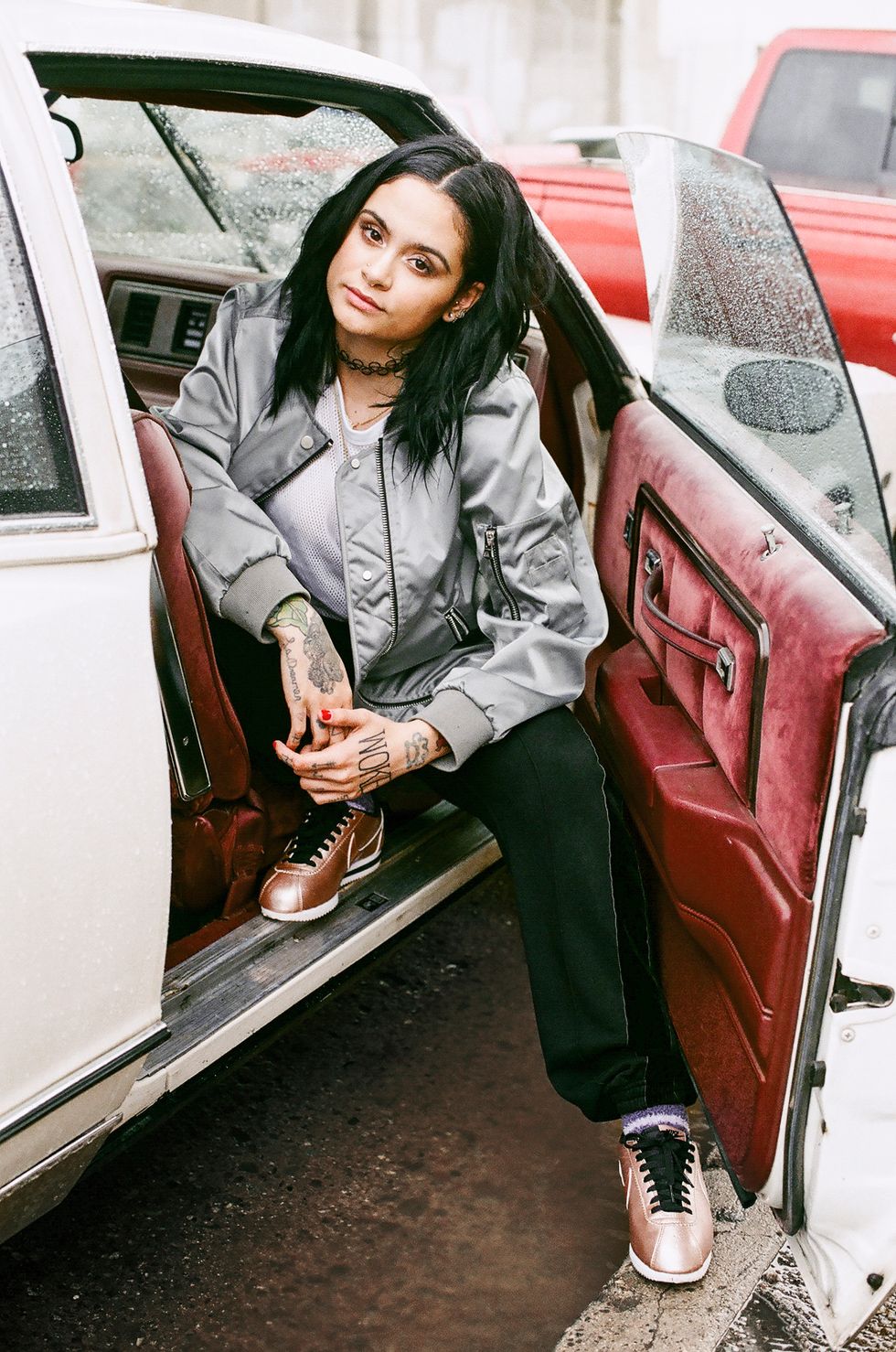 Photographed by Jacqueline Harriet. Jacket and choker by Acne Studios, top by Dries Van Noten, sweatpants by Haider Ackermann, sneakers by Nike, ear studs from Tsunami Shop, earrings by H&M, socks from Target.
Raised in a family of little means in Oakland, California, Kehlani was adopted by her aunt after her mother, an addict, went to jail. (Her father died when she was just a baby.) Even after her mother was released, Kehlani didn't become "cool" with her until more recently, says the singer, adding that her mom is in a program to kick her habit. "Life's too short. I'm from Oakland. I get a phone call about somebody dying or going to jail every week. I know what state my mother's in so I'm not wasting any time."
As a kid, Kehlani attended Oakland School for the Arts, where she focused on dancing and singing. It was there that she met her first girlfriend, but she doesn't feel the need to categorize her sexuality. "I don't believe anyone is necessarily put in one box," she explains.
While still in school, she fronted the group PopLyfe, which competed on America's Got Talent. Though they didn't win, Kehlani left an impression on the show's host, Nick Cannon, who recruited her for a rap crew. But she didn't like spitting words written by someone other than herself. "Months later I put out a couple songs by myself, and he was like, 'Oh, I see what you were trying to do,'" she recalls.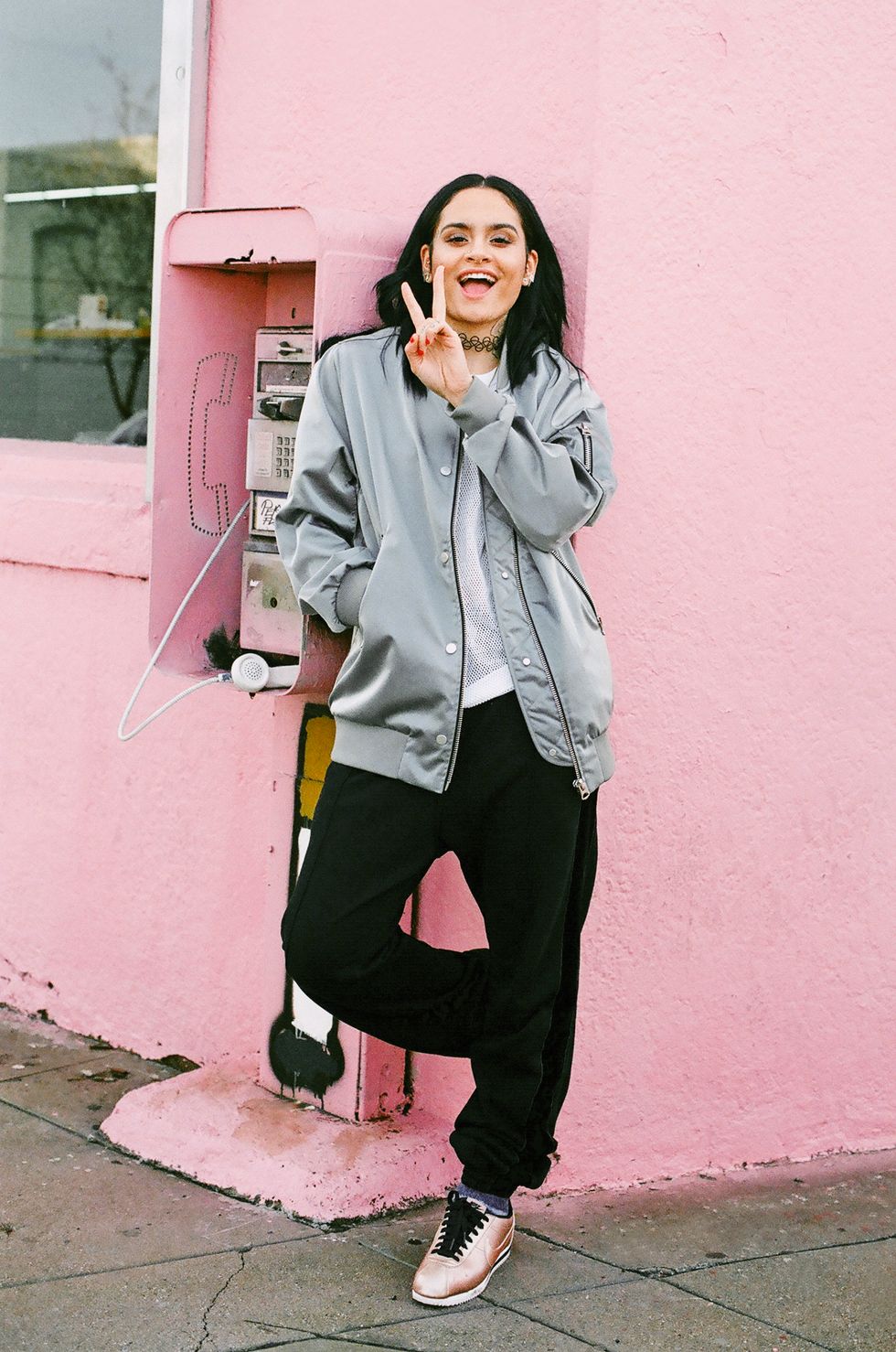 Photographed by Jacqueline Harriet. Jacket and choker by Acne Studios, top by Dries Van Noten, sweatpants by Haider Ackermann, sneakers by Nike, ear studs from Tsunami Shop, earrings by H&M, socks from Target.
Soon after, Cannon flew her to L.A. and set her up in an apartment so she could focus on her solo career. "I remember going days without taking showers, and not having bread for food and getting in trouble at the store for stealing," she says, tearing up. "Now I had a refrigerator, my own room. He turned my life around." It was then that she hit the studio and recorded Cloud 19.
On her next album, Kehlani is "gearing toward being more mature." She's already hit the studio with Timbaland, but, joint efforts aside, she'll continue to write her own songs. "I feel like I have too much pride," she says. "I'm Grammy-nominated off of my words. But now I feel like I have to be very careful and dissect every song. I can't start off on a great foot and then let everything go downhill. The pressure is on."