The first time I spoke to Kevin Abstract was about two years ago. At the time, the self-proclaimed "Internet's Michael Jackson" had just dropped his debut single "Drugs" and was gearing up to release MTV1987. Similar to every other unsigned rapper who gets dubbed a "SoundCloud rapper," there was major buzz and the early stages of a cult following began to fall into place. But the difference between this Texas rapper and these other "SoundCloud rappers" was the fact that his music was good—really, really good. To call Abstract a "SoundCloud rapper" is really just an insult to the magic that he, his producer Romil, and art director HK created with MTV1987. The music showcased the versatility that not only could Abstract rap but also sing, and then curate an aesthetic that was recognized and mimicked by his fans.
MTV1987 was the album for a generation of teens whose URL life is more ideal than their IRL life which is filled with depression, anxiety, isolation, confusion, and subsequent drug use. It captured a mood and feeling that hadn't been tapped into. Two years later, the 19-year-old is back with They Shoot Horses, a Thriller-inspired album that he not only hopes, but is confident will change everything for him, and give him the mainstream attention that he's been hoping for. The first single "Echo" premiered here this past November, and critics and fans alike were ecstatic about everything from the coinciding music video to Abstract's progression as an artist.
A few weeks ago, we caught up with Abstract on the phone while he was headed to the studio in L.A. He talked about everything from being in love to fan interactions and wanting to be played in Chili's. Abstract's new short film will be dropping sometime this month, but, for now, delve into an in-depth conversation with a man who is on the brink of achieving it all, below.
It's been two years since we last formally talked and you've had two major life changes since then. You've moved to California and you're in a relationship. How has that changed you?
I'm not in L.A. full time, I'm still living in Texas. My lease is up in March and I'll be here in April. But this is the most time I've spent in California, I've been here for a month. It's been a pretty life-changing trip. I don't want to say how so just yet, I like letting things unfold. But as far as relationship goes, I'm a lot happier than I was when we last spoke. I think it's awesome when you meet someone that can kind of just gets you 110 percent, and no matter how long that lasts, you kind of just take it for what it is and embrace it.
When I listened to "Echo" I felt like I was going through 56 different emotions. It was such an immersive experience. Especially with the video, it heightened all the emotions I was feeling. Explain the process of coming up with it?
Tyler [Mitchell] and HK came up with the concept. We knew we wanted to do something simple and kind of like introduce people to the Death of a Supermodel [former name of the second album] universe more clearly. Because I kind of introduced people to it with MTV1987, with the "Drugs" video, with the album artwork, and the TextEdit posts I was doing but I really wanted people to live inside it. I want people to own a hoodie and feel like they're a part of that universe. Or when they're wearing the hoodie, this is what I'm going to put on as I run away from home. This is that uniform for that situation or scenario.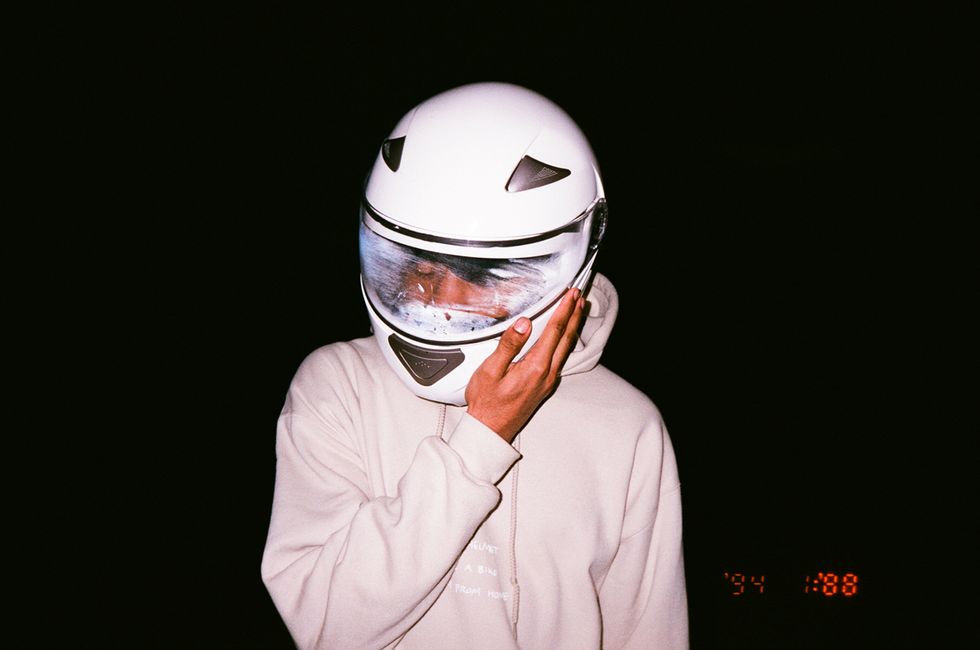 Photographed by Henry Camp
You mention the hoodies you've made but you've also got into making short films as well. Is this you sharing your hobbies with the world or is this you purposefully and forcefully breaking the limitation of what it means to be the artist Kevin Abstract? Not only singing and rapping but doing film and fashion?
My thing is like [with] Death of a Supermodel, what I thought started off as an album, I realized it is more of a trilogy. It was really the entire Kevin Abstract project. I really want to only put out three projects from Kevin Abstract as far as solo bodies of work. But, inside of the Death of a Supermodel arc, I'll release clothes, films, and posters. All the things that people can look at and live within the Death of a Supermodel world. It's really just breaking limitation. I don't really see rules. That's something I got from Tyler, The Creator. There are no rules when I'm making stuff. That's why I'm glad I'm not signed. No one's telling me I got to drop this type of single or this video.
What happened to
Death of a Supermodel
? I've always felt like the best stuff from my favorite artists is the stuff that they don't release. Is that the case or will we hear some of those songs on They Shoot Horses?
I made 11 songs this time last year and it was supposed to go on my sophomore album—which was formerly known as Death of a Supermodel and which is now called They Shoot Horses. I didn't scrap it because it was bad, but because that part of my story—I didn't want to share that part of the story just yet. That music wouldn't have gotten me to where I need to be. The music that I'm about to put out, after I release that, then I will be able to put the music out that I made a year ago. There needs to be a bridge in between, like a change in status. Once I get to that point, I'll put it out.
The basis of Kevin Abstract is the Internet. You have more than 11,000 Twitter followers, and a lot of the interactions with fans are done through Twitter instead of maybe post-concert meet and greets. Do you look at it as an advantage?
My main goal is transcending. This is the only platform that I have. There's no tabloids, no TRL, no 106 & Park like it was in the early 2000s. The only way I can speak to people who come across my music directly is through my social media. Social media is awesome because I can somewhat paint myself the way I want people to see me. Whether they think it's corny, I run with it. I love where I stand because I'm in total control. I want to transcend. I want this shit to not only exist on the Internet, I want it to exist in the real world. Even though the Internet is pretty much the real world, I want my shit to be played in like classic American restaurants. And what I mean by that is like Chili's, where middle America goes to eat. I want my shit played there and not just on SoundCloud. I'm trying to really drift away from being a SoundCloud artist. I'm not going to put the album on SoundCloud. I have nothing against putting the music [up] for free but it's just I don't want to be in that bubble and affiliated with the blog rappers that I see my name next to sometimes. I'm more interested in being next to Adele, Beyoncé, Kanye West. Real household names.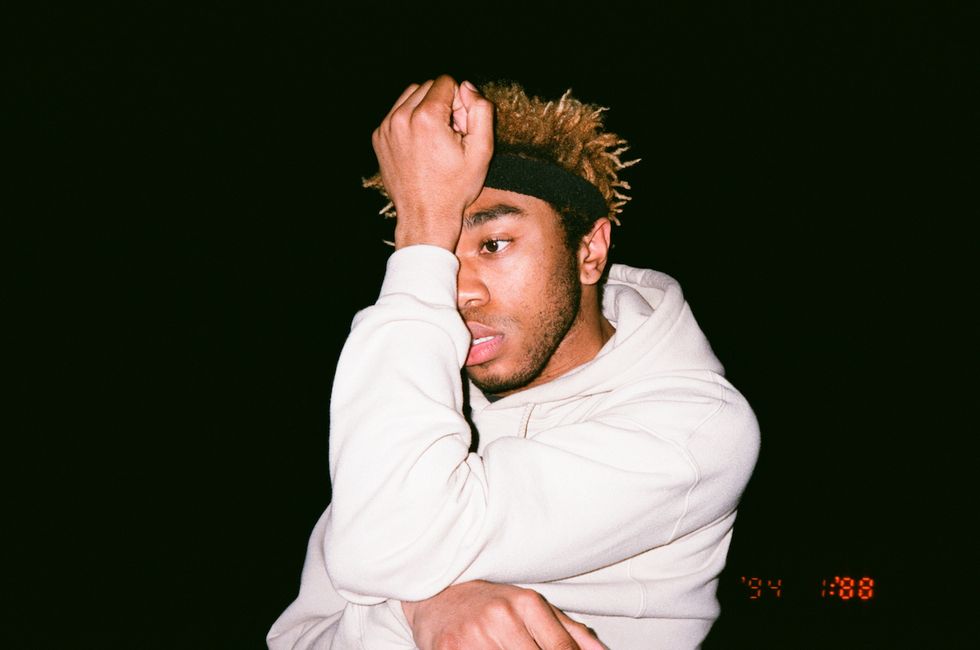 Photographed by Henry Camp
You like being in control but you also want a major label backing. With a major label backing comes a loss of control sometimes. Would you give up your control for a major label deal?
That's the thing, labels have tried to come to me since the release of MTV1987 but it's never the right fit or they never know how to market me or they never really know what to do with me. I used to say I wanted a major label backing but now I just want resources and exposure. And if anyone out there would give me that, I'd take that. It doesn't have to be a label, it can be a tech company. Like a tech company in Silicon Valley, not to be like too Kanye 2013 story. I know that once this hits it'll really hit, and create a bit of a subculture for kids to hold on to. There's like a void, and there hasn't been anything really interesting to come from the subculture and really hit middle America since Odd Future. So I'm really trying to build something. I have a fan base and though it's small, the people who ride for me, really ride for me. So once it's really big, it will hit.
When can we expect from They Shoot Horses?
I don't know when the album is coming out. I'm going to the studio today with Jesse Rutherford to finish up the last song of the album. He's gonna be on the chorus. It's a song I wrote when I was 16. I'm not going to put a single out but a short film that kind of gives it context.
Is he the only feature on the album?
There's other features. As far as big names goes, I don't really play that game. If I meet someone and I'm super into their music, what they stand for, and if it's a good addition to the world I'm creating then I'll bring them in. A good example is this kid Roy I met. He was a big fan of mine. Someone showed me his music and I really liked it so I brought him along to finish the album. I only really work with Romil, but us three clicked on the production side of things.
I don't really care about connections. I'm just trying to make the best stuff I can make and put it out. I know I'm not that known right now or that big, but I see this shit getting really big. When people look back and see this shit and
look at my discography,
thanks to the Internet they can. But when people look back hopefully they're impressed. Hopefully they're asking why they slept on this.