The following feature appears in the December/January 2017 issue of NYLON.
Lala Abaddon is the only person I've met who would enthusiastically respond to a Craigslist ad for a bunch of broken glass. "I just went and picked it up for free," the 29-year-old multimedia artist says with a smile.
We're standing in the studio space at Red Bull House of Art in Detroit's Eastern Market neighborhood, surrounded by the glass, as well as wire, cutout butterflies, woven images, and, most noticeably, a life-size cocoon made of layers of translucent materials, as she prepares to walk me through her current works-in-progress.
Click through the gallery to read the rest of this feature.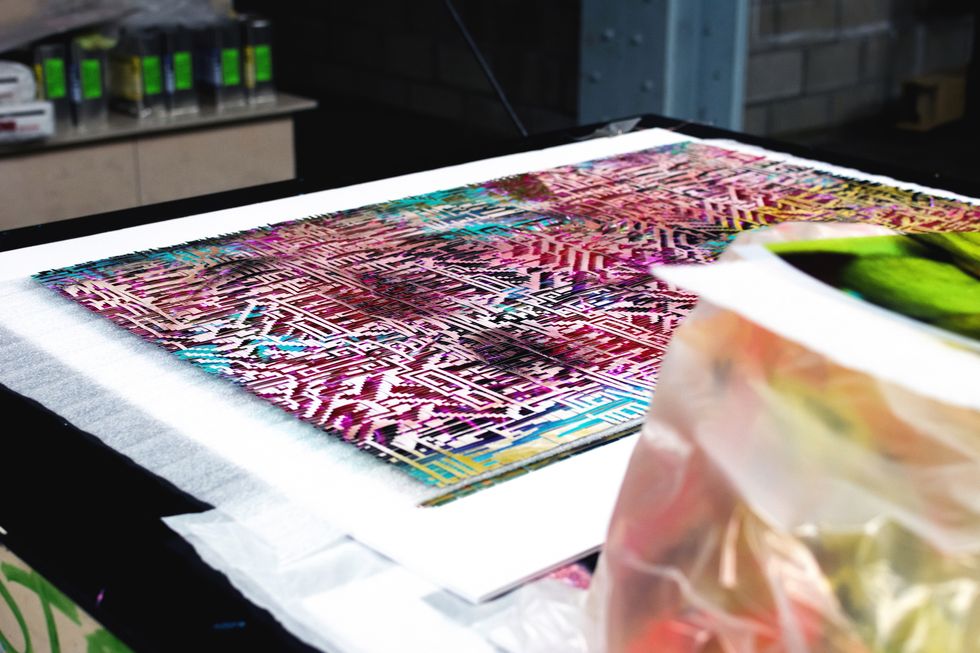 Established in 2011, Red Bull House of Art has given artists the chance to participate in three-month residencies that allow them to create and collaborate with other artists. There is no application process—artists are selected by the Red Bull team to partake in the program.
Although she calls Brooklyn home, Abaddon embraces such opportunities to travel and experience other cities. Before arriving in Detroit, she'd completed a residency at Long Road Projects in Jacksonville, Florida, and will be heading to Denver for the opening of her solo exhibition at the Knew Conscious Gallery on December 10.
"New York is the best of the best," she says, tucking a strand of her electric green hair behind her ear, "but I think some of its systemic foundations are outdated. Here in Detroit it's fun—there are a ton of outsider artists who don't get enough recognition, but who probably wouldn't be able to make their work without the space they have here and the materials they source."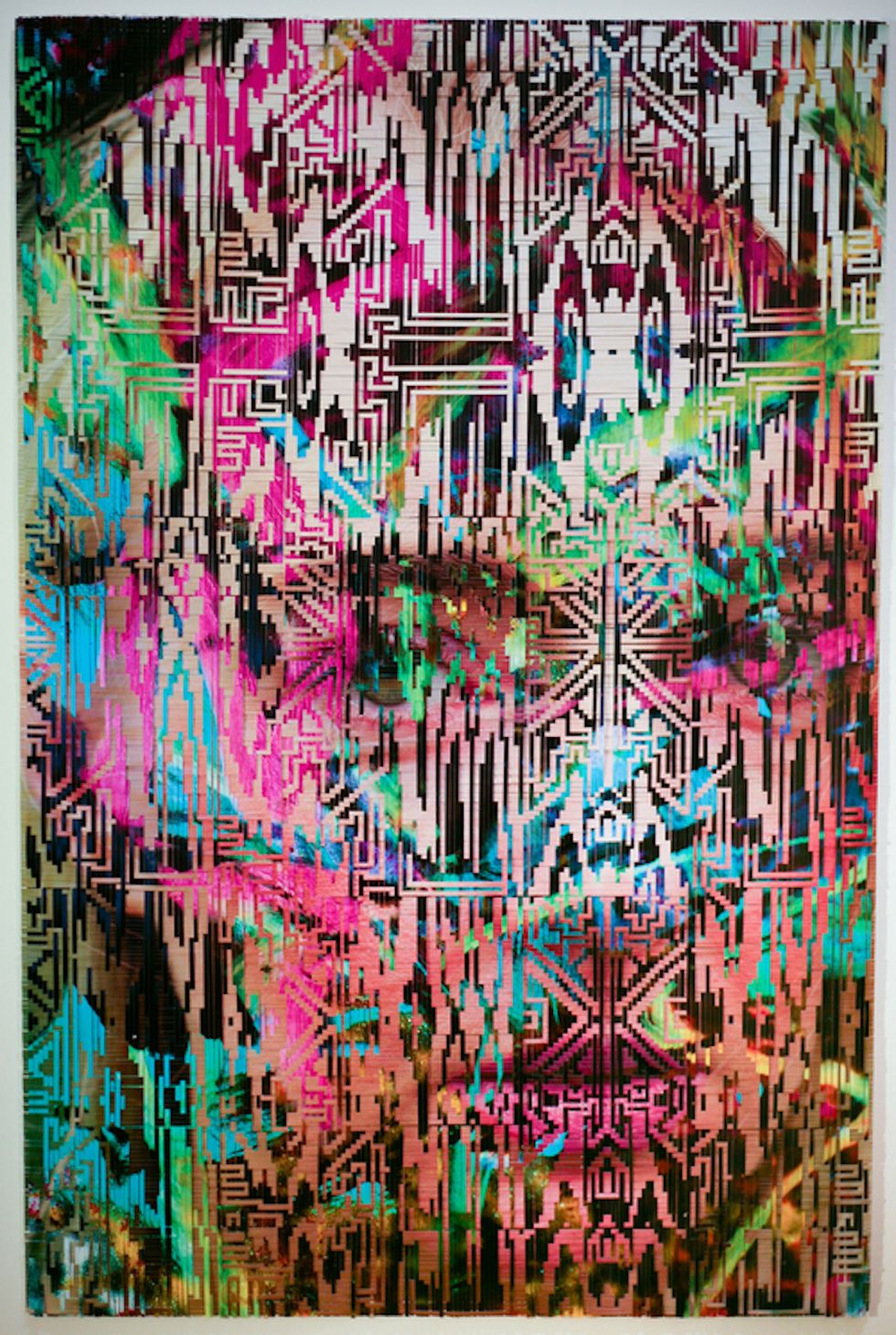 Abaddon directs my attention to a sculpture with a white, crystalline base that has wires emerging from it, and tells me that she is currently working on several more just like it. "The sculptures are based on the topography of Detroit, because the first thing I fell in love with here was how the weeds are everywhere," she says, pointing out that weeds tend to appear between abandoned buildings in the city.
"It's sad, but it's also really beautiful—like the earth is taking back over. The weeds are very sturdy and thorny. I liked those elements, and now I'm morphing them into my own style."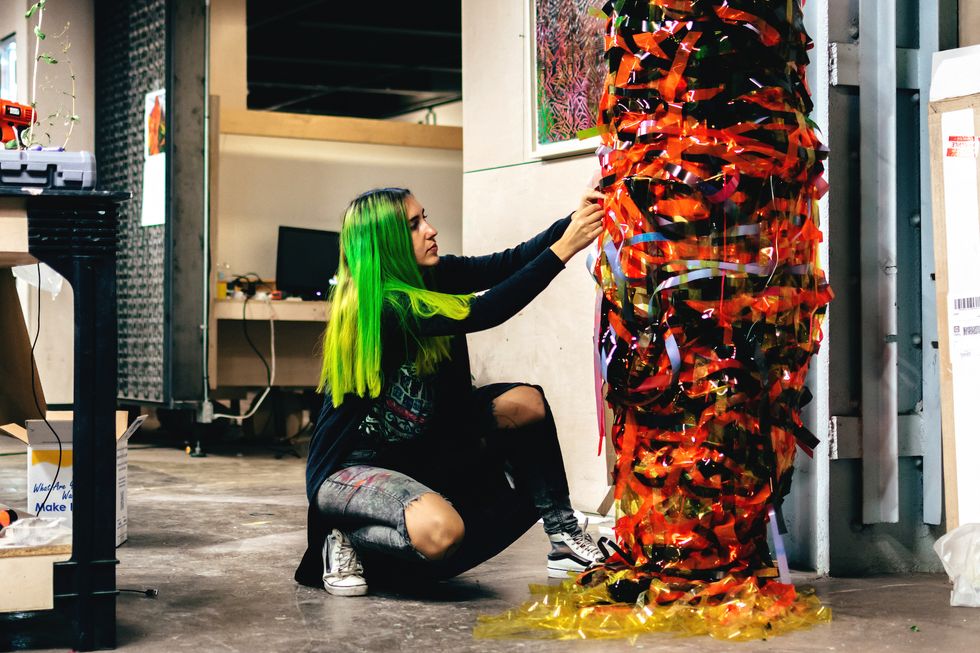 It doesn't take long to get a pulse on Abaddon's artistic style: She embraces color, uses unconventional materials, and is not afraid to dive into a work headfirst...or crawl out of it.
"Here's where I squeezed out," she says when we return to the giant cocoon, tugging at a small hole in the base. The work is the result of her Jacksonville residency meta-performance, Always in Never, which took 27 consecutive hours to craft.
"When I was inside of it, the sun was coming up and I also had an LED suit on," she recalls. "I had all of these lights reflecting in there. It was amazing." She streamed the performance online, and considers the internet a comfortable place to share her work. "I see a lot of positives in social media," she says. "It's about being together—you're experiencing something, you're making something."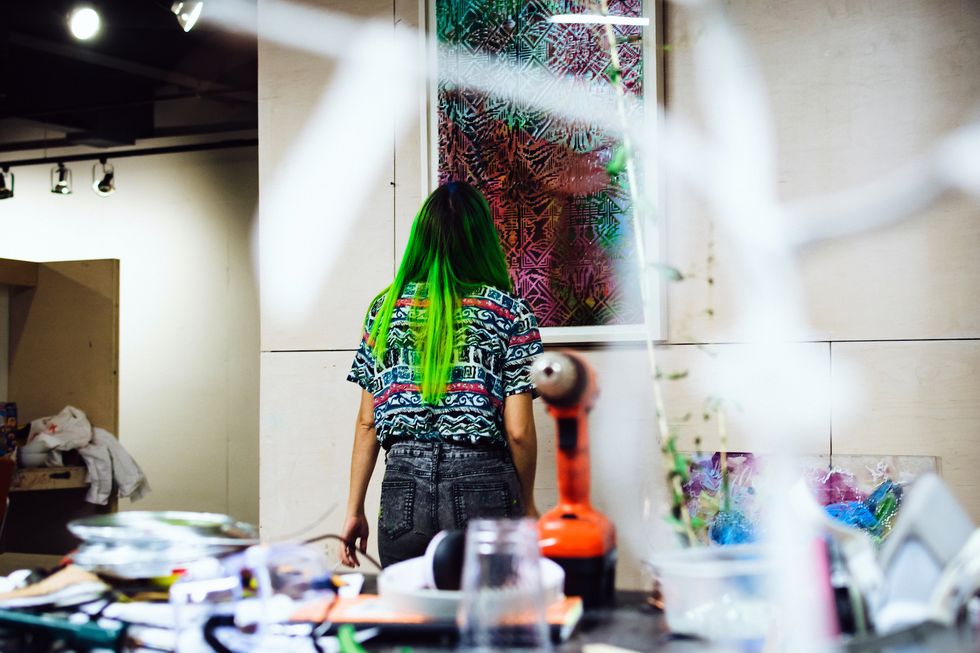 Transparency is fundamental to Abaddon's work, both because of the materials that she uses and because of her personal nature.
"I'm brutally honest," she says. "The first piece I ever made was about being an open book. And that's kind of saved me in a lot of ways. I almost feel like the demons would eat me alive inside if I wasn't honest about things."
She continues, "I really want to talk about the personal stuff that's gone on in my life, because I think that it's important to talk about it as a woman, and just show how I've gotten out of these situations where I was not in control and taken my life, and my power, back." From seeing the beauty in broken glass to staging her own metamorphosis, Abaddon is well equipped to do just that.