Leanne Mai-ly Hilgart is the CEO & Creative Director of Vaute Couture, the world's first completely vegan apparel label. While other fashion brands occasionally sell vegetarian-friendly clothes out of materials like faux-leather, Vaute doesn't use anything derived from animals—you won't find silk, wool, suede, or down in the line, even in its super-warm jackets. In 2013, Vaute became the first vegan brand to show at New York Fashion Week. And thanks to a rapidly growing, loyal customer base, the company just opened a new headquarters in Brooklyn, and is in the process of opening a new storefront in Nolita.
At 32, Hilgart radiates with contagious excitement and a quiet yet unmistakable confidence. This is a woman who figured out how to combine her passions—animal rights and fashion—and turn them into something lucrative, lasting, and impactful, with no previous experience being a business owner or fashion designer. She's modest and gracious in conversation, but her incredible accomplishments speak to the fact that this risk-taker had the drive and wherewithal to succeed despite the odds being stacked against her.
"I realized that all the most important things I did in life I did without asking for approval or permission," Hilgart says. "I knew I had to just do it and prove it, and maybe one day they would get it, but it wouldn't matter, I had to create this; it had to be done. And that was that."
Read on for her story of risk and reward, photographed in and around Vaute's new headquarters (oh, and if you're wondering—everything Hilgart's wearing is from Vaute.)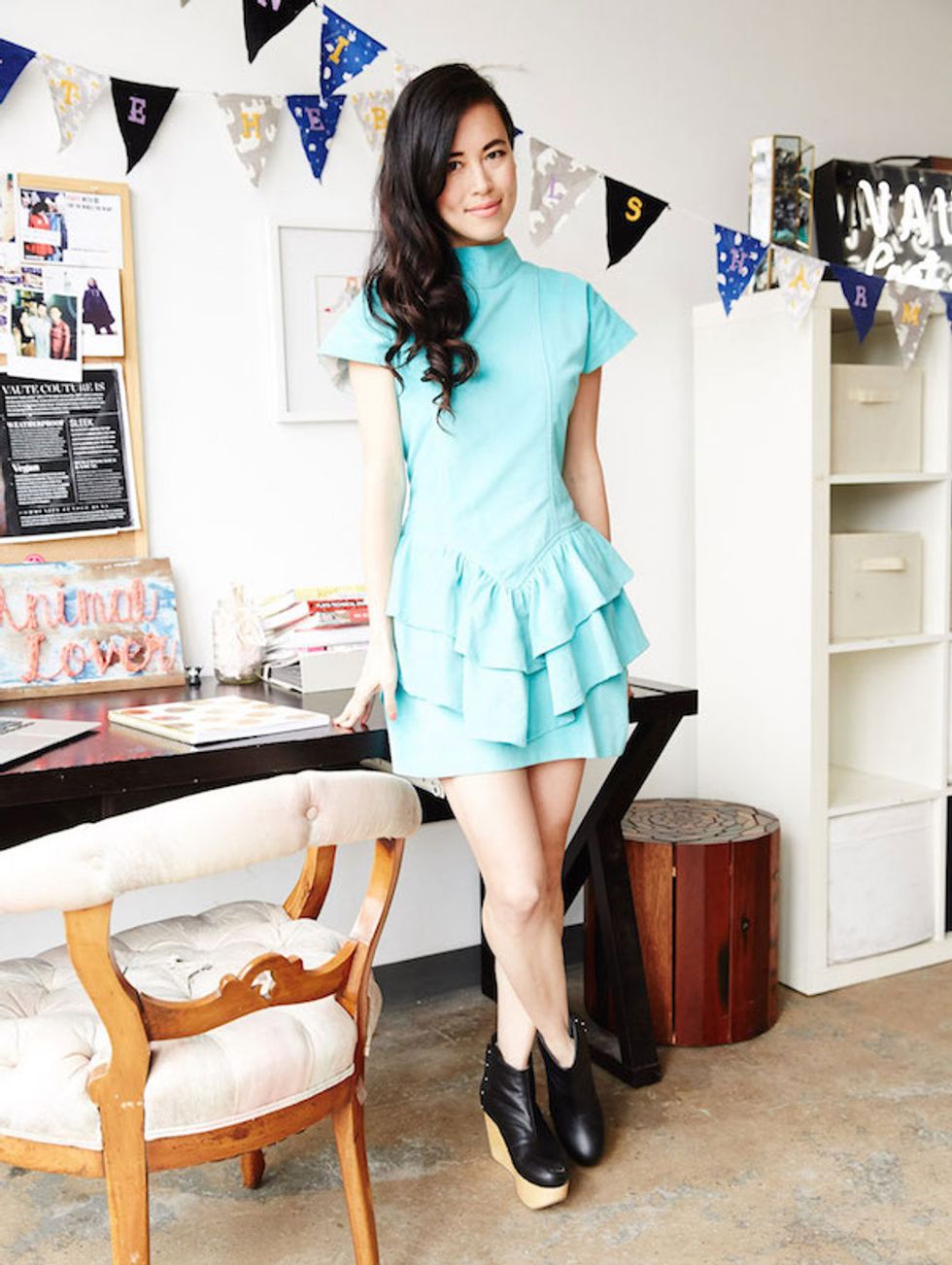 Photo by Lauren Perlstein
Born in Darien, Illinois, a suburb of Chicago ("10 minutes from the McDonalds HQ"), Hilgart graduated college with a degree in education and had, to her surprise, gotten signed to Ford Models. (She's 5'5", which is short for a model, but one look at her face and it's not hard to see why.)
Hilgart was modeling in Chicago and Asia while doing marketing for a company called Sittercity and working on animal-rights activism on the side when she had her aha moment, thanks to the female CEO of Sittercity. She "was young, and I realized she was still making a huge impact for women in America," Hilgart recalls. "That's when I knew I had to start a business—that was how I'd create the most change in this world."
Photo by Lauren Perlstein
She continues, "As an activist my whole life, I always wanted to figure out how to be the most effective. In a business, every element of the process can do good or bad, and that would have an exponential impact on the world versus what I could do alone." And so Hilgart decided to launch her own business—one that would take animals out of the equation.
"Living beings aren't machines and they shouldn't be treated and cost-analyzed as such," she says. But, there was one problem: "I had no idea what my business should be, nor did I have any experience in any one industry."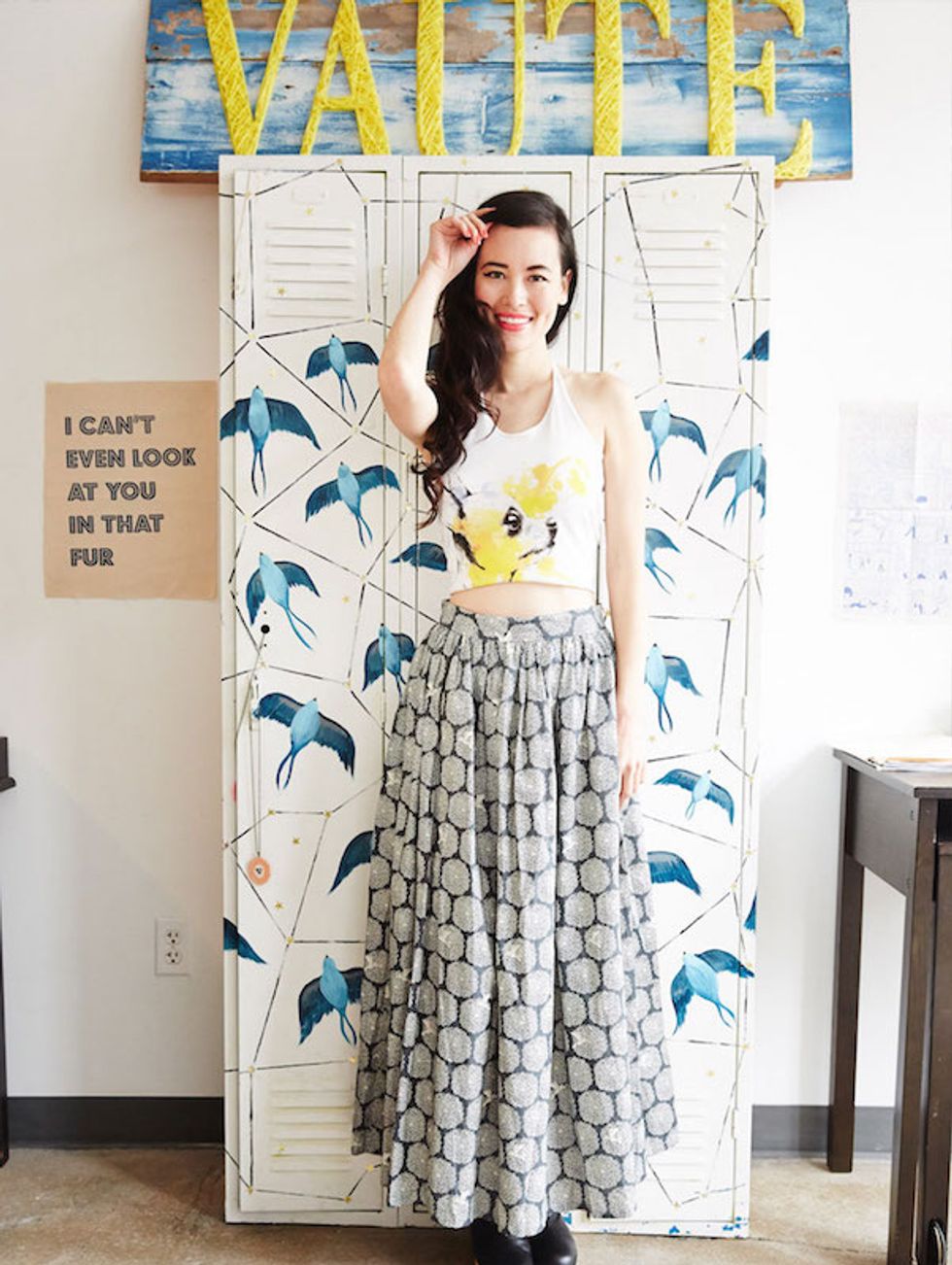 Photo by Lauren Perlstein
So, Hilgart did what any responsible, ultra-motivated person would do when faced with a business challenge: She decided to get her MBA. Then, while spending the summer in Hong Kong modeling, at a time when she needed to take a few more classes to graduate, she realized what her plan would be. "I was thinking through every business idea I had thrown out. One was for vegan outerwear." Though she originally thought that there'd be no market for something like that, it suddenly occurred to her that the market wasn't the issue: "If I look at this as an opportunity to innovate textiles so that it doesn't matter if you care about animals as much as I do, you just want a warm pretty coat, then the market is endless," she explains. "And then I could empower and enlist these women who have never thought about the power of their daily choices of what they wear, eat, and buy to start making a difference."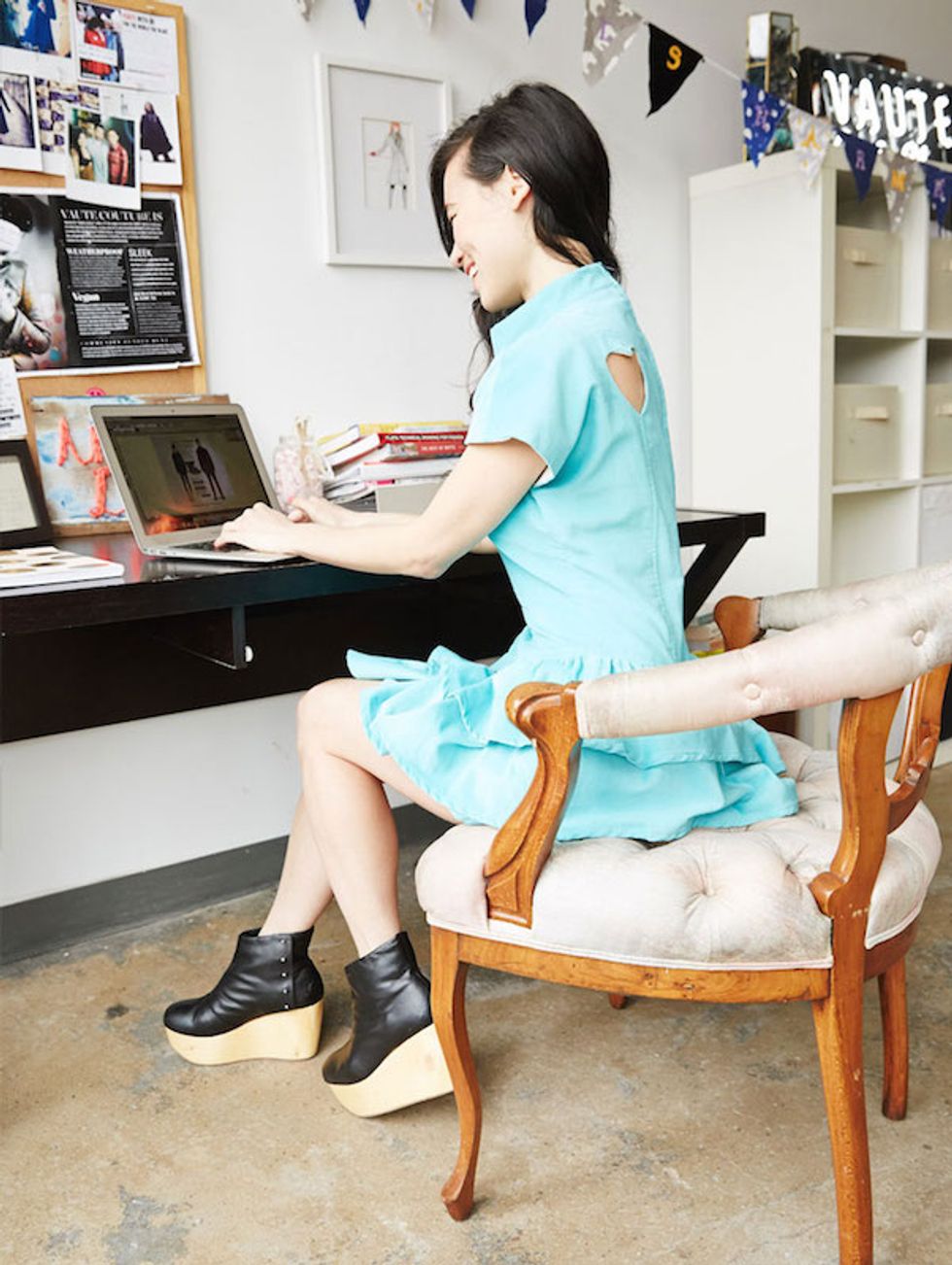 Photo by Lauren Perlstein
Hilgart abruptly quit DePaul's MBA program and terminated her modeling contract. She put her life savings into the company, "without even knowing how to really sew or ever setting foot in a factory or fashion school." She began to work 80 hours a week to develop the brand. "Those were lonely, scary months, and there were many more to follow," she says.
That terrifying loneliness was familiar. When, at ten years old, Hilgart first got into animal rights and social justice issues, she went from being popular to being ignored, spending many nights in tears. "But while I ran letter writing campaigns and called beauty companies that tested on animals with a list of questions until the customer service agent asked angrily how old I was," she says, "I was becoming comfortable being disliked, misunderstood, and unpopular, and following my heart anyway."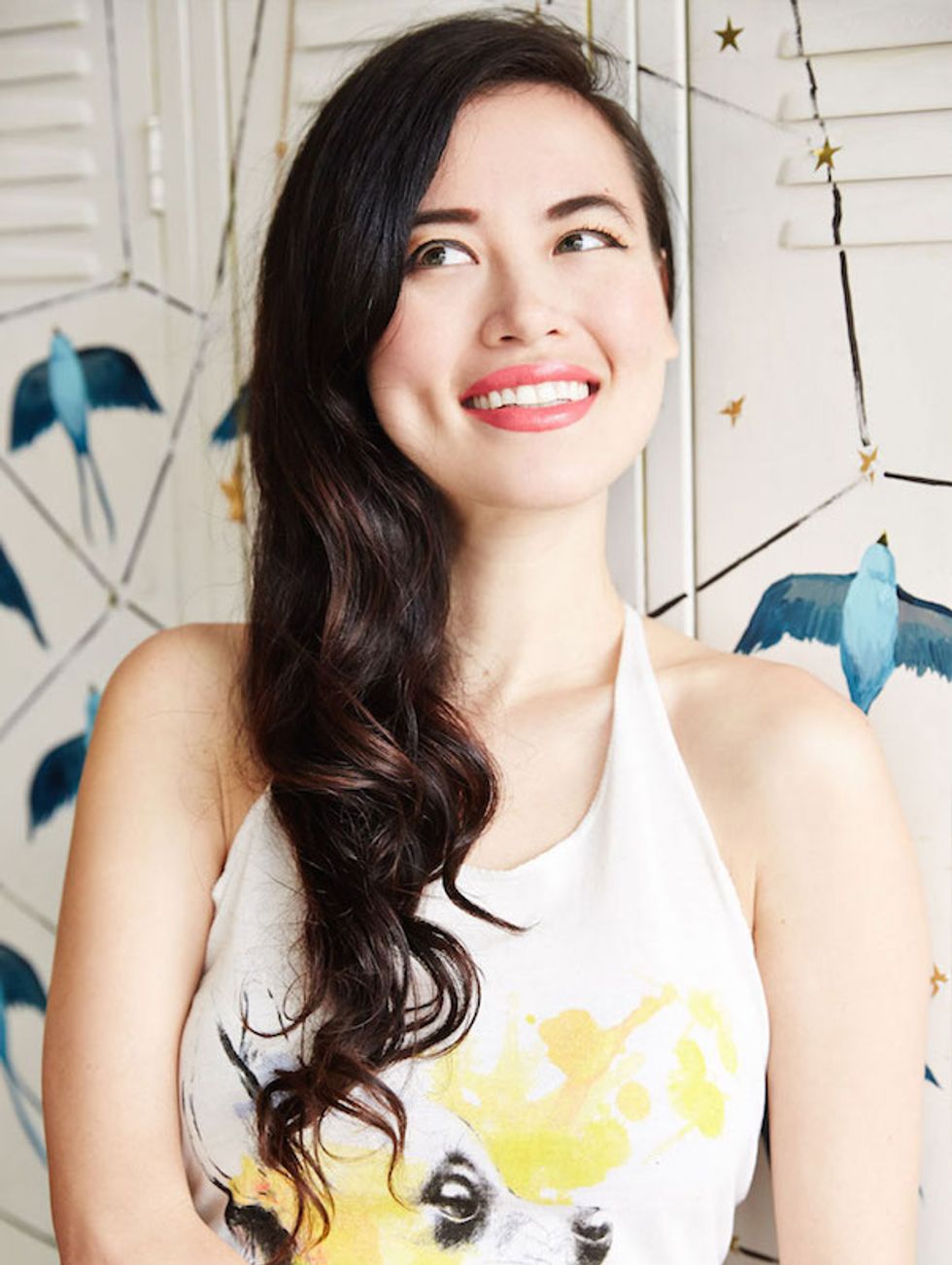 Photo by Lauren Perlstein
Vaute was founded in the fall of 2008 and officially launched in the summer of 2009—in the midst of the recession. As boutiques all around her were closing, she realized that she wouldn't be able to rely on wholesale orders to fund her textile production. However, once word about the brand got out, she began to receive hundreds of pre-orders for coats—enough to fund the brand for the next season. "It was an incredibly encouraging proof of concept for me," she says.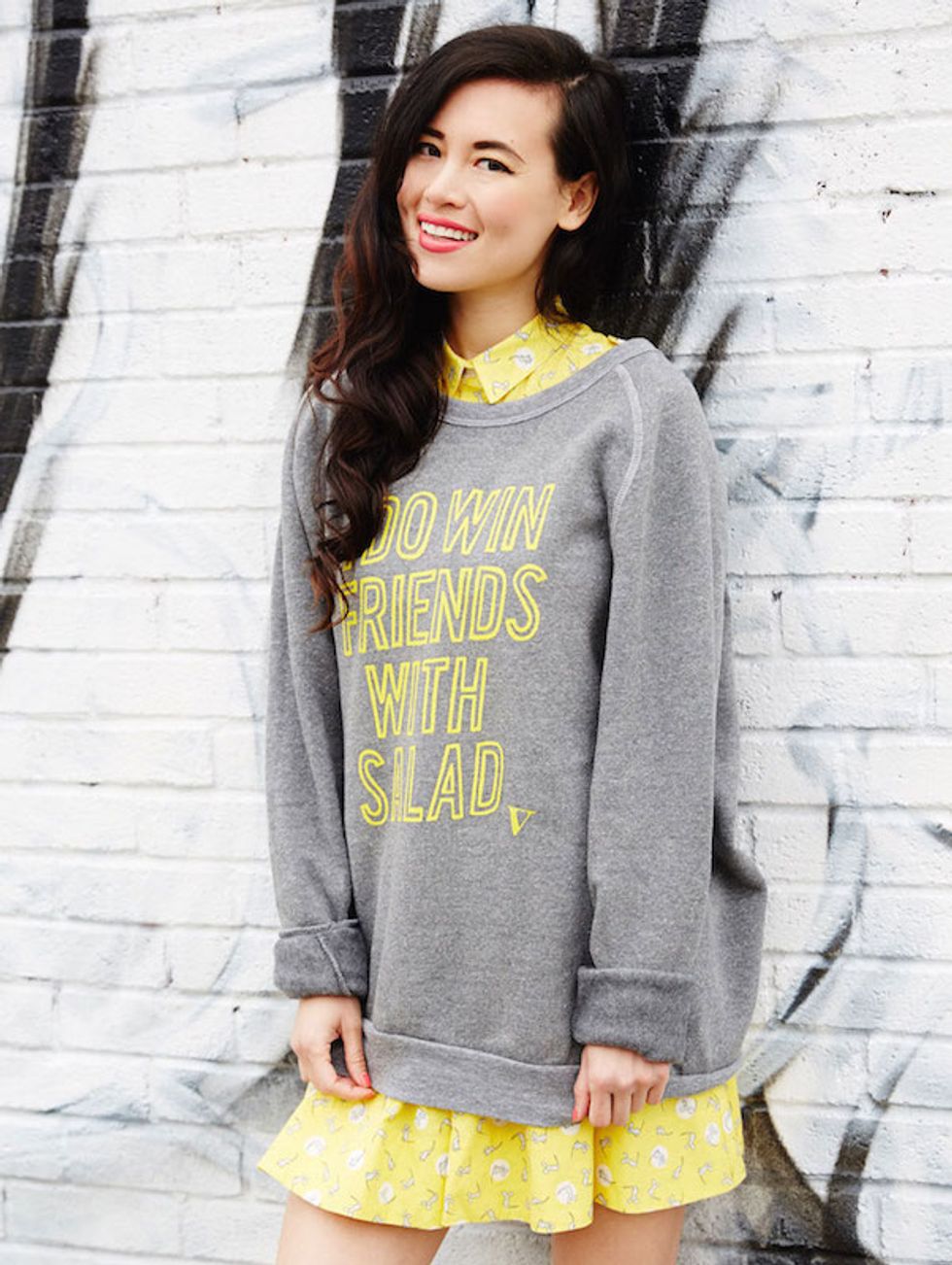 Photo by Lauren Perlstein
"When you are using your own money and your reputation is on the line, and especially when you find a mission to feel responsible to complete, you learn extra quickly how to do things, and when to take a risk," she says. She knew that rather than trying to do everything herself, she had to hire experts—like a pattern-maker, a sample-maker, and cut and sew teams.

Once the money from the pre-orders began to come in, Hilgart turned to the skills she had acquired over the years. "I led the team like an RA, I educated the public on animal and environmental issues using what I learned as an education major, I bootstrapped like a nonprofit campaign coordinator, and marketed like a grassroots activist," she says. "I develop and innovate like the nerdy scientists' daughter I am with lots of R&D, and design like a girl who sold her handmade art in her bedroom to her friends and parents."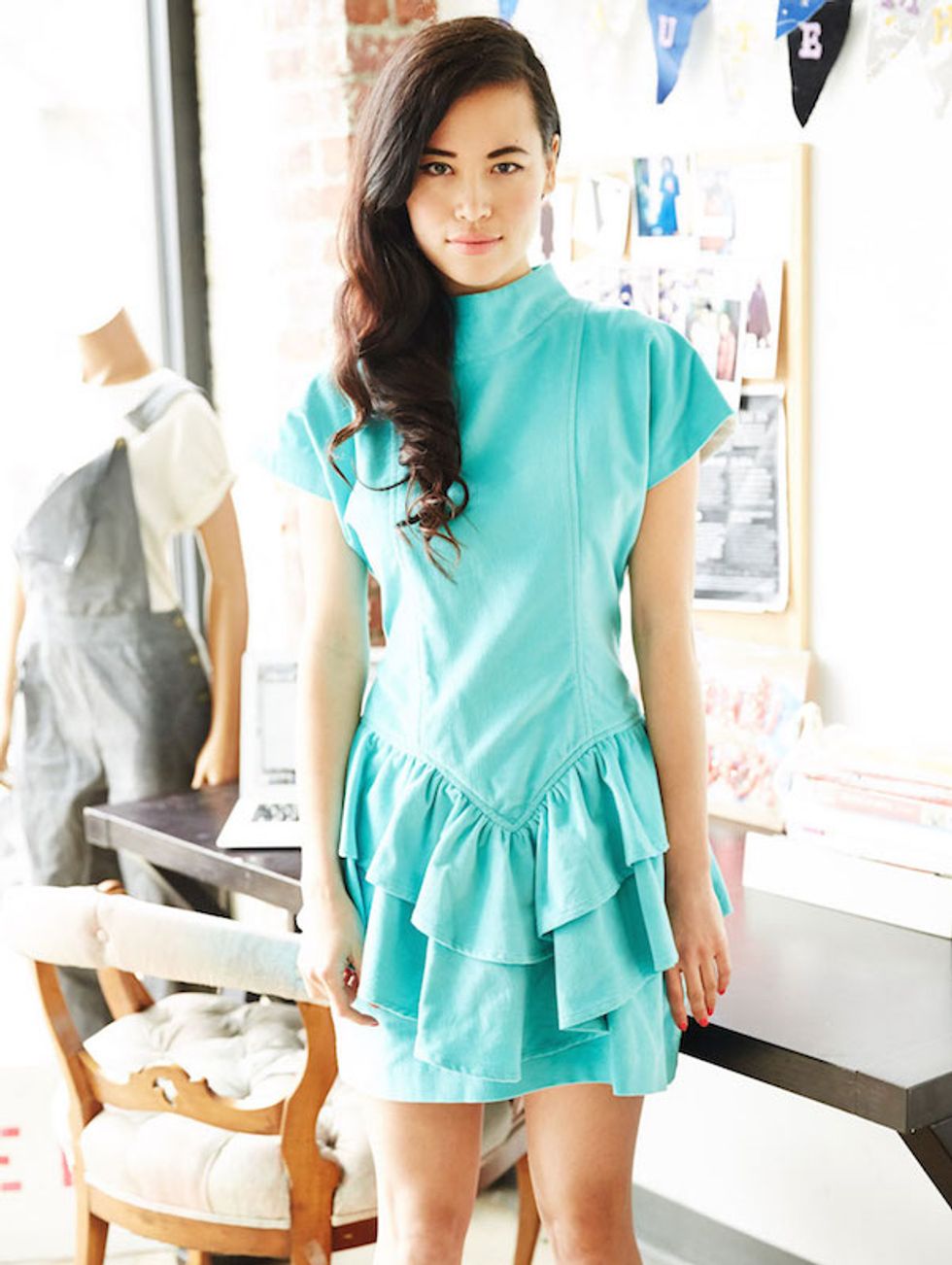 Photo by Lauren Perlstein
Five years later, Vaute has just moved into its new HQ in Brooklyn and is opening a storefront in Nolita—while looking at expanding into Toronto. While the brand's signature items have become the high-tech outerwear and adorable, candy-colored dresses, Hilgart is working on a sweater collection, and down the road, will debut a wedding gown line made with satin from recycled plastic bottles pulled out of rivers in Italy.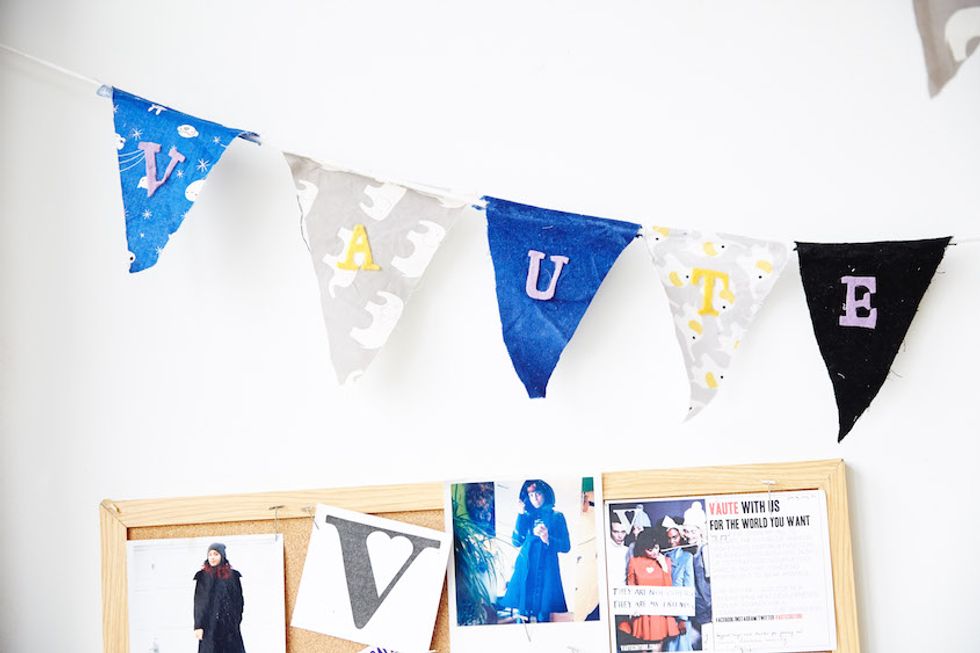 Photo by Lauren Perlstein
One big reason for her success, she says, is the fact that she prioritizes a healthy work/life balance. "The more I tried to use myself to do more, and treat myself as if I had no needs—to relax, to read, to run, to laugh, to see friends—the less my brain would work. It would put up a protest." What really moves her, though, is the response she gets from customers. People have approached her with tears in their eyes to tell her how they were inspired by her. "I can live off of that for a couple of weeks," she says, adding that when she sees someone in public wearing a Vaute coat, her heart skips a beat.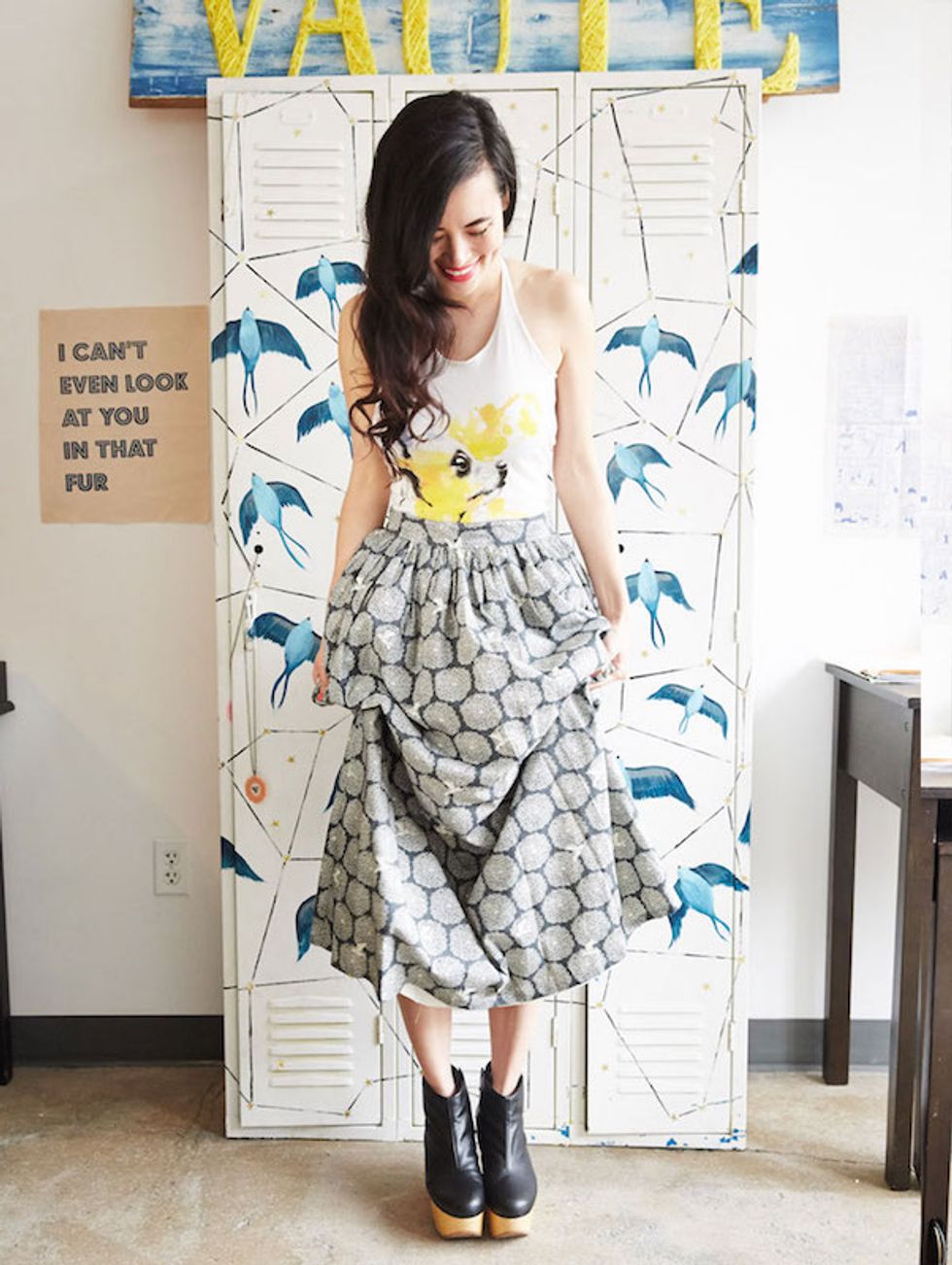 Photo by Lauren Perlstein
But the bottom line for this go-getter is that her work always carries out her original mission: Making fashion an animal-cruelty-free industry. She says, "When I spend time at the animal sanctuaries cuddling with rescued sheep and hugging some sweet cows, I think: One day, no one will wear your families or friends. I'm doing my best, guys. I'm doing my best!"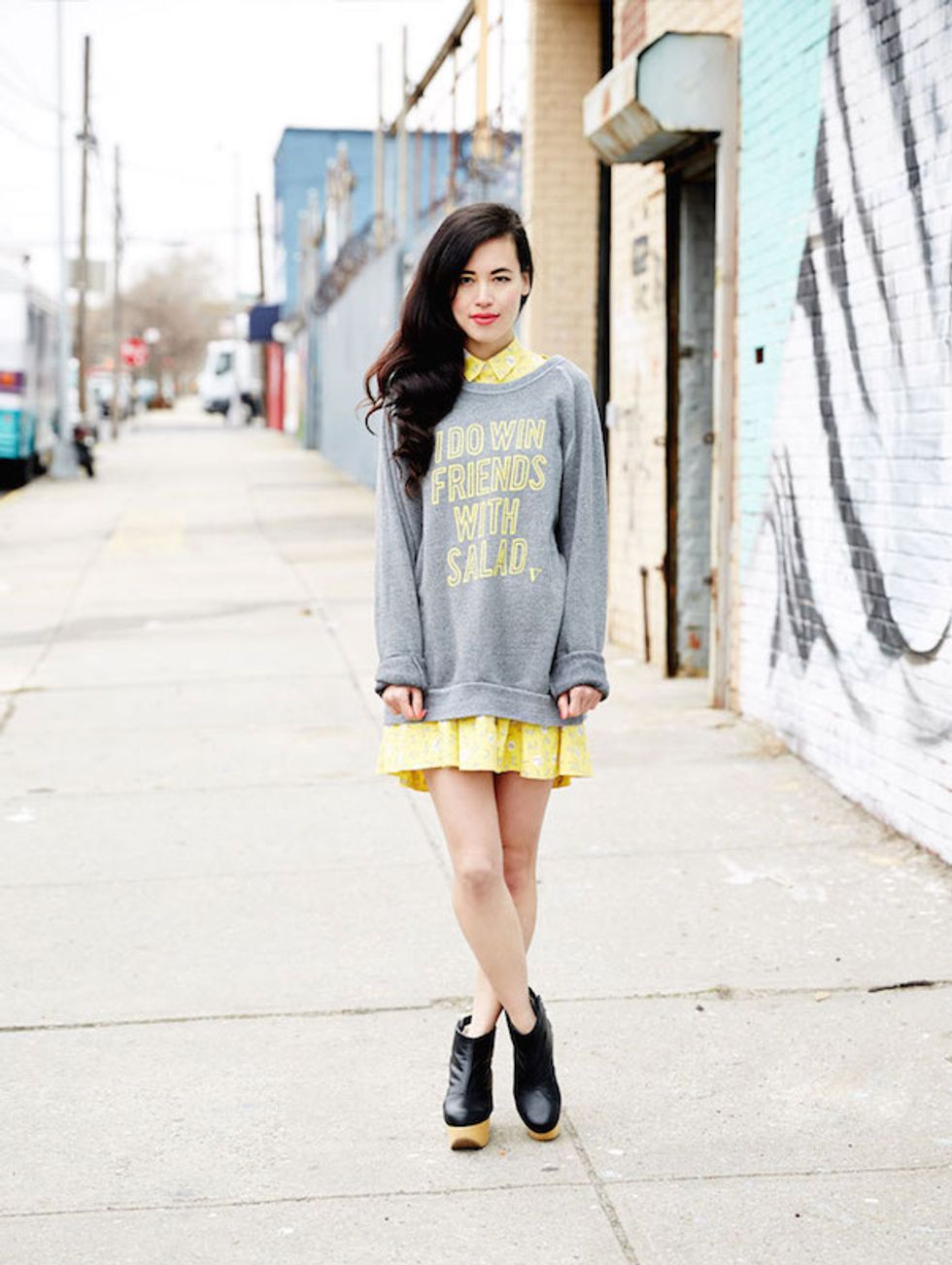 Photo by Lauren Perlstein
Want more Vaute? We've got exclusive items from the brand in NYLON Shop—check them out, here.