This website uses cookies in order to enhance your experience. Please review our Privacy Policyto learn how we may use cookies and how you can change your browser settings to disable cookies. By continuing to use this website without changing your settings, you consent to our use of cookies.
July 02, 2018
A note from our editor-in-chief
Photo by Frank Micelotta/Picturegroup/Shutterstock.
The 2019 MTV Video Music Awards nominations are in. Seasoned pop stars Ariana Grande and Taylor Swift are naturally leading this year's nomination pool with 10 nods each, and going head-to-head in multiple categories, including Video and Song of the Year. Billie Eilish, who isn't as seasoned but has built up a sturdy (and beloved) body of work, is right behind with nine nominations this year.
Keep reading...
Show less
True
Photo via Broadimage/Shutterstock
He has been accused of soliciting nudes from models and touching them while naked
UPDATE 7/23/2019 4:39pm: Kim Kardashian has apparently responded to the allegations against Hyde, though she does not name him, in a post to her Instagram stories. She writes that though she never had a bad experience with him. "I stand in full support of every woman's right to not be harassed, asked or pressured they are not comfortable with," she writes. "We cannot allow this type of behavior to go unnoticed and I applaud those who speak out."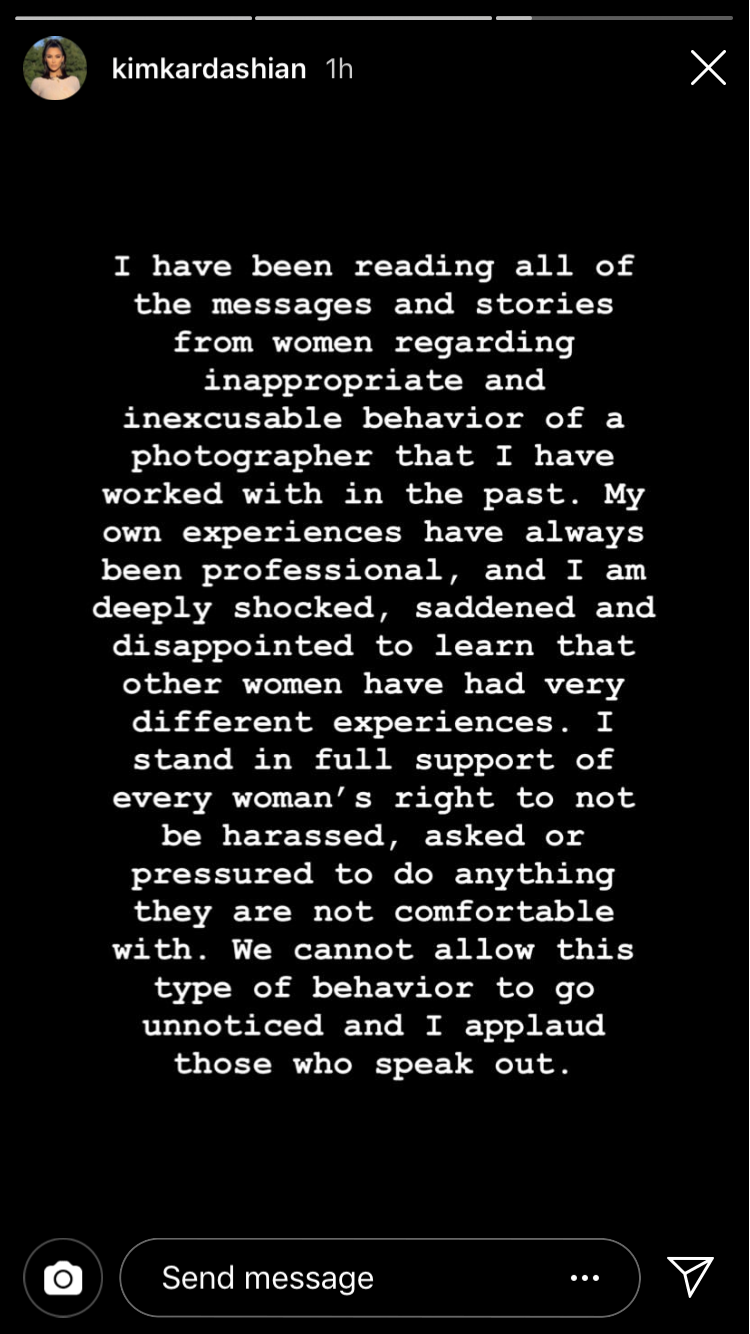 Screenshot via @KimKardashian Instagram
Fashion watchdog Diet Prada has published multiple allegations from models claiming that celebrity photographer Marcus Hyde pressured them into shooting nude photos. Amidst the allegations, Ariana Grande, who has previously worked with Hyde, has published a response, denouncing this kind of behavior by photographers.

Keep reading...
Show less
True
Photo by Chelsea Lauren/Shutterstock
Megan Thee Stallion, aka Hot Girl Meg, is in the process of trademarking "Hot Girl Summer," and it's about time. The term, coined by Meg, has recently been co-opted by brands looking to capitalize on the singular good thing on the internet.
Keep reading...
Show less
True
Photos via Universal Standard
A win for your wardrobe and reproductive health care
Starting today, you can give your wardrobe a major upgrade from Universal Standard at a deep discount and simultaneously give back to a good cause. The ultra-inclusive brand is hosting its first-ever sample sale online now, with all your favorite silhouettes at up to 75 percent off, and donating 50 percent of profits from the purchases to Planned Parenthood.
Keep reading...
Show less
True
Photo courtesy of Glen Wilson/ Focus Features
Cynthia Erivo captures the power and bravery of Harriet Tubman, a true hero
Focus Features has dropped the first trailer for Harriet, the film documenting the life and legacy of Harriet Tubman. Just try not to get chills watching Cynthia Erivo as Tubman, whose bravery, strength, and brilliance are on full display here, as we see her navigate a treacherous world, and bring herself and countless others to freedom.
Keep reading...
Show less
True