"I forgot to feed Frankie," Michelle Phan says softly. She reaches for a plastic cup filled with water and pours it over the light green succulent. We're in her office at the Santa Monica-based ipsy Open Studios, not to be confused with ipsy, a beauty subscription service that the popular vlogger started in 2011. The service sends a "Glam Bag" with lip lacquer, perfume, eyeliner crayons, gel brow pencils, and other goodies to your mailbox for $10 a month, and donates unsold items to charities like Dress for Success, which provides interview suits and career development to low-income women, and The Feel Beautiful Movement, which gifts beauty products to young girls with serious illnesses. In March of last year, she launched ICON, a network devoted to beauty, lifestyle, and entertainment, online and on television via Roku. A few months later came the aforementioned Open Studios, a platform that offers tools and mentorship—along with actual studio space and production resources—to future YouTube stars.
When asked if there's anything she hasn't done but would like to, her answer is, to say the least, unexpected: "I really want to try ayahuasca. I've never done any drugs, but I have been doing a lot of research on the third eye and DMT lately. I'm very interested in it." She pauses, running her hands over goose-bumped arms, then adds, "I hope my mom doesn't read this. I'm not a druggie. Look at all I've built so far!"      
She's speaking figuratively, of course, but brick-and-mortar evidence of Phan's online empire is all around us. There's no question this glossy office belongs to a woman whose company was recently valued at $500 million. But it's also clear that Phan hasn't lost sight of what got her here. On a white armoire sits a handcrafted sign with the message: "Dream big, sparkle more, and shine bright." Next to it is another decorative sign with a singular "DREAM" in gold lettering. The word seems to serve as the workspace's mantra. 
Click through the gallery to read the rest of Phan's cover story.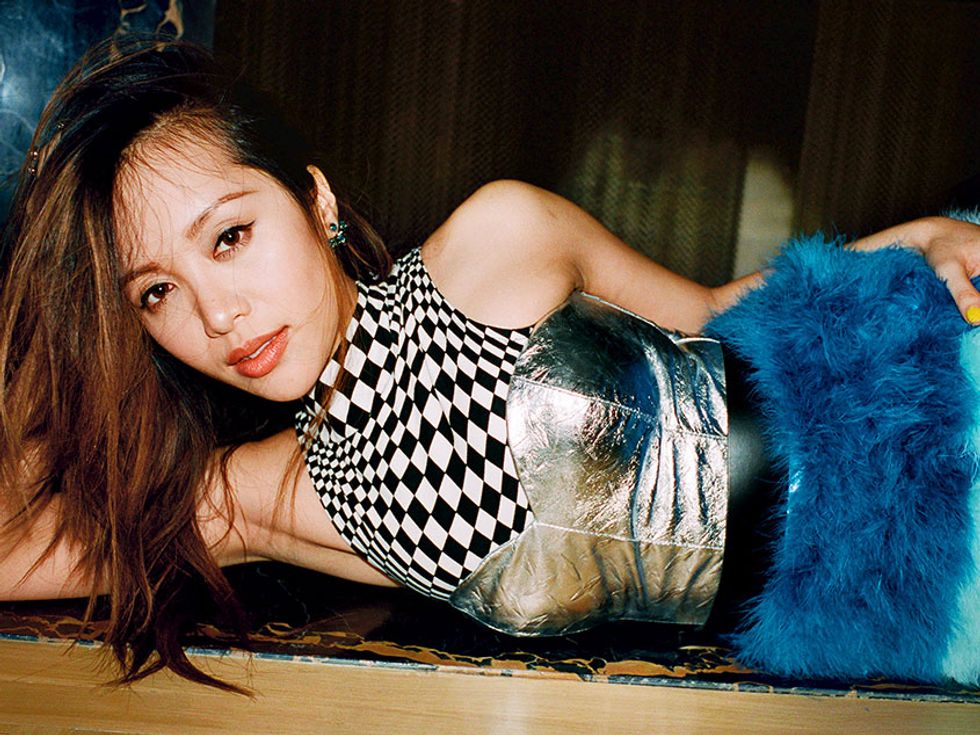 Photographed by Felisha Tolentino. Dress by Moschino; Belt by G-Star; Earrings by Joomi Lim; Stylist's own dress worn underneath.
Meanwhile, a globlike egg-shaped toy named Gudetama—the latest character from lifestyle brand Sanrio—dances to the atmospheric music of Drip Drop as Phan outlines her latest project: a digital comic book, HELIOS : FEMINA, based on a story she wrote when she was 11 called "The Enchantress." It's about a young girl who uses sound and music to fight off evildoers and is set for release in a few weeks. She scrolls down on her laptop and points excitedly to the screen—"Look, it's a shooting star!" she says. Her face brightens as she tugs on her matching Gudetama hoodie—not just from the celestial animation, but also from the lavender candle she's just ignited. It's one of her favorite scents, due to its soothing nature. 
Shy and slightly jet-lagged, Phan apologizes that her computer's desktop is disorganized. "This is so embarrassing!" she says, giggling. She bites her lightly glossed lips and runs her hand through her perfectly coiffed hair. "Sometimes I go to work with no makeup because I don't care. I don't need to put those expectations on my life. I want people to see that I'm not perfect, but I can always show girls how to look perfect. It's an illusion anyone can create." And it's one that has brought her great renown: Her Barbie transformation tutorial has racked up more than 63 million views alone. Her Lady Gaga-inspired videos have nearly as many.
The 28-year-old explains that she's an INFJ on the Myers-Briggs Type Indicator: an introverted, intuitive, feeling, and judging woman. But she claims that she's trained herself to be an extrovert. "If you believe in spirit animals, my spirit animal is a cat," she says. "Cats like to test things, but they are totally OK with being alone in their own little world. I embrace the loneliness." 
Her Vietnamese name, Tuyet Bang, translates to "avalanche." Her father believed that when an accumulation of snow begins to move, the force is unstoppable. The name is apt, as Phan is now a global girl-power makeup guru and new-media mogul with over eight million YouTube subscribers. Call her the Oprah or Martha Stewart of her generation—there's no question she knows how to target and connect with her young female audience.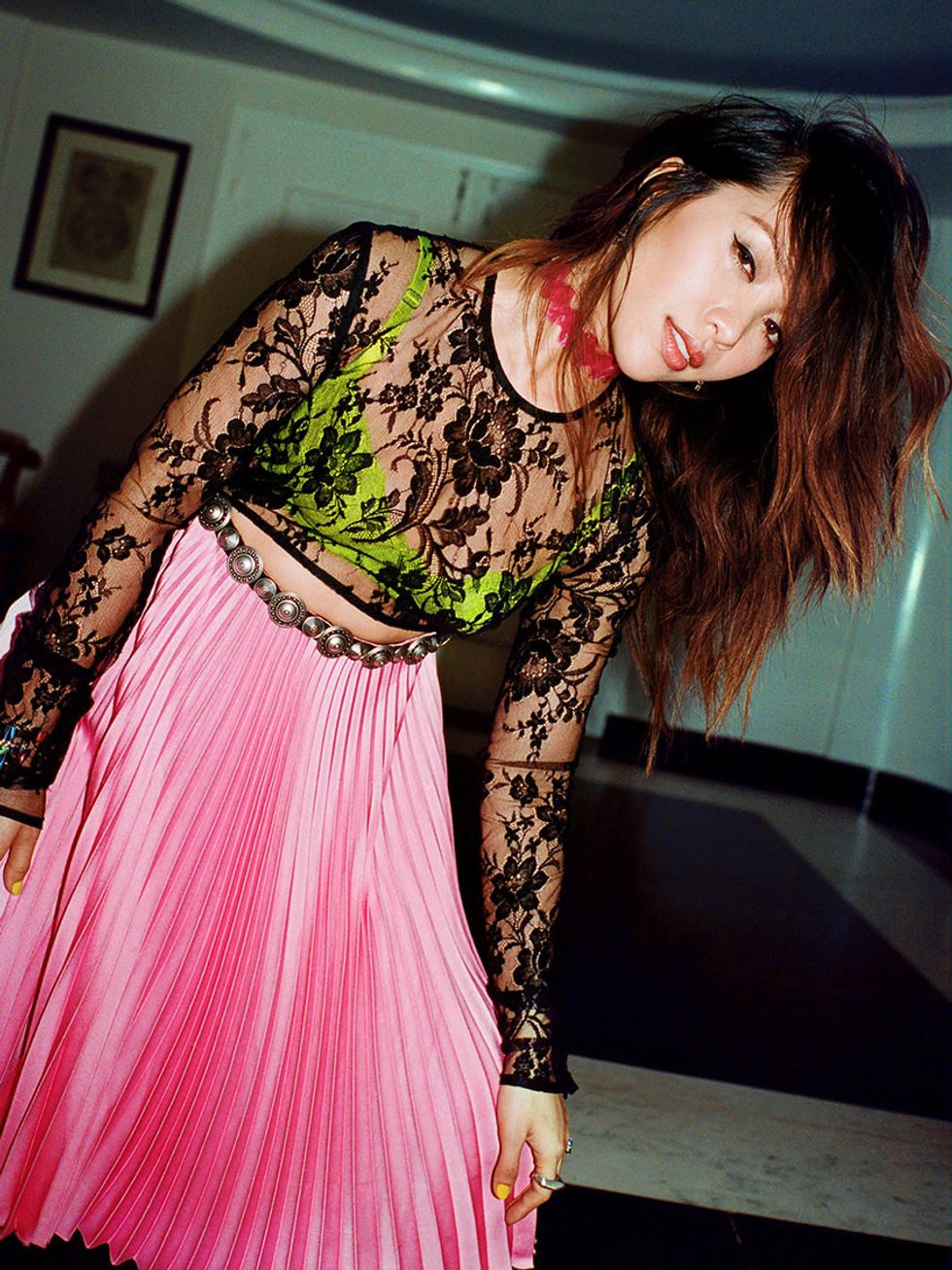 Photographed by Felisha Tolentino. Dress by Fausto Puglisi; Bra by Deborah Marquit; Earrings by Lynn Ban; Choker by i still love you nyc; Bracelet by Joomi Lim.
"I try to give good life advice, but I don't see myself that way. I'm a bona fide nerd," she says proudly. "It's probably because I was always the outcast. I was bullied a lot growing up." She pulls out a Pentel pocket brush pen from her marker collection and begins to sketch an eye, explaining how at three years old she would color all along the walls of her family's house with crayons and rip blank pages out of a phone book to draw Disney princesses on them. Rather than absentminded doodling, the moment feels like one of her video tutorials—on manga rather than makeup…and IRL, of course. This eye she's drawing resembles the one her mother taught her to make when she was very young. She muses that it's always been watching over her.
Early on in Phan's life, her family relied on food stamps to eat. Her parents were refugees who wanted to live the American dream. Her father spent $600 on a van with a barely functioning engine and drove them across the country from Boston with a makeshift bed and a crib in the back for Phan to sleep in. They arrived in downtown San Francisco during a time of rampant crime, violence, and poverty. The family was continually on the move because her father, a flooring specialist, often gambled away much of his earnings. This left them unable to pay rent and subsequently evicted time and time again. 
When Phan was six years old, the family moved to Tampa. Her father's gambling continued, leading her mother to hide cash inside her daughter's stuffed animals. One night, Phan unzipped a toy and found stacks of large bills inside. Her mother eventually scrounged enough money to open a nail salon while her father became a stay-at-home dad—for a while. Phan would watch as their fighting intensified. "I remember the night before he left he said he was going somewhere, but I thought he was coming back. But then he just said goodbye. I told him, 'One day I'll find you again.'"
Months later at a laundromat, her mother met a man who would become her stepdad. She doesn't like to dwell on the subject but describes a controlling and domineering environment where only English could be spoken and friends were not allowed over. "He ran the house like a dictator," says Phan. "He didn't want us to clean the house because he believed in his organized chaos. It was disgustingly dirty."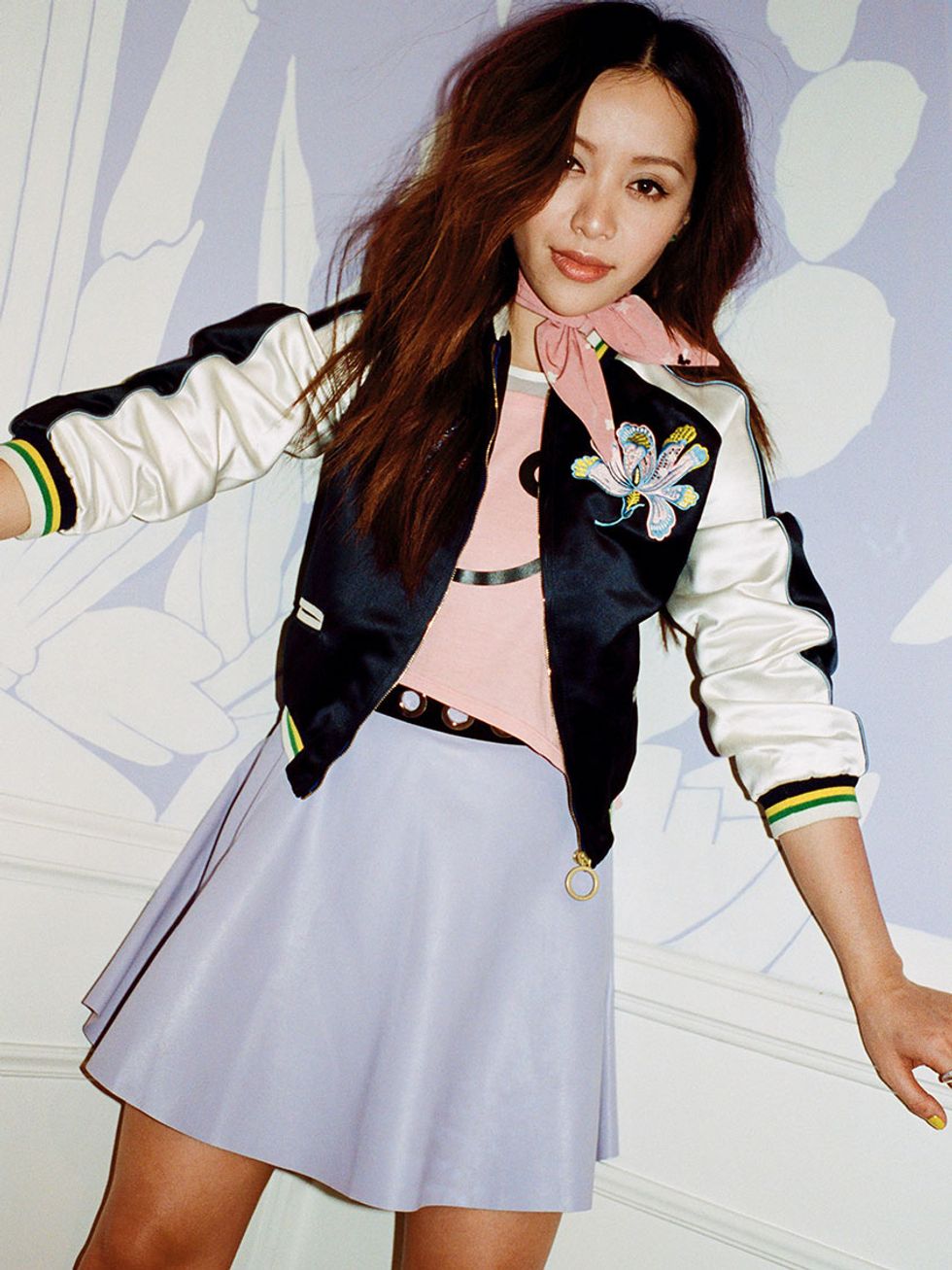 Photographed by Felisha Tolentino. Jacket by Hilfiger Collection; Top and bandanna by Emporio Armani; Skirt by American Apparel; Belt by Topshop; Earrings by Joomi Lim; Stylist's own mesh top worn underneath.
To get away from the situation, Phan would stay late at school, but being there wasn't much better. As one of her school's few Asian students, she faced incessant bullying from her peers. "I would walk down the hallway, and they would yell, 'Ching Chong, Ching Chong!' It made me insecure about my nationality and race. It was really hurtful," she says. From first grade through college, she was picked on. "I eventually realized that they were just words, and that I could go into my happy place in my head and occupy my thoughts with my passions, like drawing and creating," she says. "I knew I would overcome it because I believed in myself."
To try to fit in, Phan would ask African-American girls to braid her hair in cornrows. Her Latina friends would encourage her to put baby oil in her locks. Sometimes she would try to make herself look more Caucasian by dressing preppy and attempting to make her eyes look rounder. "I didn't really have a defined style," says Phan. "I didn't know what my culture or aesthetic was, so I would cosplay to feel part of theirs. I was hiding the true me." 
Phan didn't start wearing makeup until she was 19. Her mother believed that she should show her natural beauty, so she only wore lip gloss and mascara in high school. Still, she would always pick up fashion magazines in waiting rooms and try out product samples from the salon. The fashion models' makeup was not the only thing she attempted to emulate. "I did go through a moment where I didn't eat a lot because I wanted to be skinny. I don't know if you'd call it an eating disorder—I would at least eat dinner. It was around the time of 'thinspiration,'" she says of the aspirational portmanteau that gained momentum in the early-to-mid-2000s—and which Instagram would eventually ban due to the self-harm it propagated. "I didn't count my calories, but I wanted to be thin."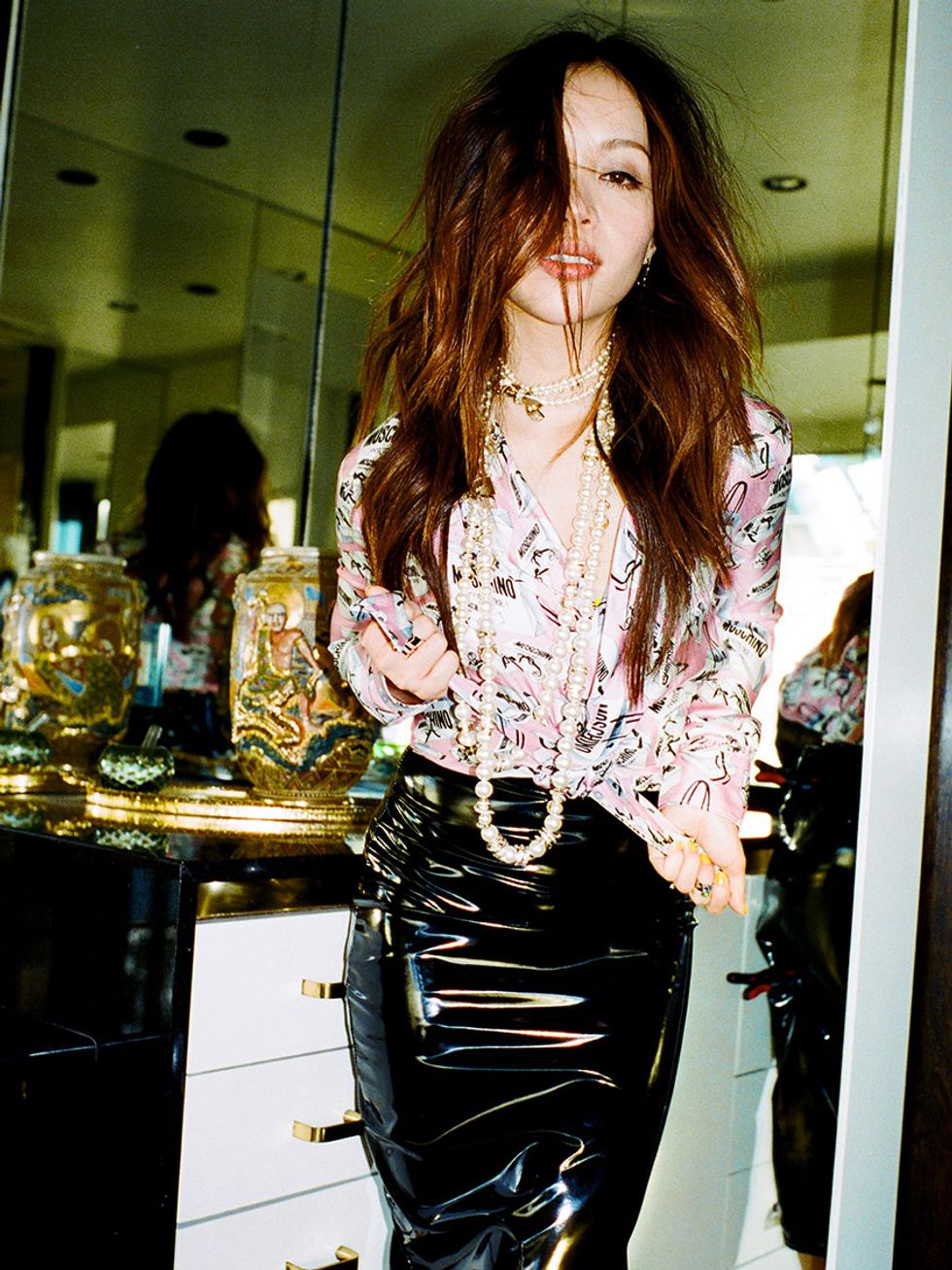 Photographed by Felisha Tolentino. Top by Moschino; Skirt by Boohoo.com; Necklaces by Chanel; Earrings by Lynn Ban.
Part of this insecurity may have stemmed from the high expectations her family placed on her, practically from birth. In Vietnamese culture, being prophetic or having psychic abilities is believed to be as real as the sky is blue. And being named after a crushing force of nature was just the tip of the proverbial iceberg. Phan's grandfather also predicted her fame, she recalls. "Everything that has happened to me, I knew was going to happen," she says. "It was a big burden to carry, but I always knew I would be OK."
After her grandfather's death, she felt deep down that she had a purpose in life: to use her creativity to teach others. She began blogging on the platform Xanga under the username RiceBunny, which derived from her being born in the Year of the Rabbit and her love of rice. She created an online persona, someone she wanted to be: a girl with lots of money and a stable family. Over the next two years, she accumulated 10,000 regular readers, most of them girls who wanted to learn more about beauty.
While this was going on, problems at home continued. After a few long talks with her mother, the two of them, along with her older brother and younger sister, moved out. "There is a point where you can tolerate it and a point where you shouldn't. We had the choice to say no and stop things. I became more resilient and didn't care what he said. But when we left him, we had nothing."
Her mother rented a one-bedroom apartment, where they alternated between sharing a bed or sleeping on the floor. They had no table on which to eat, no dresser to store clothes, and no furniture to sit on. They barely had enough money for meals. Phan applied to work at the Lancôme makeup counter in the Dillard's department store at a local mall. She had no retail experience and never got a call back for the job. When relatives came to visit, they were mortified by the family's living conditions and pulled together $10,000 to help out.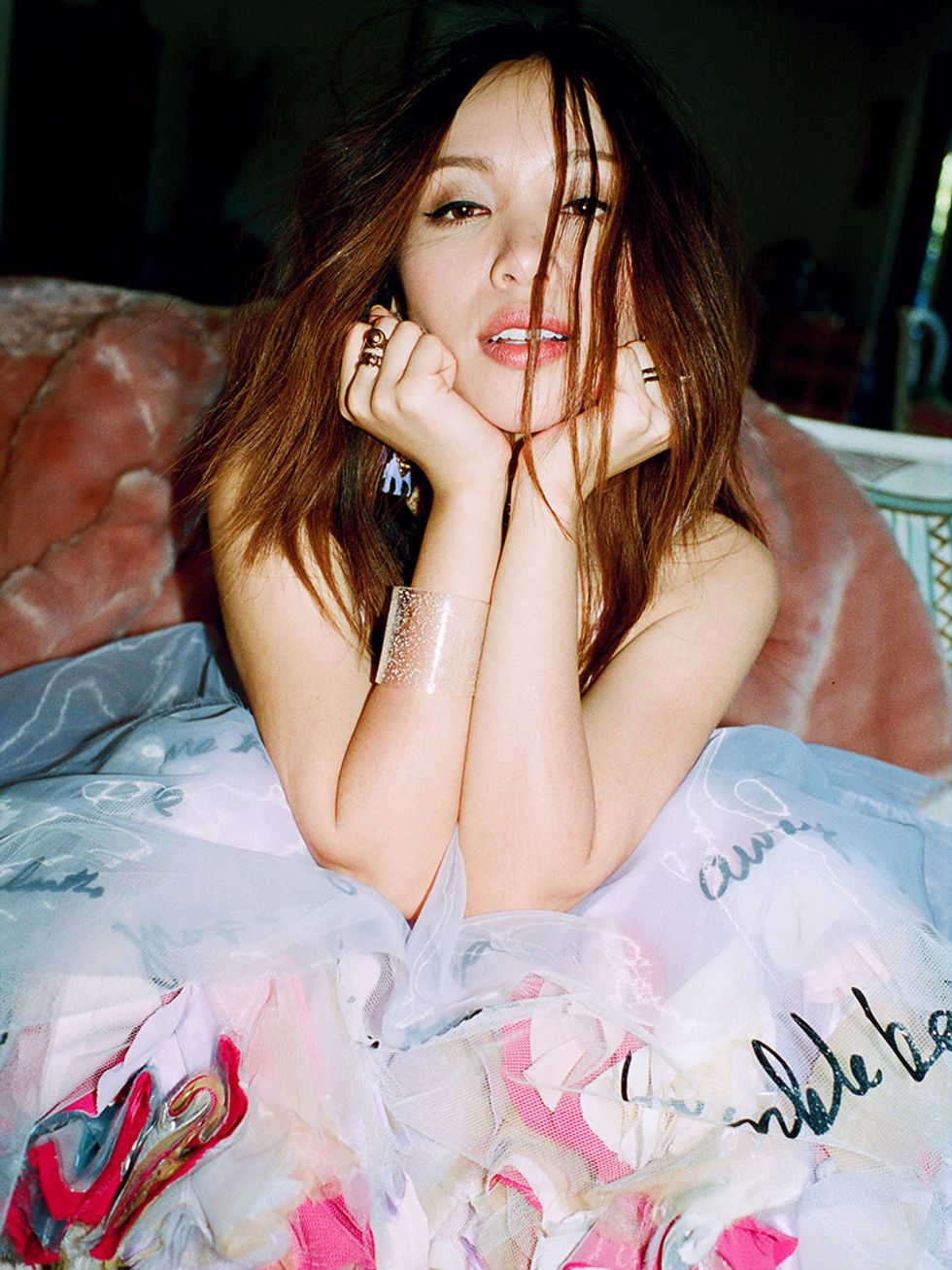 Photographed by Felisha Tolentino. Faux fur coat by Missguided; Skirt by Mary Benson; Earrings by Badacious for Patricia Field; Bracelet by i still love you nyc.
Instead of using the money for rent or a down payment on a home, Phan's mother used it as an installment toward her older daughter's first semester at Ringling College of Art and Design. At age 19, Phan received her first MacBook Pro laptop from school and started uploading makeup tutorials to YouTube. "Sometimes when a door closes in your life, it's the universe telling you to open your own door," she says. "Even though I got turned down at the beauty counter at Lancôme, it allowed me to use my creativity and find my own way."
Although her videos were a hit online, her real life was still a struggle. Fellow students would make fun of her for wearing inexpensive but classy ensembles found online or at TJ Maxx. "I was taught to dress nice, to show everyone around you that you care. I was brought up that way. Even though we had no money, my mother believed in looking good," she says. "I guess in art school, it was cool to look broke. If you dressed up, you were trying too hard. But when you come from nothing, it's the last thing you want to look like."
Facing such cruelty in college was almost too much to bear. "I thought by then I could get away from it," she says. But during a large party, a girl played one of Phan's makeup tutorials in the background to mock her. "They were all laughing at me as I put concealer around my eyes in the video. They kept making references to Silence of the Lambs. I was so hurt I left the party in tears and told myself I would never go back," she says. "I guess I was a homebody at heart. I liked being in my cave, in my own world. I felt safer that way."
Ironically, by 2009, Lancôme had become completely enthralled by Phan's videos. Kerry Diamond, former vice president of publicity at the beauty brand, discovered her while perusing hundreds of videos of amateur beauty buffs on YouTube. She realized that no one was looking for big-budget videos with supermodels in them. People wanted more authentic voices from peers who actually used the products. She reached out to 10 different video artists, and Phan was the only girl to respond via her YouTube inbox.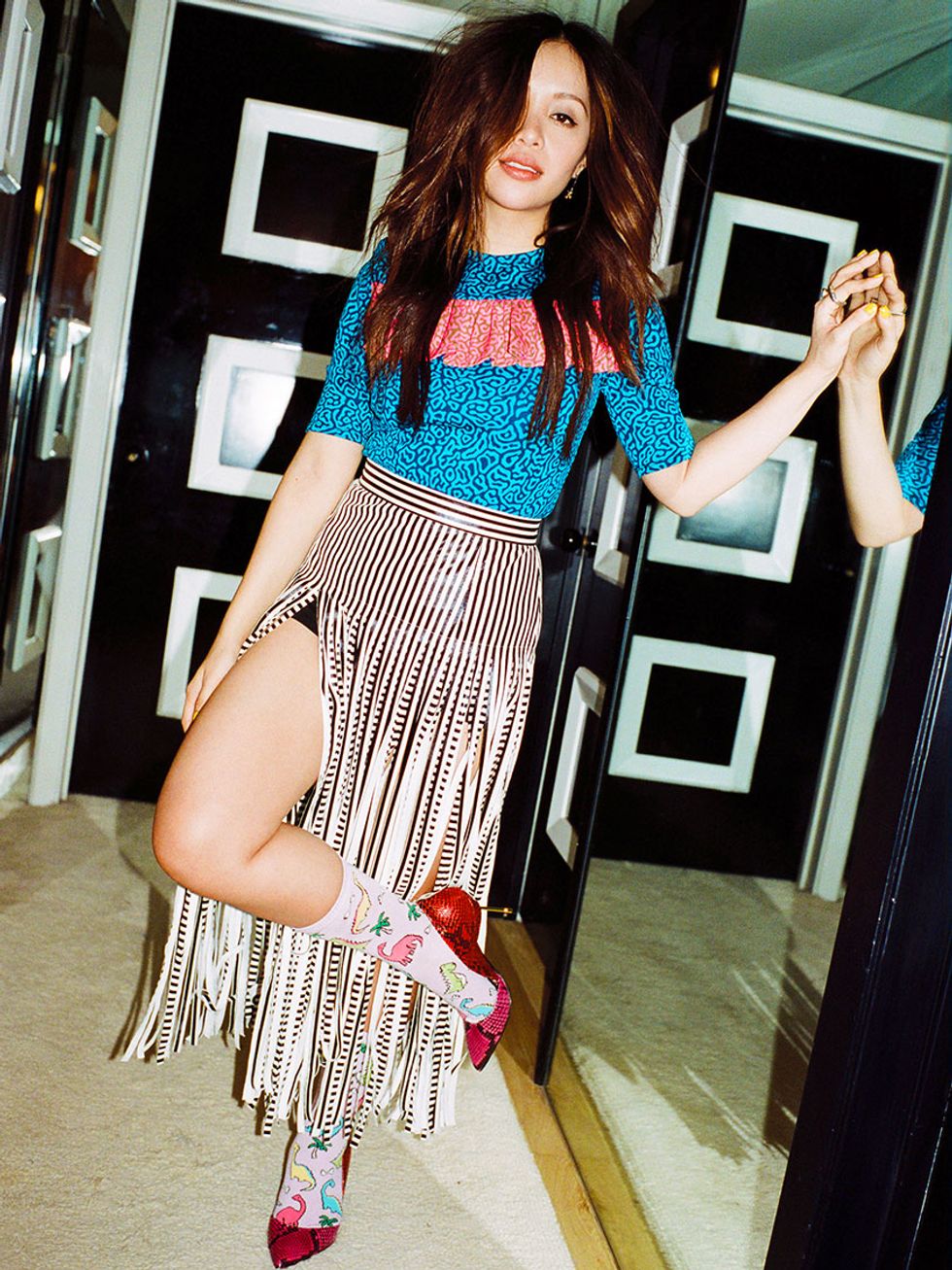 Photographed by Felisha Tolentino. Top by House of Holland; Skirt by Designers Remix; Shoes by Kurt Geiger; Socks by Topshop; Earrings by Lynn Ban.
"It's funny because she was my favorite on the list," says Diamond. "People like to say that we discovered her, but she never needed discovering. She already had a really solid fan base then." The company flew Phan to New York and fell in love with her immediately. They signed her as a spokeswoman, and her videos racked up a million views within a few days.
Diamond would send Phan new products with which to shoot her Lancôme spots, but she opted to use her own that she'd had for years. The brushes were dirty and the makeup was half-used. "We were this big luxury brand, and I told her, 'Oh my god, Michelle, you can't use those.' She was like, 'Why? No one is actually going to believe that I use these products on a regular basis.' I was like, 'Oh, that's a really good point.' So we gave her complete creative control, because she knew best."
Diamond brought Phan on business trips to places like China and Paris. "She's such a phenomenon. All over people would burst into tears when they saw her," she says. "I had never seen anything like it. I've never met anyone that young who was so decisive. She really understood her audience. She had great ideas about her craft and was wise beyond her years." 
Eventually Phan landed a signature line with L'Oreal called Em, a Vietnamese word for "little sister," or "sweetheart." Unfortunately, the brand did not do well, possibly due to its higher price points, according to some reports, and the company recently sold it back to her. "It was a big failure," says Phan. "I needed more control over my own product. But even the stuff I've failed at is just another stepping stone to success. All my mistakes and failures are badges, like bruises and scars. Some of the best lessons you learn are the hardest. I had to fail to understand. I'm stubborn in that way. But I won't let anything stop me."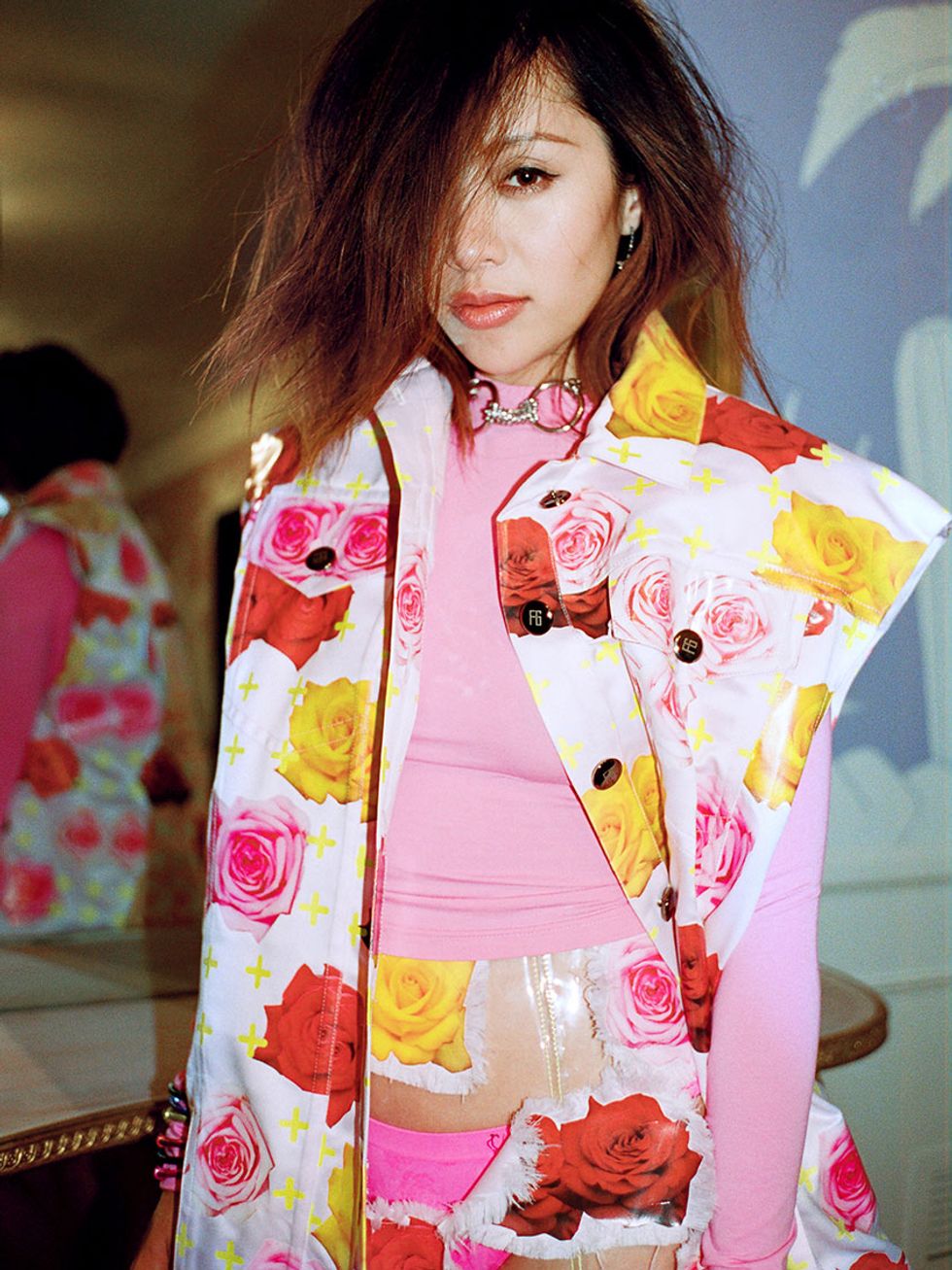 Photographed by Felisha Tolentino. Vest and skirt by Fyodor Golan; Top and choker by ASOS.
These days, though, things are looking a bit rosier. When she's not busy helping launch ICON shows like celebrity makeup artist Jamie Greenberg's Pretty Little Pranksters or Culture Chic, hosted by fashion blogger Sonya Esman, Phan is at home, probably watching oddball documentaries online or playing video games like Zelda with her model boyfriend Dominique Capraro. The two used to vlog together on Phan's YouTube channel, but lately things have changed. 
"He's not in my videos anymore," she says. "I decided to keep our relationship offline. As I got older, I realized that some aspects of my life I really wanted to keep private." For this reason, some of her followers think they've broken up. "But just because something isn't on Instagram doesn't mean it's nonexistent," she says with a laugh. The two have been dating for several years and started off long-distance while he was living in Paris. They even waited two years for their first kiss. "I have never been so fascinated with anyone in my entire life," she says. "But I don't want to be some power couple. I don't care what people think. We aren't in any rush to get married and have kids, and I don't think women should ever feel that pressure."
Phan turns her attention back to drawing—her sketch of a woman with bright red lips and long blue hair is nearly complete. She darkens the corners of the eyes, giving them a look of deep concern that mirrors her own. She stares at the drawing as she reflects on how she wound up here, and how fast time flies. "I didn't want to have a life where I didn't talk to my real dad," she says, finally. When she reached out to him last year, he claimed that her stepdad had previously blocked all communication between them. 
"My father knew I would be back [to find him] because he made me," she says with a smile. "It's kind of crazy. He knew, and he was right. I did." Phan even keeps in contact with her stepdad and provides financial support to both men. "Sometimes you have to suffer to learn something. I became a stronger person because of it. I accept what the universe gives me, even if it's bad. I will turn it into something else," she says, and then takes a deep breath. "I always do." 
Hair: Ashlee Rose at Exclusive Artists Management using Oribe Hair Care and T3 tools. Makeup: Hinako at The Wall Group using NARS. Manicurist: Steph Stone using The Nailing Hollywood Collection in Cabana at Nailing Hollywood. 
Next up: Vlog Stars of the Future—Michelle Phan-approved ICON creators who are killing the game.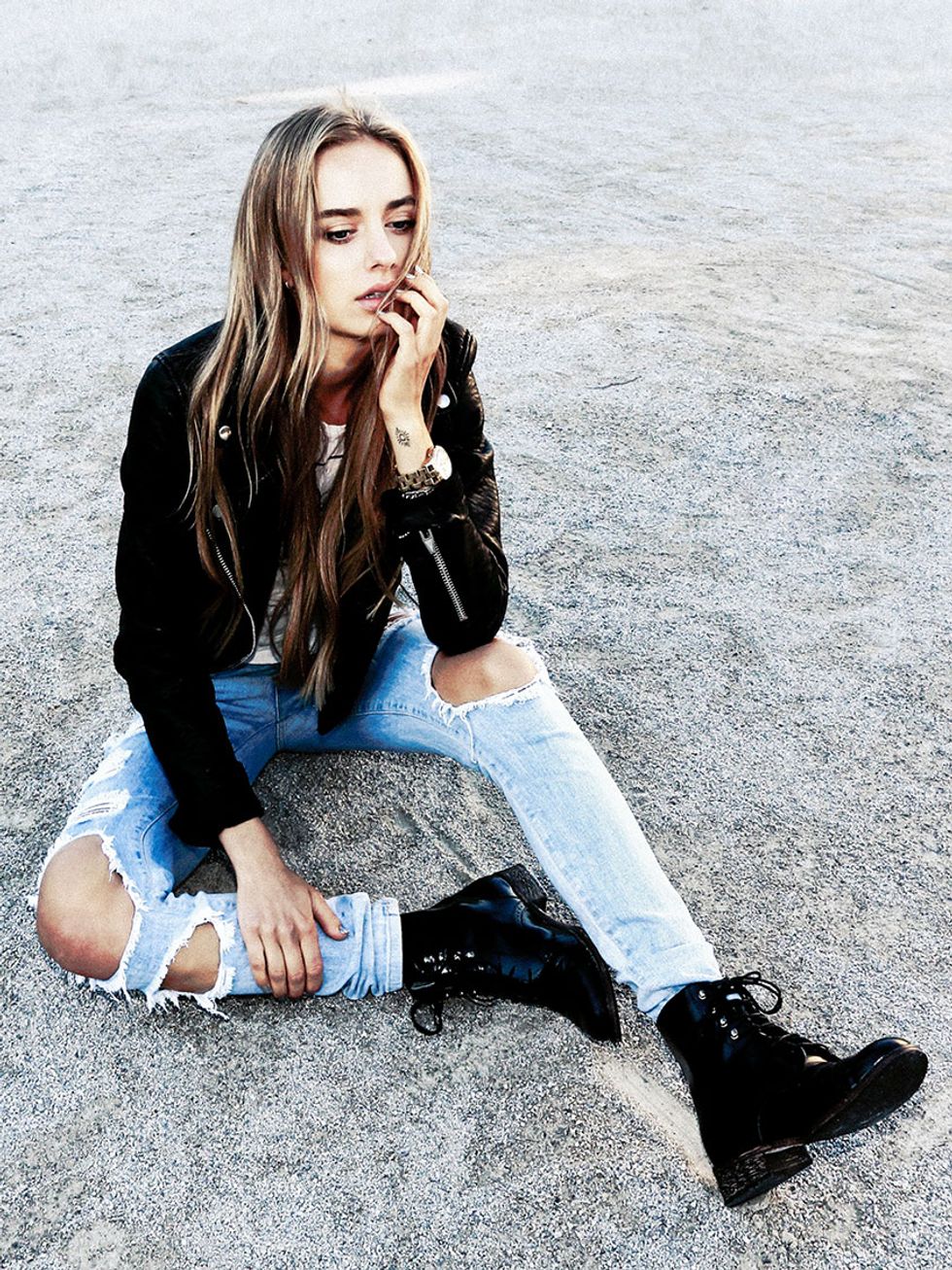 Sonya Esman
The fashionable world traveler
Where are you based?
L.A., but I feel most at home in airports, hotels, looking out of car windows, and walking around new cities.
When did you start vlogging?
Around age 11. I used to make videos about acting and vlogged from backstage when I was 14. Then my agent got me into modeling, so I started fashion blogging. 
How do you keep your content authentic to you?
The fact that I don't watch many other popular YouTubers helps a lot. It's safer and more authentic to be influenced by the real world and different media.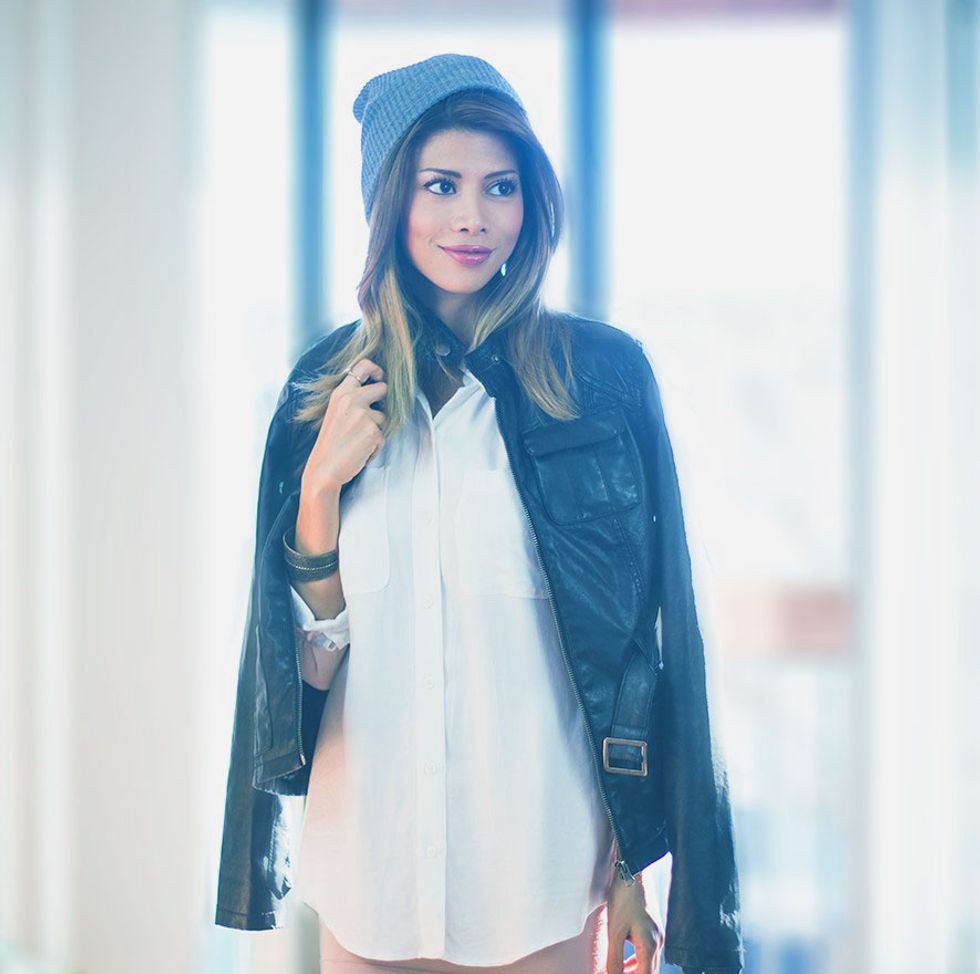 Kassie Isabelle
A quirky take on a healthy lifestyle
Where do you call home?
The rainy city of Vancouver, Canada
What has been the biggest highlight of being a vlogger?
I recently got back from a trip to Barcelona where I made new friends and did a collaboration with Shakira, who I really respect. As if that wasn't enough, one day I was sitting down for lunch and was recognized by the sous chef at the restaurant. She told me that my videos make her so happy. I was on a different continent and connected instantly with a stranger because of YouTube. I love how new media makes these kinds of things possible.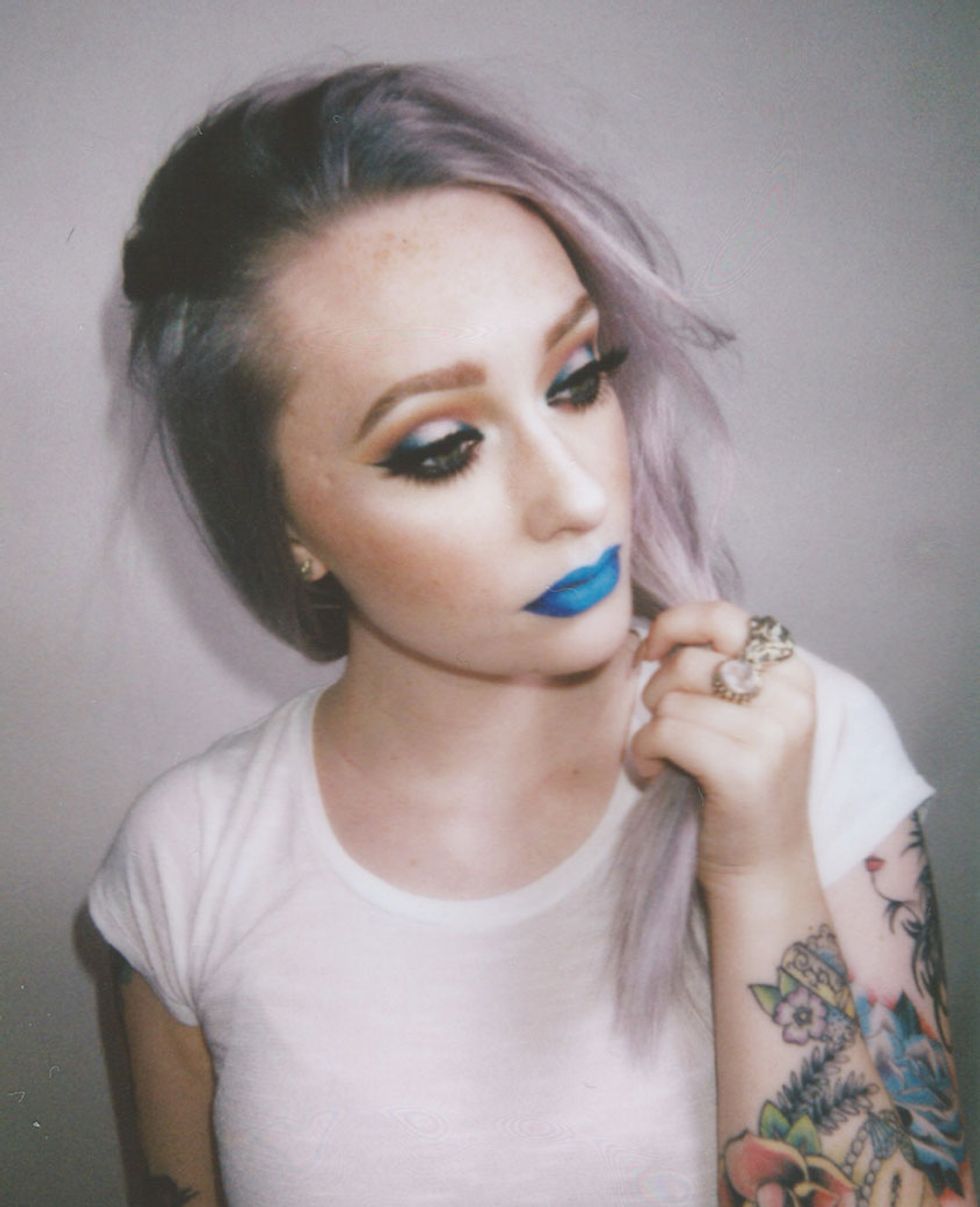 Jkissa
The bold beauty blogger who is taking a stand against bullying
Where are you based? 
In L.A., but my heart will always be at home in Oregon. 
Three beauty products you can't live without:
Bright eye shadow (à la Sugarpill), a shimmery highlighter, and Jeffree Star Liquid Lipsticks 
What advice would you give your younger self?
People are going to bully you if you are different and choose to creatively express yourself with your body, hair, and makeup. Don't let them limit your growth or dictate your potential. The world is full of people who feel and think differently, and they will become your friends and most loyal supporters. Within this newfound community, and because of these friendships, you will get to finally feel at home within yourself.
NYLON's February issue hits newsstands January 19th.