For the Tumblr generation, Mitski Miyawaki has become a modern-day indie darling. Even though the title has been four or five years in the making, some of us weren't reeled in until 2014's Bury Me at Makeout Creek. When her nostalgic tunes can't provide the comfort you need, there is her Twitter where she keeps people informed about her thoughts on the importance of stress, how she would react if aliens invaded earth, the double-edged sword of having a cat, body positivity, embracing your face, and not letting boys define who you are.
In a way, you feel like you know Mitski on a personal level even though this is far from true. She's relatable, and because we feel like she gets us, we can identify with her. (I mean, who else is open about discussing Justin Bieber, One Direction, Zayn Malik, and Rihanna in the same breath as smashing the patriarchy?) While having a connection to teens is important to mosts artists on the market, Mitski is also aware of the power this position yields.
"It's so important and I think it's so valuable that kids confused about their identity can go out and be like, 'I'm going to Google search this' or 'I want to look for other people like me.' If they look hard enough they can find those communities online," she says. "But at the same time, because we, as a culture or a world, are still kind of getting used to having information all the time, I think we need to figure out a way to live with it in a healthy way. With the Internet, sometimes the person who's screaming the loudest is heard, but it doesn't mean that they're being helpful or they're saying something healthy for you. So, what scares me with teens is a lot of times, it's so easy to fall in love with an idea or a subculture because it is just screaming at you, and it might not be the best thing for you."
This morning, Mitski officially released the music video for her single, "Your Best American Girl." In what she calls a "dramatic song" off her forthcoming sophomore album Puberty 2, Mitski reflects on her mixed identity as a half-Japanese and half-American woman—something that's still an ongoing conversation for her.
"I still haven't found it, with a capital I," she explains. "In the U.S., I don't quite feel American and I don't quite feel white enough. But then, to fellow Asian people or in Japan, I'm also a foreigner. I'm mixed, I'm half white, I'm not Asian enough, I don't understand... I'm stuck in this kind of middle ground of not being allowed in either camp. I also didn't grow up in the U.S. and I also didn't really grow up in Japan. I grew up moving around because of my father's occupation, so I truly, fundamentally don't belong anywhere. That's always difficult when it comes to relating to other people or being part of a community or being in a relationship because you need some sort of point of reference; you need kind of a basis or a foundation where you can relate to each other."
The Zia Anger-directed music video explored the dynamics of the quintessential white indie stereotype that has become so common in America today. Even though Mitski didn't come up with the treatment for the video, she affirmed that the resulting concept reiterates her original intent when she wrote the song. "I've learned that sometimes, the best thing to do is let people just do what they're best at. And so with this video, the moment I got to know Zia, I was like, 'Oh, I can just let her take the reins and trust her on this, and then it's going to be her vision, but it's going to be amazing."
Read the rest of the interview on the next page and watch the entire video, below.
Catch Mitski on tour with Japanese Breakfast and Jay Som:
April 17- Brussels, Belgium @ Ancienne Belgique (solo)
April 19- London, UK @ Birthdays (solo)
April 21- Paris, France @ Le Mécanique Ondulatoire (solo)
April 23- Amsterdam, Netherlands @ Paradiso Basement (solo)
June 20- New York, NY @ Bowery Ballroom *
June 22- Boston, MA @ Brighton Music Hall *
June 23- Philadelphia, PA @ Boot & Saddle *
June 24- Philadelphia, PA @ PhilaMOCA *
June 25-Washington, DC @ Rock & Roll Hotel *
June 26- Durham, NC @ The Pinhook *
June 28- Atlanta, GA @ Masquerade: Purgatory *
June 29- Birmingham, AL @ The Syndicate Lounge *
July 1- Houston, TX @ Walter's Downtown *
July 2- Austin, TX @ The Sidewinder *
July 3- Dallas, TX @ Three Links *
July 5- Phoenix, AZ @ The Rebel Lounge *
July 6- Santa Ana, CA @ The Constellation Room *
July 7- Los Angeles, CA @ The Echo *
July 8- San Francisco, CA @ Bottom Of The Hill *
July 9- Oakland, CA @ Starline Social Club *
July 11- Portland, OR @ Analog Theater *
July 12- Vancouver, BC @ The Cobalt *
July 13- Seattle, WA @ The Crocodile *
July 15- Salt Lake City, UT @ Kilby Court *
July 16- Denver, CO @ Larimer Lounge *
July 19- Minneapolis, MN @ 7th Street Entry *
July 20- Chicago, IL @ Lincoln Hall *
July 22- Toronto, ON @ Horseshoe Tavern *
July 23- Montreal, QC @ Bar Le Ritz *
July 25- Portland, ME @ SPACE Gallery *
July 27- Brooklyn, NY @ Music Hall Of Williamsburg *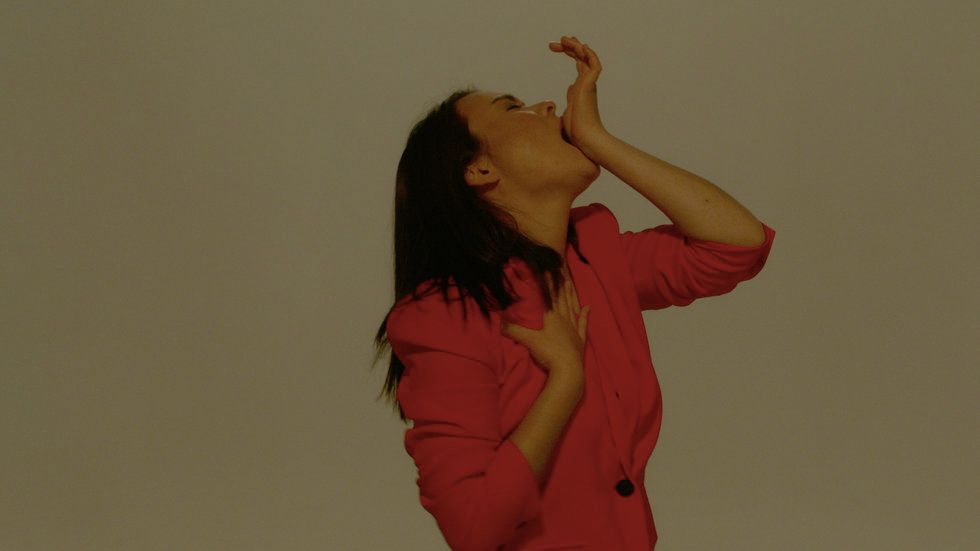 Photo courtesy of Zia Anger
Would you say that this song is one of the most personal tracks on the album?
Yeah, this song is personal for me. For this one, I took a risk. Lyrically, I talked about things that I knew not everyone would relate to and I kind of became okay with it, you know? I wrote about a real thing for me, and I tried to write it in a way that was universally understandable, but it was still a topic that was pointed at a specific group of people. The fact that it's been received well has been kind of confounding—it wasn't that it was a throwaway song, it was just that I decided, "Okay. I'm just going to write this for myself." It ended up being a huge farewell. It was a risk and I'm glad I took it.
Anyone who has ever felt a sense of otherness within America can relate. Growing up, what did you kind of perceive as the "American girl" and how has this changed as you've gotten older?
Well, I grew up abroad. I would only get Top 40 and I would only get the most popular TV shows so I had a very skewed idea of what normal America was like. It's actually very skewed toward what the media fed us all during the '90s and early '00s—Aberocrombie & Fitch, blonde, white, a certain body type, Sketchers... That kind of thing. America almost wasn't a real place. It's the same way a lot of people look toward New York City who have never been to New York City. They're like, "Oh, you go there and you make it big as an artist and you live a fabulous, fashionable life." And then you get to New York City and it's like, "Oh, it's so hard to live here and it's mundane." I think I had that same kind of idea towards America, and that's actually how the rest of the world has seen it. 
Looking back now, I feel like I was kind of brainwashed as a kid and only had my definition of what it meant to be American based on what I was watching on TV and then through the same recycled literature over and over again in school.
Yeah, it's something we have to unravel little by little. I recently watched this video clip that
The New York Times
did of conversations on race by Asian people or something, and the things they were saying… There's still so much that I have completely repressed or ignored, and I think of myself as pretty aware, inquisitive, and curious about these things. Every day, I find a new thing that I have just buried.
It's crazy how much access people have to information now because of the Internet. I'm learning more now just being on Twitter every day than I feel like I learned in high school.
Yeah! I can't even imagine what it's like to be a teenager now. I remember when I was thirteen and fourteen, like…yeah, it must be so different. I can't even speak for them, but having access to everything and… I don't know. Actually, I'm not going to talk about it because I'm going to sound like an old fart.
Between touring, growing up abroad, and moving around a lot, I'm sure that you've felt like you didn't always belong somewhere. In a way, though, it's kind of cool to be able to just sort of float around and travel without a sense of attachment to anywhere.
I mean, when I see other touring artists and I compare them to me, I realize I may have been trained to do this almost. I don't miss anywhere. Every new place I go, I can just figure out how to be comfortable in because I'm so used to just being faced with a new environment and being like, "Okay, this is my home right now." People always tell me, "You act like you already live here," and so in that sense, it's very useful because I don't really get homesick. But touring is still a really kind of unhealthy lifestyle because you can't create routines. You wake up at a different time every day, go to sleep at a different time every day, have different numbers of meals every day at different times. Often, you're in a different time zone, day after day, and you don't eat healthy because you can't cook. You just kind of eat out every day. You can't go to the doctor, for example, if you feel sick. You can't get your prescription filled sometimes. It's a nightmare. So, you know, in that way, touring is kind of a really unhealthy lifestyle, but I do agree that growing up moving around has helped me, at least to not have the added element of feeling unfamiliar everywhere.