The following feature appears in the April 2016 issue of NYLON.
Amid YouTube's endless bounty exists a clip of a young Onika Maraj, performing a scene in an acting class. She's doll-faced in a red T-shirt, jeans, and braided cornrows, but the part is mature: She is to argue with another student actor over the custody of her baby. As the scene begins, something clicks and she shape-shifts into the role, so deeply embodying it that she ends up hurling a heavy corded telephone at her cohort. Off-screen we hear it clatter to the ground. With that, the scene ends and Maraj is back, looking sheepish and a little startled as she asks, "Did I hit you with the phone?" Her teacher's initial reaction is an astonished "Hoo-hoooo!"—clearly concerned for the other student but visibly impressed by the velocity of this young thespian's ambition.
As most fans know, this precocious performer would grow up to become Nicki Minaj, and to even casual followers of her career, that intense gaze and unmitigated focus is a now-familiar signature. At just 33, the Trinidad-born, Queens-raised artist has already crashed through many a glass ceiling—she's the most successful female rapper in history, for one, and in 2015 was Forbes' ninth highest earning rapper in the world. Her determination ensures that she will continue to break new ground, but that video is indicative of a more specific aspect of Minaj's career. Though a multifarious performer—rapper, singer, producer, style icon, cultural force—she was first an actor, a path she strayed from early on when concerts turned out to be more lucrative. Still, her ability to role-play has been a defining aspect of her rap career. Through the years she's nimbly traversed accents (British, Spanglish) and personas (Roman Zolanski, Harajuku Barbie). This year, however, as she takes some time to regroup musically before turning her attention to following up 2014's The Pinkprint, Minaj is fully committing to her theatrical side, both acting-wise in April's phenomenally good Barbershop: The Next Cut, co-written by Black-ish creator Kenya Barris, and as an executive producer for a forthcoming Freeform TV show inspired by her life, among other projects she can't yet name. 
Click through the gallery to read the rest of the feature.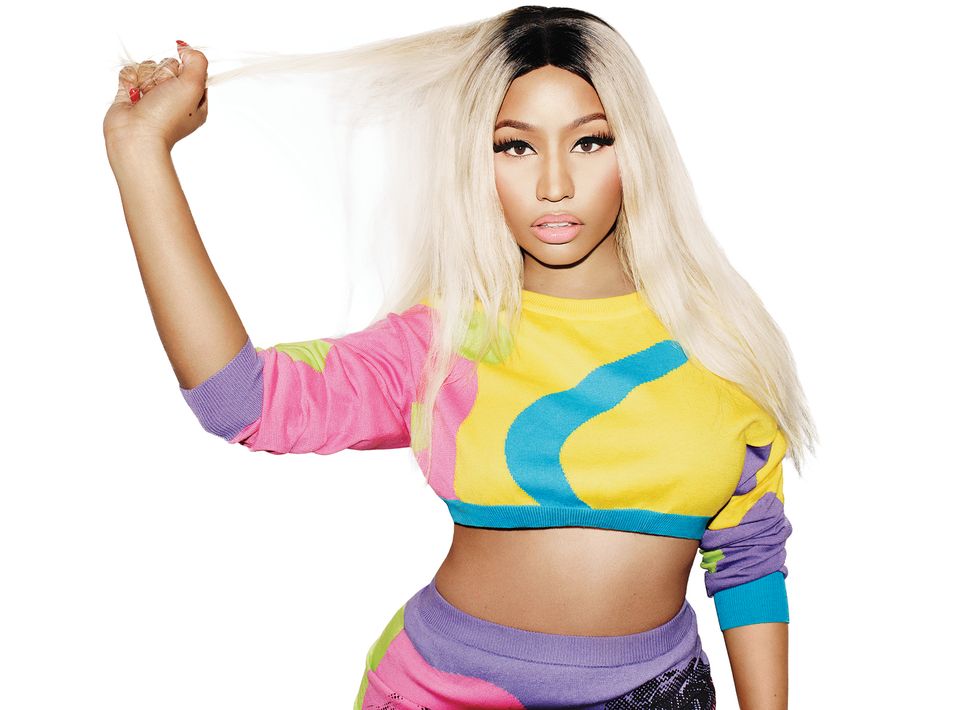 Photographed by Matt Irwin. Styled by Daniela Jung. Top and skirt by Jeremy Scott.
Winding down in a dressing room at Manhattan's Milk Studios, Minaj smiles when asked to recall her acting days at New York's Fiorello H. LaGuardia High School of Music & Art and Performing Arts. "At that time I was obsessed with Jada Pinkett [Smith]—I wanted to be Jada and Halle [Berry] mixed. Now I'm going back to those desires." It's 8:30pm on a frigid Sunday and Minaj is taking her first break of the day. Small-boned and cat-eyed with the gleam of a beauty queen even in jeans and sneakers, she woke early to drive to New York from Philadelphia, where her rapper boyfriend Meek Mill resides, and has just spent about six hours in a photo shoot for this magazine. Her T-shirt depicts Anna Wintour as a skull and crossbones, and recalls one of Minaj's early debutante moments, when she sat front row next to Wintour in a blonde bouffant at a 2011 Carolina Herrera runway show. That year was her first on Forbes' highest-paid rappers list; since then, she's toned down her wild style, earned 10 Grammy nominations, created a clothing line, and released seven fragrances, among them the appropriately dubbed "Minajesty."
The work ethic is strong, though now Minaj's speaking voice cracks with a hint of illness, the consequence of standing in the icy rain on a recent double date with Meek and some close friends, the singer Monica and her basketballer-husband Shannon Brown. Today, Nicki the Boss is "Theraflu'd up" and hydrating with water and a bottle of Arizona Fruit Punch. Two days prior, Mill was sentenced to 90 days of house arrest for a probation violation relating to his out-of-state tour schedule. Three days later, The Pinkprint will be officially certified two-times platinum in the United States. There's a sense of perpetual motion surrounding her—the day-to-day whirlwind that accompanies any ultra-famous person, really—but it's immediately apparent that her focus remains intact. "Really being a boss is all about adding to your résumé," she says, her steel brown eyes sharp beneath a blonde pageboy. "I've always been interested in business, and I've always been a businesswoman, before I had $10 to my name."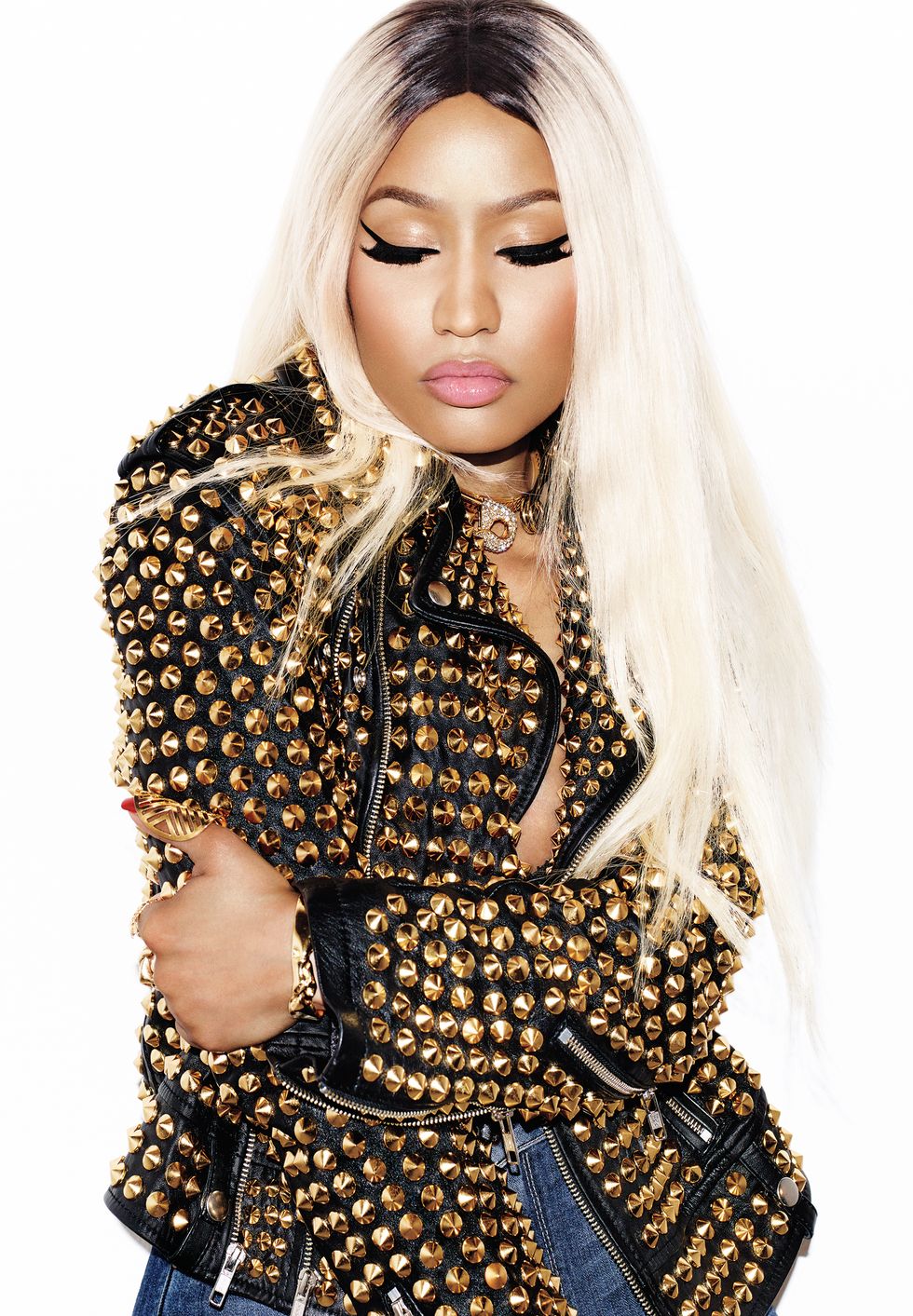 Photographed by Matt Irwin. Styled by Daniela Jung. Jacket by Hazmat Design, jeans by Paige Denim, choker by Giuseppe Zanotti Design, ring on thumb by Laruicci, ring on pointer finger by Qiyada, ring on middle finger and cuff by Jennifer Fisher.
The questions at the crux of Nicki Minaj's constantly elevating success:
1.) How does she do it? and 2.) Where will she go next? The answers, clearly, are pure hustle, and everywhere.
Though the airdate is still to be determined, Nicki, the rapper's namesake sitcom, will focus on the before-$10 aspect of her life, when she was a kid growing up with her parents and two brothers in South Jamaica, Queens, one of the rougher working-class neighborhoods in the borough. Both Minaj and her mother have spoken freely about her father's addiction and abuse during that era, but the show—starring 11-year-old phenom Ariana Neal, handpicked by Minaj—takes its inspiration from the trials of a tween rapper and entertainer on the come-up. "I've never seen a little girl rapping on scripted TV," says Minaj, who punches up Neal's raps "so that older people are gonna respect her as a little rapstress." Inspired by Minaj's life and narrated by the rapper, the pilot revolves around a pair of $50 Fila boots she wanted as a child but her mother couldn't afford. It shows a "family friendly" side of Minaj that she doesn't always get credit for—despite the fact that her work attracts hoards of tiny preteen fans. Minaj is, of course, better known for the "Anaconda"s in her repertoire—the funny, assertive, semi-lascivious aspects of her pop-art rap genius—and much of the press has painted her as combative, unwelcoming, or, as Miley Cyrus put it in a now-infamous New York Times interview, "not too kind." (Minaj's response at the 2015 VMAs, "Miley, what's good?" became so iconic among her fans that they've made T-shirts and dance remixes of the audio clip.)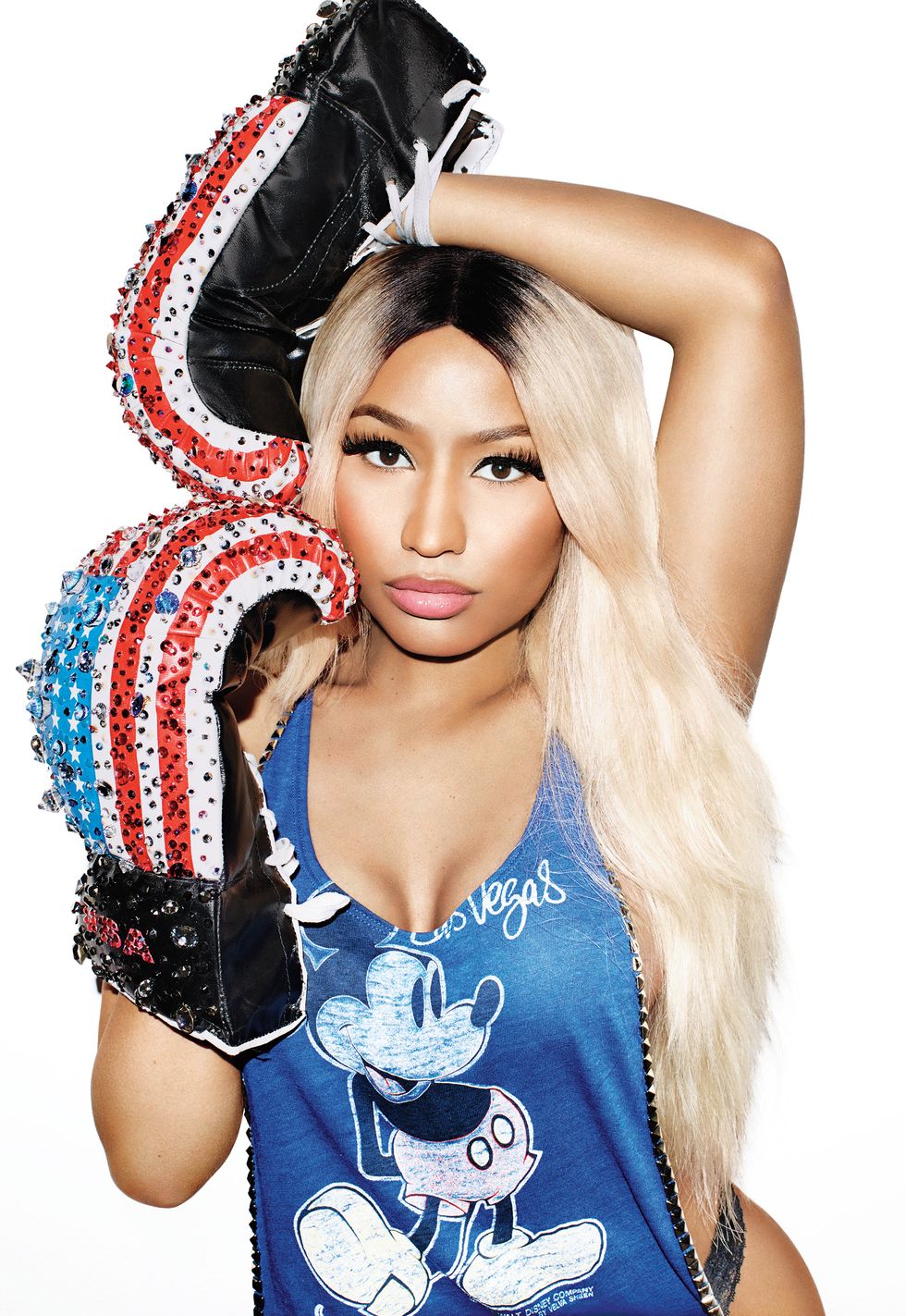 Photographed by Matt Irwin. Styled by Daniela Jung. top by hazmat design, gloves by gasoline glamour.
These impressions are, as Minaj herself has pointed out, often tinged with bias—part and parcel of the way America tends to view outspoken black women—and when she has popped off on Twitter and in interviews, it is usually because the person being popped off at has expressed ignorance about race, gender, or both (usually both). The way some people regard her power as an influential black woman has, it seems, led Minaj to double down in her forthrightness—a survival tactic in the face of skepticism, and a message that she will not allow herself to be disrespected, which also happens to be one of the primary tenets of rap culture.
Monica, who's been in the music industry since age 12, provides additional insight: "As women, it's very challenging to do what we do, and be successful, and sustain yourself, and be creative, and still be respected," she says. "And the truth is, you're never done proving yourself. But the most important part is to go after what you truly desire, versus what other people say you can or can't have. I think that [Minaj's] focus makes it easy to kind of tune out the naysayers."
Minaj's fame is predicated upon her music, her technicolor, larger-than-life pop appeal; less attention-grabbing but equally empire-building are her more down-to-earth nuances. Though she's forever in designers like Balmain, Givenchy, McQueen, and Moschino, her childhood memory of the too-pricey Filas recalls her eponymous, reasonably priced fashion collection sold at Kmart—"I was embarrassed to wear low-priced things," she says, "so it was important for me to make my fans feel like, 'You may not have all the money right now, but you better walk with your head held high and be confident, be proud of what you're wearing, because you make the clothes.'" She has also just inked a deal to place her signature Myx Moscato wine in Walmarts across the country, giving her a brand presence in two of the most accessible chain stores for working- and middle-class fans.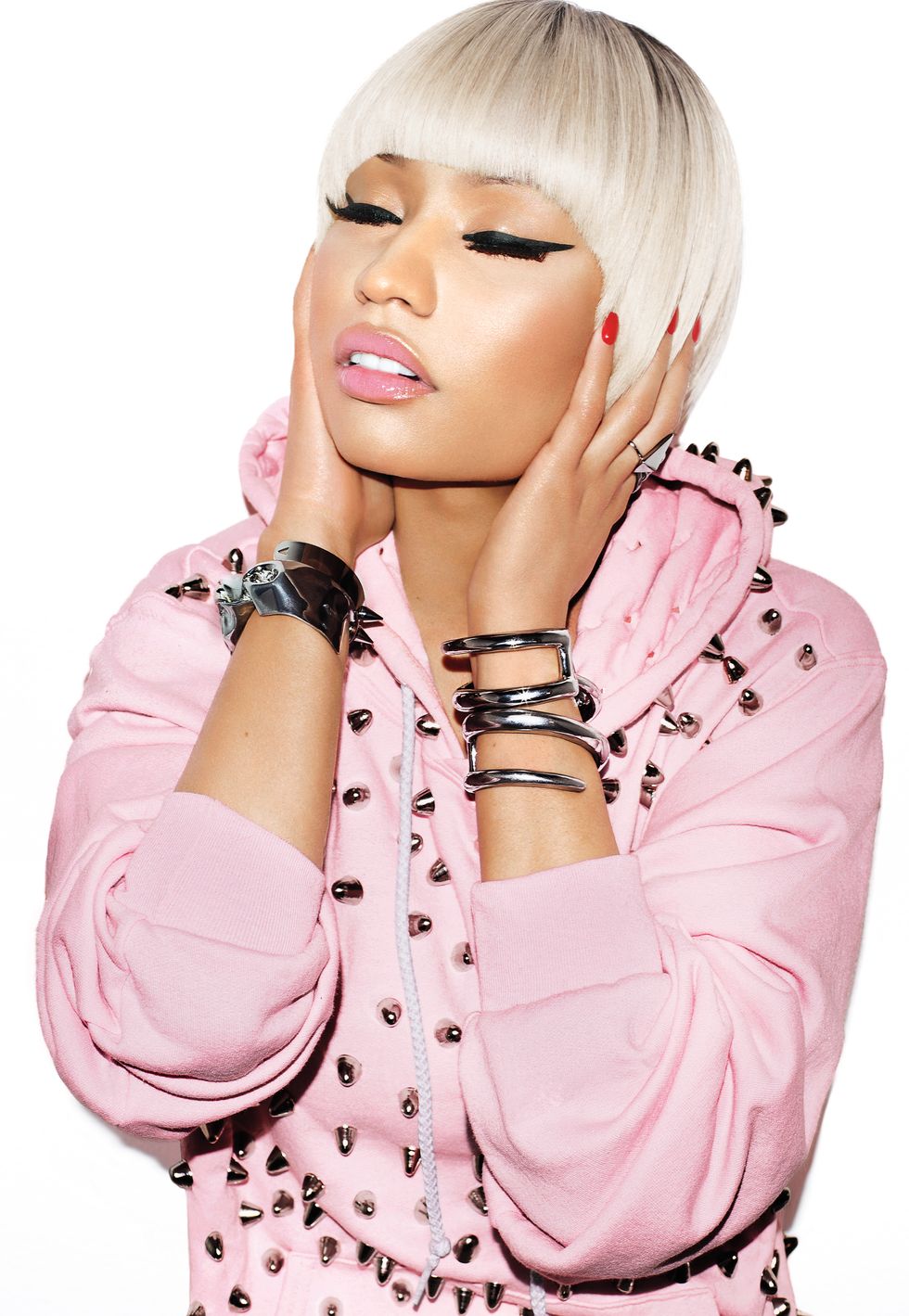 Photographed by Matt Irwin. Styled by Daniela Jung. Sweatshirt by Studmuffin NYC, cuff on right wrist and ring on left middle finger by Joomi Lim, bow cuff on right wrist, ring on right thumb, ring on right pointer finger, and cuffs on left wrist by Jennifer Fisher.
A primary reason she's taking her time making her fourth album is because she needs space after The Pinkprint, which was written in the wake of a long-term relationship's end. "I needed time to hear myself think again," she says, "because where I left off with The Pinkprint was a little bit emotionally unstable. I wanted to take a moment to just live my life, enjoy my life, have fun, go out. I think that's very important before you start writing again. It's a spiritual experience for the people who are hearing the music, so I'm trying to be very careful of what mental space I'm in while I'm creating it. Now, I want my happiness to be reflected in the new stuff."
That happiness seems to be yoked at least in part to her current love, Meek Mill, whom she is riding for despite his legal troubles. ("He's not perfect, but I can't believe how much he's changed," she told a Philadelphia Common Pleas court judge on his behalf late last year. "He doesn't have a lot of structure. He can be irresponsible. Since I've come into his life, I think I've been working on that a little bit.… He's just getting accustomed to being an adult.") The couple also remained intact despite beef between Meek and Minaj's labelmate Drake, a rap battle that unfurled last summer during Minaj's tour. Throughout it all, rumors have percolated that the couple are engaged, thanks, in part, to two apricot-sized rings he's gifted to his love, the last on her 33rd birthday in December.
"I'm not engaged yet," says Minaj, that diamond smile encompassing her whole face and popping her dimple. "He said that my third ring would be my engagement ring. But sometimes he calls me his fiancée, and I'm always trying to stop him, like, 'Nope! I ain't got that third ring yet!' We're just taking it one step at a time. And, you know, if that happens, if I get married, then I'll have a child, and that'll be fun, because I can't wait to hold my baby. When he and I were just friends, he would always say, 'You remind me of my mother, and I like that because you're like a dude. You're tough like a guy and you talk like a dude.' So I always got the sense that me being tough and bossy was a turn-on for him. And it's important for me to keep my voice. Being in a relationship shouldn't mean that you lose your voice. Being in a relationship should mean that you've met a secure-enough man to allow you, in a sense, to remain a queen."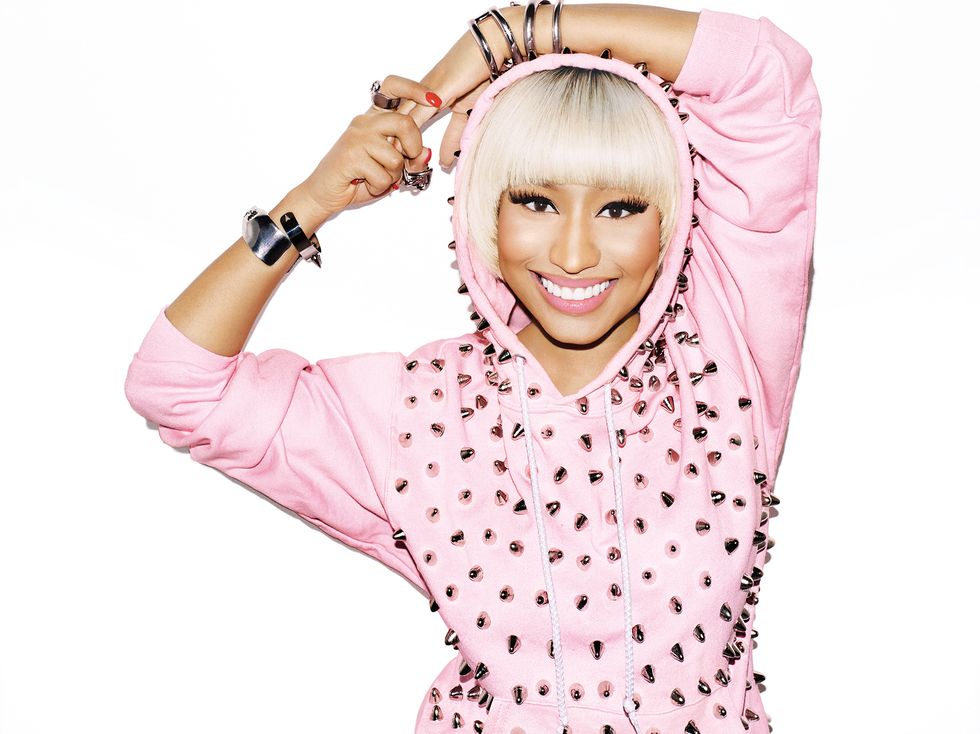 Photographed by Matt Irwin. Styled by Daniela Jung. Sweatshirt by Studmuffin, cuff on right wrist and ring on left middle finger by Joomi Lim, bow cuff on right wrist, ring on right thumb, ring on right pointer finger, and cuffs on left wrist by Jennifer
In Barbershop: The Next Cut, Minaj plays the character of Draya, a sensual young party girl who does weaves in the neighborhood beauty shop that has merged with the barbershop to save on rent in a gentrifying Southside Chicago. Directed by Malcolm D. Lee, it's the best in the Barbershop/Beauty Shop series, both characteristically funny and sensitive while also tackling the dire murder rate afflicting young men in the city. As Draya, she portrays the femme fatale archetype but also explodes such stereotypes by monologuing in defense of a nuanced feminism that rings welcome, true, and heartfelt. "I wanted there to be a little bit of depth to Draya," says Minaj. "I didn't want her just to be, you know, an Instagram thot; I wanted her to have some sort of purpose and meaning."
Going into the picture, she says, was intimidating at first. Barbershop's great ensemble cast, including fellow rappers Ice Cube, Eve, and Common, had been working together since 2002, and it was only her second scripted film role, after playing Cameron Diaz's personal assistant in the 2014 rom-com The Other Woman. In that movie she was a luminous scene-stealer administering romantic advice; here, she's a little more matter-of-fact, but is given the space and character complexity to let her acting talents shine. She loosened up, she says, when Barbershop vets Cube and Cedric the Entertainer pulled her aside to let her know the cast had her back, and that she didn't have to do anything in the script that made her uncomfortable—including a scene that required her to twerk, which she declined, because "not every sexy woman is out here twerking all damn day," she says with a laugh. 
"She was strong and ended up being very true to her character," says Cedric of his co-star. "She held her own with people who had been doing it a long time, and in this franchise, and with her personality, she was able to run right into it."
Minaj's personality, if it's not yet clear, is such that "running right into it" is the main way she's been able to sustain her vast talents in a music and entertainment business that is not set up to be friendly and welcoming to black women who want it all. "I think that the hardest part about [this job] is continuing to demand respect," says Monica of her friend. "It's really not something you can ask for, or graciously step in the room and beg for. You have to demand it, and she's very, very good at it. If you've ever seen her in her workspace, and even if she just walks in a room, there's a certain level of confidence and respect that she demands, and I think that young girls need to see that, because they have to have that in order to be successful."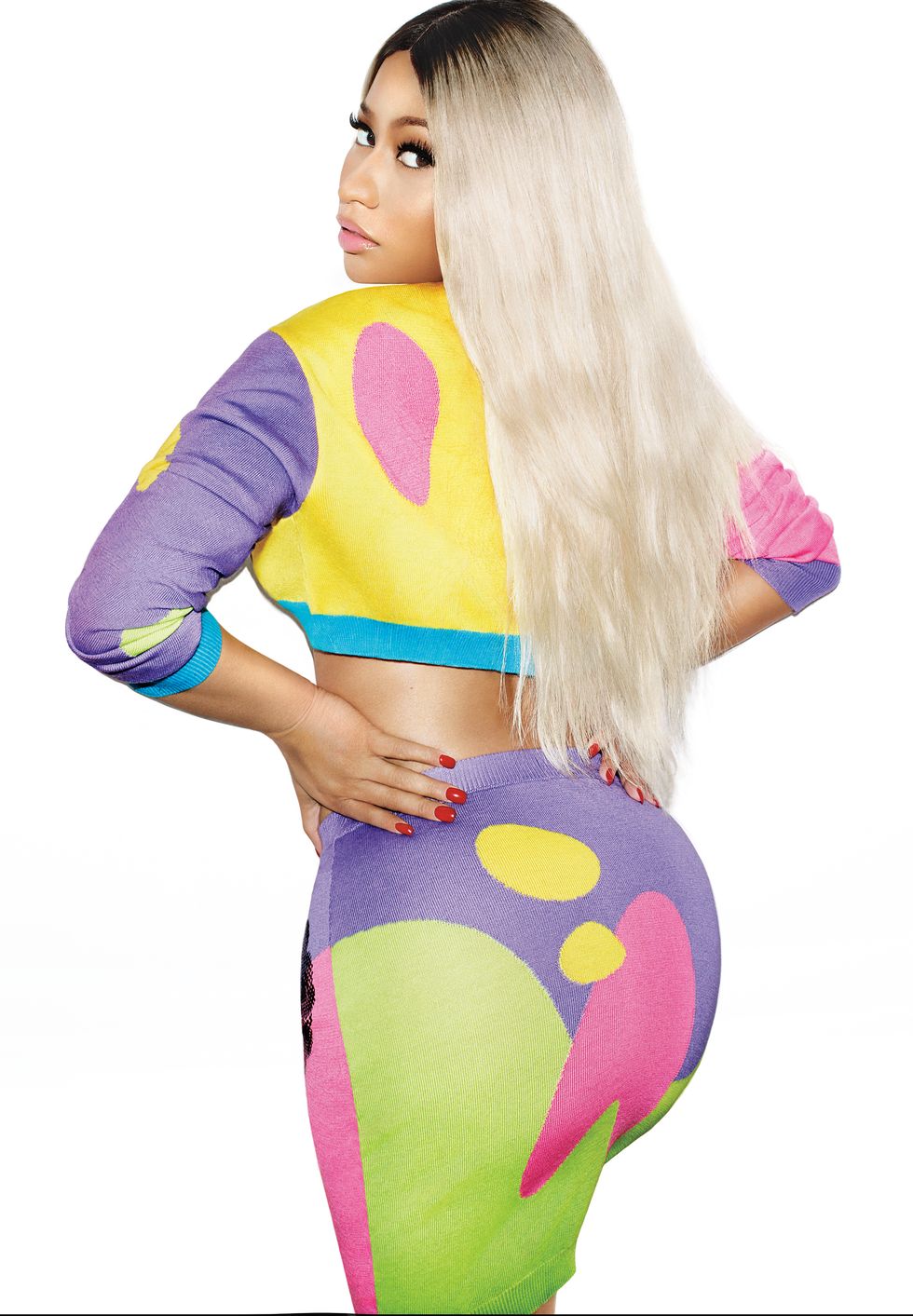 Photographed by Matt Irwin. Styled by Daniela Jung. Top and skirt by Jeremy Scott.
Minaj is credited as an executive producer on her Freeform comedy, as well as on a few upcoming projects. "That's what I'm most proud of right now," she says. "I want people to know that I have a brain. I want people to know, when they see my name, that I'm fully part of it, I'm fully passionate about it, I'm working behind the scenes on it, and that people take my opinion seriously."
A follow-up to The Pinkprint will come...eventually. But for the time being, she's enjoying this return to her roots. "Musically, I feel very fulfilled, and now I can start tapping into my acting world, where it's about passion and not about the money," she says, her slim arm slung over the back of a leather couch. "It's wanting to be what I set out to be when I was in high school: an actress." 
Hair: Oscar James at Ken Barboza. Makeup: Sheika Daley at Six K. Manicurist: Fleury Rose at Bryan Bantry. Tailor: Sarah Lapinski. Digital tech: Devin Doyle. Digital tech assistants: Andy Boyle and James Brodribb. 
NYLON's April issue hits newsstands March 29.