The following feature appears in the May issue of NYLON. Every year, we round up the brightest rising stars in film for our Young Hollywood Issue. Get to know the actors and actresses who are set to take over the industry. To read more, click here. 
Awkwafina's mostly joking when she refers to Sandra Bullock as "Sandy," comically flipping her hair back to drive home just how casual this all is to her. While it's true that the 28-year-old New York-bred rapper-turned-actress, whose real name is Nora Lum, got the chance to pal around with some A-list stars as part of the ensemble cast of the upcoming Ocean's Eight, which also includes the likes of Rihanna and Anne Hathaway, she still conducts herself with the self-awareness of someone allergic to Hollywood pretension. Even as she prepares to get bumped into the next echelon of on-screen fame (a word that she's constantly redefining: "You can feel famous whenever you turn on your phone and have four notifications," she says), she remains firmly tethered to music and the funny little indignities of everyday life in the city that raised her. In other words: Having Miss Congeniality's digits in your contacts will not prevent you from getting smack-talked by bodega owners.
Award Caliber: Though the prospect of sharing a frame with Oscar winners was intimidating at first, Awkwafina was relieved to learn her co-stars were human: "I had waking nightmares before the shoot that I would say some weird shit. I could recite everyone's filmography by heart, I loved each and every one of them, so I was having anxiety attacks about it. But when you're on set with someone, it has a way of humanizing them. They become co-workers, then friends, and then maybe even a small family. There may have been a group text."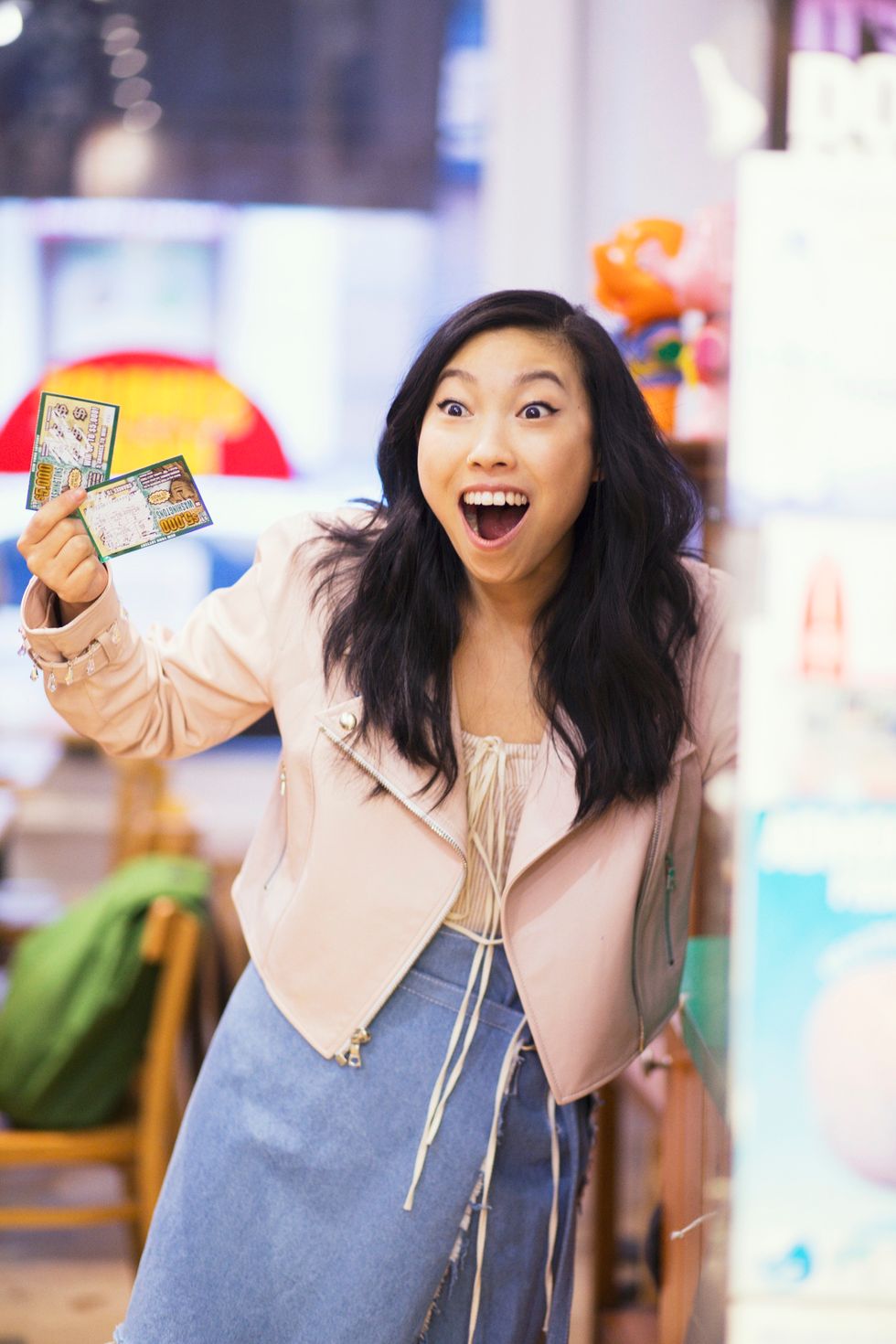 Photographed by Jonathan Grossi. Styled by Wendy McNett. Jacket by Victoria Hayes, top by Brock Collection, skirt by Alina Liu.
Forever Humble: She may have a surefire blockbuster on the way, but Awkwafina can't escape the feeling that everything could be yanked away at any moment: "I'm incredibly self-doubting, depressed, and unsure of everything that I've done for the past four years. Is that what people want to hear? Me, humanizing myself? I still feel like one day, someone's gonna shake me awake and all of this will have been a dream."
What is fame?: Awkwafina first made a splash with the viral YouTube earworm "My Vag," and ever since, she's been closely acquainted with the highly subjective nature of celebrity: "My whole time as Awkwafina, there was always a person there like, 'Dude, you made it.' And there would be another person like, 'Dude, you're gonna make it.' And there's another one like, 'You're famous!' And this was when I had, like, 8,000 views on YouTube. So it's all relative. If I'm famous, it's only in a cluster of very exclusive Asian girls on the internet."
Hustle vs. Art: Awkwafina enjoys acting and plans on riding the wave as long as she can, but music will always be home to her: "I'll make music to the point where no one listens and everyone hates it, and then I'll still do it. Even if hip-hop completely regurgitated me out and exiled me, I'd still do it, because that's how I've been working since I was 16. Music will never fully go away for me. I don't see it as a career. The movies are a career."