The following feature appears in the December/January 2017 issue of NYLON.
"I didn't plan any scenic journey," concedes Kylea Borges when I find her and her white '64 Ford Ranchero, Mona, posted up in a parking lot in Oakland, California. We climb in and she starts the engine; it revs with a perfect deep, old-car grumble, and then we're off. 
Borges grew up in San Luis Obispo, and at age 18 moved to the San Francisco area, where she began working in the Haight Ashbury neighborhood's famous vintage stores and studying fashion design. It was during these early days that Borges used her knowledge of textiles and design to transition into self-taught fine arts, meticulously crafting the intricate collages and mixed-media pieces for which she has become known (and which have won her collabs with companies like RVCA). 
Click through the gallery to read the rest of this feature.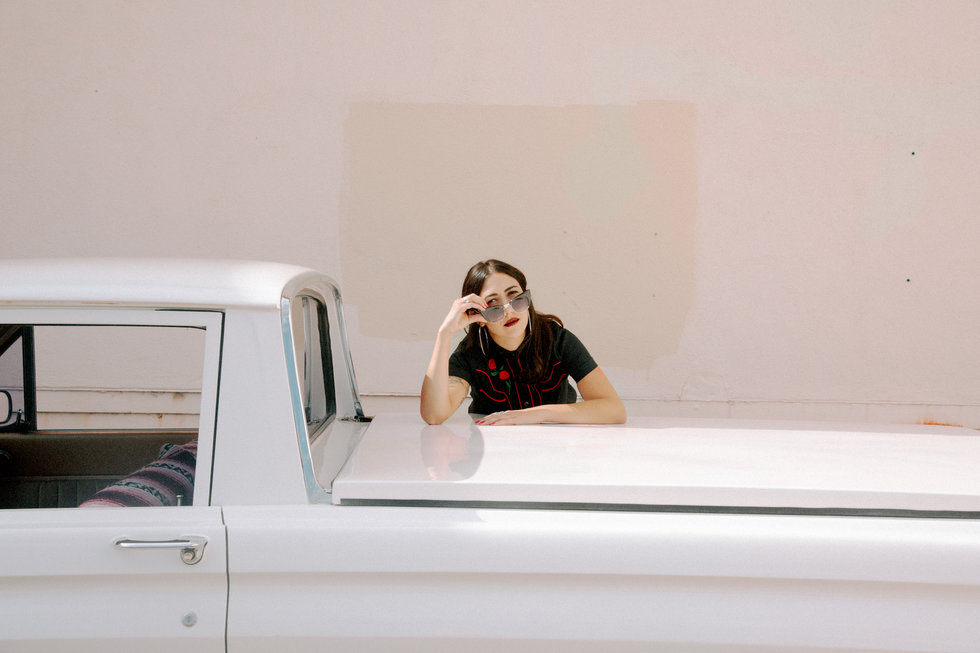 But lately, Borges has been expanding her artistic horizons. "I've been doing interior design over the past three and a half years. I just recently left my job and am working on developing my own business. I want to bring everything together and infuse it with interiors, because I do use some of my patterns as wallpaper or textiles, so it kind of translates," she says.
And in taking stock of her aesthetic vibe, from her goth-Western-tinged ensemble to the Dolly Parton cassette propped behind Mona's retro cup holders, that all sounds just right.
I'm sure you were turned on by this car's interior.
I got lucky. I don't know if gold was a stock color that they made, because I can't find gold replacements for anything. The wood stuff was added by someone else. The steering wheel is actually supposed to be bigger and thinner. Someone got a little muscle car-y on it.
Photographed by Amy Harrity.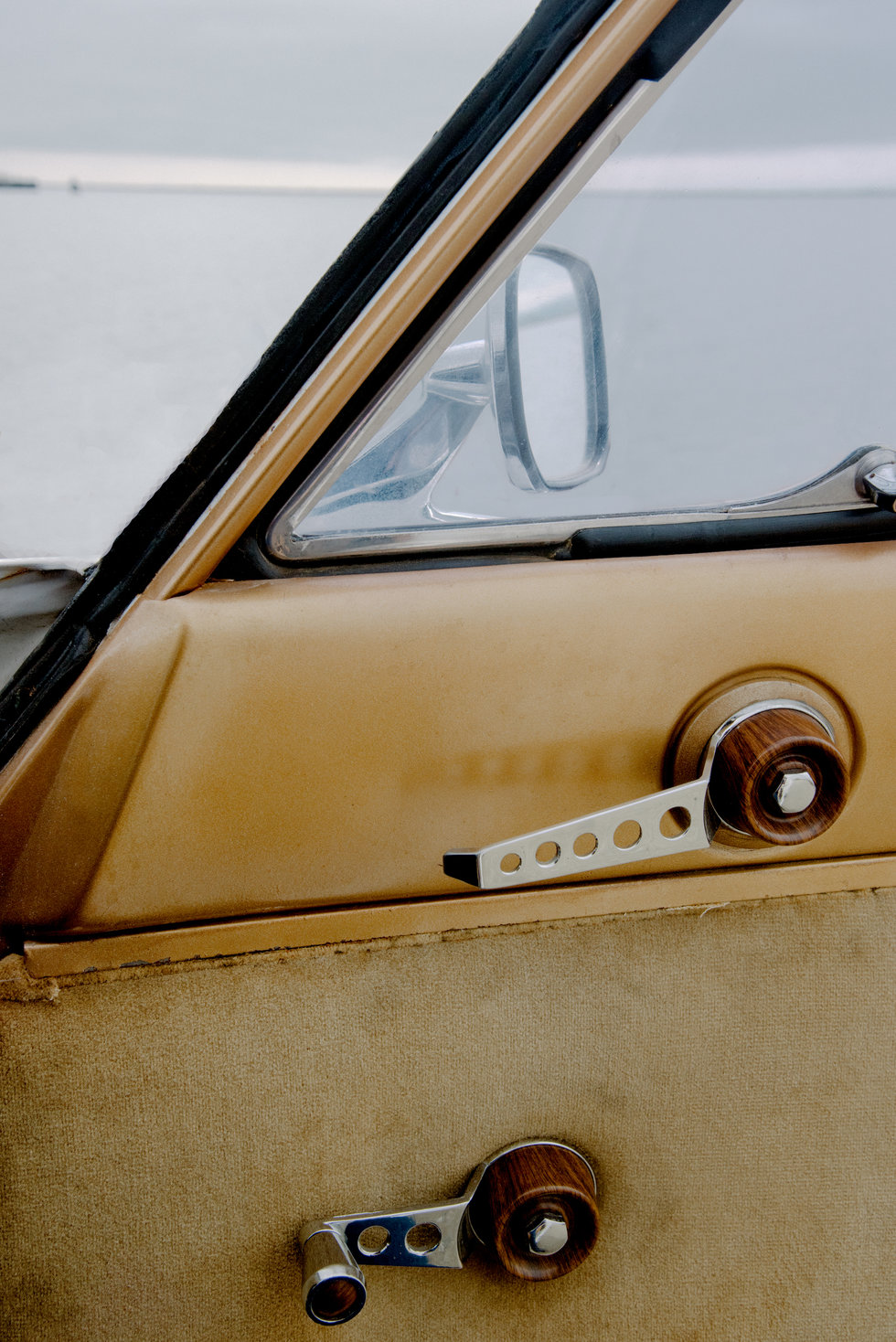 We drive down Pleasant Valley Avenue in Rockridge, past local chains and coffee shops.
How did you and Mona meet?
I was really drawn to Rancheros, so my friend was sending me Craigslist ads. I saw this one and I was like, "Maybe we can go drive it—it doesn't hurt to just drive it." And when we went to leave I was like, "Hmm, should I take cash? I'll take cash. Just in case." Of course, I came home with the car.
How much was it?
It was $5,500.
Borges pulls into the hilly and lush Mountain View Cemetery, burial place of Domingo Ghirardelli, Randy Rhoads, and Elizabeth Short, the "Black Dahlia." She muses on taking her mother here for a picnic.
You took $5,500 in cash with you?!
Yeah! Yes, I did.
How did you name her?
I was like, "She needs the name of a 65-year-old woman with a beehive [updo] who chain-smokes cigarettes. Her name needs to be, like, Mona or something." And it stuck!
Photographed by Amy Harrity.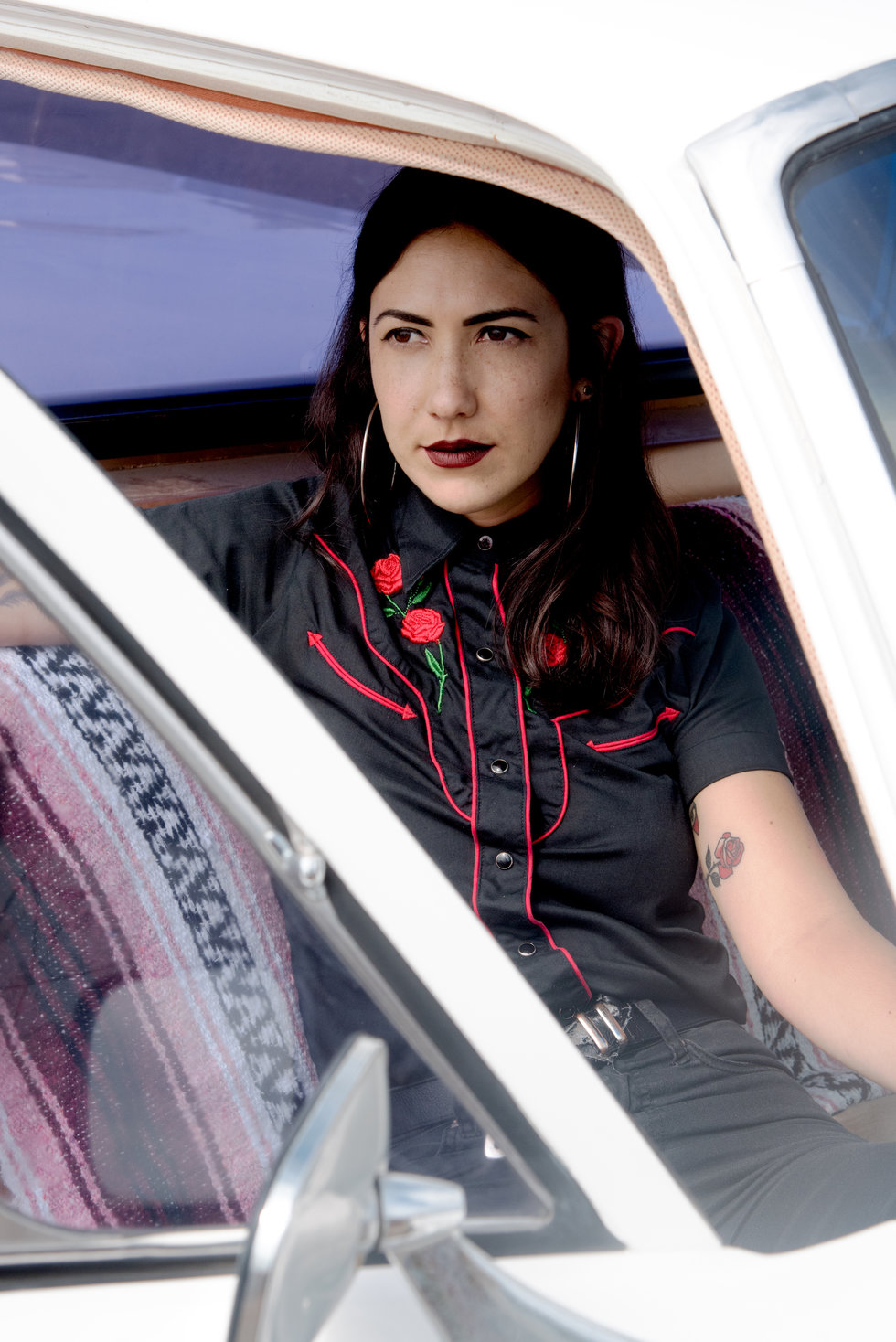 Is there a certain kind of respect that comes with owning a classic American car?
It's like you joined a cult. People nod at you or honk at you or whatever, which is awesome.
Is that a stick shift on the wheel?
Yeah, it's called "three on the tree"! It's three gears and then reverse. So it's first, second, and third gear, which goes anywhere from, like, 40 to 75, and that's pretty much where it maxes out. It's not easy to drive. She has a penchant for breaking down.
Does it get hot in here?
I drove her to the Russian River one time when it was 95 degrees, and we got stuck in traffic back through Petaluma. There's no AC; there's barely any fan. So it felt like 1,000 degrees. I had to stop and get a shake at In-N-Out because it was so hot. I was like, "Fuck this!"
What's your favorite cruising music?
It's either Dolly [Parton] or Dr. Dre. The tape player in the car sounds like screaming alien babies, but I love tapes so I bought an external one.
Photographed by Amy Harrity.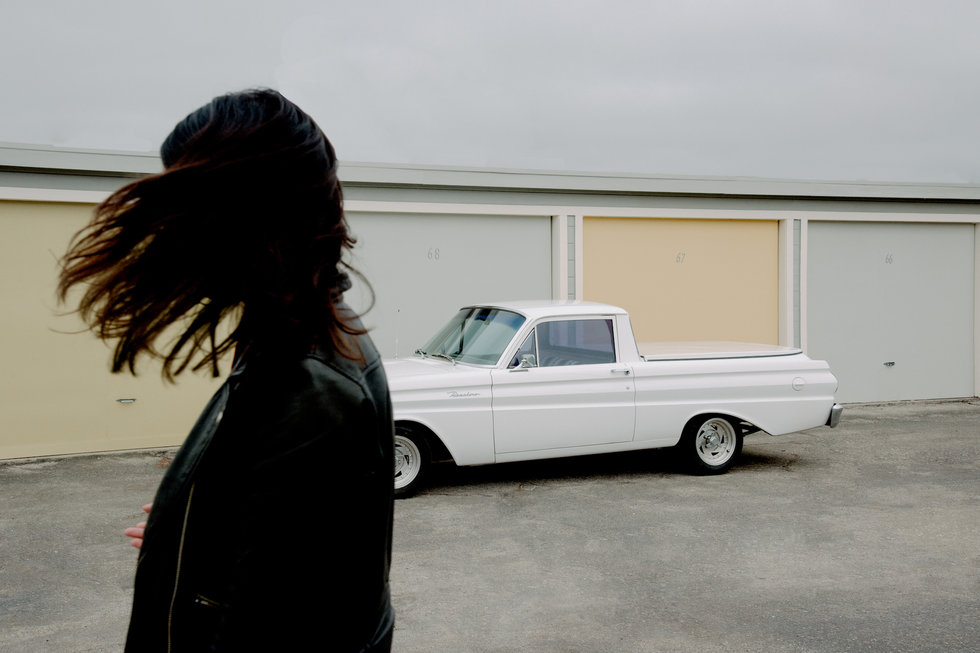 We get back on the street in Piedmont. A construction worker hollers, "Cool car!" as we ride by.
Have you always known a lot about cars?
No, but I've learned a lot. I grew up with a single mom. She wasn't like, "Let's get under the hood, here's how you fix some shit."
Who taught you how to drive?
My brother taught me how to drive in high school and he did kind of a terrible job, because he'd just be like, "Shift now! Shift now!" And I'd be like, "Why?!" I didn't understand the science behind it.
Did you still pass your driver's test on the first try?
Oh yeah, flying colors.
Photographed by Amy Harrity.