The following feature appears in the May 2017 issue of NYLON. Every year, we round up the brightest rising stars in film for our Young Hollywood Issue. Get to know the actors and actresses who are set to take over the industry.
There's no doubt that 25-year-old actress Madeline Brewer ("Call me Maddie," she insists) is a politically engaged young woman—she starts getting verklempt when considering the notion of a younger generation with no memory of the world before Trump. But she doesn't choose roles specifically to fight the power. From a cold-blooded soldier in Black Mirror's foray into war commentary to a casualty of the prison-industrial complex on Orange Is the New Black, her career has been defined by memorable supporting parts with hot-button topicality sprouting incidentally. And with a role in Hulu's miniseries adaptation of Margaret Atwood's dystopian novel The Handmaid's Tale, a 30-year-old yarn of government-sanctioned misogyny that now plays like a dark prophecy, she's taking on her most incendiary -project to date. How's she feeling? Cue the incredulous laughter.
Einstein Got C's Too: On the afternoon that an NEA-cutting federal budget proposal is unveiled, Brewer gets visibly frustrated when discussing the absolute necessity of the arts. "I did shit in school, absolute shit, I was terrible," she says. "But I got straight A's in college, at [New York's American Musical and Dramatic Academy] on the Upper West Side. All singing, all acting, all dancing, all the time. I excelled because I felt at home in it, like I was finally somewhere I wanted to be. I can't overstate the importance of arts and music programs. Without those, I don't know where I'd be."
Pursuits of the Mind: An ex turned Brewer on to the engrossing world of neurology: "I like to read about the function of the human brain—the neuroscience of it. This book, The Brain That Changes Itself, I love it. I find psychology so fascinating. Oh god, do I sound pretentious?"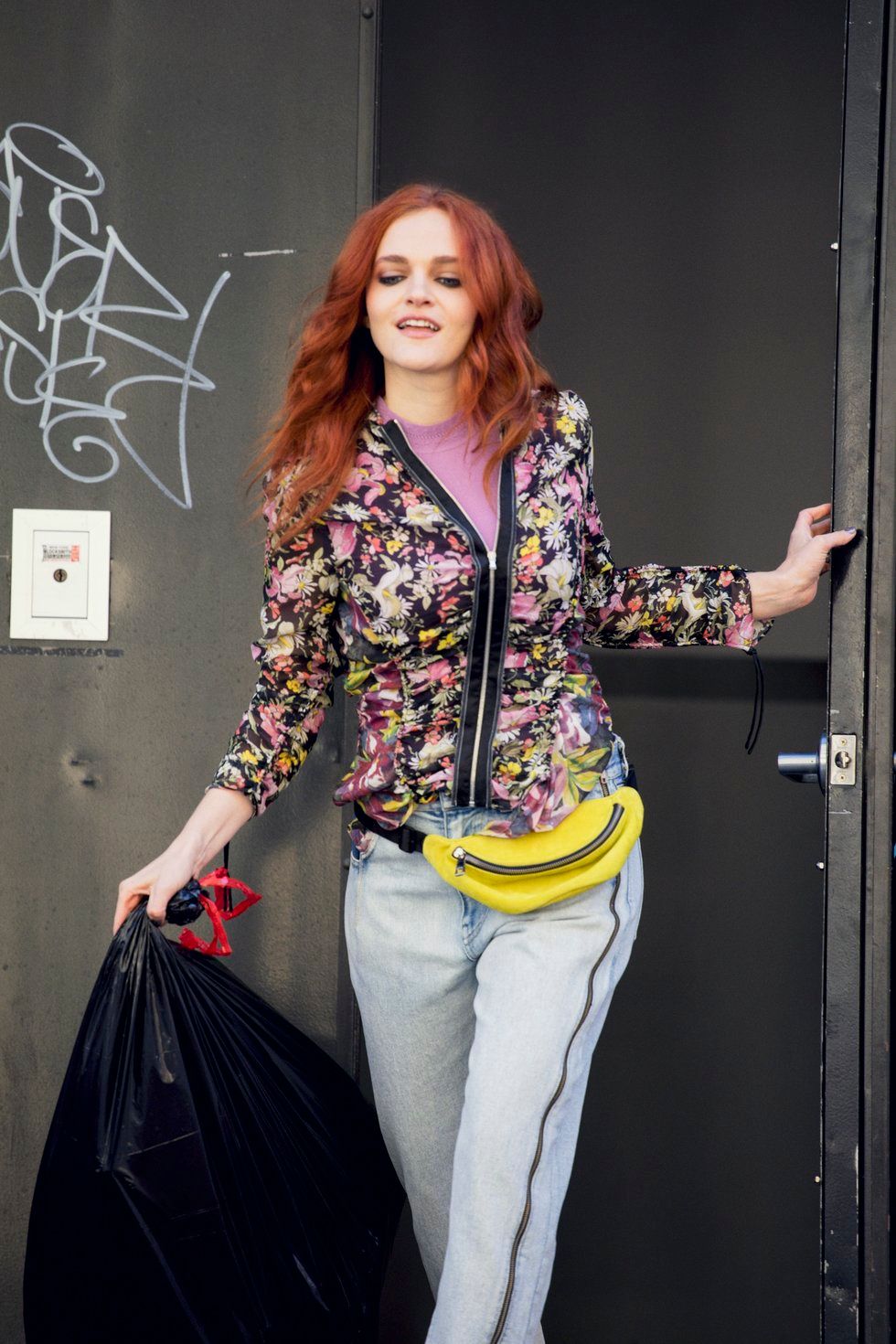 All clothing by 3.1 Phillip Lim, fanny pack by ASOS. Photographed by Jonathan Grossi. Styled by Wendy McNett.
I am Woman: Brewer readily claims feminism as a matter dear to her heart, but laments the reputation that's been foisted upon it. "I think feminism is so unfathomably misunderstood. People love to hate it, but it's just that it's gotten a bad name, like it's a loaded word. People in this country have a problem with taking something meant to do good, and because the words aren't exactly right, rejecting it."
A Tale for its Time: Under a Trump administration, The Handmaid's Tale has taken on a grim timeliness. "With all the struggles leading up to the election, all the heartbreak over the forgiveness [Trump] was given, everything that was excused in the name of 'boys will be boys' or 'he didn't know he was being recorded,' it has a way of making you feel helpless. [The Handmaid's Tale] makes me feel empowered. It wasn't what we set out to do, but now we have something to say."
Something Like a Calling: Brewer talks about acting with the disarming sincerity of someone who knows exactly why she was put on this planet. "I can't quit. It's a thing in my heart, in my person. That's not a logical way to explain it, but it's not logical, it's just how I feel. If you have the creative spark inside of you, you have to do it. If you want to paint, you gotta get yourself some fuckin' paint and paint. It will enrich your soul."