New year, new boo. That's how the saying goes, right? For some, yes! Just like many folks sign up for gym memberships at the beginning of the new year, so too will single folks flock to online dating sites and apps. Last year, January 4 was deemed "Dating Sunday," since many publications, like The Washington Post, reported that online dating sites saw a surge in sign-ups and activity the first Sunday of the new year. Signing up for a site is but the first step of many, though. How you populate your page and brand yourself is key. What photos you choose, how long your auto-biographies are, and what hobbies you list play a vital role in landing a date (or dates!). 
Lisa Hoehn, the author of the new book You Probably Shouldn't Write That: Tips and Tricks for Creating an Online Dating Profile That Doesn't Suck, does this for a living. She's officially been tweaking profiles since 2013 and with the launch of ProfilePolish.com, her profile makeover service, Hoehn has turned it into a fully-fledged, successful career. Talk about helping the people. 
We spoke with Hoehn over email to break down the absolute essentials one must (and mustn't) have in their dating profile. Whether you're new to the game or a veteran on the brink of being jaded, take note: This is online dating 101. No matter what you're looking for—be it a hook-up or something a little deeper—online dating is the epitome of the ol' "you get out of it what you put into it" idiom. Consider the following.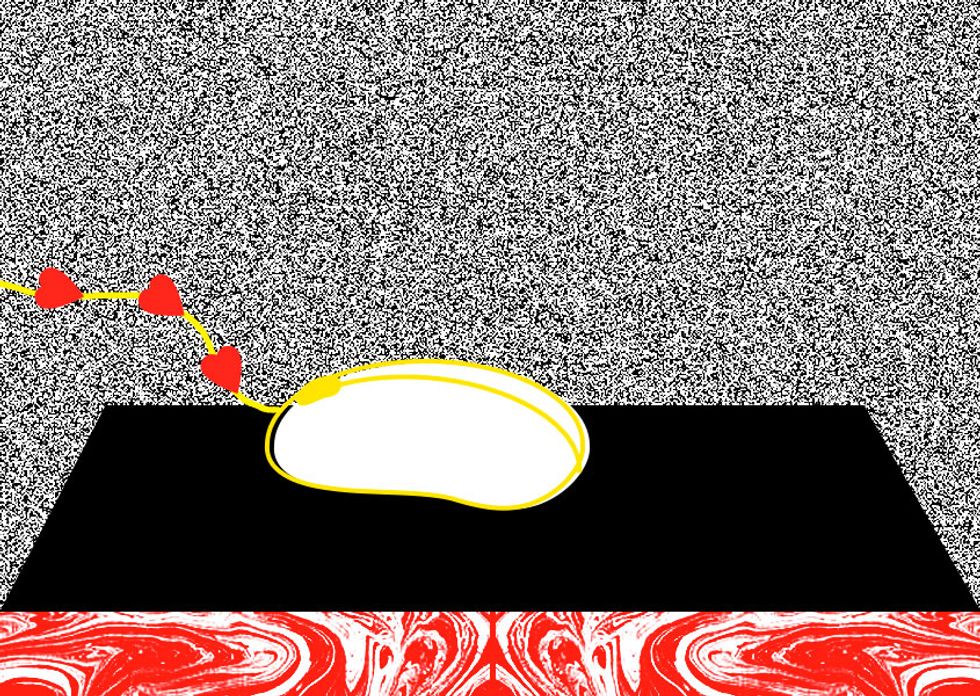 Illustrated by Liz Riccardi.
Have A Goal In Mind
Hoehn says that when "you're wishy about [your goal], that's when you get into trouble." Not knowing what you want when you dive into a sea of virtual, (hopefully) smiling faces can be intimidating. Hoehn stresses you be proactive in your search. "When you have no idea what you want, it's hard to find something that you want," she tells us. The road might get a little rocky and overwhelming, or the dates just don't work out, but don't let it discourage you. Just because you're wary of Tinder being an app only for casual hook-ups doesn't necessarily mean that's all you'll find. Though many services get a reputation for a reason, "There are all sorts of people looking for all sorts of relationships on every site and app," Hoehn reminds us. This brings up the whole communicating what you want conversation, which we'll get to in a second because before you can even do that, your potential date has to dig your…
Profile Pictures: What To Avoid & What To Abide By
"Your pictures as a whole should paint a picture of your life, interests, and hobbies," Hoehn explains. "You want your match to be able to get a sense of who you are without having to read your profile." (They'll hopefully read your profile, but—sigh—you know, there are some people who don't.) With that said, Hoehn strongly suggests avoiding photos that are "dark, grainy, blurry, or awkwardly cropped" because they cloud your prospective date's ability to read you. (They also, depending on your age, "can be a red flag that your life is as lackluster as your images or that you're camera shy/insecure.") Think of your profile photo and the pictures that follow as the ice breaker. Hoehn advises steering clear of group shots, selfies, and party shots; professional headshots and photos taken with a flash are also things to consider avoiding. If your face is clearly shown and you look your best, consider that ice broken.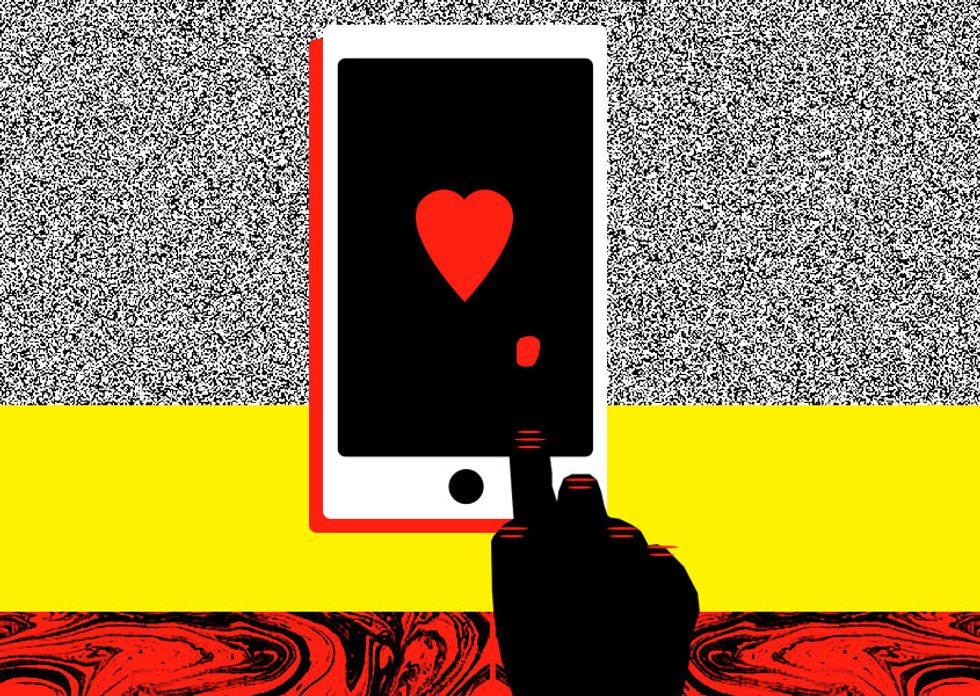 Illustrated by Liz Riccardi.
Talk About Yourself!
(Mostly) everyone loves talking about themselves. However, when it comes to actually putting pen to paper, things become tricky. Where do you begin, and what personal fact is the most enticing to someone else? "The hobbies that you bring to the forefront," Hoehn explains, "should be the ones that you're most passionate about and that you most identify as defining features." Basically, talk about the things you love first and do so in a manner that's relatable to your ideal match. "You want people to nod along with your profile," Hoehn so rightly advises. Avoid using bland adjectives, as well. What does it even mean when someone says they're "fun" or "laid-back"?
But Not Too Much…
If your selected site offers areas to list what you're looking for and whether you smoke and/or drink, do so as you see fit. Never, according to Hoehn, divulge information—like your vices—in your essay. (She suggests saving them for conversation.) Listing your education and/or profession is fine because, as Hoehn puts it, "when you neglect to list either or both on your profile, matches often assume what's (in their eyes) the worst case scenario." She says her clients find "drive, ambition, and passion" to be important traits in a match. You want your profile to be an accurate representation of you, personally and professionally.
Of course, like resumes, there will be some fluffing. That's fine and expected, but Hoehn says your profile should only be about one-third aspirational—as in goal-orientated. Hoehn suggests asking yourself this before spicing your essay up: "If you were questioned about said quality or activity on a first date, would you be able to back it up in conversation? If the answer is no, you've gone too far."

If you need specifics, Hoehn suggests keeping your paragraphs to three or four sentences in length, and to not go over 500 words. If your selected site or app uses short descriptions, keep your essay to one paragraph.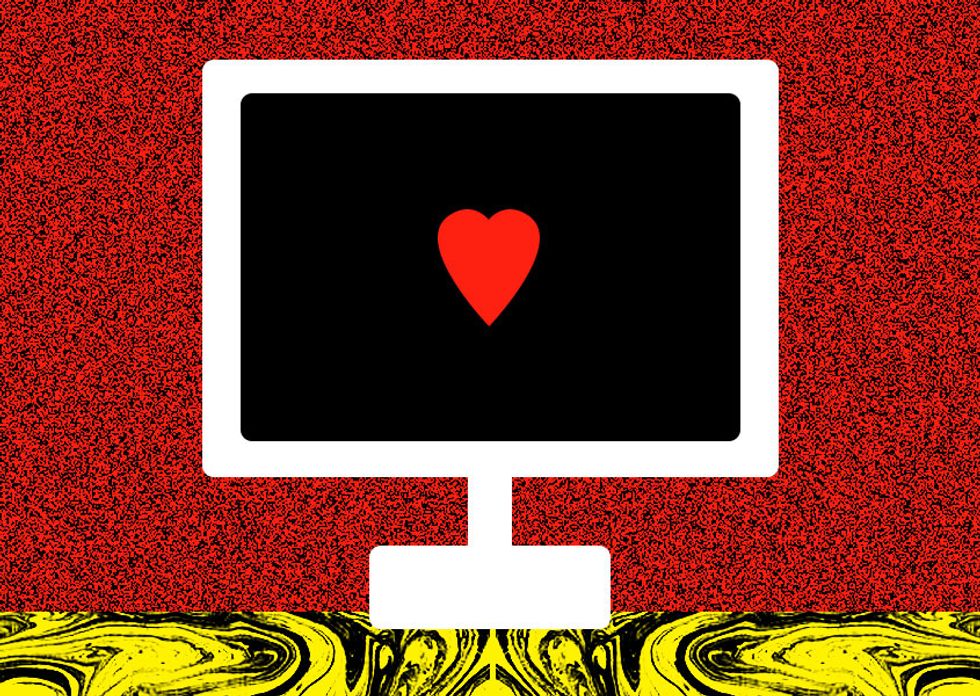 Illustrated by Liz Riccardi.
The Finishing Touches
It should be common knowledge that you must proofread your profile before pushing it live, but you should definitely also consider having someone you're close with read your profile. As Hoehn tells us, "It's really hard to write about yourself. You're faced with the daunting task of being both introspective and objective at the same time." Having friends and family read your profile will help you fine-tune the way you come across to others, because, well, that's how they know you!

Here's a checklist Hoehn sent us:
Check for conversational hooks. Which is to say, make sure you've provided enough detail about your life so that a stranger has the ability to find a topic to relate and latch onto, prompting (hopefully!) a thoughtful message.
Read your profile out loud. You want your profile to sound conversational. If the words sound awkward coming from your lips, then they're definitely awkward to read on the page. 
Ask yourself, "Would I say this on a first date?" If the answer is no, it has no place in your profile. Delete.
Proofread and spell check. Seriously. There's no reason to let silly grammatical errors be the thing that stops you from getting a date—and trust me, they can be. 
If You Start To Not See Results…
Or if you're receiving attention you didn't necessarily set out to receive, check to "make sure your profile (both written and your photos) stays true to who you are and what you're looking for, and you'll be more likely to get more of the attention that you want and deserve." With that said, Hoehn is adamant about being the bigger person and reaching out. "Send the first message when you find someone you're into," she tells us. "Don't sit back and wait for messages to roll in, but take charge! You can't control the attention that comes your way (right or wrong), so fretting over it is lost energy—but you can control the attention that you put out."