The first time I was exposed to one of Polly Nor's drawings was on Twitter. Her "Cba 2 Pretend No More" illustration was turned into a meme, but I felt a stronger bond to the image itself. For months, I tried to track down the origins of the image but failed to find any promising leads. Then one day, the image came back to my memory and I posted it on Tumblr with a caption along the lines of "Wish I knew who created this." Shortly after, one of my followers replied that it was the work of someone named Polly Nor.
The 27-year-old London-based artist has been interested in drawing for as long as she can remember. In fact, it was the only lesson she ever enjoyed while she was in school. "I was always good at drawing, but that never really seemed like a viable 'career,'" she says. Nor earned a degree in illustration from Loughborough University, but she admits that it wasn't an easy task. "I drank way too much, got too depressed, and wasted a lot of time and money. I was never any good at working to a curriculum and jumping through the right hoops. I scraped through, but I didn't enjoy it at all," she explains.
After she graduated, Nor wasn't certain about what to do with herself. Fast-forward to somewhere around 2014, and she was still stuck in a bit of a rut with no clear direction out. "I was super lost in life with no concrete job and going through a really shit breakup," she says. "I feel like at that point, I kind of hit rock bottom and had to reassess my life. I remember saying, 'I'm just going to give this art thing a proper go for one year, and if nothing comes of it, I'll give it up and get a full-time receptionist job.' I'm really glad that something did come of it because I was a TERRIBLE receptionist. I always had some sort of food in my hair or on my face, I hate speaking on the telephone, and it takes me like an hour to send an email."
Now, she makes work that is not only a reflection of her inner self but the average, modern-day woman. Nor's pieces typically depict (naked) women in their most natural state, doing ordinary things such as lounging, smoking, taking mirror selfies, and masturbating. The devil is present for all of these activities, having a deeper meaning than you might initially think (more on that later).
Learn more about Nor's creative process in the interview after the break. Now that she's on your radar, keep up with her every move on Twitter and Instagram too.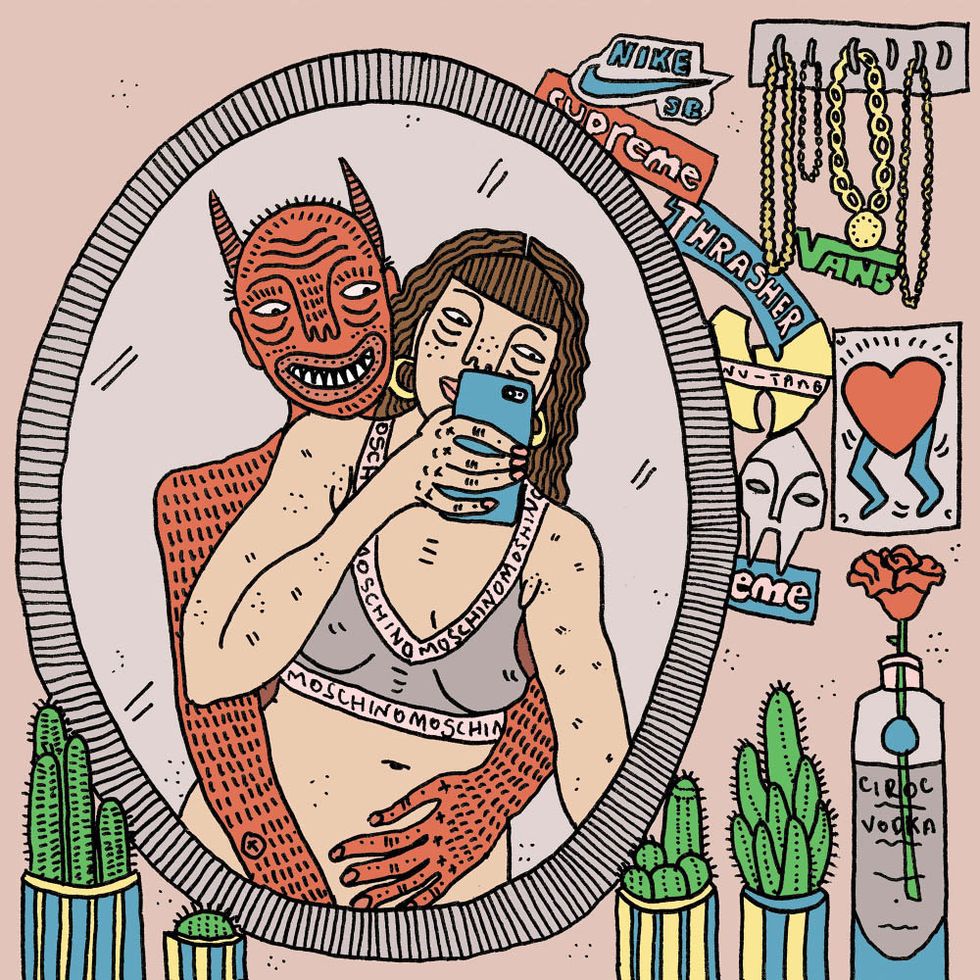 'We In Luv And Live Very Fabulous Lifestyles' by Polly Nor
Tell me about growing up in London. What was your hometown like?
I grew up in northwest London, Kentish Town, right next to Camden, and went to a school called Acland Burghley down the road. It looked like a prison, but it had a sick art department, and there was no school uniform or anything so I was happy enough. We were pretty much left to run riot every day, and we did. I'm still knocking about. My studio is just down the street. It used to be called Progress Bar and was where you'd go to try and get served booze when you were 16. Now, I work there with a great group of artists and fashion designers. I love it here—it's my favorite part of London.
The way in which artists are portraying female sexuality today is so empowering. What inspired you to promote this theme in your work?
Yeah, definitely. I mean, I'm sure that female artists have been doing this for years. Sex and sexuality are a big part of human life and a subject matter that has always been very prevalent in our art and culture. But now we are living in an interesting time where thanks to the internet you no longer have to be a rich white male represented by a big gallery for your work to be seen. Now that anybody with an internet phone can use Instagram, Tumblr, and Facebook as their own personally curated online gallery, we are starting to see a wider array of artists and their viewpoints that would have otherwise been overlooked by the art world. I think it makes for much more exciting art.
When did you start conceptualizing your female characters in your illustrations? How did you develop your technique?
I have always drawn girls since I was a child. I used to draw them all over my school books and paint them on my bedroom walls. Naturally, the style of the characters has progressed and changed over the years, but they have definitely stuck.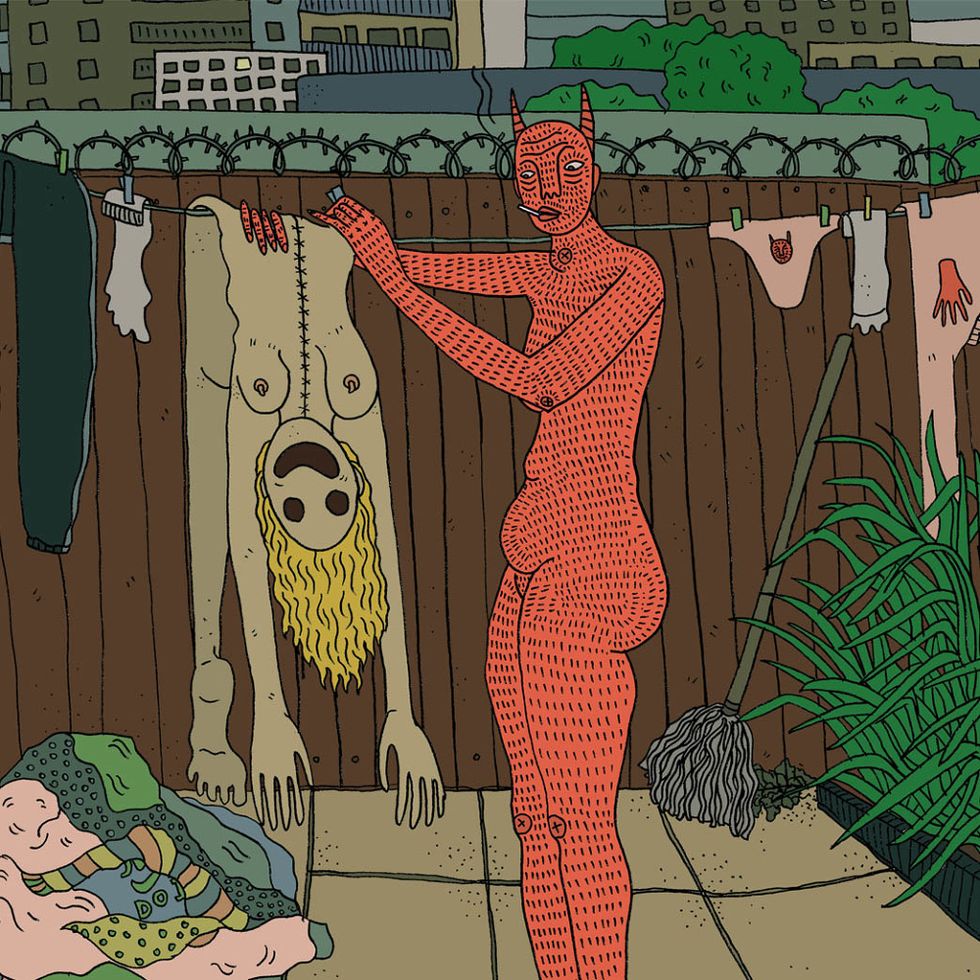 'Up All Night' by Polly Nor
What is your connection to devils and what do they represent in your drawings?
For me, the devil character represents an inner turmoil. I draw them as part of the female character's imagination—a grotesque and unstable part of herself that she keeps from the rest of the world, a devilish manifestation of her anxieties, frustrations, and desires.
Your work is a form of erotic satire for women. Within that realm, what issues do your drawings typically convey? 
I'm interested in conveying my experiences of being a young woman in the 21st century. Having grown up as part of the first generation to be introduced to easily accessible internet, a lot of my work is influenced by my own unhealthy internet habit, as well as the habits of those around me. We now live in a totally hedonistic and narcissistic society, dependent on technology for our social contact, entertainment, and sexual gratification. This is something I draw a lot of material from.
Social media, Instagram in particular, plays a big role in my work. I like to take a look at the way we create a warped but carefully contrived narrative of our lives through filtered photographs and online updates.
When you spend as much time as I do scrolling through your Instagram newsfeed, you can sometimes start to believe that everybody else around you is holding it together. But surely it's all bullshit? I like to believe that even the #CleanLiving Instagrammers sometimes put on their gym kit just to take a pre-workout selfie before deciding they'd rather be eating a curry in bed. I hope so anyway. Those are the kind of moments I want to capture. I want to tap into the parts of us that we try to hide from the internet. The disheveled, lonely, and vulnerable parts of us that make us the perfectly flawed human beings that we are.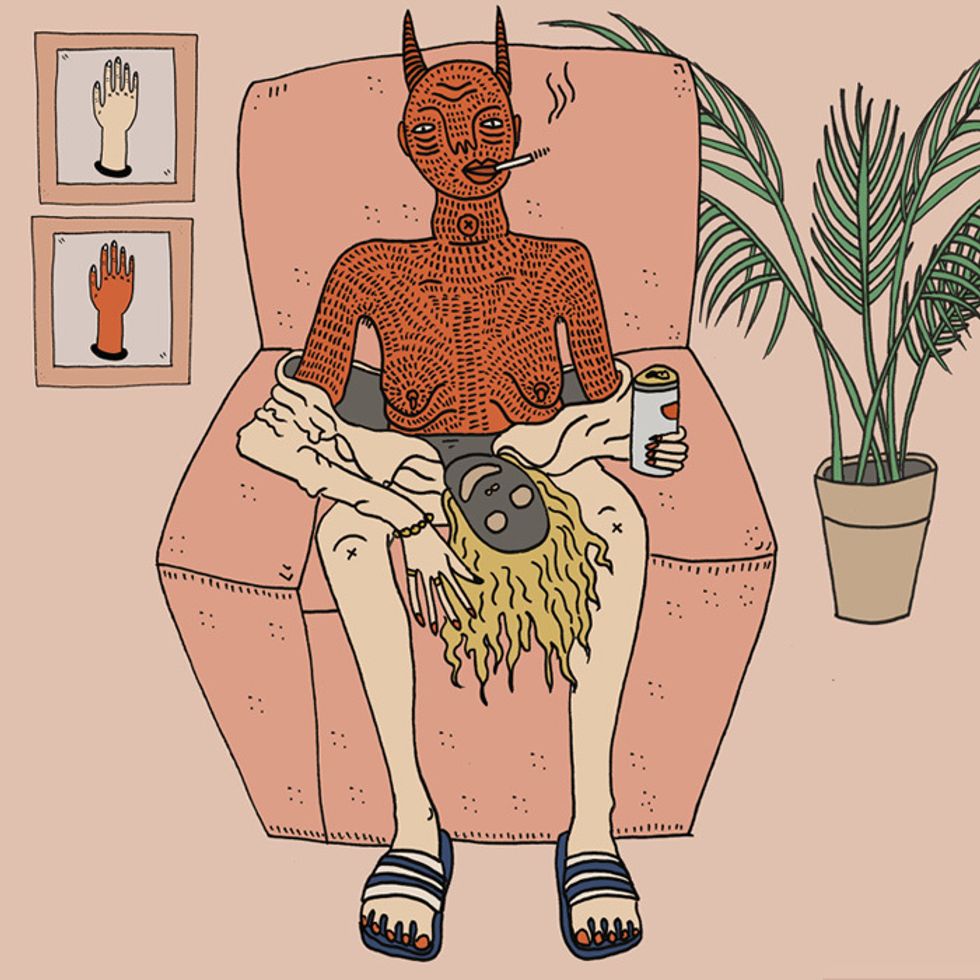 'Cba 2 Pretend No More' by Polly Nor
The first time I came across your work was on Twitter, and I felt really connected to this image (shown above). What have the reactions been like in real life and on social media?
That one seems to resonate most with people. It went viral before anybody knew anything about me or my work. I woke up one morning, and my cousin messaged me saying some guy had put it on Facebook, and from there it got shared millions of times. It made the rounds all over Twitter, Instagram, and all the big comedy accounts. At the time, I was freaking the fuck out because I was never credited, sometimes they'd even be crediting the wrong person but in the long run, I think it's worked out for me. As I've gained more of a following, I often get people messaging me saying they had kept seeing my work all over the internet with no credit and had been trying to find the artist behind it for ages. That's always pretty cool.
What do you want spectators to feel from your work?
I hope that my audience can relate to my artwork and connect with it, however, I try not to think of that throughout my creative process anymore. Drawing has always been a personal and therapeutic thing for me so when I started getting a bit of media attention last year, I felt my work get super self-aware. In every interview, I was asked so much about feminism and female sexuality that I started overthinking everything I was doing and putting too much pressure on myself to say the right thing and keep creating a certain type of work. It definitely took the fun out of it for me for a bit. These days, I'm crazy busy and I barely get any time to work on own stuff, so when I do have time to draw, it's my release. I try to focus on drawing openly and honestly about how I am feeling without concerning myself with how it may be perceived.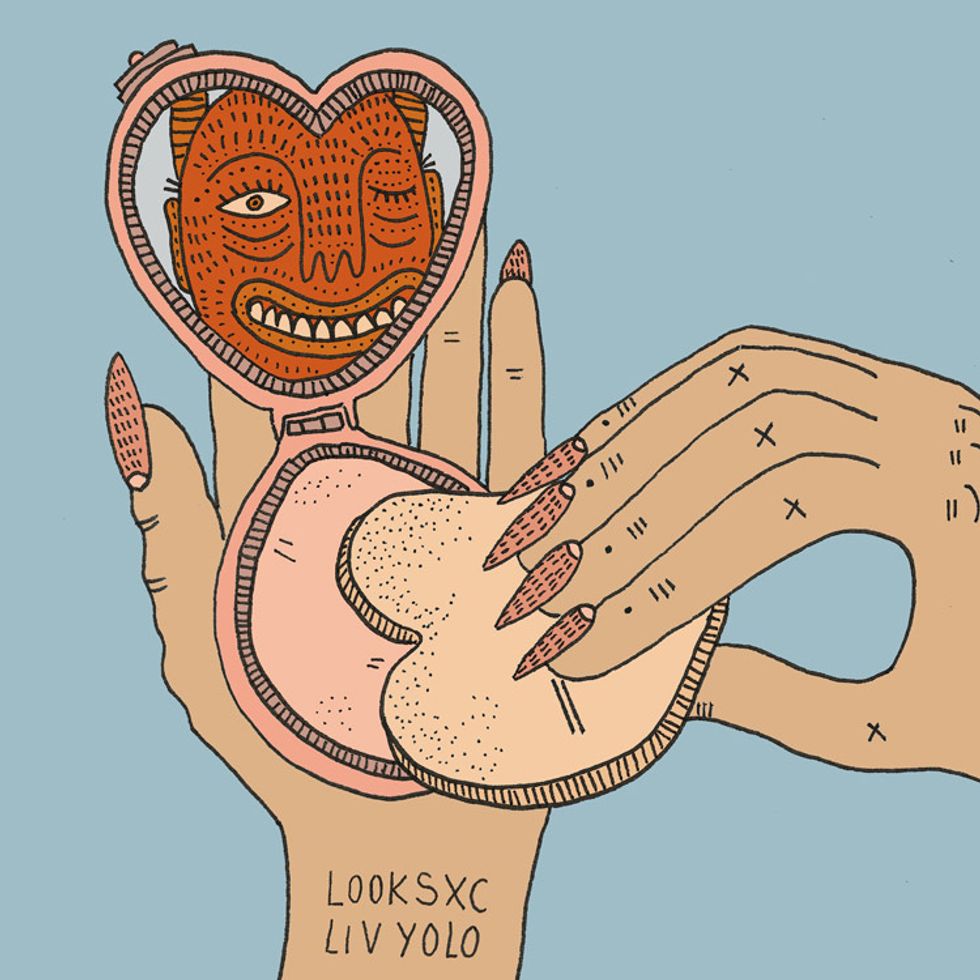 'Look Sxc Liv Yolo' by Polly Nor
What is one of your favorite illustrations that you have created thus far?
I'm not sure. I'm having loads of fun with my recent stuff. I feel like my new work is becoming darker and more abstract, but I think two of my earliest pieces, "Don't Care What They Think" and "Trust Nobody" are two of my favorites. At that point, I had just started experimenting with using the devil as a representation of the female character's inner turmoil, so both the concept and my drawing style was much more basic and cartoony, but still, when I look back at those images, I feel a strong connection to them. I guess because they were the start of it all. My firstborns.
What are you hoping to accomplish as an artist?
The past few years I've been working really hard to produce new work and create enough business for myself to survive as an artist. For me, making a living from my art and having the creative freedom to draw exactly what I want is an accomplishment enough in itself. I just want to continue doing that.
What are you working on now? Any exhibitions or projects coming up?
I've got a lot of new stuff in the pipeline. I'm releasing more T-shirts and prints on my
online store
 throughout the year, and I'm hoping to put on a big solo show too at some point and to release a book. But at the moment, my main objective is to spend a lot more time in my studio. Recently, I have been so busy with press, interviews, running my online store, and working on commissions that I feel like I haven't had enough time to work on all my new ideas. I want to be drawing more for sure.