Within five minutes of meeting Rose McGowan, I'm sitting shotgun in her Porsche as we speed down Hollywood Boulevard to a convenience store. As a massive fan of The Doom Generation, the 1995 film starring a 19-year-old McGowan, this scene feels eerily familiar. But the 42-year-old woman next to me, sporting a choppy pixie cut, leopard-print dress, sneaker wedges, and the most flawless skin I've ever seen on a human, is not, in fact, seductive drifter/murder accomplice Amy Blue. And I'm okay with this. McGowan points at a sign outside the store instructing customers to FOLLOW US ON INSTAGRAM, to which she rolls her eyes and huffs, "Are you fucking kidding me?" in a tone not unlike that of Courtney Shayne (McGowan's character in Jawbreaker). I'm also okay with this.
For the better part of her career, McGowan has either been A.) loved for the iconic characters she's portrayed in now-cult-classic films, or B.) hated and slut-shamed. Lovers' and haters' imaginations aside, the truth is that we don't actually know much about her at all.
The proud Virgo no longer calls herself an actress, but a director, singer, and, most importantly, an artist. After making her directorial debut with Dawn, a short film about a girl coming of age in 1961 America, she's gearing up to direct a feature this spring about a girl with synesthesia. As we chat in her Hollywood Hills backyard over glasses of rosé, post-convenience store errand, she doesn't break eye contact, speaks loudly and directly, and has me hanging on to every word of deity-like wisdom that exits her mouth. No topic is off the table. She gives unfiltered answers, littered with the occasional "fuck," "fuck them," or "fuck off." But there's nothing scary or off-putting about her demeanor, despite how often the press has painted her as such. Her cadence is sweet, almost delicate, though there's a stinging punch behind each anecdote—of integrity, of a distinct voice. And it's time we all started listening.
Click through the gallery for more with Rose McGowan.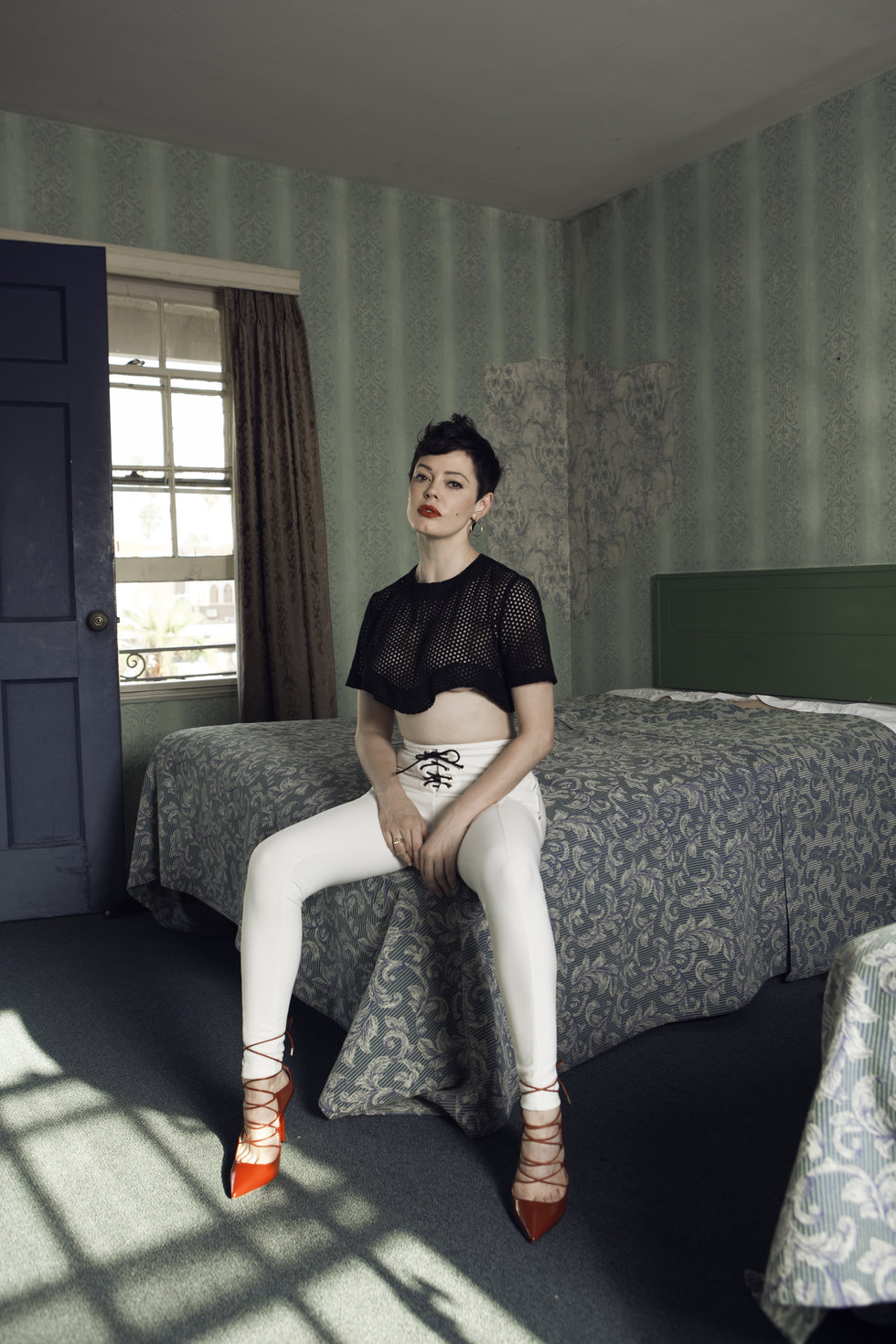 Photographed by Janell Shirtcliff. Styled by Dani Michelle. Top by Cushine et Ochs, pants by Storets, earring by Luv AJ, ring by Alibi.
Recently you've gotten a lot of media attention for just being outspoken—
Honest.
Right. How do you feel about that?
I'm someone who hid from the public for a long time. I was honest in interviews, but I was usually asked pretty stupid questions. And then I realized that, well, I've been saying and doing the exact same things all along in private, but now I'm doing it in public—it's very weird to have all these invisible eyes on you. But for me, it's more about starting a conversation. Everything is being swept under the rug—especially here in Hollywood—and it's just not acceptable. I'm trying to shed light on the reality that in a lot of ways, women are still living in this Mad Men era of male superiority—and I want my life to be less boring. I've been lucky. I grew up with an artist father, traveling all over the world, so I've always seen things a little differently. When I come back to the States, L.A. in particular, I'm like, "Come on." I love the women who get up at the Oscars and make a speech—but that's a one-time thing. We need to start a dialogue about what's not right and what can be changed quickly. And the way to do that, because it wasn't done with any great forethought on my part, is by kind of snapping. 
What was it like waking up to all that press after tweeting about the misogyny in Hollywood?
I was like, "What the fuck?" It's weird to have your phone in your hand and to feel this almost conductive energy. You can touch an app and suddenly all these people's thoughts and opinions on you come flooding through into your brain. Basically, with each new article that comes out, I cringe, like, "Oh God, here we go." I was misunderstood for a very long time. They trick you into thinking you're just a commodity, and as a commodity—as a female—you're really not worth much. And I was like, "Fuck you, yes, I am."
Can we talk about being misunderstood? 
It gets so boring, but I never cared to correct anybody because they didn't have the awareness to figure it out. It wouldn't matter if I screamed from the rooftops on Hollywood Boulevard what I was really about. They never understood what to do with me. If people had been smart, they could have monetized the hell out of me. But I'm very glad that they didn't because I figured out that I just happened to be in the wrong job. I was wearing pants that didn't fit me and it was very uncomfortable. I was very uncomfortable in my own life.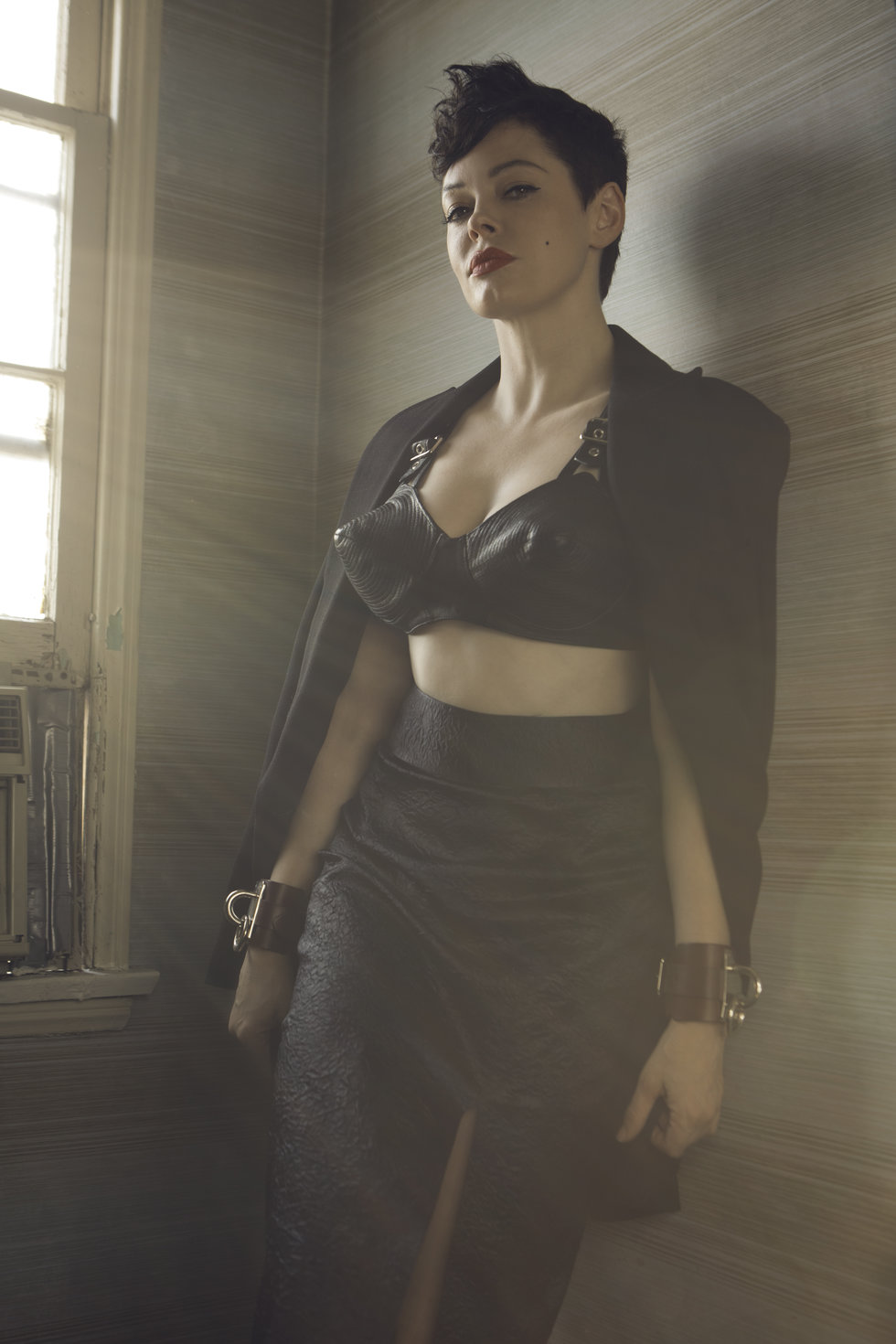 Photographed by Janell Shirtcliff. Styled by Dani Michelle. Jacket and skirt by Zimmermann, cuffs by Zana Bayne, stylist's own bra.
What are you working on now?
I want to start a movement. If there is any way to use whatever I've worked for, I want to push people into the future. It's not futuristic to want equality. It's not futuristic to not want to be paid 77 cents on the dollar, and that's only if you're a white woman—it's unacceptable.
How did you become an actress in the first place?
I was discovered standing on a street corner in front of a gym in Los Angeles. I was 18. And then a year later, I became famous and that was it. The woman who came up said, "Do you want to be an actress?" and I said, "No, absolutely not." And she was like, "Do you want to be in this Gregg Araki movie?" And I was like, "Who's that?" Then finally one day I was like, "Fine, I'll go meet him."
And that was for The Doom Generation, playing Amy Blue.
Yeah. She was rad. I love that movie. We achieved something. Gregg Araki directed the hell out of it. We were all kids when we were doing that movie, and it helped me understand the score real quick—what it was like on set and how girls get treated.
What's the backstory behind the see-through dress you wore to the VMAs? 
It was like, "Fuck you. You want me to go down your red carpet and be your My Pretty Pony? Okay, let's play." I thought wearing that dress was just hilarious. I think everything is a great lark, basically. Until it's not.
You got a lot of slut-shaming after that.
I didn't understand the concept of electronic media, that it would be rolling live. And then, believe me, the shaming went on for years. People thought I stayed home killing puppy dogs at night. It was so stupid.
It's such a double standard.
Completely, and you know girls with a flat chest could show their nipples in a tank top or something, but if you are voluptuous, that's too sexual. My breasts are not your problem, and your problem with my breasts is not my problem.  
I don't want to pry, but can we talk about any personal experiences of sexism you've encountered?
I've had many. There was one movie I did where this actor, for no reason, would walk in the trailer at six in the morning and be like, "I have a bigger cock than your fiancé." The makeup artist would be like, "Oh, you're so funny," and he would be like, "You know you want to just suck my cock." I was just like, "Shut up, you little toad."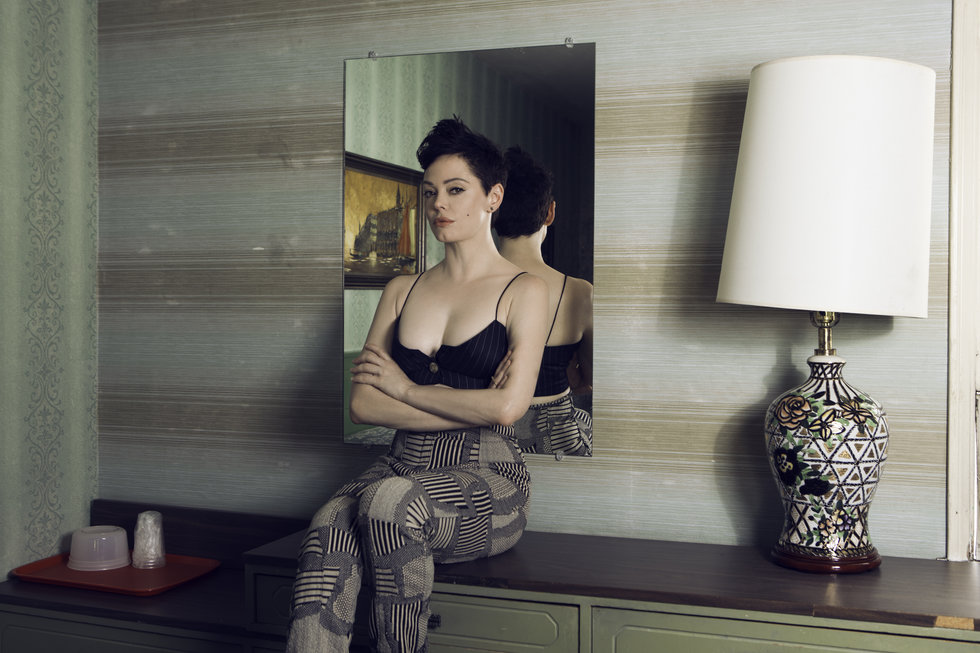 Photographd by Janell Shirtcliff. Styled by Dani Michelle. Top by Vatanika, pants by Acne Studios, Ring by Alibi, McGowan's own earring.
I feel like you've always been cast as the edgy girl, never a girl's girl.
They were always saying, "She's not the girl next door." And I was like, "But I've always lived next door to somebody." [Laughs] The girl next door is vanilla and boring and has no personality. I don't even want to have that for a neighbor, let alone play it.
Tell me about the music you've been making.
I recorded some songs under different names in the past few years that nobody knew was me. That made me laugh in some ways, like pranking the public. 
But now you're coming out with music under your own name?
I guess it's another form of honesty. Before it was like, "Look at the actors who are singing." Usually, it didn't go that well. It's not fair, because it's okay for singers to act. Like, does the world really need Justin Timberlake in a movie? Is anybody like, "Yes, Justin Timberlake is in this movie—let's go on Saturday night! It's on!" No, but Hollywood thinks that's what's happening. Whereas if you're an actor and you sing, you get made fun of.
So tell me about your songs.
One is going to be called "Green Gold." It starts with Blade Runner dialogue and the chorus is very much what I feel. It's the most raw thing to sing because you don't have a character to hide behind. 
What is your most crucial advice for girls right now?
Know your worth, especially at work. And know that you are most likely being paid less than your male counterparts, so when you ask for money, ask for more. And push ahead and really take ownership of your body and your spirit and your mind. It's amazing to watch when girls come into themselves.