The following feature appears in the April 2016 of NYLON.
"I want to be like Lisa Frank—but without all of the strange controversy," says Sara M. Lyons, who herself appears to have emerged from one of the '90s Day-Glo queen's kaleidoscopic creations with her fringed lime green hair and matching eyebrows, clear cat-eye glasses, and pin-laden denim jacket. She's referring to the recent unflattering allegations against the company's management, and, of course, its epic cult empire. And indeed, Lyons is well on her way to building an empire of her own. 
Since her brand's launch in 2013, the 30-year-old Anaheim, California-based illustrator has been creating a world where the Heathers and Mean Girls co-exist alongside punk rock figureheads like the Cramps' Lux Interior—a world where Netflix-watching witches commingle with crying ghosts and joint-lighting "best buds." Lyons's body of work, which has grown to include much-coveted nail decals, pins, patches, and paper goods, is a veritable pop culture mixed bag. "I'm half super-mainstream and half obscure," she explains of her influences. "I'm really inspired by what teens are doing and the digital age, but I'm also not up on what's cool. I don't listen to contemporary music, so I pull from '70s punk rock and skate culture." It's the kind of stuff that Lyons says she found hard to come by when she was kicking around North Orange County California's punk/hardcore scene during her own teen years. "When I was in high school I wasn't cool or accepted, so it's interesting now to see a lot of the girls who buy from me feel like outsiders," she notes.
Click through the gallery to read the rest of the feature.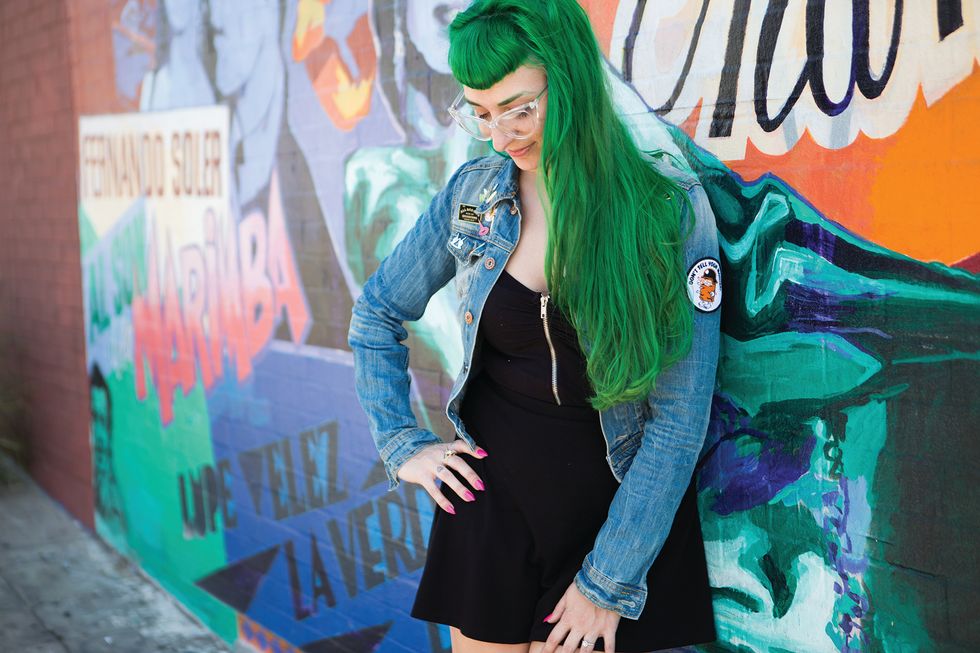 Photographed by Jesse Deflorio.
Lyons' now-booming career started almost by accident, when she turned to her sketchbook after being hit with unemployment during the recession. "I didn't know what I was doing with my life and I wanted something to do aside from being at the bar all the time," she recalls. Circumstances worked in her favor: Lyons started packaging her illustrations as nail decals right as nail art evolved into a cultural obsession. Around the same time, Instagram—where Lyons primarily promotes her brand to over 40,000 followers—brought a renewed interest in the kinds of art objects she makes. "Instagram encourages people to have physical stuff. They're like, 'I'm going to make this zine and post a picture of it,'" she says. "That might be a superficial reason, but if it's encouraging people to make things, that's good.'"
These days, Lyons, who still proudly runs her company independently, is focusing on a different product: apparel. It's a path she's been down before—an endeavor that left her with only a "garage full of T-shirts"—but this time, she's coming at it wiser. And, inspired by friend and body-positive blogger Gabi Gregg, she'll have customers of all shapes and sizes covered. "As a designer, I feel like you have a responsibility to be as inclusive as possible," explains Lyons. That mentality also applies to her price points. "The girls who like my work are the girls who have $20 to spend," she says. "But I want it to feel like a piece of art."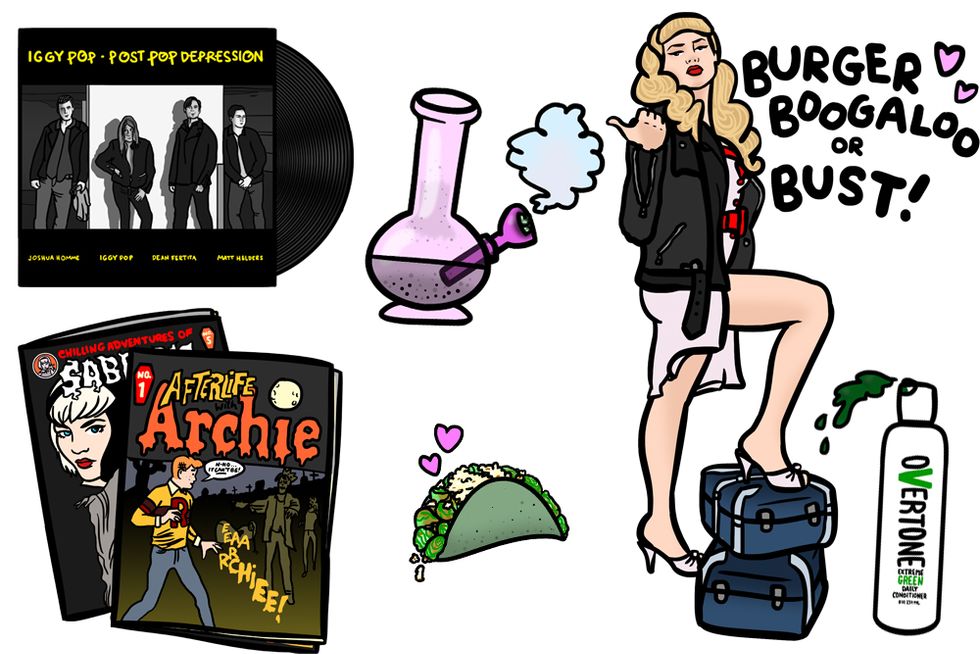 Illustrated by Sara M. Lyons.
Sara M. Lyons' Musts:
Reading: "The recent reboots of Archie Comics have been amazing. I'm really stoked for Afterlife With Archie and Chilling Adventures of Sabrina to come back this summer."
Rejuvenating: "Bubble baths and bong tokes, baby."
Visiting: "I just booked tickets for the Burger Records Boogaloo in Oakland this June (and of course I sprung for the Traci Lords meet and greet)! It's going to be the first stop on the road-trip honeymoon I'm planning with my dude."
Listening: "Iggy Pop's new singles off of Post Pop Depression are so good."
Eating: "Soy-ginger-glazed brussels sprout tacos from Pour Vida, my favorite spot in downtown Anaheim!"
Beautifying: "I'm not good at making regular salon visits, but I'm obsessed with keeping my hair vibrant, so I use Overtone Extreme Green conditioner every time I wash my hair to make sure it stays super bright."