Once you've encountered
Seth Bogart
, it's tough to get him out of your head. As the former leader of pop-punk outfits
Hunx and His Punx
, and the creator of off-the-wall art line
Wacky Wacko
, Bogart isn't afraid to go big, bold, loud, and neon bright. That explains why we're so obsessed with his new solo album, which features earworm collaborations from equally edgy artists including Tavi Gevinson, Cherry Glazerr, and Kathleen Hanna.
We chatted with Bogart about beauty school, going solo, and why he might need to leak a new batch of naked pics on the Internet. 
Can you recall your earliest encounter with music? 
Listening to my dad's Pointer Sisters tapes and doing lip-sync shows for my grandma to Tevin Campbell and Prince.
What is your background in music and art? How did you get started doing both? 
Begged for a guitar in high school so I could learn Hole and Smashing Pumpkins songs. Never did much art till I was in my 30s, except for painting video sets, designing record covers and T-shirts, and making zines and stuff. I thought I was too punk for art and felt grossed out by white-room galleries and art people. 
How did you develop your technique as an artist? 
From just doing it! I went to beauty school, not art school. Recently, I did take a few painting classes, which was really eye opening. But literally almost zero training, which is pretty obvious. For me, it's way more about doing art than learning to be technically good at it.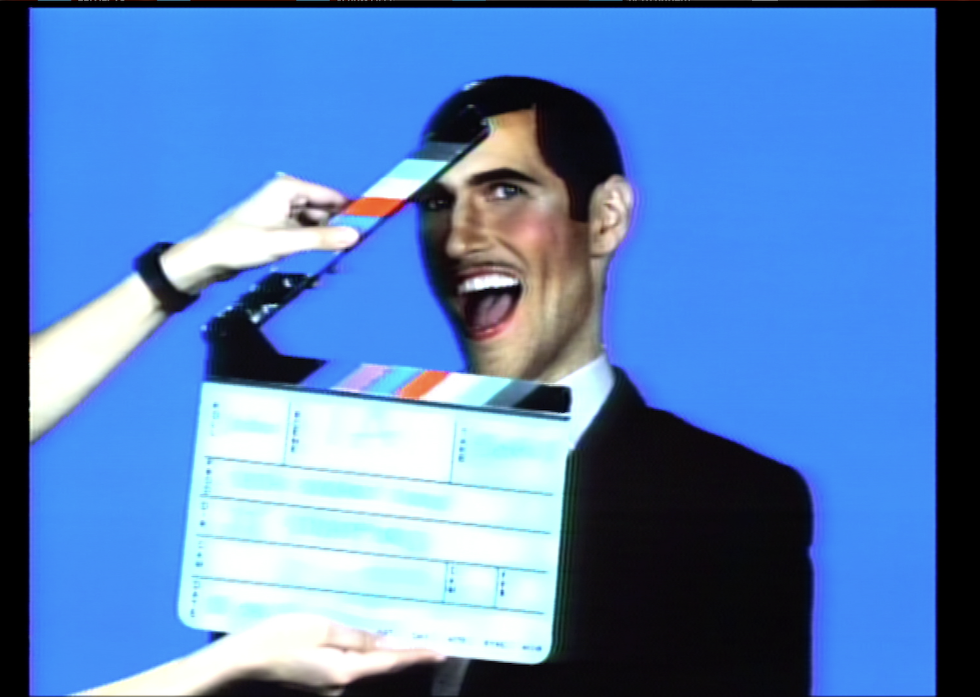 Photographed by JJ Stratford.
How is your solo work different from Hunx?
Hunx to me is a punk band. A group effort. Each person had their instrument and their role. This solo album mostly starts from me making songs in my bedroom with a guitar, keyboard, and laptop. And then taking them to my friend Cole [M.G.N.] who transforms them and turns them into pop hits. I kinda think I might never go back to the old way—being in a band. Although I was kinda craving it the other day. 
You have a lot of features on this album. How did you go about making those selections?
I've always wanted to do a song with Kathleen and have known her for years from when my old band, Gravy Train, toured with Le Tigre. She is one of my favorite singers. I heard Tavi sing and was kinda blown away by her voice and think she's pretty amazing in general, so I thought it would be fun to have her on a song. Chela is someone I didn't know but was a giant fan of her music so I just contacted her and it worked out. Clementine [Creevy]'s band, Cherry Glazerr, played their first song with Hunx at a skate park in Orange County. I always thought she had such a cool voice and it seemed like a good idea to have a teenage girl play and sing on my album because she would probably do something cool and unexpected—which she did. Jeremiah [Nadya], who sings on "Lubed," is a good friend of Cole's and I'm obsessed with his voice. There was literally a list of 20 people I wanted to work with. Hopefully, I will get to collaborate with a bunch more on the next album. 
What was the process of putting your new album together?
Cole and I worked off and on on it for over two years and didn't really stop writing songs till we felt like we had 12 that made sense together. In the past, I always recorded an album 
in five days
 or less, so this was a totally new way of working for me.
The music video for "Eating Makeup" looked very crafty! Are you generally very hands-on when it comes to the creative aspects of your work?
Yes, always. The creative aspects are my fave parts. I also collaborate with a lot of people. For instance, my friend Christine Stormberg and I did all the sets and props for "Eating Makeup" together. And Peggy Noland did the costumes.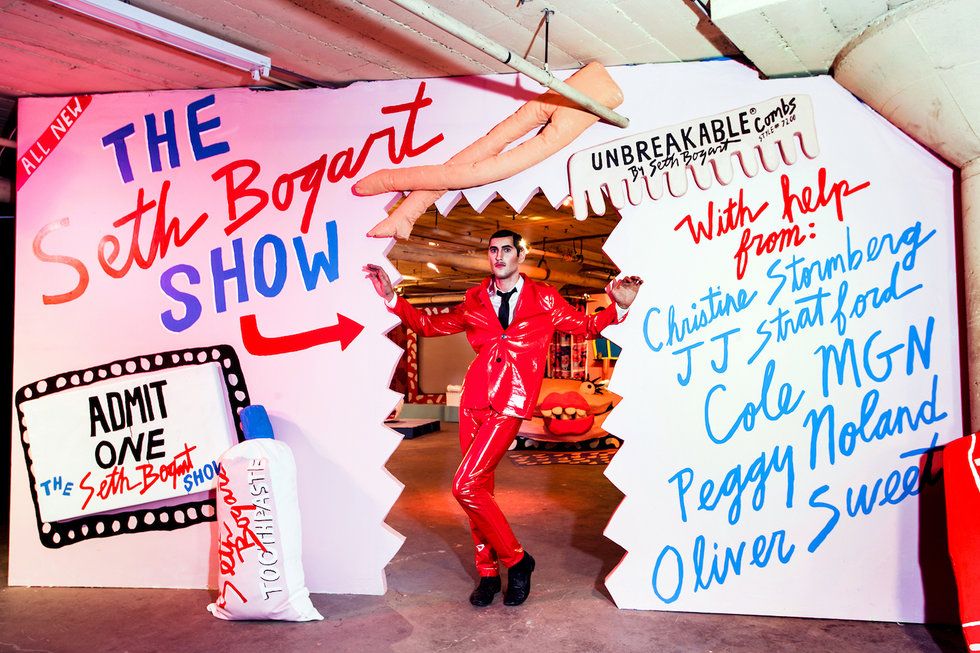 Photographed by Suzy Poling
Tell me about the Wacky Wacko mag! What's it got going on inside?
The most recent issue is about obsession. I interviewed some of my favorite entertainers, like Dina Martina and Geneva Jacuzzi, wrote about hot gay porn stars and stalking celebs, and asked a bunch of my friends to contribute something.
What is your personal favorite song on the new record? 
Definitely "Forgotten Fantazy,"  followed by "Lubed" and "
Sunday
 Boy." I honestly love every song, though.
Your  exhibit looked like an absolute dream. Can you tell me about what that experience was like for you? 
It was an absolute dream. I don't know if I could top it! The exhibition took place in LA at my favorite gallery, 356 Mission Rd. Wendy Yao from Ooga Booga runs the gallery with Gavin Brown and Laura Owens, a painter I really love. I was obsessed with Wendy's band, Emily's Sassy Lime, in high school and interviewed them for my zine. It really felt special and full circle to get to work with her. I can't say enough great things about their space. The important events they always host—always free—the amazing shows, the screenings, the parties, the talks. I worked on the show for over a year and never thought it would be possible for it to turn out how it did. I had help from my dream collaboration team: JJ Stratford, Peggy Noland, Oliver Sweet, Christine Stormberg, and Cole M.G.N. I hope to bring the show to other cities eventually. But I'm also in the mood to work on something new. 
What's something nobody knows about you that can't be found on the Internet?
Sadly anything you want to know about me, including what I look like naked, can be found on the Internet. I need to leak some new nude pics because my body is looking so much better these days!