The following feature appears in the May 2016 issue of NYLON.
It is early—arguably too early for television royalty—on a Friday morning in London, at a dimly lit bar optimistically called Paradise. Sophie Turner is due here at 9am. It would be her prerogative to keep me waiting for hours, as other stars have done—but, no, here she comes a mere three minutes past, makeup-less and naturally radiant. She is wearing brightly patterned leggings and a baggy, deep armhole tank. Her fingernails are bare, and the left lace of her Converse All Stars shoe is untied.
Though she has been gainfully employed since the age of 15, and stars in Game of Thrones, a TV juggernaut, her upcoming role in X-Men: Apocalypse—where she plays Jean Grey, the flame-haired telepathic and telekinetic badass—should comfortably confirm her budding A-list status. For now, at least, the 20-year-old actress remains refreshingly down-to-earth, and downright uncomfortable in most Hollywood situations.
"Oh, I never really feel true to myself when I'm doing interviews," she confesses, quickly adding, "well, most of them. On TV especially, I just feel like I am so media-trained, making sure I say the right thing, and not giving away plotlines. It's just regurgitating other people's opinions to please people, basically."
Click through the gallery to read the rest of the feature.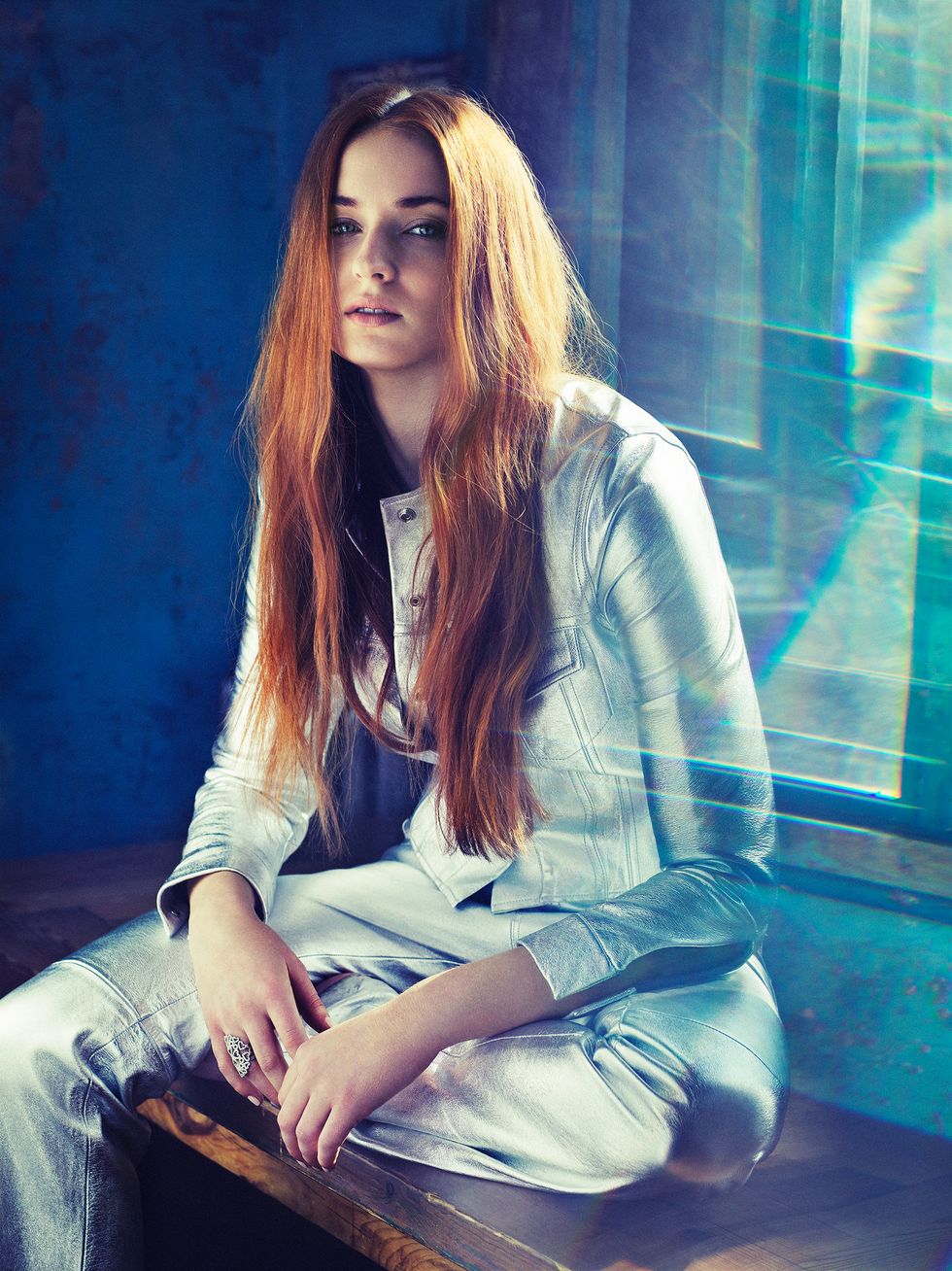 Photographed by Simon Emmett. Jacket and pants by Marques'almeida, ring by Apples & Figs.
That cog-in-the-machine mentality comes with being a part of a major franchise. Game of Thrones, in which she plays noblewoman Sansa Stark, is one of those series for which the phrase "spoiler alert" might well have been coined. Everybody wants to know what's going to happen next, yet nobody wants anyone to ruin the surprise. Of X-Men: Apocalypse, she is permitted to reveal about the same amount as she is on the super-anticipated sixth season of GoT. In other words, not much.
But the role of Jean Grey was one she desperately wanted after an intense screen test in L.A. and a two-month audition process. Turner says the battle, while anxiety-inducing, was well worth it. She had a blast during the movie's filming in Montreal. "It's a really young cast now, a real party cast," she says of her co-stars, including James McAvoy, Michael Fassbender, Alexandra Shipp, and Jennifer Lawrence. "A cast coordinator organized activities for us, and so the first time we met was at a Drake concert. We bonded so much. I consider them all my new best friends."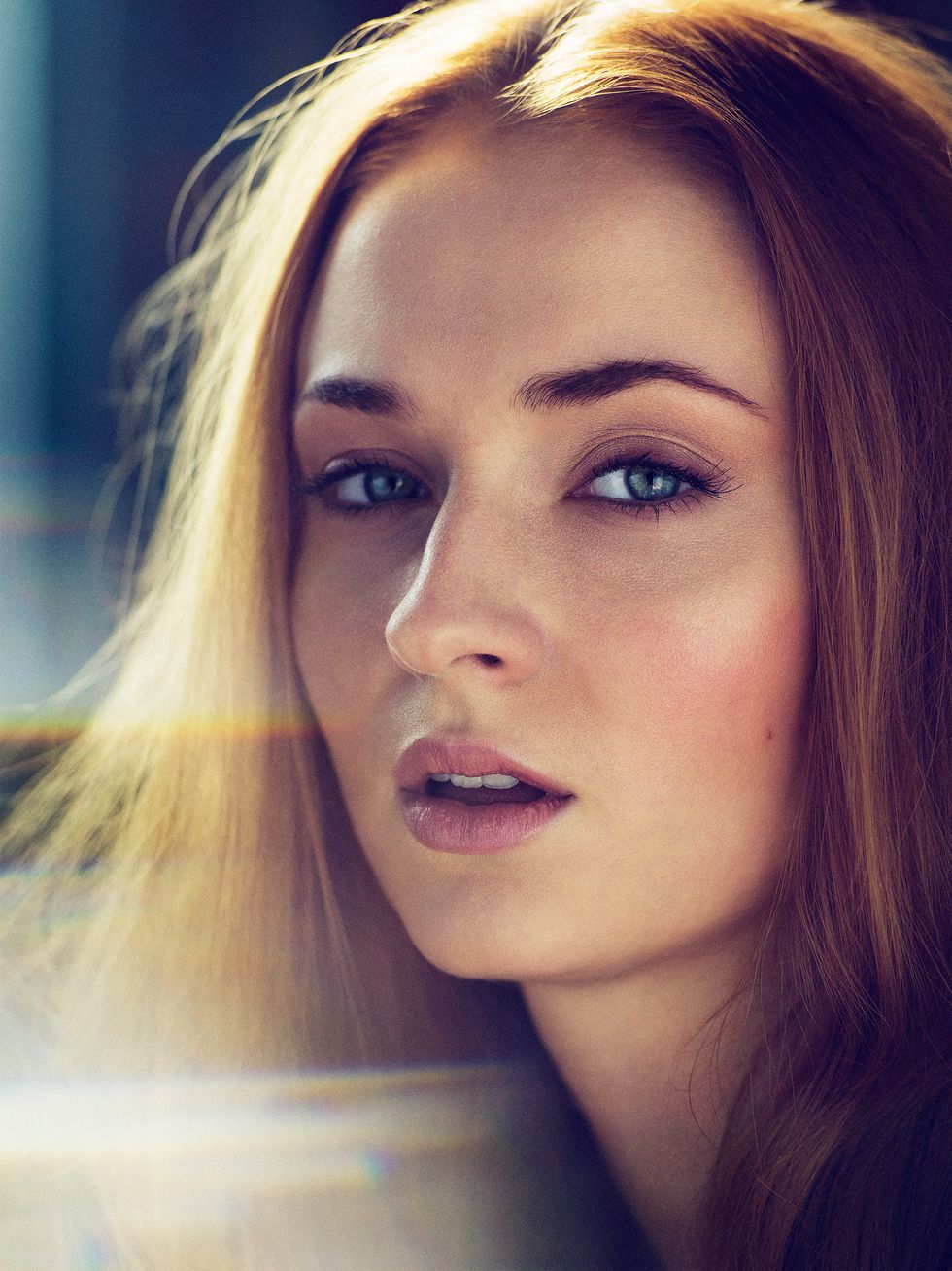 Photographed by Simon Emmett.
Turner is used to bonding on sets by now. She started on GoT back in 2009 with fellow Brit—and this month's cover star—Maisie Williams, who plays her sister, Arya. The pair have basically grown up together. "You know, I think if we hadn't met on set, we probably wouldn't be friends now, simply because we are such different people," she says. "I've always seen Maisie as this rebellious, cool kid, while I'm more passive-aggressive, or else just passive. I hate that about myself, and I love that Maisie is just who she is. We spent the past five years basically sharing a hotel room (even though we each had our own), having endless sleepovers, lots of line rehearsals, and lots of food and messing about, too."
Take out the fame part, and it doesn't sound too far from what she would have been doing while growing up in her small village in Warwickshire, a two-hour car ride from London. Her mom is a teacher, her father a logistics consultant, and her two older brothers are big into sports. From the age of three, Turner was enrolled at the local youth theater—"the youngest person ever to join," she says—and after parts in productions of James and the Giant Peach, Scary Play, and Se7en, she landed the TV role that would make her so globally famous that the following clichéd sentiment rings very true: She hasn't looked back since.
"I'm very aware that I haven't spent years honing my craft, and that a lot of people would probably like to be in my situation," she says, "which is why I don't take it for granted. It feels like such an insecure industry, and I'm always anxious about it, constantly worrying: Is this going to last? Will I still get work? Will somebody please let me know if I still have a job?"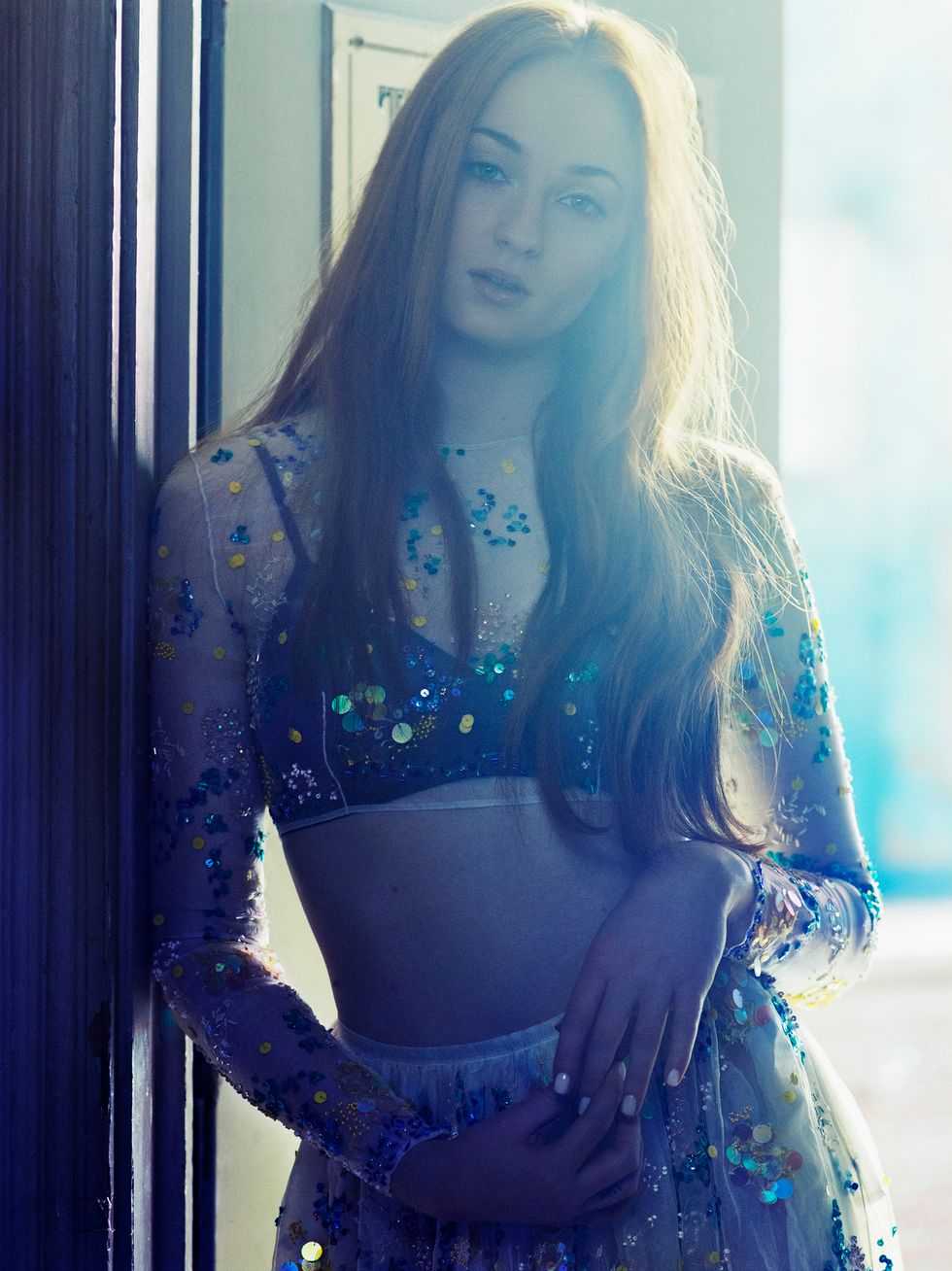 Photographed by Simon Emmett. Top and skirt by Ashish, bra by Won Hundred.
Despite Hollywood's calling, Turner chooses to remain in London, where she surrounds herself with her childhood friends in order to still feel "normal." "I have a really good bullshit radar!" she says. "Everyone in Los Angeles has an agenda. They want to make friends with you because of who you are. It's like: 'We're famous! Let's be friends!' I'm like: 'But I don't even know you!'"
While the rest of the world is wishing they could step into Turner's shoes, she has far less glamorous daydreams. "I'd like to work at Starbucks," she confesses. "I love the idea of having a job for a good long time, a schedule, a regular routine. I'd love to interact with people, too, and not be constantly worried that they might recognize me. Don't get me wrong, I adore acting, and I've always wanted to do this, but there is a lot of loneliness attached to it. Sometimes, you just want to go unnoticed, and I have this desire to be able to talk to people just for the sake of talking, and not because they know who I am, you know?"