The following feature appears in the December/January 2017 issue of NYLON.
Perched on a couch in her Williamsburg apartment, Tanwi Nandini Islam reflects on the poetry of how she got here. "I've lived a very transient life, so I was never in one place very long," she recalls, itemizing her many homes like bullet points on a grocery list ("Illinois, Alabama, Texas, Missouri, Bangladesh…," she recounts). "As a kid I would watch Where in the World Is Carmen Sandiego? and think about where I would choose to live if I got to be on the show. I would always choose New York," she says. "Funnily enough, I did move to New York and I did go to that show—but before moving to Brooklyn I totally had this experience of craving one home that had history, a place where I could set down roots."
The experience of yearning for home—real or imagined—inspired Islam's critically acclaimed first novel, Bright Lines, which was released in 2015 and tells the story of a young Bangladeshi woman who struggles to make peace with her family's past amid the twin backdrops of Brooklyn and Bangladesh. This kind of narrative reflex also fueled Islam's interest in olfaction as an alternate vehicle for storytelling and comfort. "I started collecting essential oils and it just sort of became this thing," she says of Hi Wildflower Botanica, the fragrance line she launched while writing her book.
Click through the gallery to read the rest of this feature.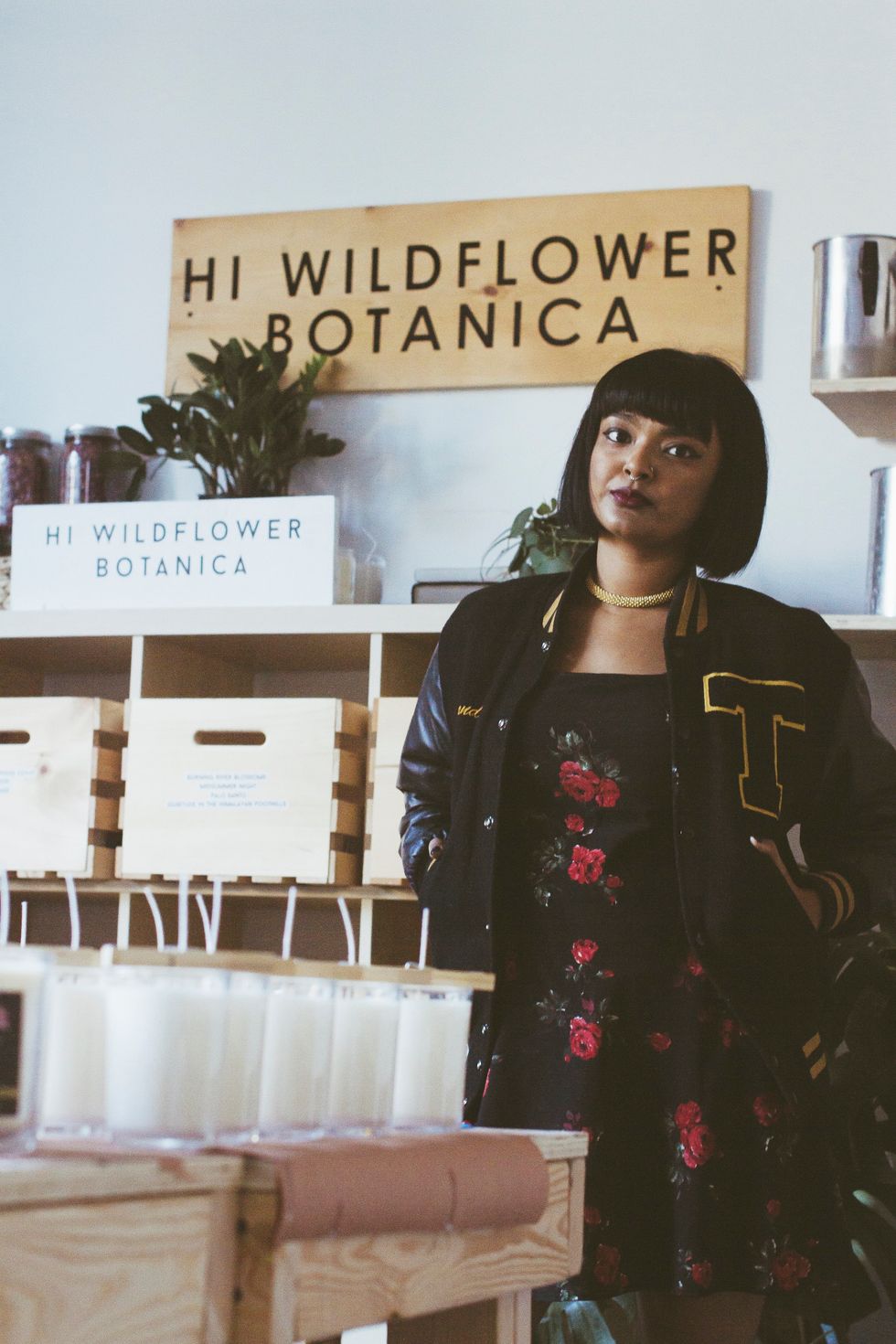 Photographed by Danny Kasirye.
"Scent is a moment of meditation and reflection," she explains of the endeavor, which pairs rare botanicals and fine perfumery raw materials to evoke ancient rites and faraway places. "Especially in a place like New York, I can only imagine that anyone who is hustling needs to light a candle, get a glass of wine, and chill. Hi Wildflower is connected to that." 
It was in the course of exploring the world through scent that Islam landed on the idea of making candles inspired by books, designing fragrant notes to encapsulate the novels that influenced her. "For Kiese Laymon's book Long Division, he described the South through the botanicals of 'moss and magnolia' and we just hit it on the head," she recalls of a recent collaboration. "It's really fun, because it's like fan fiction but with a candle."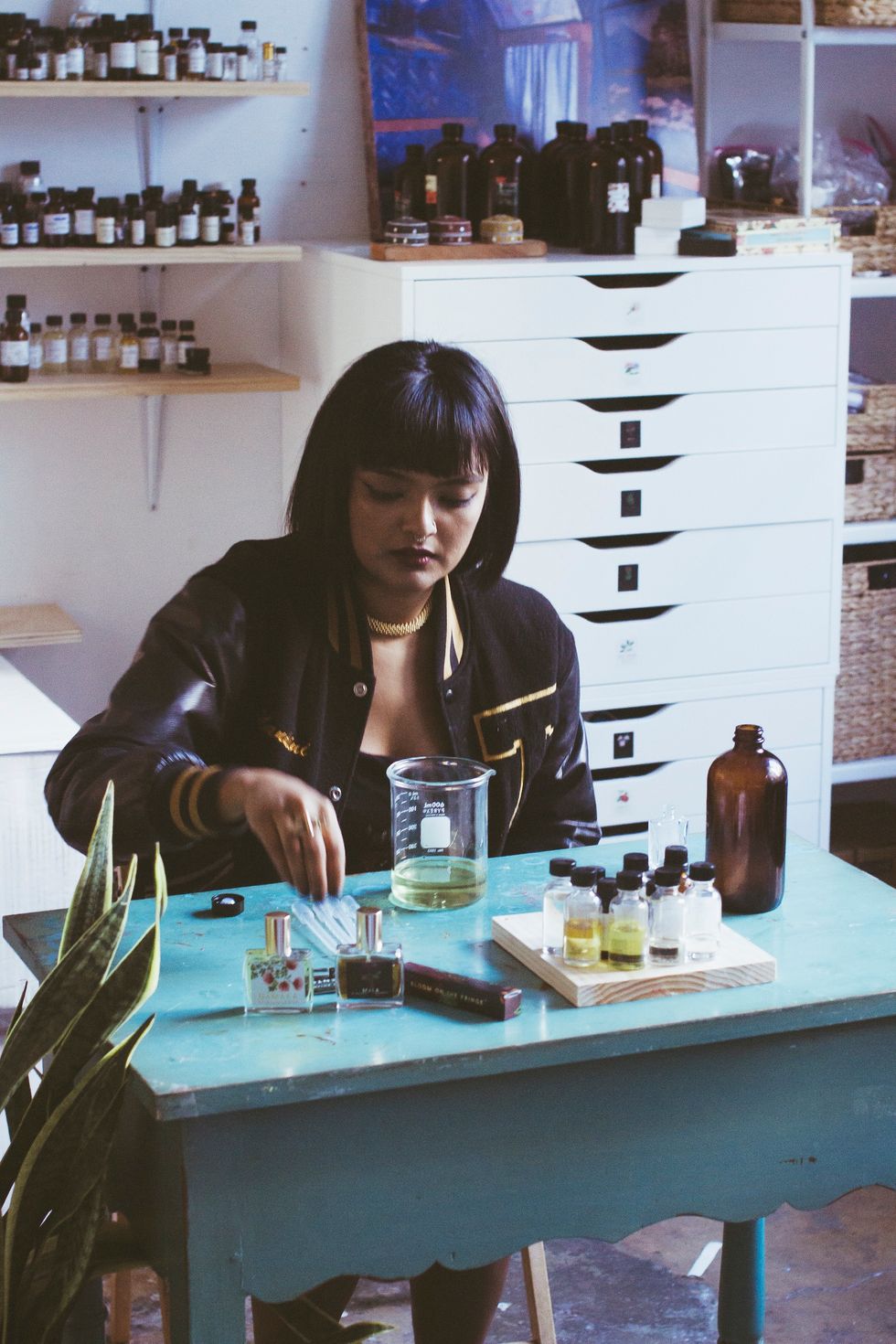 Photographed by Danny Kasirye.
Her next installment of perfumes will be inspired by the book that she's working on as of this writing. "It's called Remnants of a Star, and it's about a filmmaker and a perfumer who make a film about the oldest woman on earth," she says. "I love the idea of creating a parallel olfactory universe to heighten the experience of the novel. Scent really does transport you, and that's what I want to play with."
So what is her favorite fragrance? "I love [Hi Wildflower's] Mojave. On my book tour in L.A., I drove to Joshua Tree one night, alone. The sky was covered in stars, the Milky Way was out, and the desert smelled like outer space—I felt like I was on Mars, because Joshua Tree looks like that. The perfume is inspired by sacred, burnable notes like palo santo, sage, eucalyptus, leather, warm vanilla, and this desiccated-earth scent," she muses, expounding on the beauty of the journey she tried to capture for Mojave. 
"That's why I love perfume—because we don't need it, but we need it," she says with a smile. "It brings us pleasure, and the world needs more of that."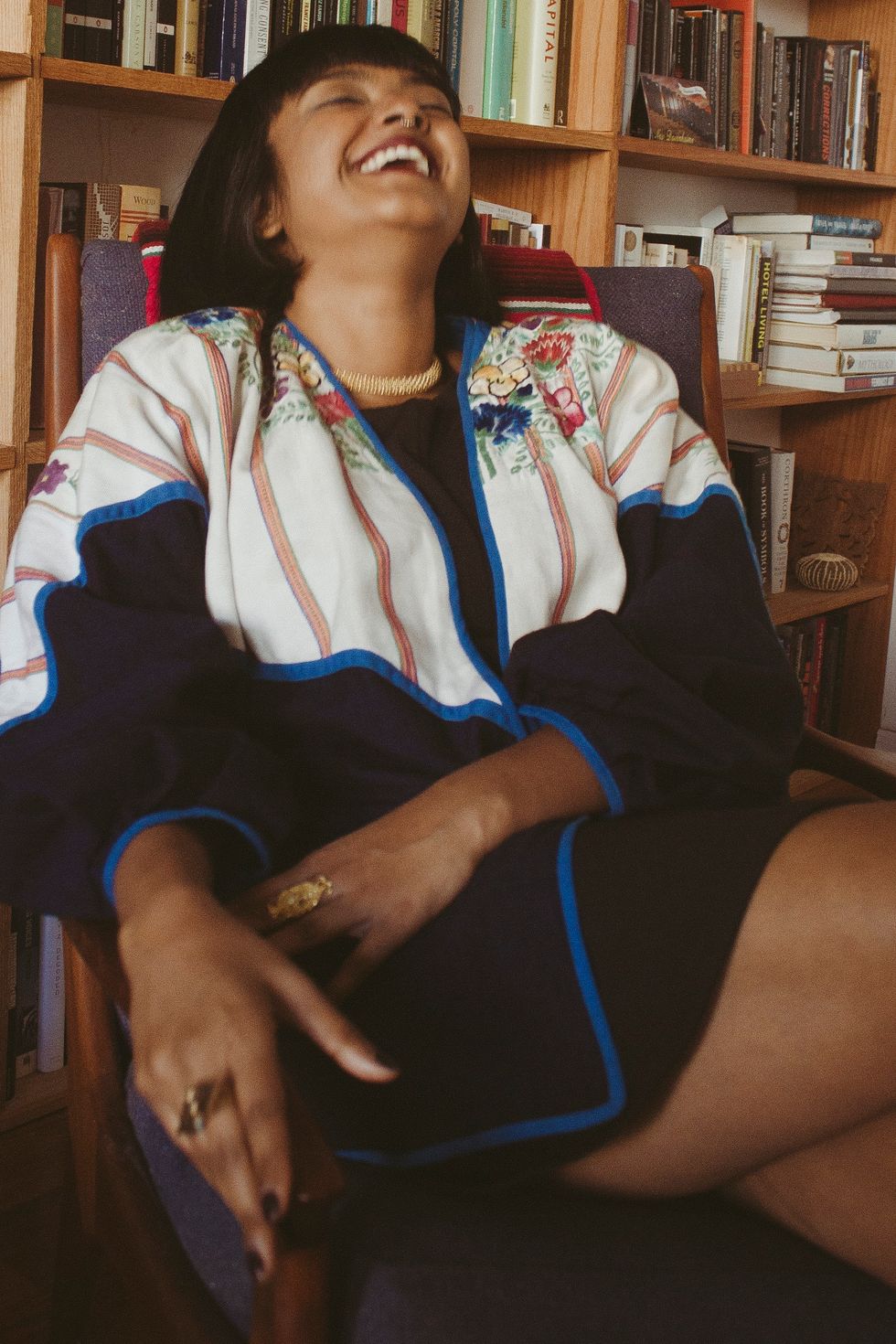 Photographed by Danny Kasirye.
Get to know Tanwi:
Eating: I always love the tacos at La Superior, and I'm all about the no-nonsense, delicious food at House of Small Wonder. 
Drinking:  Donna's Brancolada is amazing—it's a frozen piña colada with Branca Menta.
Thrifting:  Dusty Rose Vintage has amazing jackets. I also love Narnia Vintage on the high end, and Fox & Fawn has crazy finds.
Listening:  I have been into William Onyeabor for so long; he's great. I also like Flying Lotus, Little Dragon, and Erykah Badu, of course. I love really meditative, atmospheric R&B vibes. Ride or die for Erykah! 
Beautifying:  Purple lipstick forever. My favorites include Nars Silvia (which is limited-edition) and Smashbox Tabloid.
Browsing:  Searching for inspiration is an analog experience. I'll dip into The Wild Unknown tarot deck or The Book of Symbols from Taschen to get my creative juices flowing. 
Reading:  The Farthest Shore by Ursula K. Le Guin
Traveling:  I just went to Medellínand Cartagena, Colombia, and I highly recommend it if you're into architecture, music, and food. Old Cartagena is the land that inspired [Gabriel García] Márquez, and there is an amazing cevichería called El Boliche—it's so good! 
Coveting: I love Maryam Nassir Zadeh's square heels—I'm so glad the square heel is back.
Believing:  There are two phrases that came to me when conceiving of Hi Wildflower—"Bloom on the Fringe" and "Grow Free and Everywhere." These allude to wildflowers as a metaphor. They grow out of concrete, cliffs, sand dunes, meadows—and in that spirit, I think each and every person should choose originality and being true to their own divine nature.