The following feature appears in the February 2016 issue of NYLON.
It's Friday night and the 14-year-old French model-slash-actress Thylane Blondeau has some pretty enviable plans for the weekend ahead. "Tomorrow is—I don't know how you say it in English—the avant-première of my movie [Belle & Sebastian: The Adventure Continues], so I've invited all of my friends and family and teachers to come and see it," she says excitedly over the phone from her home in Aix-en-Provence. Indeed, most teens could only dream of the life Blondeau has managed to carve out, complete with an Instagram full of pictures from trips to Saint-Tropez and selfies alongside the likes of Balmain's Olivier Rousteing—very #casual.
Discovered at the mere age of four (though she admits she was too young to remember it), she subsequently—and famously—made her childhood catwalk debut for Jean Paul Gaultier. Campaigns with Ralph Lauren, Lacoste, and Hugo Boss followed suit, as did a shoot with French Vogue, which stirred up controversy when some people found the images inappropriate for her age, catapulting Blondeau even further into the spotlight. But it was all part of the journey, and today the teen is building the foundations of an adult career, with the aforementioned foray into acting, editorials in publications like Teen Vogue, and a campaign for Eleven Paris' youth line included among her projects.
Click through the gallery to read the rest of the feature.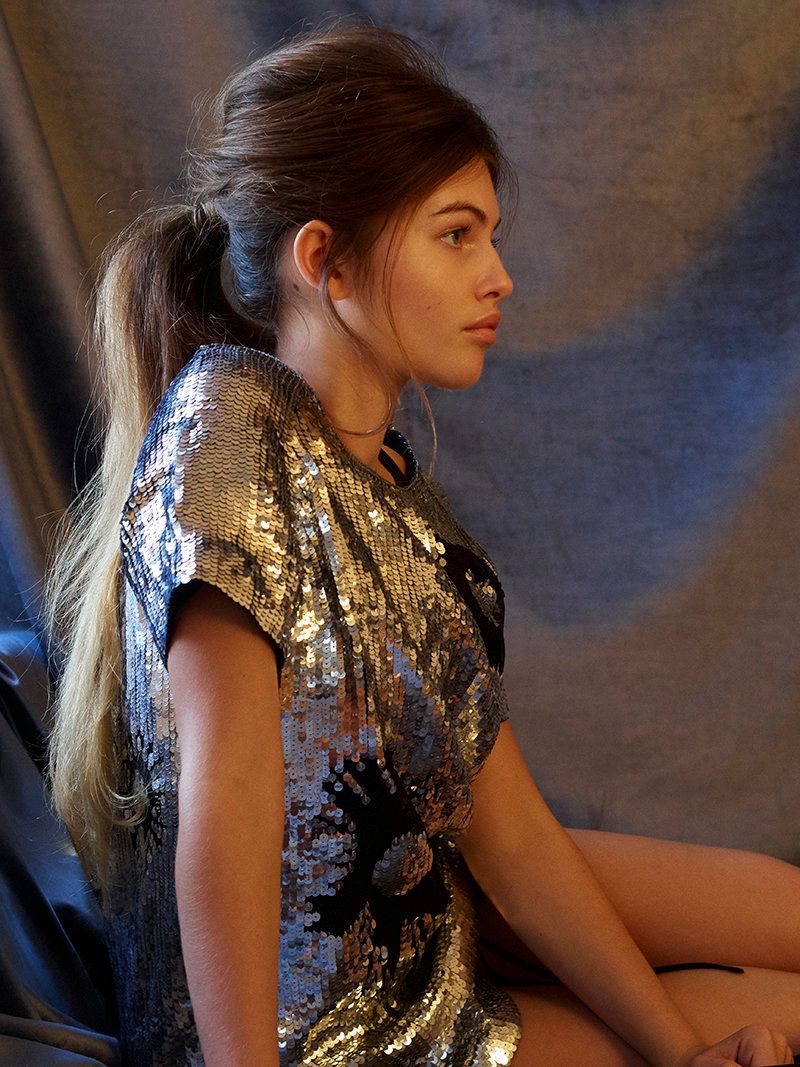 Photographed by Kristin Vicari. Top by Ashley Williams. Stylist: Jeanie Annan-Lewin. Hair: Helene Bidard at Artlist Paris. Makeup: Ismael Blanco at Agence Aurelien Paris.
Talking to Blondeau, it's very clear that she has a good head on her shoulders, and hasn't let her early fame cloud her appreciation for the joys of regular life. "My friends are so happy for me and my parents are very proud of me, but I never talk about my job when I'm with them," she explains. "It's my private garden and I don't want to think about it when I'm with them." School is also very important to her. "I'm really organized. It's difficult because I miss it a bit, but I'm a good student," she declares proudly. English, Italian, and French are her favorite languages to study, and her extracurriculars include dance, basketball, and tennis. (Interestingly, she's less keen on soccer, despite the fact that her dad is the famous French player Patrick Blondeau.) She's also really into music, and plays the piano, guitar, and drums (the latter of which she likes the best). Could starting a band be on the horizon? "Oh, I would love that! But not now—yeah, I think I am too busy," she says with a laugh. We'll see.
Predictably, the teenage Blondeau is also a big fan of social media. "I think it's important and it's part of life now," she says as she breaks off to double-check on her current stats: On the day we talk she's at a staggering 168,000 followers on Instagram and 25,000 on Snapchat. "I love sending pictures of what I'm doing," she remarks, which, on any given day can include hanging out with celebs, taking a turn down the red carpet with her mom, actress Véronika Loubry, or pulling off tricks on her skateboard. 
In terms of her future goals, she finds modeling inspiration in Gigi Hadid, Kendall Jenner, Cara Delevingne, and Kate Moss. "They're my idols," she enthuses. Continuing to act in films is certainly on her agenda as well—preferably action adventures, Angelina Jolie-style. "If I can do both, that's amazing. It's a dream for me," she says. 
When she's not working, you'll find her spending time with her friends and family (probably while wearing her mom's black leather Balmain jacket), chilling out listening to The Weeknd, and generally enjoying the South of France. "The weather is always sunny and there is no stress," she says. "People are always Zen."