Tinashe is halfway to the bottom of a glass of pinot noir when she spots a banker bro in pinstripes dancing through the Hudson Hotel's Library Bar, seemingly unaware of the fact that he's in the presence of a 22-year-old R&B star. 
Unfazed by his impromptu crotch grab, Tinashe eggs him on, yelling out: "MJ, you got the moves!" He takes this as an invitation to share that he's on a Tinder date, is "literally in love," and wondering whether he should jerk off in the men's room to let off steam. Suddenly, Tinashe's a relationship expert: "Yes, you don't want the sexual tension to overpower your date—and don't get too drunk!"
Click through the gallery to read the rest of our profile on Tinashe from the December/January 2016 issue.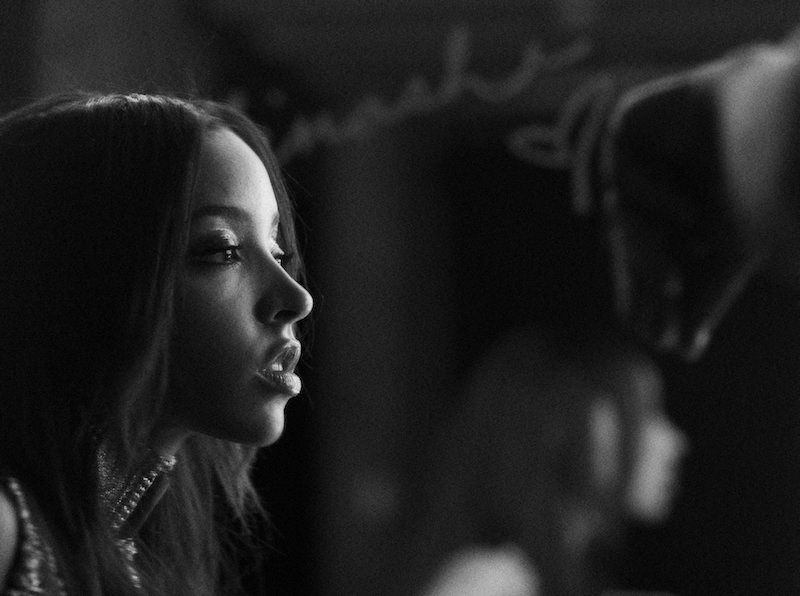 Photographed by Olivia Bee. Styled by Shiona Turini. Dress by Marc Jacobs.
In his defense, Tinashe looks nothing but approachable in tapered black pants, a Dr. Dre and Snoop tee, and leather bomber—Ralph Lauren swag she picked up last night at a performance for Denim & Supply (she's in their most recent campaign alongside Cody Simpson and Bella Hadid). A natural entertainer, Tinashe is used to being constantly on, a quality that might register as "rehearsed" were she not so layered an artist. After the success of "2 On"—her erogenous club single produced by DJ Mustard—it came as a surprise that her debut album, Aquarius, wasn't just a vehicle for radio pandering. Instead, it was a labyrinth of moods, from breathy exhalations to smoky nightlife numbers.
Her music feels intimate because much of it is recorded in her bedroom. She "abso-fucking-lutely" loves solitude. This ties in with her need for hands-on curation. For her earliest videos (before signing to RCA in 2012), she'd recruit her parents to film while one of her two brothers ran the lights. "I think the fact that it came from that genuine place helped," she says. "People respected that I had a point of view." Her later self-directed videos ranged from simple (Tinashe freestyle dancing in a tunnel in "Bet") to conceptual (Tinashe traversing a desert in "Bated Breath"), with seamless choreography that earned comparisons to the youngest Jackson—she was even tapped to perform a tribute to Janet at the 2015 BET Awards.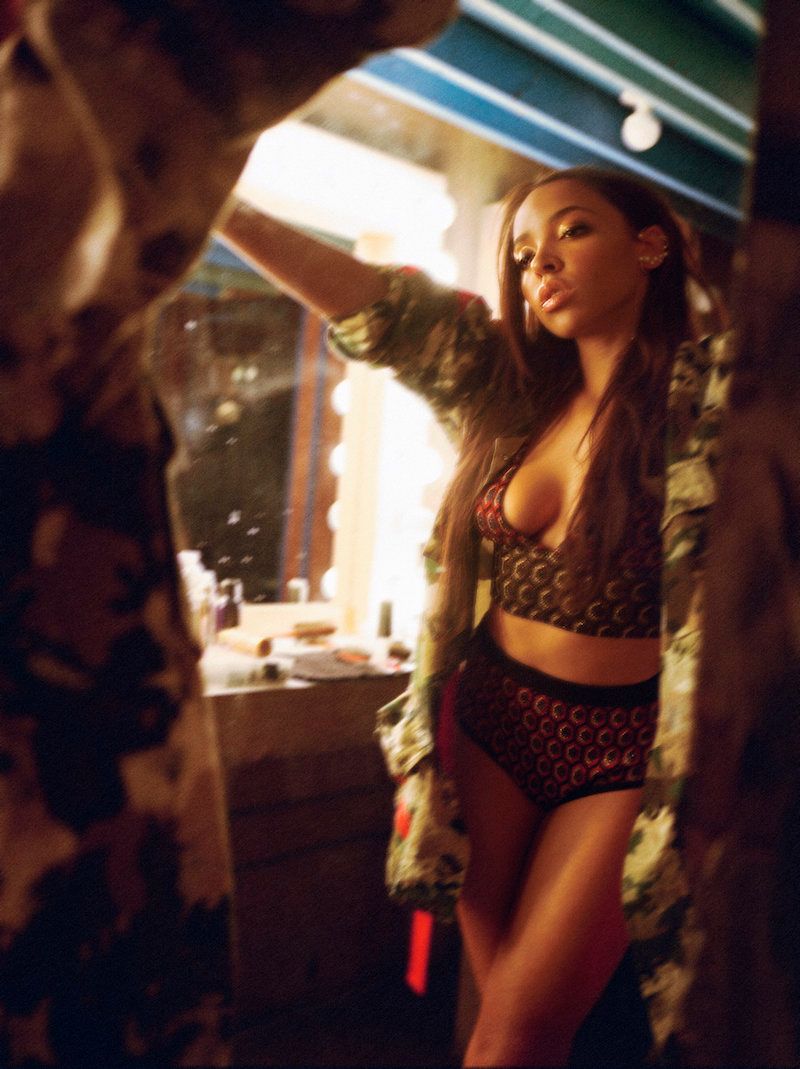 Photographed by Olivia Bee. Styled by Shiona Turini. Jacket by Off-White c/o Virgil Abloh, top and bottom by Marni, all jewelry by Fallon.
For her upcoming sophomore album, Joyride, Tinashe hopes to present "a snapshot" of where she is in her life right now. The songs are pulsing ("Player," featuring Chris Brown) and visceral ("Soul Glitch"), and wrestle with darkness and light. "I'm generally more of a bright person than a dark person, but I have different sides of my personality that I like to play up," she says. "I'm really into scary movies, murder mysteries, dark themes, and the emotion that a sad song brings, but I like to touch on that without going the full 'I hate my life' route."
When she writes about love, it's from a distance. Her longest relationship, which lasted two years, ended three years ago. "I don't feel like I've fully been in love," she says. "Someone will break my heart and I'll write Adele's 21 right over again," she jokes, glancing down at her phone, which is protected by a Jeremy Scott case that looks suspiciously like a Windex spray bottle, a gift from the designer. "When you're younger you think about love a lot, like, 'I can't wait to have a boyfriend. I can't wait to be in love. I'm gonna write a bunch of songs about it.' That was me," she says. "But that's not my focus anymore. I find myself writing a lot more about being underestimated." 
Clearly, she's happy to offer dating advice to random dancing bar patrons, but double standards make her cautious of exposing her own love life: "If a girl was like, 'Yeah, I had sex with all 10 of those groupies!' people would be like, 'We're never bringing you back on tour again, you slut!'"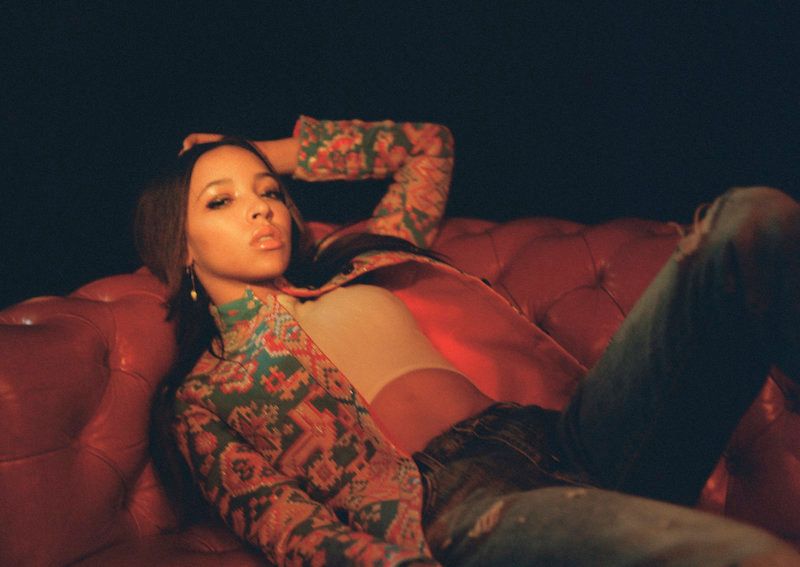 Photographed by Olivia Bee. Styled by Shiona Turini. Jacket by Valentino, bodysuit by Baja East, jeans by Denim & Supply Ralph Lauren, earrings by Dior.
But she's been career-minded since she was eight years old and recruiting friends and cousins to act in originally scripted movies recorded on camcorders, with herself as the bossy director. "We'd set up a theater, make popcorn, and charge our family a dollar to see our movies," she says with a laugh. Seemingly endless school days made her feel restless and isolated. "I didn't have a ton of friends, so I didn't enjoy the social aspect of school," she says. "I really started to feel like I was in kid jail." To stem the boredom, she tried her hand at professional acting—a few fans might remember her from Two and a Half Men as the half-man's girlfriend. From 14 to 18, she performed as part of Vitamin C's Stunners, a girl group that toured with Justin Bieber.
While she's certainly rolled with her share of A-list celebs, Tinashe is well aware of the limitations of fame. "I have industry 'friends,' but you never get to know these people," she says. "I love being alone. I kind of prefer it." Indeed, whenever she finds herself in New York, like tonight, the first person she calls is her best friend from her Girl Scout days who now attends Columbia. But tonight, she's staying in. "People assume that I'm super outgoing and always want to hang out," she says, glancing at her empty wine glass as if to consider ordering another and then deciding against it. "But truth be told, outside of work, I would definitely rather be watching Netflix."