Friends don't let friends miss out on all the cool, under-the-radar things they know about, like which little-known beauty brand is low-key making the best highlighter around. And because we consider our readers to be like friends, we gather together all our best finds in our Don't Sleep On This series. Check in every week to see what things we can't wait to share with you.
If you've met me, you know that I'd do anything to rid myself of my two hair evils: flatness and frizz. You'll also know that, though I like to spend as little time as possible on my morning routine, I never skip curling my hair. Admittedly, even after meticulously curling my hair, it often still ends up a flat, frizzy mess. (Damn you, New York humidity.)
But, I just might have locked down a hair routine that keeps my hair looking smooth and still ultra-texturized, thanks to a new trio of products from cruelty-free brand amika. Particularly, its Bushwick Beach No Salt Wave Spray has revolutionized my waves, keeping them fuller and more piece-y than they're ever been, and, in conjunction with my curling iron, making them last longer without falling flat or frizzing up.
For the past week, I've been starting off my hair care cycle with the Sexture Beach Look Shampoo, which locks in my hair's moisture without sacrificing its natural volume, and, according to the brand, doesn't need to be followed by a conditioner. Before my hair is completely dry, I'll prep it with a generous spritz of Bushwick Beach before I hit it with the curling iron.
Now, for the past 10 or so years of my life, I've been using the same one-inch barrel curler from the same brand, and haven't had a desire to switch things up. But I'm definitely making a permanent switch to amika's High Tide Deep Waver, which gives me more subtle, smoother waves in a fraction of the time. As you can see, it's basically three curlers in one, which means that it takes about a third of the time to run through my hair, and the waves are subtle and light.
The frame around my whole hair look now, though, is Bushwick Beach, which has given my hair more texture and volume than ever before. Since putting salt in your hair can have a drying effect, the spray is formulated without it (even though it gives the same effect), and actually moisturizes hair: One of its main ingredients is sodium hyaluronate, a derivative of hyaluronic acid, which hydrates and protects hair from pollutants.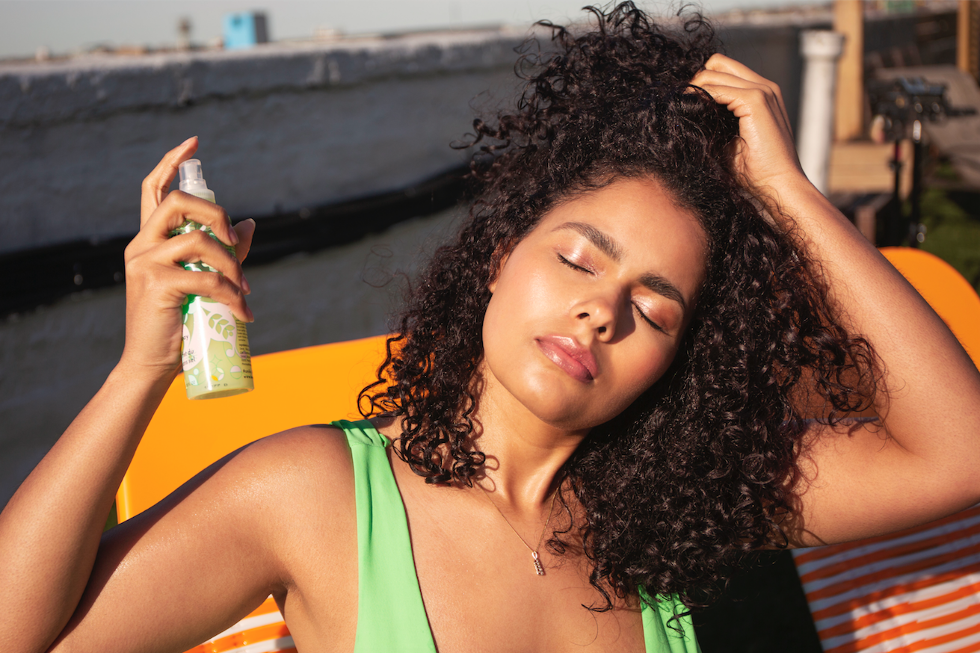 Photo courtesy of amika
My finishing touch is another allover spray of Bushwick Beach to my strands, roots to ends, since the deep waver makes my curls a little less dramatic than I'm used to, and wavier. This spray perks them right up. And somehow, on the second day of using it, the Bushwick Beach gets even better. Running my hair through the curler results in even firmer, longer-lasting curls that are basically impossible to move, regardless of how humid it is outside. I couldn't ask for anything more.

It's worth noting, too, that Bushwick Beach doesn't need to be paired with heat tools and can be used on its own to style natural waves. Although I haven't worn my hair natural in a while, these products have given me the confidence to do so, since they add so much volume and texture to my locks. My waves look like I've spent a day swimming and sunning at Rockaway Beach, without the salty smell, crunchy feel, or sandy feet.
amika, Bushwick Beach No Salt Wave Spray, $25, available at Sephora; amika, Sexture Beach Look Shampoo, $25, available at Sephora; amika, High Tide Deep Waver, $120, available at Sephora.
NYLON uses affiliate links and may earn a commission if you purchase something through those links, but every product chosen is selected independently.