This website uses cookies in order to enhance your experience. Please review our Privacy Policyto learn how we may use cookies and how you can change your browser settings to disable cookies. By continuing to use this website without changing your settings, you consent to our use of cookies.
Are You Afraid Of The Dark? (Don't Be)
Music
November 12, 2018
A note from our editor-in-chief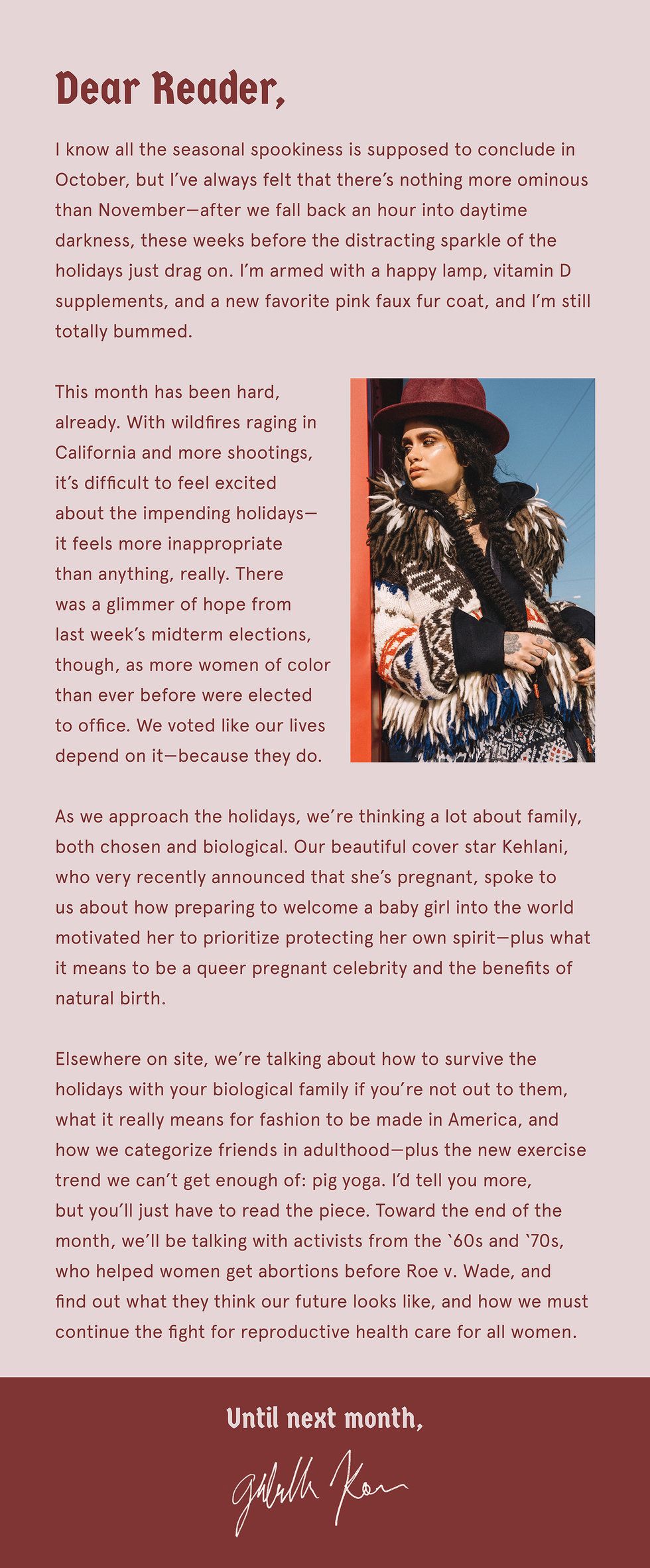 Photo by Handout / Getty Images.
From selling probiotic supplements to picture frames and umbrellas
A Kardashian-level of success doesn't happen overnight, and it certainly doesn't happen without proper planning. Kim Kardashian West clearly knows this because, according to TMZ, she has already filed for trademark protection on the name of her two-week-old baby, Psalm West. From personal appearances and entertainment services to probiotic supplements and scrunchies, she is leaving no stone unturned in terms of possible business opportunities.
Apparently, all of the Kardashian parents file these kinds of trademark protections for their kids even if the businesses never come to fruition. It's done as a precautionary measure to keep others from profiting off of their name and to make sure that, should they ever want to start a business, they don't have to worry about someone else getting to it first. The sheer length of this list speaks to the huge earning potential of baby Psalm, who can't even control his own neck muscles yet, let alone go into business. Still, this brings a whole new meaning to "securing the bag."
Below, a list of all the things Kardashian West is seeking usage rights for.
Hair accessories
Barrettes
Bands
Bows
Clips
Ties
Ornaments
Pins
Scrunchies
Chopsticks
Twisters
Wrap
Hair extensions
Ornamental novelty pins
Entertainment services
Personal appearances
Skin care
Probiotic supplements
Toy figures
Doll accessories
Computer software
Clothing
Baby bottles
Furniture
Strollers
Beverageware
Swaddling
Blankets
Skin moisturizers
Lotions
Creams
Bubble bath
Fragrances
Body powders
Shower gels
Body oils
Skin serums
Nail polish
Nail polish remover
Nail care preparations
Puppets
Puzzles
Toy jewelry
Toy cameras
Toy food
Bath toys
Baby gyms
Playground balls
Electronic action toys
Baby bouncers
Baby changing tables
Baby walkers
Pillows
Mirrors
Cushions
Picture frames
Playpens
Baby carriers
Cosmetic bags
Toiletry cases
Duffle bags
Umbrellas
Clocks
Watches
Key chains
Calendars
Books
photo albums
Stationery
Stickers
Writing utensils
Collectible trading cards
True
Photo by Pascal Le Segretain/Getty Images
Well, actually it's crocodile, but she looks out of this world so...
Winnie Harlow walked the Cannes red carpet on Wednesday on her way to a screening of Oh Mercy!, wearing a showstopping gown.
The sheer black dress featured green embroidery on the front and back, which Ralph and Russo confirmed was in the shape of a crocodile. She belted the dress with a black crocodile skin-like belt and finished the look off with some strappy heels. She didn't leave it at just that. For beauty, Harlow packed on full lids of sparkly purple eyeshadow. She kept her hair sleek and simple.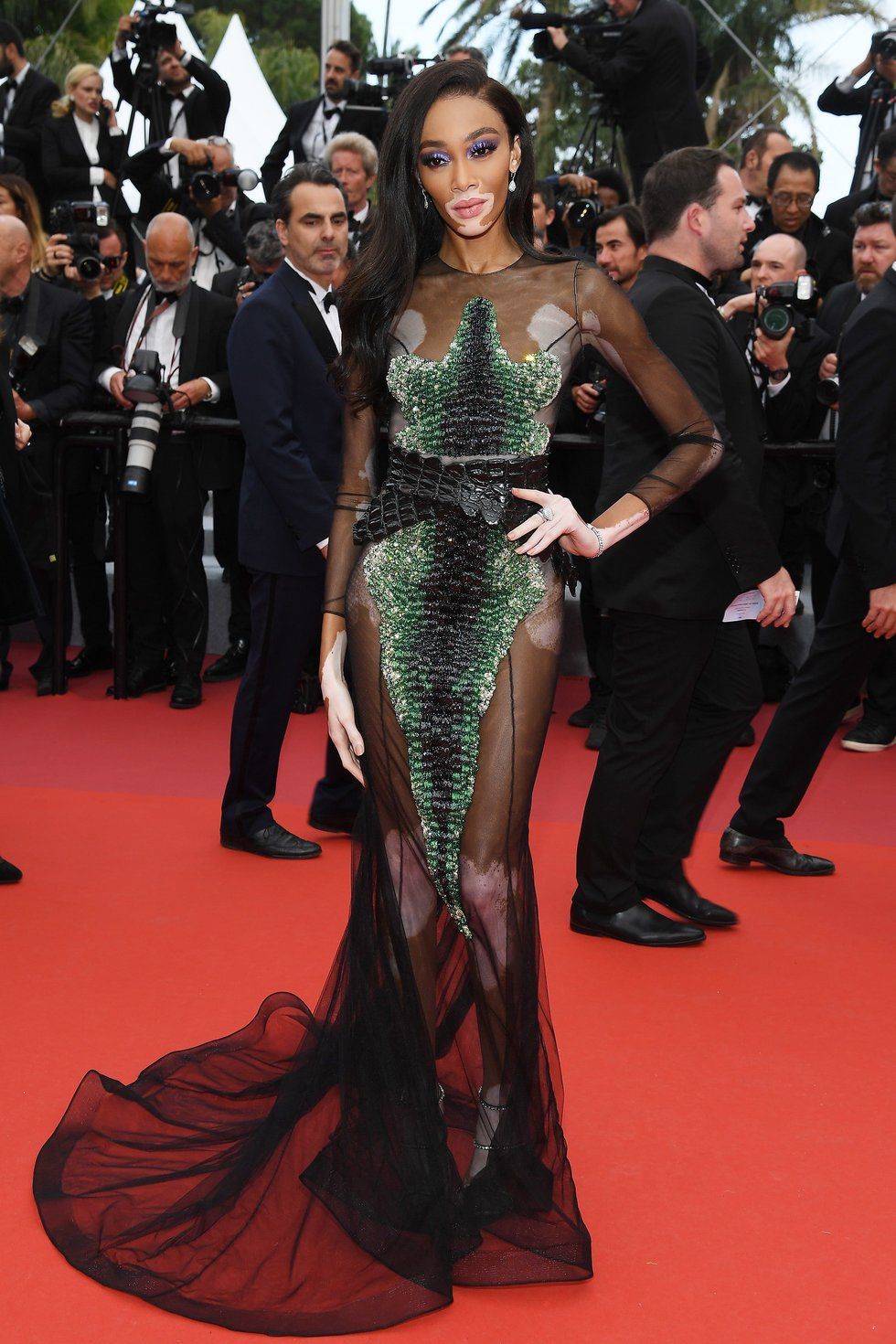 Photo by Pascal Le Segretain/Getty Images
Though the brand says otherwise, as Game of Thrones fans, we'd like to think the embroidery is reminiscent of a dragon's skin. Not to mention, Harlow looks out-of-this-world beautiful in it.
True
Photo by Andreas Rentz/Getty Images
Marion Cotillard shut down the Cannes red carpet on Wednesday at a screening for Matthias Et Maxime. Instead of an extravagant gown that's expected of the event, Cotillard wore a matching black crop top and shorts. Despite wearing an outfit I typically don to a hot yoga class, she looks incredible. She completed the look with an oversized denim kimono, a statement necklace, and heeled booties.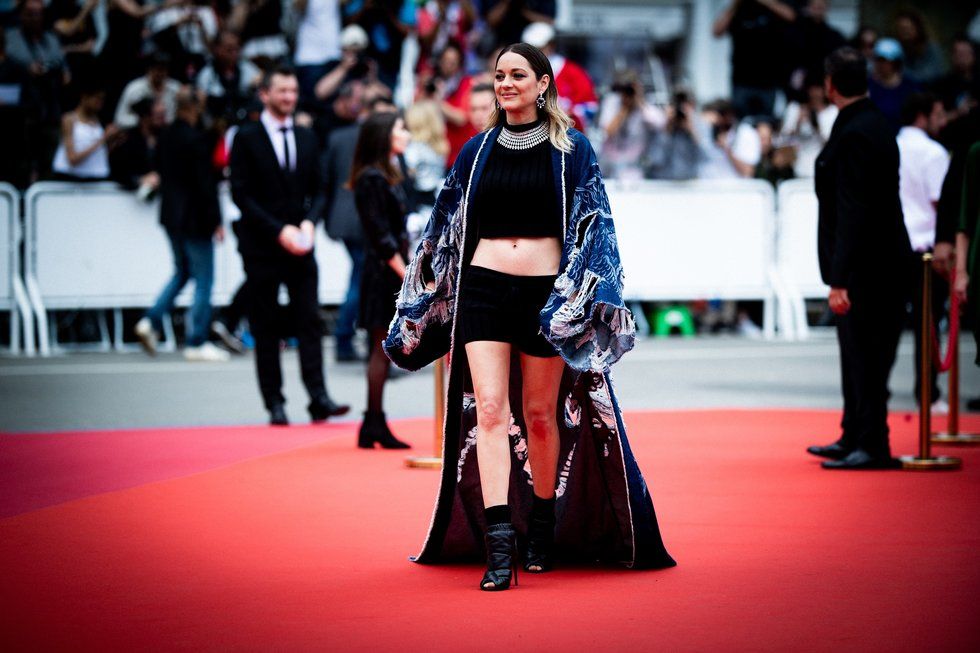 Photo by Andreas Rentz/Getty Images
At first, I was drawn in by the crop top and hotpants duo, but, after looking closer at the kimono, it's clear that it's the real scene-stealer. The floor-length Balmain piece was decorated with artful rips and dragon motifs. I would like to live in it.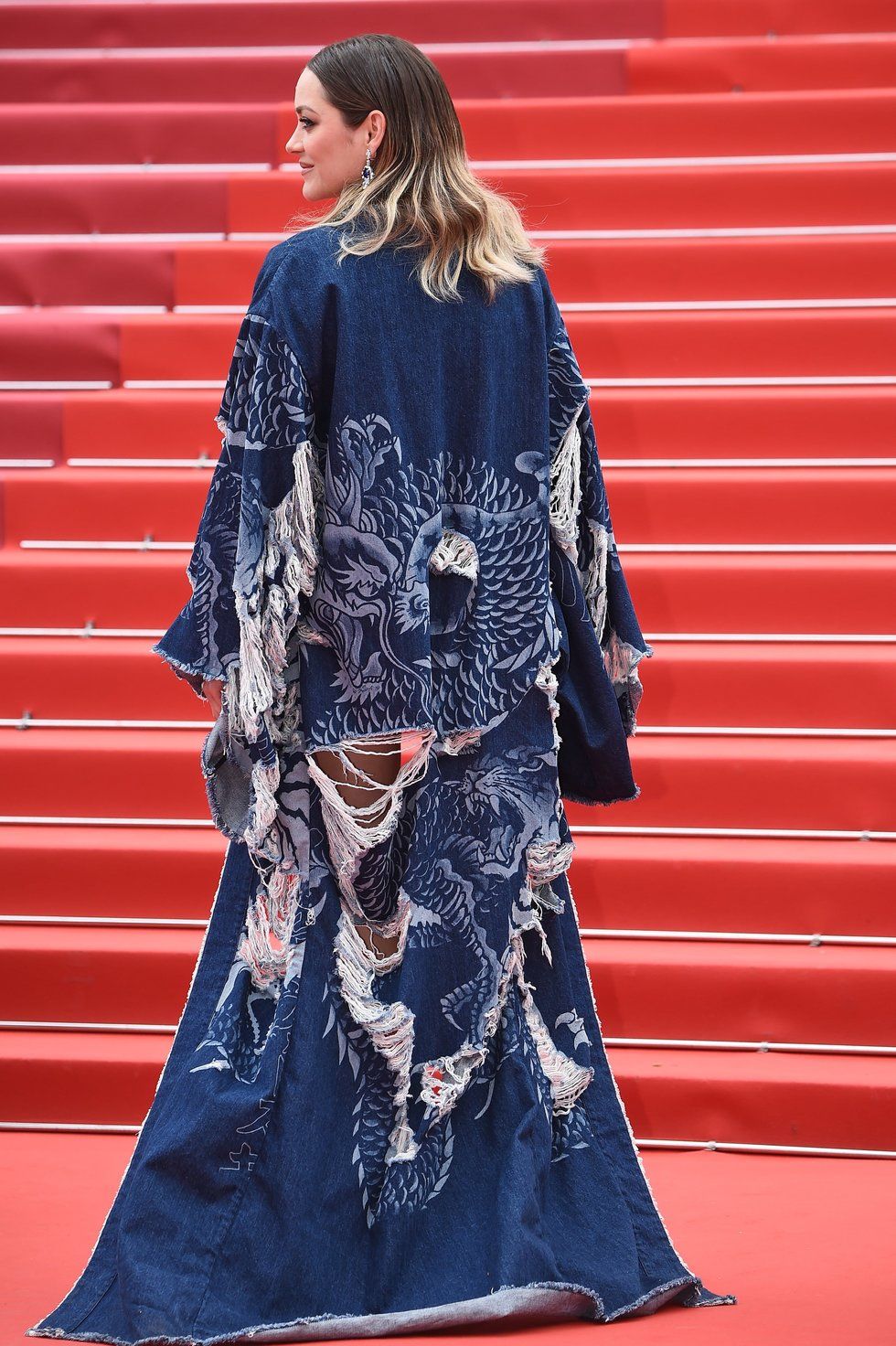 Photo by Pascal Le Segretain/Getty Images
Let's all bow down to the Khaleesi of Cannes.
True
Photo by Frazer Harrison / Getty Images.
"It doesn't make you weak to ask for help"
Singer Billie Eilish is continuing to open up about mental health, this time in a new PSA video in partnership with the Ad Council and Seize the Awkward.
In the video, Eilish insists that "it doesn't make you weak to ask for help." She doubles down on the importance of asking for help, and stresses the importance of friends and family being there when their close ones reach out and checking in on them as well. "You should be able to ask anyone for help, everyone has to help someone if they need it." According to Eilish, there have been times when someone reached out to her at the exact moment she needed it, and it helped.
It was particularly refreshing to see Eilish acknowledge that there are things she still doesn't know and has to learn about her mental health. At the very beginning of the video, the interviewer asks her to reflect on her mental health journey, and all Eilish can do is let out chortle. "I think when people hear, 'Remember to take care of your mental health,' they think that everyone else is, and that is not at all accurate," she admitted. "You know, for me I'm trying to learn still to make sure that I stay okay."
Check out the PSA below.
Billie Eilish On Mental Health & Friendship | Ad Council www.youtube.com
Photograph via @kimkardashian.
Kim Kardashian has definitely been accused of borrowing a design now and then. But when Instagram influencer and Kardashian look-alike Kamilla Osman claimed the entrepreneur copied her birthday look for a Met Gala after-party, Kardashian was not going to let it fly—and shared plenty of photo evidence to shut down the claim.
Fashion industry watchdog Diet Prada first noticed Osman's claims on Instagram and shared side-by-side images of Kardashian's Cher-inspired outfit designed by Mugler and Osman's dress. "Never get confused with who 'inspires' who. They won't give you credit but they will copy," Osman wrote on her IG story. "I designed this dress for my birthday last year. Nobody had a dress like this was an original design."
Kardashian responded by posting the true inspiration behind her look: images of Cher, in similarly sparkly, plunging-neckline dresses and wigs, and of model Yasmeen Ghauri walking a Mugler show in the '90s. In fact, the only similarity between Osman's and Kardashian's looks is the bodycon mini-dress style, which the two are not the first to wear. Among the images, Kardashian included a blank slide with the hashtag "NotOnMyMoodBoard," making it clear that this was in response to Osman's claims.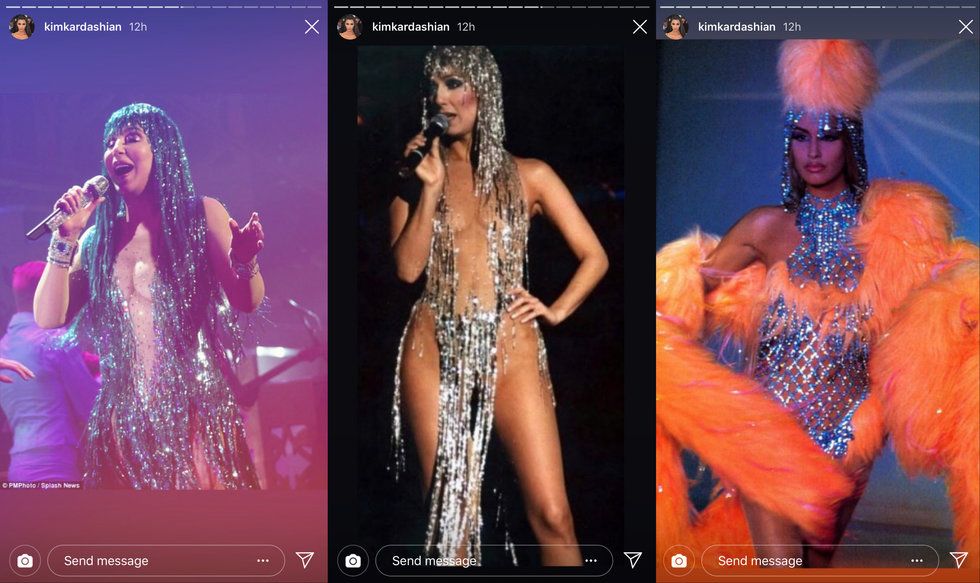 Screenshot via @KimKardashian Instagram Stories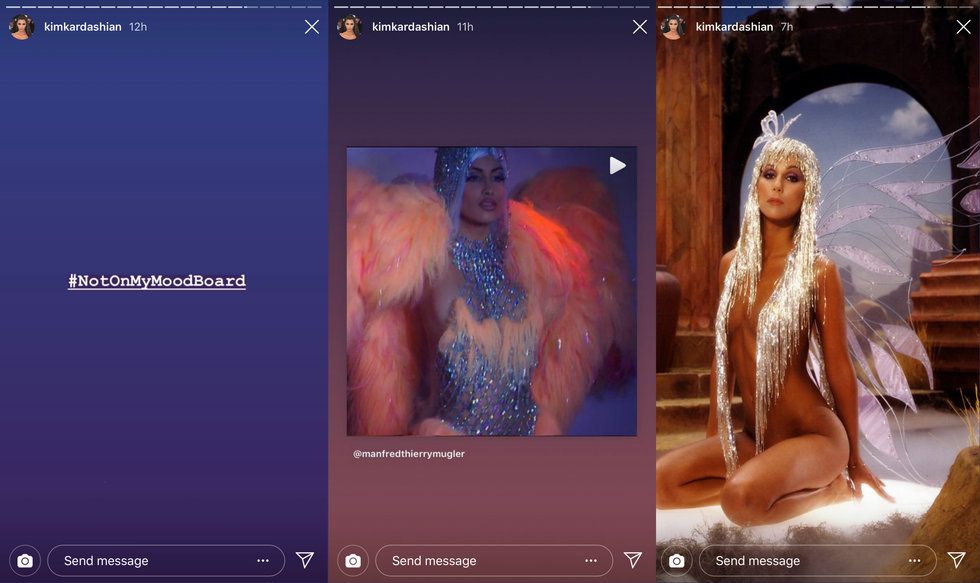 Screenshot via @KimKardashian Instagram Stories
Though I am with Kim on this one, Kardashian does have a history of co-opting other people's work. From being sued over her Kimoji app, to claims she copied makeup palettes and perfume bottle designs, to being accused of copying Naomi Campbell's entire style, it's far from the first (and probably, far from the last) time Kardashian's name will be mentioned like this.
True