This website uses cookies in order to enhance your experience. Please review our Privacy Policyto learn how we may use cookies and how you can change your browser settings to disable cookies. By continuing to use this website without changing your settings, you consent to our use of cookies.
December 03, 2018

Photo by Phillip Faraone/Getty Images for goop
"I had to create a harder shell about being a woman"
In a panel discussion during Gwyneth Paltrow's In Goop Health summit, actress Jessica Alba revealed that she "stopped eating" to avoid unwanted attention from men when she was first starting her career in Hollywood.
According to People, Alba said that she "had a curvy figure as a young girl" and, as such, was made to feel as though her body was the reason that men may be inappropriate toward her. "I was meant to feel ashamed if I tempted men," Alba said during the panel discussion. "Then I stopped eating a lot when I became an actress. I made myself look more like a boy so I wouldn't get as much attention. I went through a big tomboy phase."
She continued, "In Hollywood, you're really preyed upon. They see a young girl, and they just want to touch you inappropriately or talk to you inappropriately or think that they're allowed to be aggressive with you in a way."
Alba also noted that she was raised in a conservative household. "My mom would say, 'You have a body, and it's very womanly, and people don't understand that you're 12,'" she said. "I wasn't allowed to have my nalgas out, which is butt cheeks [in Spanish], but I was born with a giant booty, and they come out of everything. So, I didn't get to wear normal things that all my friends wore."
She said that these reactions to her body really affected her attitude. "I created this pretty insane 'don't fuck with me' [attitude]," she said. "I had to create a harder shell about being a woman."
According to her, her relationship to her body only changed when her first child, Honor, was born in 2008. "[After she was born,] I was like, Oh this is what these boobies are meant to do! Feed a kid!" she said. "And that was the dopest shit I'd ever done. So, I came into my body as a woman finally and I stopped being ashamed of myself."
True
Photo courtesy of Teva
Teva, the most obvious lesbian footwear brand since Birkenstock, really knows its customer base. In time for Pride, the brand has teamed up with Tegan and Sara for a gay shoe to end all gay shoes. In other words, your Pride footwear is on lock.
The shoe isn't just your average Teva sandal. Tegan and Sara's design, the Teva Flatform Universal Pride sandal, is a 2.5-inch platform shoe with a rainbow sole. Tegan and Sara noted in a press release that they have been Teva wearers for pretty much their whole lives. "We got our first pair of Teva sandals when we were 16," they said. "This rainbow Flatform collab is like full circle LGBTQ+ Pride validation."
What's better, with each sandal sale, Teva will donate $15 to the Tegan and Sara Foundation, up to $30,000. The funds donated will go toward scholarships which will give young members of the LGBTQ+ community the chance to go to summer camps which will "help develop self-confidence and leadership abilities in a safe and nurturing environment." Tegan and Sara added, "Teva's generous support for our foundation will allow us to help even more LGBTQ+ youth."
Available today at Teva's and Nordstrom's websites, the sandal retails for $80.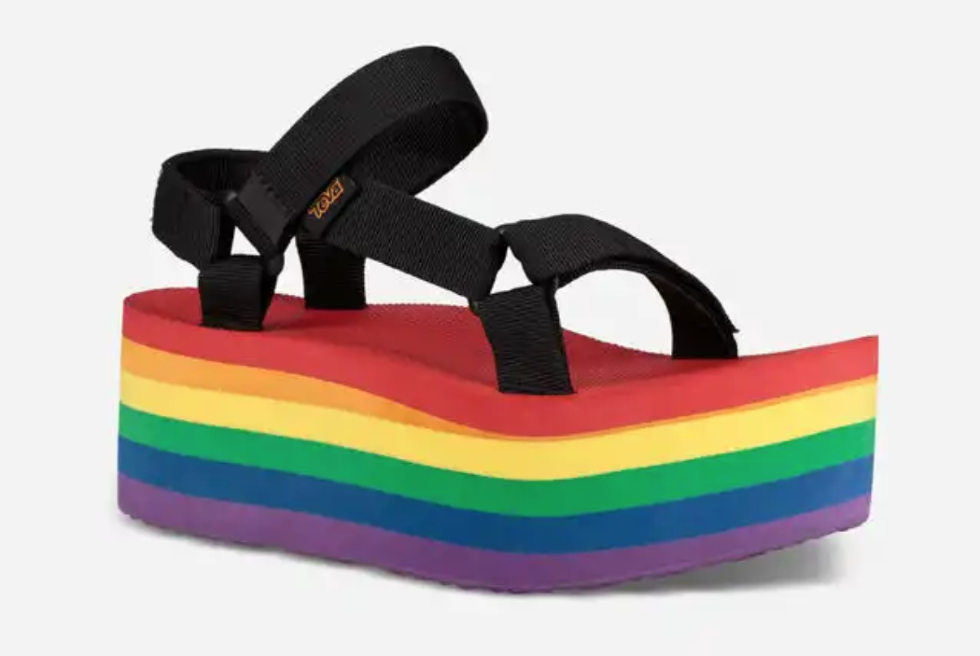 Photo courtesy of Teva
NYLON uses affiliate links and may earn a commission if you purchase something through those links, but every product chosen is selected independently.

True
Photo by Mike Coppola/Getty Images
"Focusing on innovative materials will allow the company to explore new boundaries of creative design"
Prada Group has announced that Prada, as well as all of its brands, will now be fur-free. According to a press release from the Humane Society, Prada, Miu Miu, Church's, and Car Shoe will ban the use of fur beginning with the Spring/Summer 2020 collection (aka the Fashion Week coming up next). The list of fashion designers banning fur only continues to grow, with 3.1 Phillip Lim, Coach, Armani, Versace, Gucci, and more having stopped using the material in seasons past.
"The Prada Group is committed to innovation and social responsibility, and our fur-free policy—reached following a positive dialogue with the Fur Free Alliance, in particular with LAV and the Humane Society of the United States—is an extension of that engagement," Miuccia Prada told the Human Society. "Focusing on innovative materials will allow the company to explore new boundaries of creative design while meeting the demand for ethical products."
Following London Fashion Week designers forgoing the use of fur in September and the first-ever Vegan Fashion Week taking place in February, it's easy to imagine an entirely fur-free fashion future. It's especially easy, I presume, for the brands to consider a fur-free future, given that entire cities and states are taking a stance. New York is following in the footsteps of Los Angeles banning fur, with a bill proposed this March that would ban sales across New York State.
True
Photo by Johnny Dufort
"Club leisure" is the new athleisure
Alexander Wang is recognizing clubbing as the workout that it truly is with his latest Adidas collaboration. In this fifth installment, he "changes gears," per a press release from the brand, taking the iconic sports brand to the dance floor.
For the new campaign, the collection comes to life in iconic choreographer Tanisha Scott's dance studio and stars dancers Noemi Janumala, Dakota Moore, Avi McClish, and Olivia Burgess. The dancers show just how far these clothes can go when you want to bust a move or stretch, but TBH, I'll leave these poses to the pros and just use my clothes for flexing on the 'gram.
The collection—which features six apparel items, three shoes, and six accessories—features, per a press release, "Wang's knack for pre-styling." Standouts from the mostly black-and-white items include a silver sneaker that was *made* for moonwalking, an airy windbreaker that has just the right dash of bright blue with the scattered Adidas trefoil design, and a towel hoodie that you won't feel bad sweating in.
Ahead of the May 25 collection drop online and in stores, peep the gorgeous campaign images below.
NYLON uses affiliate links and may earn a commission if you purchase something through those links, but every product chosen is selected independently.
True
Photo by Dimitrios Kambouris/Getty Images
And Nikolaj Coster-Waldau's reaction to that prediction is literally all of us
Though it felt like no one saw the bonkers end to Game of Thrones coming, Gwendoline Christie, who played Ser Brienne of Tarth on the show, predicted exactly who would end up with the majority of power in the Seven, or rather, Six Kingdoms years before it all went down. During an interview leading up to the penultimate season of Game of Thrones in 2017, Christie sat down with Nikolaj Coster-Waldau (aka Jaime Lannister) for an interview with Mario Lopez, and they were both asked to predict how the whole thing would come to a close. Spoilers ahead...
Lopez posed the question, "If you were a gambling man, who would you say?" Coster-Waldau replied: "Well gambling, the odds now are clearly in Daenerys Targaryan's favor. Or, that guy," he said, pointing to a picture of the Night King.
But Christie, knowing Game of Thrones' tendencies toward the unpredictable, came right back at Coster-Waldau, asking, "But don't you think it's going to be someone out of left field?"
"So I'm wondering if it might be Bran," Christie suggested, "Just because we keep seeing the world from his perspective, don't we? We keep seeing the visions. So is he in the future, projecting in the past?"
Coster-Waldau's reaction to the suggestion that Bran will rule over them all is, well, exactly how we all felt watching it play out in real time this past Sunday evening. "The three eyed raven? As a king? No, that doesn't make sense," he said. And, well, same. Because while I usually *adore* watching Christie shut down Coster-Waldau, like they're an old married couple bickering, this time I'm on his side. It made no sense!
Coster-Waldau attempted to reason with her, saying that if Bran was planning the whole thing, then he wanted Jaime to push him out the window, and that makes no sense at all. But Christie stood firm in her belief, and, as last Sunday demonstrated, her commitment to this highly improbably outcome paid off. We hope she placed a sizable bet in Vegas.
Catch the full clip below.

True